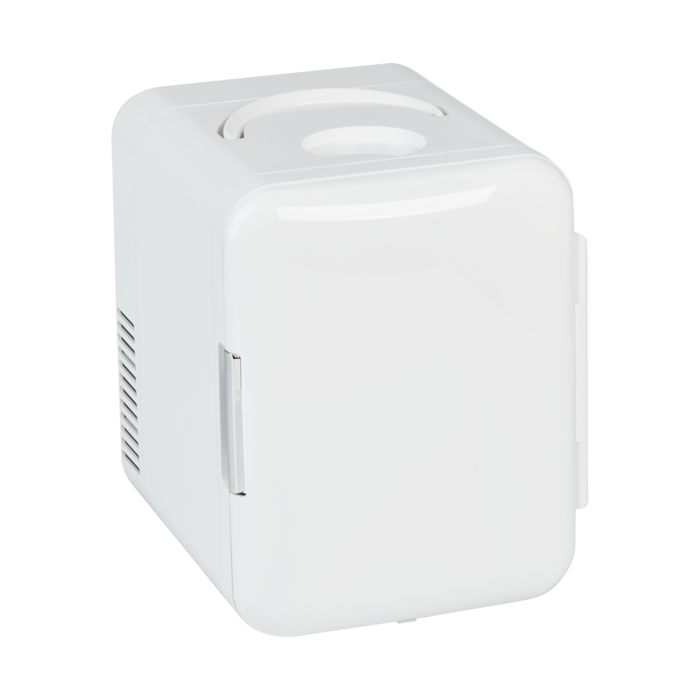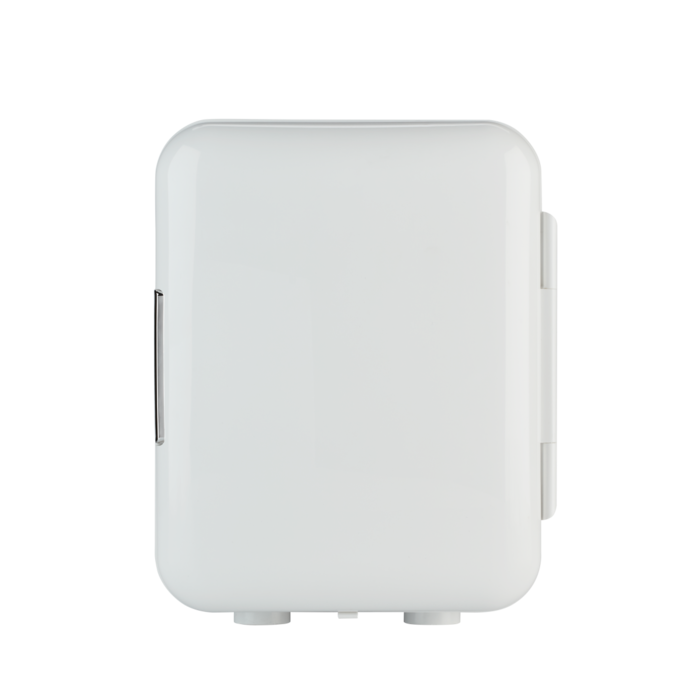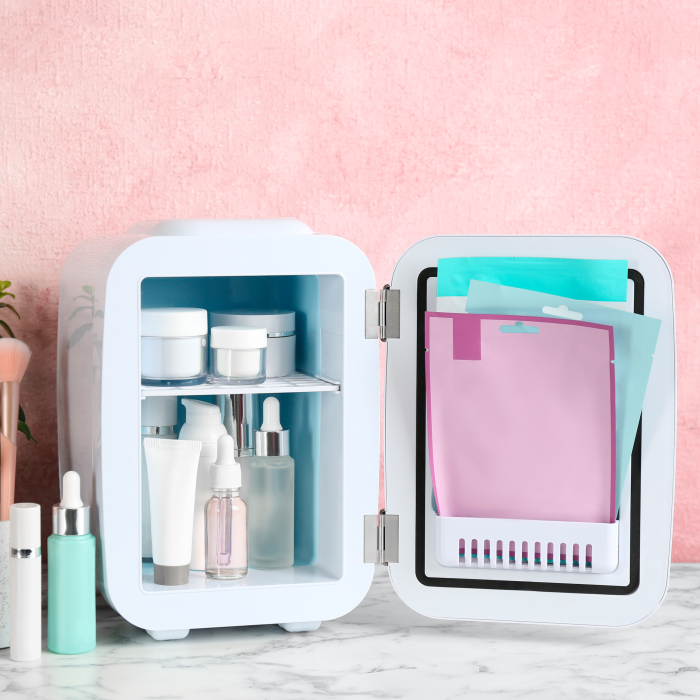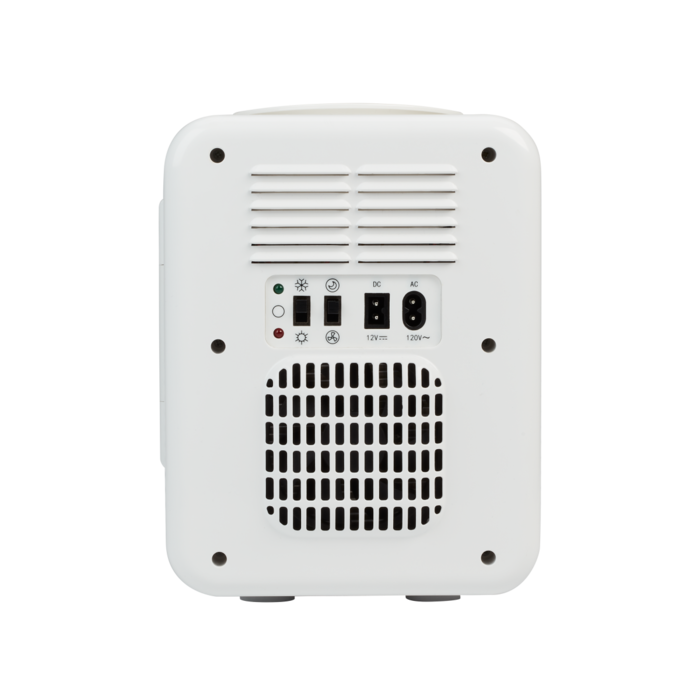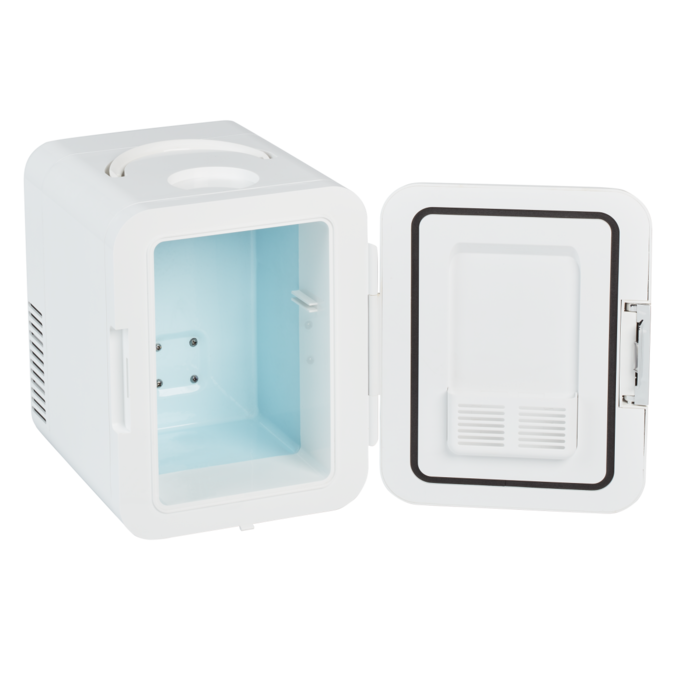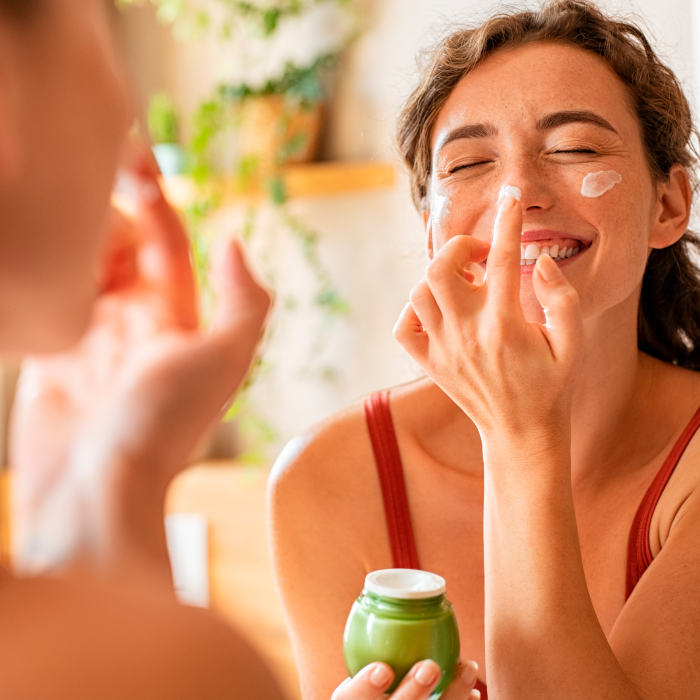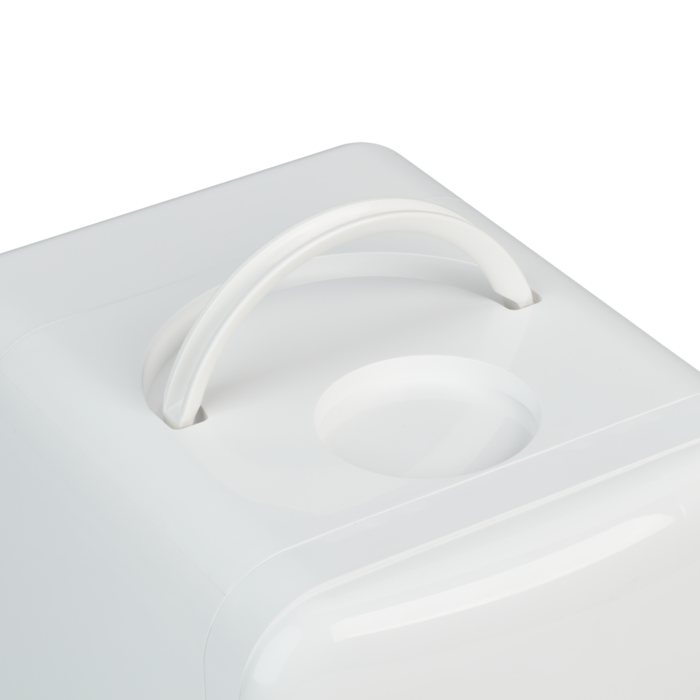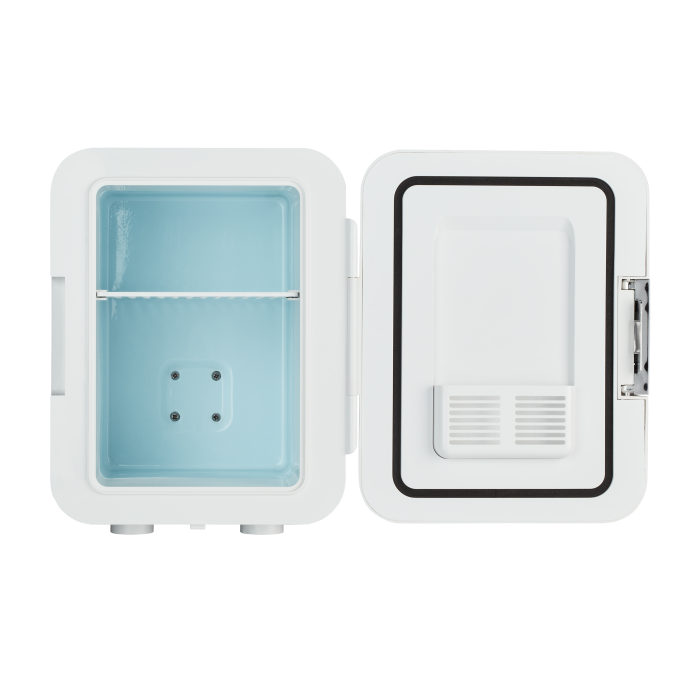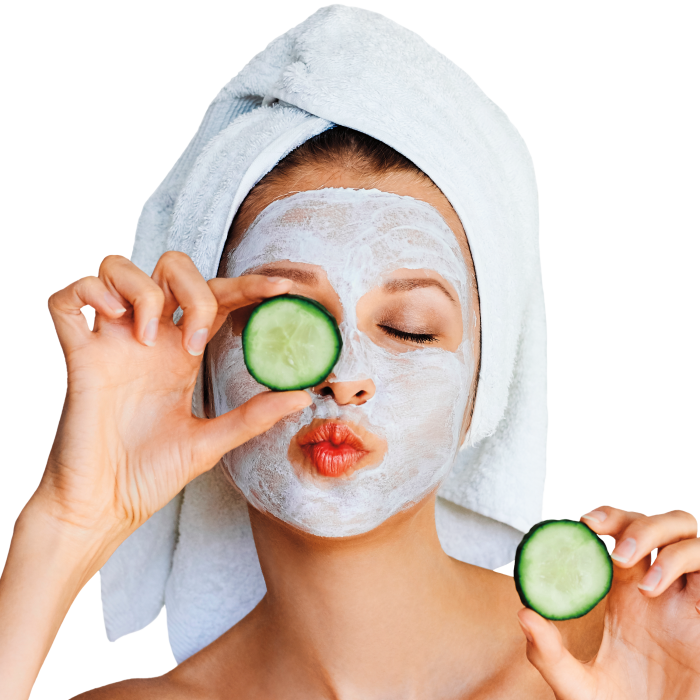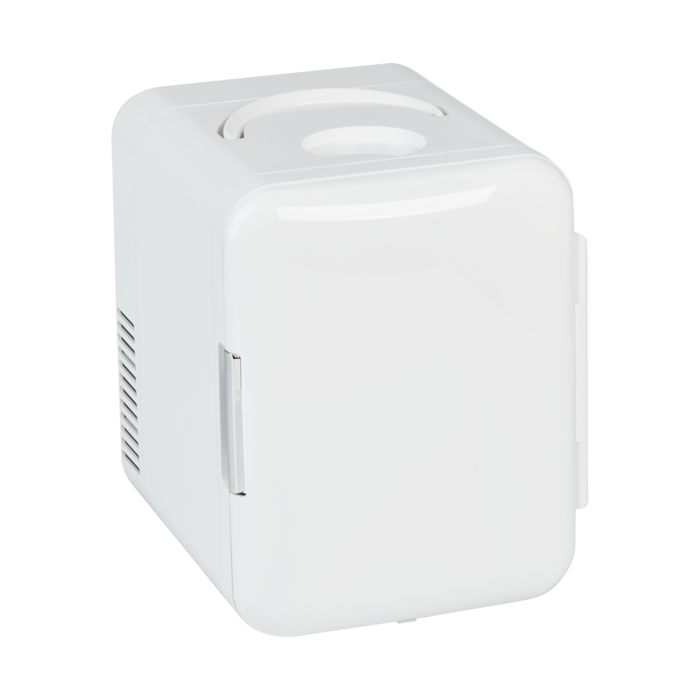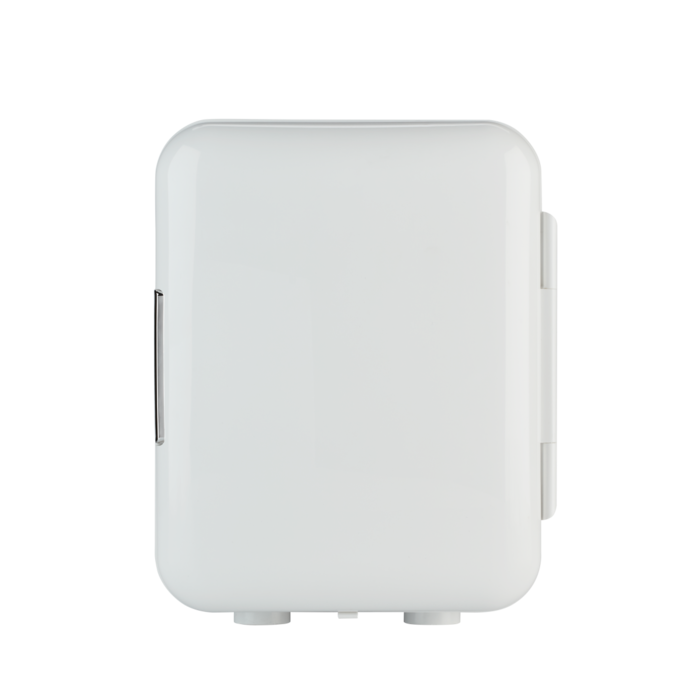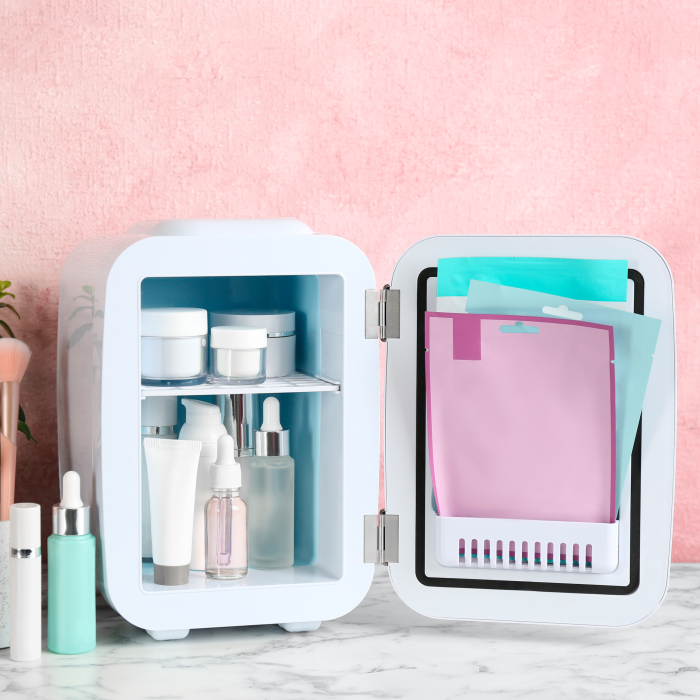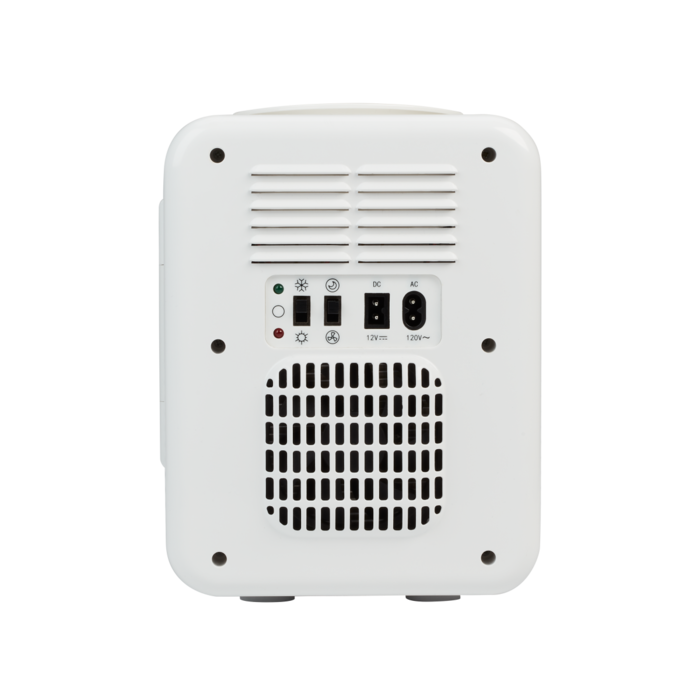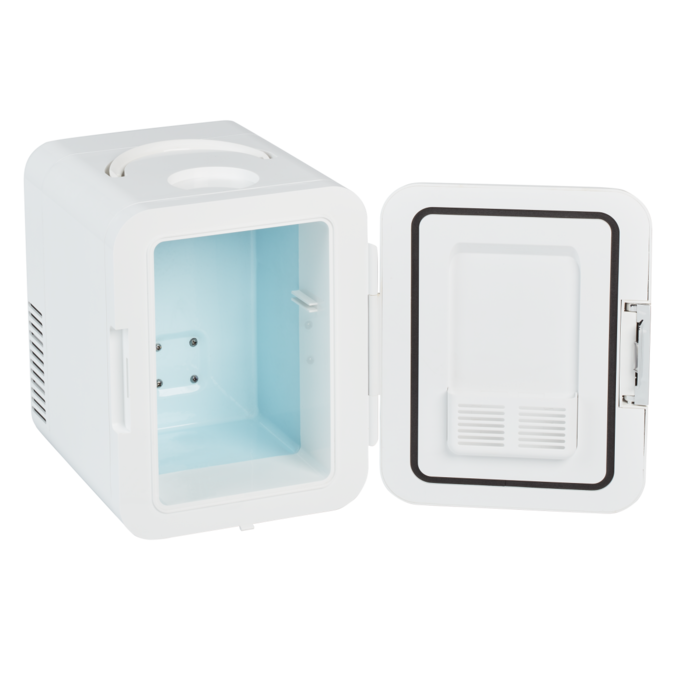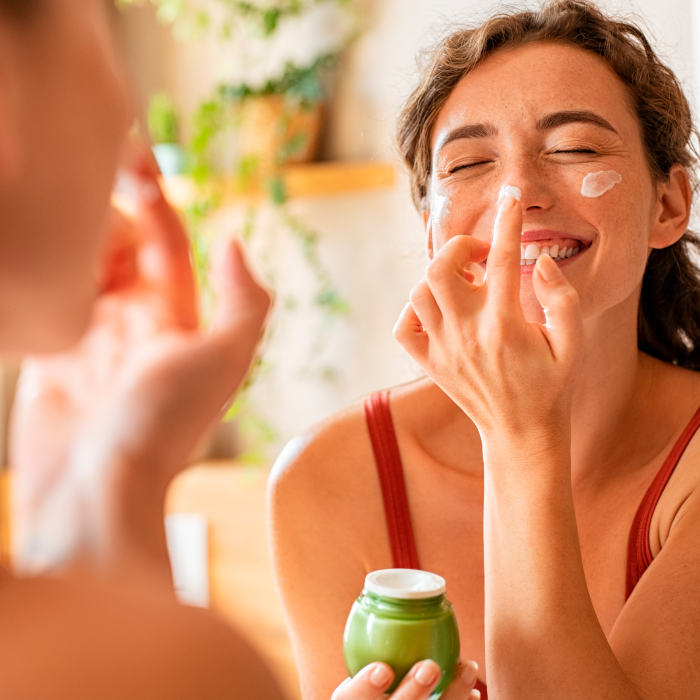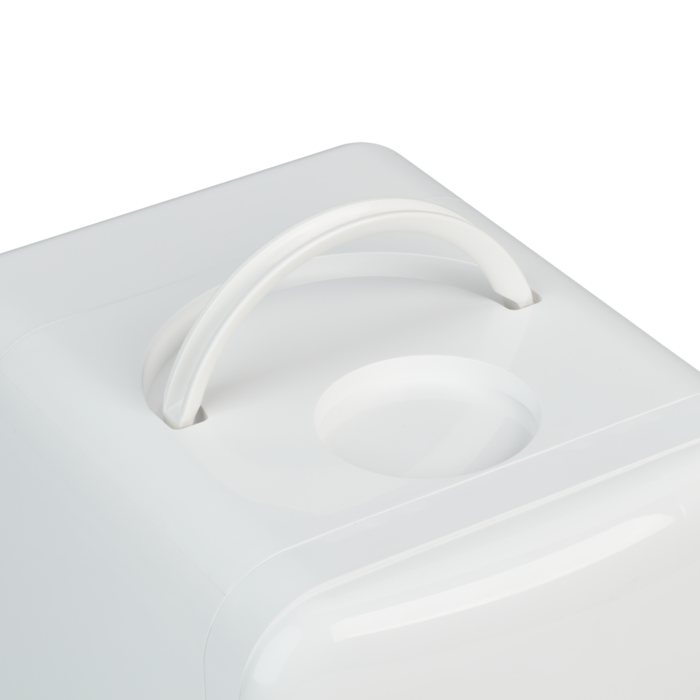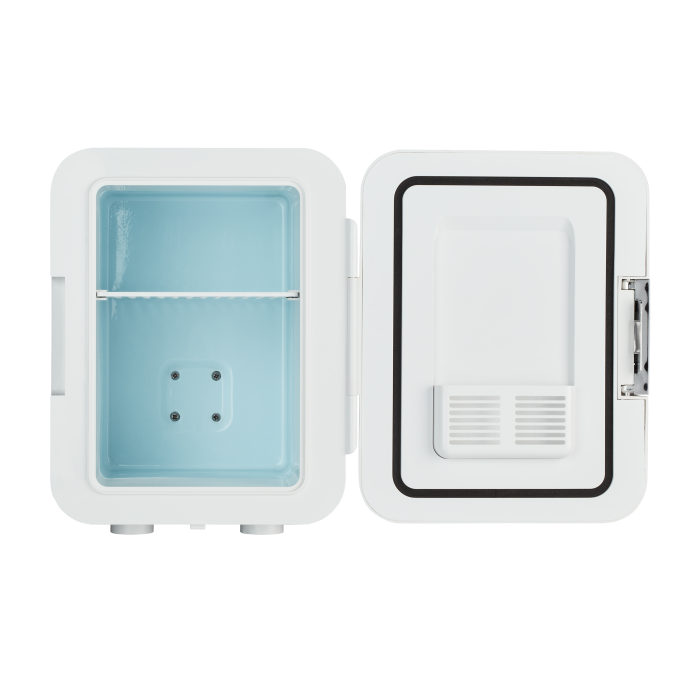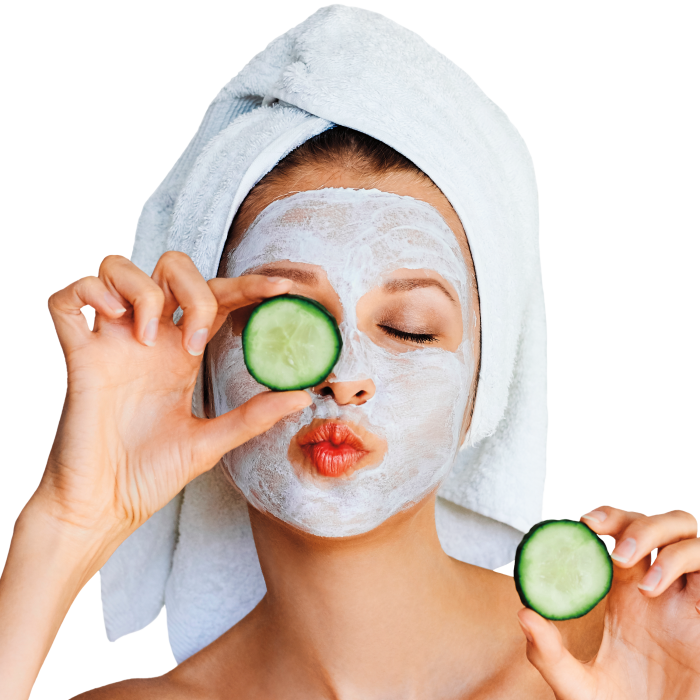 Keeps your beauty tools and skincare essentials cool and fresh.
Description
Store your beauty tools in the cool, compact beauty fridge that keeps all of your skincare essentials nicely chilled so they stay fresher longer. Beauty masks, moisturizers, mists, rollers, makeup, serums, and cleansers—and in particular, natural products that have fewer preservatives—maintain their potency in the consistent cool conditions of the 41°F case, ensuring the first application is as effective as the last. Awaken and refresh your skin with the invigorating touch of a chilled jade roller or a pore-opening solution that makes you feel like you're being treated to a day at the spa!
Features
Stays Cool at 41°F: Preserves and protects the active ingredients in your liquid beauty products by keeping them at an optimal cool temperature.
Extends Product Shelf Life: Natural products stay fresh and potent longer when refrigerated so you can enjoy them right to the very last drop.
Mini Fridge, Max Storage: Compact design (10.43" x 8.18" x 10.63" exterior and 5.51" x 5.35" x 7.95" interior) takes up minimal space in your room but has plenty of space inside for you to stash your beauty essentials. Keep serums, sheet masks, moisturizers, mists, makeup, toners, fragrances, facial rollers, cold therapy masks, and more well organized in the dual-tiered storage space with a bonus door shelf.
Spa Treatment: Apply chilled solutions to experience professional-style pampering that refreshes and renews skin for a healthier-looking complexion with less puffiness.
Cool Design: Durable contoured white plastic exterior with a silver-tone handle has a modern salon look that looks great wherever you perform your beauty routine. Convenient inset handle on top for easy portability, solid footed base, chain hinge support.
Plug-in Power: Motorized fan generates and maintains a consistent 41°F (with the door closed) without the need for settings.
Instruction Manual
Reviews
Rated

4

out of

5
by
PlantAway8
from
Cute beauty fridge
This beauty fridge is so cute! I didn't know that I need this in my life. I truly enjoy using my face creams, masks, and other stuff better when they are chilled. It feels so good on my skin! This Conair beauty fridge is very compact. I like that I can put a few little things in there. The little rack on the door is nice touch too but I wish the shelf is adjustable so I can move it lower or higher depending on the size of my cosmetics. I have face sprays that will just not fit unless I take the rack off. If I do that then my stuff will be less organized. It is on the pricey side so I guess I was hoping more from it. Other than those things, it's still a really nice cosmetic fridge. I like it and will keep on using it. The handle on top makes it easy to carry and move around.
Date published: 2022-01-15
Rated

5

out of

5
by
COwomanmh
from
Beauty life
I absolutely love this little fridge! It is the perfect size to fit all my items I like to keep in it. From nail polishes to my serum and some masks. It keeps a great temperature. I love the white color because I can decorate it with some vinyl stickers to make it personable. I've already ordered one for my niece who was really intrigued after seeing mine and wanted one for her birthday. Definitely recommend it for those looking for something small and not like a big mini fridge.
Date published: 2022-01-23
Rated

5

out of

5
by
pynk
from
Treat Yourself!!!
I have always loved keeping my serums, moisturizer and eye masks in the fridge but hate running back and forth from the bathroom to the kitchen. This cute little fridge makes it so easy to keep my products in the bathroom. I was very surprised at how quiet the fridge i! It hold a decent amount of product and the little shelf on the fridge door is soooo helpful. I would definitely recommend this fridge to anyone looking to add a little luxury to their skincare routine.
Date published: 2022-01-13
Rated

5

out of

5
by
Ehhsamanta
from
Just what I needed
I have a lot of high end facial products that have to stay refrigerated or they expire quickly and lose their strength. Till now I've always kept them in my kitchen so the Conair Beauty Fridge was the perfect addition to my make console. Saves me making multiple trips to the kitchen whenever I need something and is super compact so takes up very little room on my console. Must have if you want to keep your products fresh and conveniently located.
Date published: 2022-01-07
Rated

5

out of

5
by
AmberT
from
Worthwhile indulgence
I never thought I'd get to the point of wanting a fridge specific for my beauty products, but here we are...and I love it! I use this for a few of my face creams and I keep my jade roller and gua sha in it. I also pop a few face masks in there when I know it'll be a week of extra self care - especially as we head into the dry winter months. It's super cute, the perfect size, and I absolutely love having it as a part of my beauty routine.
Date published: 2022-01-06
Rated

5

out of

5
by
Jewels53
from
Perfect
This beauty fridge is perfect for keeping my skin care products cool . Hopefully I can get longer use out of my facial products now. Because I don't want them to go bad . I like the size of the fridge , I wish it had more than one shelf but it's still great . It has a handle that makes it easier to carry . The product isn't heavy at all and gets cool pretty quickly . I would recommend and I'm definitely going to continue to use .
Date published: 2022-01-08
Rated

5

out of

5
by
Jenah_48
from
Love this mini fridge
Conairs new True Glow beauty fridge is a must have!! It's so nice, has a handle for easy on the go! It also has a removeable shelf and one in the door! Plugs into to standard outlet! Mine is loaded with skincare, it's feels so good on my face when it's cold! I also put my jade roller and other face rollers in there the cold depuffs my eyes instantly!! So many great advantages to owning one!! I highly recommend it!
Date published: 2021-12-31
Rated

5

out of

5
by
Jess26
from
Perfect Beauty Fridge
I cant think of a single thing I don't love about this beauty fridge. I have a larger one, becauseI thought bigger was better- but anything other than this size isn't necessary! I can fit all of my skincare and tools that work best chilled, and still have space to move things around and even add more. I would absolutely recommend this product to friends and family and would repurchase it again and again.
Date published: 2022-01-20
Rated

5

out of

5
by
Gg384
from
No setup required
I love how simple this fridge is. It maintains its own temperature of 43 degrees, which is cold, but not going to freeze your costly skincare. It has the convenience of an area to store masks on the door and a removable inside shelf. I generally spend a good bit on my facial skincare products, so I feel good about storing them at a proper temperature and it'll feel great in the summer!
Date published: 2022-01-05
Rated

4

out of

5
by
Demandthebest
from
Does What it says
This fridge is just the right size to fit in the nooks and crannies of your home. It fits nicely under the upper cabinets of your kitchen. I liked the fact that it does not hum or make loud sounds when it kicks on. You could easily have this in your bedroom. I send an enormous Amount on skincare. I feel that my prized product will be safe in this fridge!
Date published: 2022-01-03
Rated

5

out of

5
by
Glamamama22
from
Perfect size & quiet operation
I was really impressed with the modern sleek design of this little beauty fridge. It runs very quietly as well. This is the perfect size for my creams and serums. It even has a little spot on the door which looks perfect for a mask or two. It cools beautifully and my creams feel so much more soothing when they are chilled.
Date published: 2022-01-04
Rated

5

out of

5
by
Juba007
from
Conair Beauty Fridge
The conair beauty fridge is just what I needed for my beauty products. It keeps my beauty tools and face mask cool and skin care products. The shelf is removable and the door has a storage spot. It's super easy to use and light weight to move. This helps me not to lose my skin care products in my regular refrigerator.
Date published: 2022-01-04
Rated

5

out of

5
by
Supermamabk
from
Perfect temperature for beauty items.
So happy with this gem of a beauty fridge. Having a special place for my beauty products is very convenient. This fridge keeps my serums, rollers and facial masks at the perfect temperature for use. I especially enjoy using my jade roller at this temperature, it's cool and relaxing. Before this I'd have my roller in the kitchen fridge but have to take it out 10 minutes before I needed to use it because it was too cold to use on my face. Inconvenient and also food scents would be on it as well. This fridge has a shelf for storage but can't be adjusted for various height options, however it's easily removed for cleaning. There's also a small door rack for storage. I wish the rack was wider to hold sheet masks with folding them in half. The convenient carry handle at the top is there if you have to move it from place to place. The door closes securely and doesn't swing open during movement. Also the fridge is whisper quiet when plugged in so no need to worry about noisy humming sounds.
Date published: 2022-01-16
Rated

5

out of

5
by
KK10
from
Cool skincare
I have been wanting a beauty fridge for awhile now and I'm so glad to have one! It works great and not to big. It stays really cold also. I have a skincare routine and I keep my eye products, eye roller and aloe in it. Keeps it chilled. I would recommend this conair beauty fridge to everyone!
Date published: 2022-01-11
Rated

5

out of

5
by
Wtym_49A
from
Good Investment for Natural Beauty Products
Rest assured, Conair's True Glow Beauty Fridge is a cool haven for green beauty products. I'm quite pleased with the in-side coolness, storage capacity, and over-all size, because it occupies little shelf space. I highly recommend this. Thanks BzzAgent for allowing me to try this for free.
Date published: 2022-01-01
Rated

5

out of

5
by
wlawson1973
from
Amazing!
I never thought a beauty fridge could make such a big impact. Boy was I wrong. So convenient right on my bathroom counter. I'm able to keep my eye gels and serums chilled as they are supposed to be. Products work better staying chilled. Perfect addition for my beauty routine.
Date published: 2022-01-16
Rated

5

out of

5
by
Nat740
from
cute
Conair Beauty Fridge great product works well nothing i have seen before or compare to its the first of its kind for me and i am fully satisfied i hate going downstairs to get my serums out the fridge this just sits in my bathroom counter now really cool and innovation.
Date published: 2022-01-06
Rated

5

out of

5
by
Leen
from
Perfect for Skincare Products!
The Conair Beauty Fridge is perfect for my skincare products. It's the perfect size to keep in my bathroom or bedroom. It's not to small or to big - it's just perfect. I love keeping my serums and face mask and face roller in the fridge! I would recommend this product?
Date published: 2022-01-20
Rated

5

out of

5
by
SBaker
from
Really keeps chill!
This little fridge is so perfect for all of my beauty products that I like to keep chilled to keep them fresh longer and I have mine set up in my closet. Perfect!! The fridge doesn't make a loud noise and the included divider helps me hold several different products.
Date published: 2022-01-04
Rated

5

out of

5
by
VanessaBeauty
from
A Must Have For A SkinCare Enthusiast
This CONAIR Beauty Fridge is an absolute dream. It's the perfect size to keep all my skincare organized and cool. It's compact enough to store anywhere but sizably big enough to store a lot of skincare. I love the top handle because it allows me to take my fridge anywhere. I love that it has a removable top shelf. This allows me to store bigger sized products if I choose to. There's an extra storage area on the inside of the fridge door and that's where I enjoy storing a lot of my face masks. I pretty much keep face masks, serums, eye patches, moisturizers and toners beautifully displayed and organized in this fabulous mini beauty fridge. This fridge keeps my skincare cool and it helps extend the shelf life of the products. I love the modern feel of this fridge. It's so aesthetically pleasing and fabulous to display in my beauty room. Having this mini fridge makes me feel like every day is a spa day in the comfort of my own home. I love this mini fridge so much that I'm always raving and recommending it to all my friends.
Date published: 2022-01-15
Rated

5

out of

5
by
Sav1
from
Safe and Easy Beauty
This mini beauty fridge fits perfect on my bathroom countertop! It keeps my beauty items cold without having to out them in the family fridge where they could easily be mistaken for edible items. This fridge makes my home a safer and more beautiful place.
Date published: 2022-01-05
Rated

5

out of

5
by
Calebsjames26
from
Conair Beauty Fridge
The Conair Beauty Fridge is amazing to have! I get to have spa-like treatments in the comfort of my own home for a fraction of the cost! I absolutelt love my cold therapy masks! it takes up hardly any space but holds so very much!
Date published: 2022-01-05
Rated

5

out of

5
by
PeggyJ
from
LOVE THIS!!!
I really didn't expect this little refrigerator to work as well as it did, but it's really awesome! I have several serums and creams that I use including an eye cream and an all over facial serum. I think it really helps to keep your moisturizers and serums cold so that when you apply them they help your face not to be swollen or puffy looking, especially in the under eye area it's really great for using with your eye serum. It keeps the products at a nice temperature and it doesn't take up a lot of space. The refrigerator is compact enough that it easily fits on the bathroom vanity or any other table you have. I also like that it has a little handle on the top so if I need to move it or carry it it's very easy to do. There is an adjustable shelf so I don't necessarily have to use that if I have taller products that I want to store. I have a face mist that's taller but it fits in there perfectly without the little shelf. There is also a small shelf on the door for flat items like face masks or peels. Overall it's a great product and I would recommend it to everyone.
Date published: 2022-01-15
Rated

5

out of

5
by
Alex9
from
Love my chilled beauty products
Using this for a beauty fridge to store skincare products, face masks, and even my hubby's prescription eye drops. Feels so refreshing to put chilled products and a jade roller on your face.
Date published: 2022-01-06
Rated

5

out of

5
by
Leeee
from
Luxurious
I'm enjoying the Conair beauty fridge. Such a luxurious enjoyable idea. I'm using it for my skin care. My skin care feels absolutely amazing going on cold. I highly recommend.
Date published: 2022-01-03
Rated

5

out of

5
by
Hopez
from
Where was this all my life!
I love having this Conair Beauty Fridge, before I gotten it I was using my kitchen fridge for my makeup I feel like a celebrity using my own fridge specially for my makeup!!
Date published: 2022-01-08
Rated

5

out of

5
by
Kyky
from
Love it
I absolutely love this fridge. It's so convenient for my skincare products and keeps them cool. The size of it is perfect and I can fit in everything I neeed.
Date published: 2021-12-30
Rated

5

out of

5
by
Amandatay84
from
Amazing!
I absolutely love this Conair Beauty Fridge! It keeps my products perfectly cold and holds quite a bit of products! The size and shape are awesome!
Date published: 2022-01-13
Rated

5

out of

5
by
sparklingvibes
from
So cute
This fridge is just right. I love that it doesn't take up a lot of space and how much I can fit into it!
Date published: 2021-12-31
Rated

5

out of

5
by
chris12080
from
awesome
This is awesome. It's easy to use and works great. I love having my makeup stored in it's own place.
Date published: 2022-01-11
bvseo_sdk, dw_cartridge, 18.2.0, p_sdk_3.2.0
CLOUD, getReviews, 10ms
reviews, product