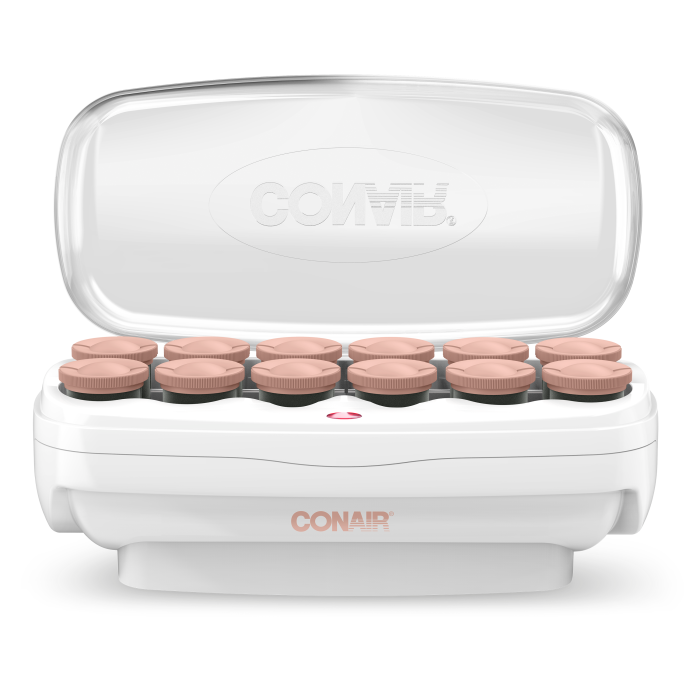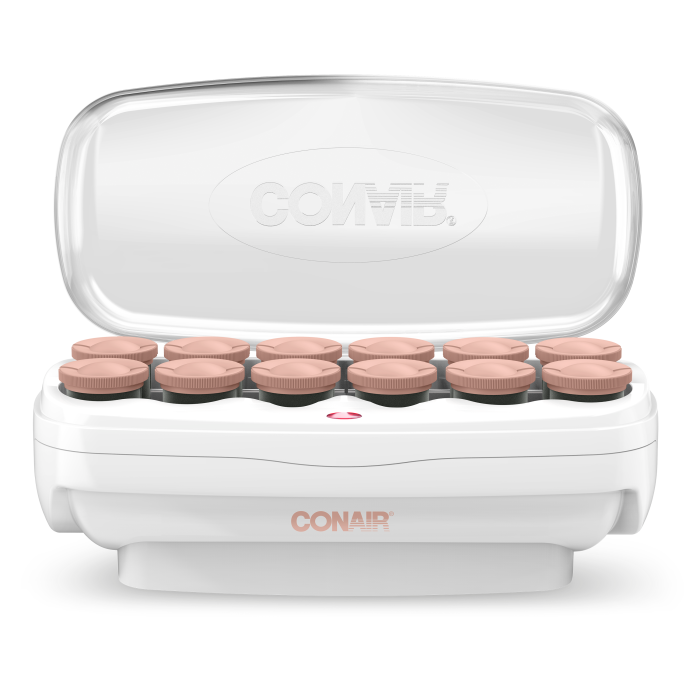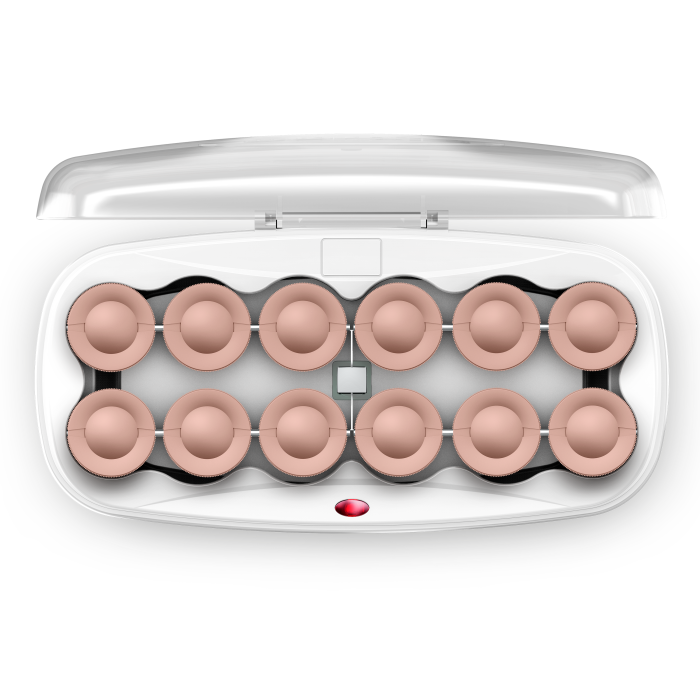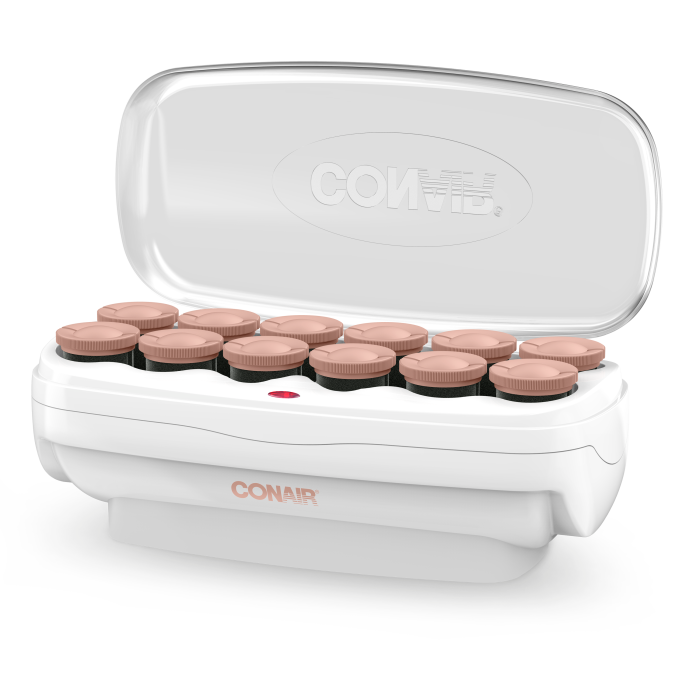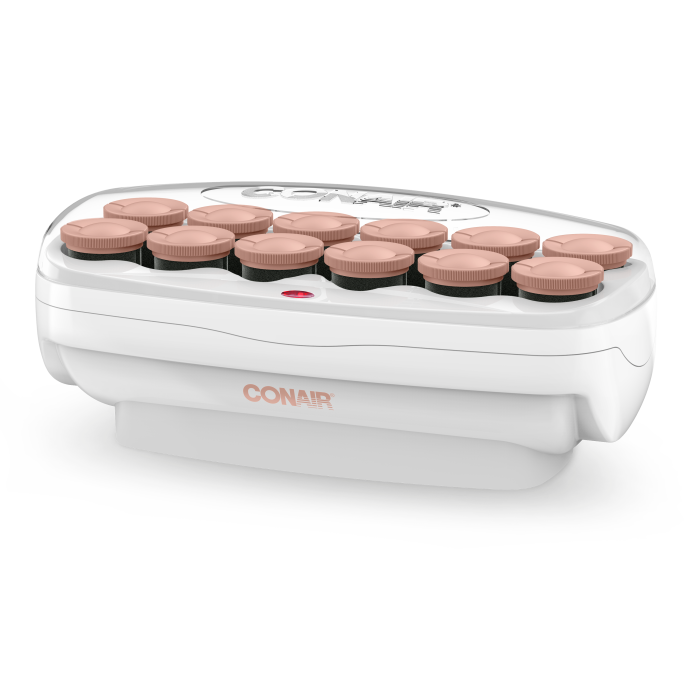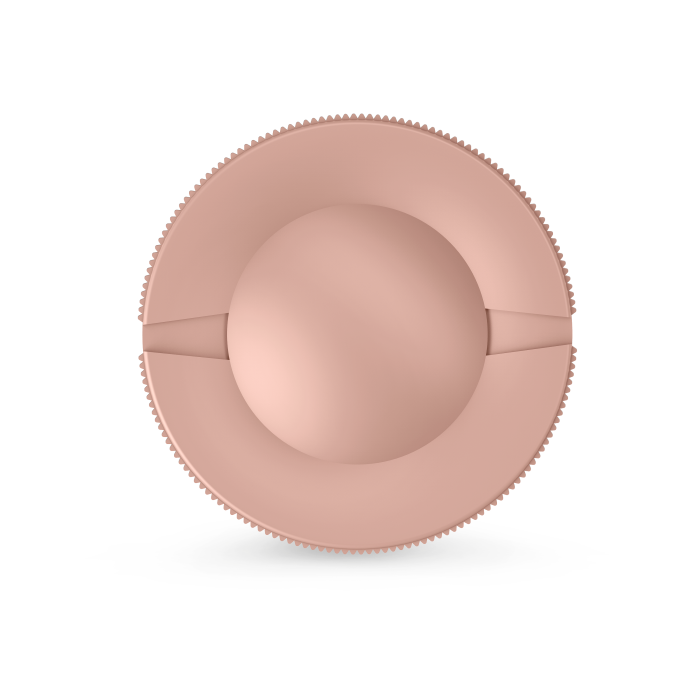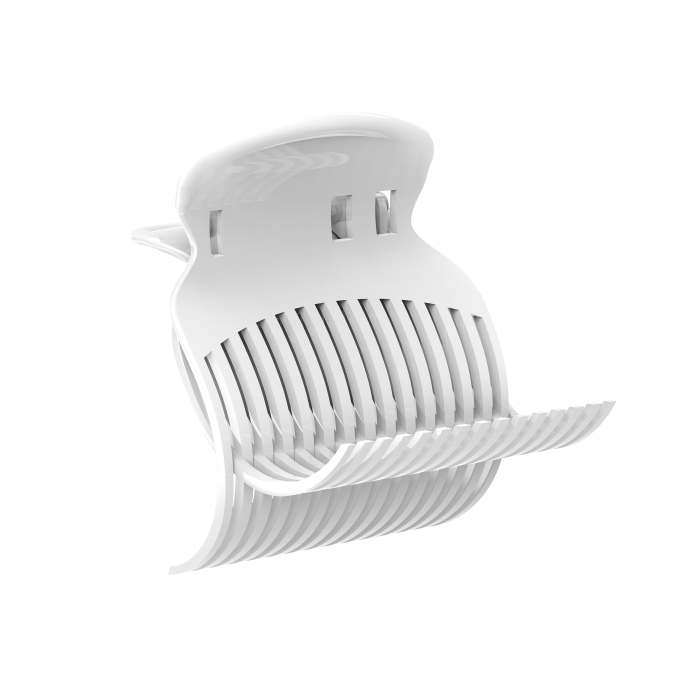 12 Piece Hot Roller Set with Super Clips
More volume. More body. Less damage.
Description
More volume. More body. Less damage. Get it all, quickly and easily, with the Big Curls & Waves Jumbo Roller Set from Conair®. This innovative set of hot rollers includes 12 1½-inch jumbo velvet-flocked rollers that make it easy to create smooth, sleek looks with added volume. Perfect for forming large, flowing curls and waves, these jumbo rollers come with 12 super clips that provide the firm hold you need for flawless curl definition. Set your style with a hold that's both secure and comfortable. The ceramic-flocked rollers heat up in just 85 seconds with even heat for consistent curling from start to finish. Salon results at home made easy!
Features
Big Curls & Waves: Twelve 1½ in. jumbo velvet-flocked rollers make it easy to create smooth volume and beautiful, shiny curls.
Roll Control: 12 super clips with powerful hold give you perfectly defined curls.
Fast, Even Heat: Ceramic-flocked rollers with 85-second heat-up ensure quick styling and consistent results.

Specs and Support
Model Number
CHV12XN
Shop By Tools
Hot Rollers
Warranty
Limited 1-year warranty
Dimensions
4.75 x 4.75 x 11.75 in.
Unit Weight
2.7 in.
Rated 5 out of 5
by
Rose8
from
Great to refresh a silk press
This isn't my first rodeo with Conair hot rollers, I used them years ago in school, and it was quick and easy for a day/night out. Put them on before you start your makeup and by the time you're dressed all you have to do is brush and set. I have used this hair on only blown-out hair and flat-ironed hair, and I can only say that it really depends on the look you're going for. I will say for me the curls fell faster for the only blown-out hair rather than the hair that was already straightened. It definitely did the job and did it well.
Date published: 2022-12-29
Rated 4 out of 5
by
Mamabearco
from
Great buy if you have long, thick hair
I was super happy to get to try the Conair Xtreme Big Curls Hot Rollers with Super Clips. I have a lot of hair so quite often products like these don't work because I have too much hair.Not the case with the Conair Hot Rollers. Out of the package I liked the split design of the roller when it came to heating. This set was piping hot and ready to use. The curlers held quite a bit of hair and the clips were able to support it. I do wish the clips were a little bit tighter to have a better hold 9n the curler. It took me just under 10 minutes to get my hair clipped up and I let it set for another 15 Taking them down was just as easy, i do wish there were a couple varied sizes so I could use less hair and get a tighter curl around my face. I was able to achieve a nice full body wave in under 1/2 hour. One other thing is that I wish there was a storage bag for the clips. It would be so much easier to store them.
Date published: 2023-11-24
Rated 4 out of 5
by
brosas225
from
Get the job done!
These were semi easy for me to use, there's a learning curve to them but once you do, it is easy to do. I really wish there was a glove or finger tip cover that came with it. I kinda burned my fingers a little when I first started since I didn't know how to use them. The first time you use them, they have a funny smell but that goes away fairly quickly. The clips are kind flimsy but do hold the curler well. My hair did curl fast and looked nice and felt soft. The curlers are have a nice feel and are big. I do recommend!
Date published: 2022-12-11
Rated 3 out of 5
by
Lori8
from
Jumbo rollers
I have tried these jumbo hot rollers multiple times but they just don't work in my hair. First of all, my hair is long, thick and heavy. I roll my hair from the ends all the way up to my head and had to use the metal clips and the claw clips just to get the rollers to stay in place. When I took the rollers out my hair just had a curl at the bottom and it only lasted about 15 minutes then you couldn't even tell I rolled it. I would recommend these if you have hair that is easier to curl but it's just not for my hair.
Date published: 2022-12-13
Rated 4 out of 5
by
MackHey
from
They work!
I received this product in exchange for my honest review. I was not sure how well these curlers would do on my shoulder/collarbone length hair as they are larger curlers but I was pleased to see they did pretty well! I rolled them toward my face and looked a little goofy, so rolling away from my face looked a little better. I'd definitely spray them after unrolling, as the curls fall out fairly quickly in shorter hair. Longer hair might require more curlers too. Either way, I'll definitely get some use out of them
Date published: 2022-12-09
Rated 5 out of 5
by
MBenzie
from
Tossing out my curling iron
I have waist-length, thick hair and these hot rollers are a complete game changer. In half the time and absolute minimal effort, I have beautiful loose curls while I'm doing my makeup or parenting. I'm never going back to dropping everything to have my hands full with a curling iron again!
Date published: 2022-12-22
Rated 4 out of 5
by
StephanieRey
from
Works on my waist length, thick hair!
I have never used any sort of rollers on my hair before trying out this product, and I've got to say, I'm a big fan! I like to use it on slightly damp, almost dry hair. They're pretty easy to use, even on my waist length, thick hair, and I get a lot of compliments on my hair when I use them! The curls and volume look amazing! I usually use the robe tie headless curling method on my hair because I try to not use heat too often, as I'm trying to keep my hair as healthy as possible. I feel like these heated rollers are not damaging to my hair at all so that's a big plus. My only complaint is that the red light never seems to turn white like the instructions say it will when they're ready to use. I just wait about 30 minutes to make sure the rollers are hot enough before using them.
Date published: 2022-12-24
Rated 5 out of 5
by
Slim
from
Such a great product.
I always wanted to try using regular rollers for the volume and that blow out look, but the rollers would take forever and my hair become flat/straight right away. This is such a genius product, so easy to use. Dont have to wait hours and gives you a better longer lasting, voluminous curls. The rollers are not too hot for touch, but warm enough to work. The only thing is clippers dont reach the scalp and don't hold hair very good, maybe because my hair is long. i would have to buy different clippers
Date published: 2023-11-04
Rated 5 out of 5
by
Kat19
from
I love them
Dyson airwrap who ? All jokes asides, these are amazing. I have long hair and they work great for me. Not only are they affordable, but the curls come out so nice and bouncy. Keep in mind that these are intended for loose curls. The rollers get to a warm comfortable temperature. So it's easy to put them on without the fear of getting burnt. I have noticed that these don't damage my hair as a traditional curler would. My hair has not been feeling as dry as it was before. 10/10 I would recommend
Date published: 2023-01-13
Rated 5 out of 5
by
Katrina4
from
Blow dried hair without damage
Get the most beautiful blow dried hair look without the heat damage. You will get very soft curls or waves.
Date published: 2023-01-07
Rated 4 out of 5
by
Kristb
from
Easy to Use
These rollers are perfect for loose waves! At 1.5 inches, they won't give you tight curls but I have long hair so they're great for me! The included instructions are straightforward. They're easy to heat up while I'm showering first thing. The clips hold the rollers in place well. I'm able to move around and get my toddlers ready while wearing them! Anyone with medium to long hair should give them a try! I believe you'll be pleasantly surprised!
Date published: 2023-11-24
Rated 1 out of 5
by
Db310
from
No pins
Purchased this on amazon where the photo and description said it came with the metal pins. It does not. My old set came with pins and a slot to store them in the base. The plastic clips are worthless. They leave a crimp and who wants to find a place to store 12 plastic clips? It's like the Conair product designers sat around and had a contest to see who could take a great product and make it worse. I bet the person that designed this won.
Date published: 2023-10-01
Rated 4 out of 5
by
Shinything
from
It curls my hair
I really like these curlers because they do curl really well and the curls did stay in a lot longer than they normally do. Curls usually fall out of my hair within minutes and with these, they last a few hours which is huge for me. The only thing I'm not super fond of is the size of the product, it just takes up a lot of space within my beauty area. The curls were beautiful and bouncy though like I prefer so I'll definitely keep using it.
Date published: 2022-12-10
Rated 5 out of 5
by
Courtlovexoxo
from
I wish I knew about this sooner !!
I'm in love with this hot roller set. The type of curl it gave my hair was so beautiful and soft. Kind of like a soft beach wave. I washed my hair, blow dried it straight, and then put the con air hit rollers in and I had a beautiful hair style in about 30 minutes. The fact that I no longer have to apply tons of heat to my hair to get some curls now is amazing. You don't have to worry about heat damaging your hair with these rollers.
Date published: 2023-01-02
Rated 5 out of 5
by
Meximamma72
from
Big bouncy curls!
We have used Conair heat styling tools for years and there is a reason why. They are the best out there! These jumbo hot rollers give my hair a beautiful bouncy curl that lasts all day. When I want to big waves I just leave them on for less time and they look so lush and full of volume They style my long hair without damaging it and I really appreciate that. I love the sleek case, it's easy to store and they heat up quickly as well!
Date published: 2022-12-22
Rated 5 out of 5
by
Kbella1
from
My new favorite product
This is my new favorite hair care product. The wide barrels really helped provide a unique open wave for each section of my hair. I love that my curls lasted all day long. I found this product super user friendly and easy for any type of hair. I love its storage. My new curl solution. I use every other day for instant volume. I highly recommend!
Date published: 2023-12-05
Rated 5 out of 5
by
Mimeow
from
Easy to use and loving the curls!
Thank you Conair for sending me this product to try and review. I appreciate it a lot! This heated up super quick and ready to use in minutes. It's quite easy to put on then do your makeup while waiting for the curls to set. I have very long, stick straight Asian hair and keeping curls is hard. With that in mind, I wanted to see how long the curls will hold. Unfortunately, not that long (a few hours only) unless I use a hairspray or something. Anyway, not a problem. Since I also have thick hair, I may need to do the curling in batches so it can really heat up thinner sections of my head instead of using all of the curlers in one go (which may have resulted in the curls not lasting long). I'm still very happy that I got to try this product and will be sticking to it! I love the curls it gives compared to the three barrel one I have. Will definitely use this a lot.
Date published: 2023-11-22
Rated 5 out of 5
by
macie
from
Great for volume
I loved using this roller set! I have medium length (shoulder length) hair and these worked great! It does take some practice to learn how to get them perfect but it adds so much volume to my hair. I also love I can set it and do other things with the hair rollers in. I've tried rollers before when my hair was super long and it was hard to deal with but having shorter hair made it so much easier and I had great results!
Date published: 2022-12-24
Rated 5 out of 5
by
Catherine2
from
Easy to use, comfortable
I always want to curl my hair but found curling irons and wands so difficult to use — they're scarily hot and wrapping my hair around it is really hard. This product absolutely solved both of those problems; it was really easy to hold and clip my hair around the curlers, and each piece also isn't continuously tied to heated power source so I wasn't worried my hair (or nearby skin) would become burnt or fried. The product heated up really fast so it's definitely something you could easily do before work or school as you have breakfast. Because it's not as hot I did notice that my hair started straightening faster than it would have if I had used a curling iron, but if you use hair spray or setter immediately after removing the curlers, that shouldn't be an issue. I would highly recommend this product, especially for those who have thinner and more fragile hair like me.
Date published: 2022-12-20
Rated 4 out of 5
by
KellieM
from
Nice Curls
These rollers are great for medium length hair. The product states that they are jumbo sized, but I feel longer length hair would need extra rollers to do a full head of curls. Once done, the curls are nice and decent. You do however need to blow dry your hair before using. Do not use these rollers on wet hair. Overall, I think this is a great product and I would recommend using them for added volume.
Date published: 2022-12-08
Rated 5 out of 5
by
Taylor
from
Big voluminous blow out maker!
I was recently gifted this product by Conair. After 3 weeks of trying out and learning how to use it, I think this would be perfect for people with short to medium length. It definitely requires a learning curve because you really need to understand how to clip it so it do not fall. The curl generally last 3-4 hours without any products. You can definitely add mousse to extend the wear or hairspray.
Date published: 2023-12-01
Rated 5 out of 5
by
Shey
from
Fabulous Hair!
This is my new go to quickly do my hair! It heats up so quickly after plugging in. I have enough if not extra rollers for my hair. I love that they are an aesthetic cute pink and white color. I also love that they come with clips already. I use them while doing my makeup. Paired with a great hairspray my curls lasted up to 3 days! Its a must have for a blow out soft curls type of hairstyle! New go to.
Date published: 2022-12-29
Rated 5 out of 5
by
Marie4
from
The best!
I've never owned hot rollers before so I was really looking forward to getting these and seeing the results! I'm so impressed by how voluminous my hair looked after my first use. My hair looked almost professionally done and just had such a natural wavey voluminous look to it! Definitely a huge fan of Conair and so happy with the results of these. They heat up nicely and don't burn my fingers either.
Date published: 2022-12-26
Rated 5 out of 5
by
BuckeyeGina
from
Heats Quickly, Good Curl
My hair is thin & fine so I want rollers that will protect it as I style. This set heats quickly and left a big, soft curl. I also used it on my teen daughter who has thick, long hair. It's perfect for anyone with a lot of hair. I like having 2 clip options because my fine hair works better with the claw clip. The roller size is not a true "jumbo" and I think that refers to the number of rollers.
Date published: 2022-12-08
Rated 5 out of 5
by
Maria O"Rourke
from
If you want big beautiful curls that last look no further
I was born with hair that hates to curl and even if I manage to get an ounce of wave it barely lasts. I'm also not the best at beauty products but these were full proof. I added some gear protectant, heated then and they clipped in super easily. I had an event that night and these big bouncy curls stayed in the entire time. If you are looking for an easy salon look these are your answer.
Date published: 2023-11-09
Rated 5 out of 5
by
May1
from
AMAZING
I absolutely loved this tool. Complete game changer. It takes less than 10 minutes to heat up and takes about 8 minutes to put them in it's so easy and an amazing tool if your running late also the results are beautiful and voluminous curls which you can run your finishers through this doesn't last as long as it is a blowout look but I still love it and recommend it to anyone
Date published: 2022-12-29
Rated 5 out of 5
by
Chrissy6
from
Bounciest curls
I've never used hot rollers before and typically go for a traditional curling iron but I have to say my curls stayed intact for so long and looks like I just got the best blowout ever. I actually find these hot rollers super convenient because I can roll them in my hair and let them rest while I do my makeup. Once I finish my makeup I can take them out and have perfect hair!
Date published: 2022-12-15
Rated 5 out of 5
by
Sunfish77
from
Beautiful Curls
These hot rollers create beautiful, long lasting curls & make my hair look shiny & healthy. I really like that all the rollers are the same size. I've had other sets & only used the biggest rollers, but there never were enough. These are perfect with 12 big rollers. The rollers heat up very quickly. The clips hold the rollers in place like they should.
Date published: 2023-11-15
Rated 5 out of 5
by
Courtney7
from
Heats Up Insanely Fast
I couldn't believe how quickly these rollers heated up. The indicator on the curler is very useful, too. This set comes with two different types of clips/pins to secure the rollers, which is very nice. The size of the rollers were very nice for large, voluminous curls. I wish there were a few more though, since this wasn't enough to do my whole head.
Date published: 2023-01-08
Rated 4 out of 5
by
Sammy2
from
Good for the value
They take a bit longer than other systems to warm up but works well and helps even my flat thin hair to have some bounce! I like the larger roller sizes but the ends do get a little warm next to the skin, I used a headband to help pull them up slightly so they didn't feel too warm against the skin. The clips are easy to use while your hands are full
Date published: 2022-12-10
bvseo_sdk, dw_cartridge, 18.2.0, p_sdk_3.2.0
CLOUD, getReviews, 6ms
reviews, product