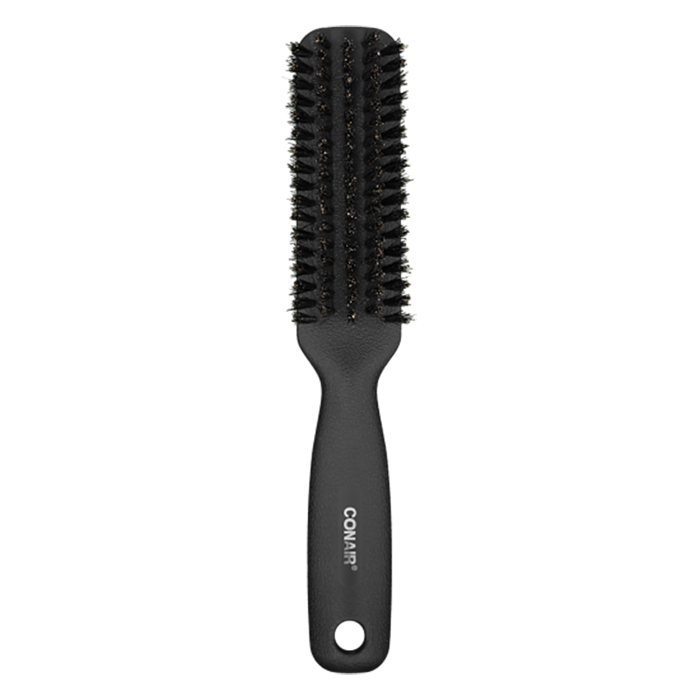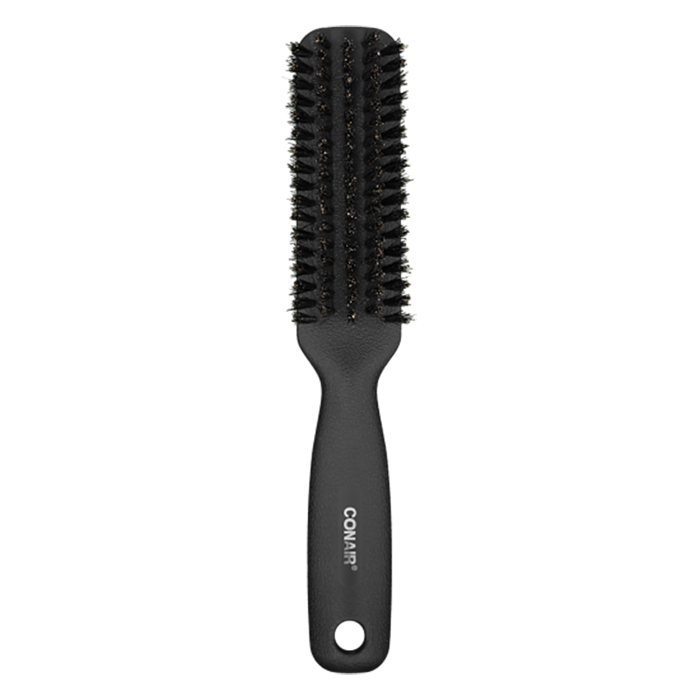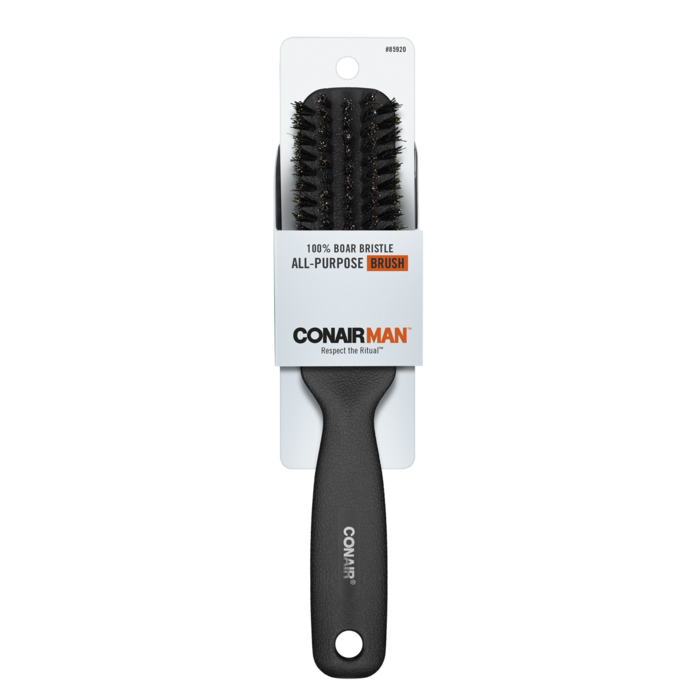 Description
A man's hair makes a statement. Sometimes bold. Sometimes subdued. Always individual. The All-Purpose Brush is just what it says it is. Use it for everyday brushing. The paddle design brushes more hair with each stroke. For all types of hair and any kind of style. Take the time to do it right and do it with ConairMAN®. Use the best brushes. Find your technique. Perfect your style.
Features
100% natural boar bristles distribute scalp's own oils to smooth hair and add shine
Designed for everyday brushing of all hair lengths and textures
Clean in a recommended solution of warm water and shampoo, air-dries with bristles facing downward
Specs and Support
Model Number
85920
Dimensions
9 x 9 x 2.5 in.
Unit Weight
0.26 in.
Color
Black
Rated 4 out of 5
by
KrAzYBLADE6
from
Very Soft Bristle Brush
The Brush is probably the softest brush I ever owned. The bristles feel great on the head and beard. I feel this brush is better suited for individuals with thinned hair or facial hair. I have thick hair on my head so this brush seems just a tad too soft to brush through all layers of hair. It took me longer than normal to brush my hair compared to the harder bristle brush I normally use. Unlike the hard bristle brushes, it doesn't hurt or irritate your head when brushed hard and or fast. My hair type is different than most so therefore I give the brush 4 stars. I see the brush working great for other hair types.
Date published: 2023-06-06
Rated 5 out of 5
by
Andys9
from
great product
This brush has exceeded my expectations in every aspect, from its design to its performance. If you're searching for a versatile and effective hair brush, look no further! The Brush boasts a sleek and ergonomic handle, which fits perfectly in my hand, providing a comfortable grip. The bristles are evenly spaced and made of high-quality materials that feel gentle on the scalp. When it comes to performance, this brush truly shines. Its all-purpose design makes it suitable for a wide range of hair types and styles. Whether you have thick, curly hair or fine, straight locks, this brush effortlessly glides through your strands, detangling any knots or tangles with minimal effort.
Date published: 2023-06-30
Rated 4 out of 5
by
Kingfan337
from
Board head Bristles
This brush came and upon opening i was very glad to see the Conair boars head bristle brush. This is the type of brush I used when i was younger. It sort of gave way to the fancy fancy plastic bristle ones. I have short hair and this brush a great job, much better job than the plastic ones at getting to your scalp and distributing the oils. There are so many more bristles than fashionable plastic counterpart. This is more of a mans brush. At least one is. It feels great on the scalp and moving through your hair. Really separates your hair and messages your scalp at the time. Highly recommend this Brush
Date published: 2023-06-07
Rated 5 out of 5
by
Casinoboy9
from
ConairMan All Purpose Brush
The men's ConairAll Purpose Brush had a very well made handle and the perfect size length of the handle for the size of a man's hand. The boar bristle brush can be used for the hair and for the beard. The bristles are soft and was used for my medium length hair allowing me to style my hair the way I like. I also used it on my beard styling it making it look smooth and not tangled. I use it everyday on my hair as it detangles my hair from a night's sleep. It's good to use on wet hair as well. I like this brush as it massages my scalp and makes my hair feel alive. This brush is also used by my wife. I have to hide it or I will never get it back from her as she loves it as well.
Date published: 2023-06-12
Rated 5 out of 5
by
AaronfromTN6
from
Great addition to Brush regiment
First off; I love this brush I have very thick, longer-than-short hair on top and I use a round brush to pull my hair in a specific direction or put some style into it. The Boar bristle brush is great to add that last, little touches, to help the entire style come together. My sides are a lot shorter and this same brush is amazing and pulls down any flyaways as well. While it has not Replaced my regular brush/es, it has easily found a great slot in my normal routine. Highly recommend it for styling and for shorter/thinner(than mine) hair!
Date published: 2023-06-09
Rated 3 out of 5
by
TwinDaddy8
from
Average brush. Not great for beards.
The handle and bristle housing is made of quality materials that feel good in your hand. You can tell they put some thought into that part. But, the bristles themselves either aren't hard enough or they are packed to closely together because they would not penetrate deep enough into my beard to grab and pull through. Overall, I would not recommend this brush to any gentleman with more than a halfway thick beard. For thinner beards it would work well. Or, for those that don't mind just brushing the actual surface. May do well for them as well. Final thought... For those of you wanting to brush out the entirety of your medium-to-thick man mane... Go with a different brush. This one isn't going to cut it. Sorry, Conair. Rethink this one and try again. Or come up with a brush for thicker beards. Thanks.
Date published: 2023-06-06
Rated 5 out of 5
by
Goblin2142
from
Great brush
It has a great handle with a really nice textured grip so it doesn't slip when your hands are slippery with really nice contured bristles to really get deep in your hair. The bristles are soft but strong to really get deep in your hair to the scalp and the bristles help distribute your natural hair oils to help your hair look better and more shiny. It is easy to clean with warm water and shampoo and then let it air dry. It is perfect for long or short hair.
Date published: 2023-06-05
Rated 5 out of 5
by
LINKS19996
from
New Everyday ritual
The Conair Man Beard & Mustache Smoother Set consisting of a boars bristle brush and a comb are the perfect combo for for your beard, mustache and hair. The brush really smoothes out your facial hair very nicely and the comb glides through my hair. The brush is an excellent tool for all of follices! The bristles are soft. enough not to rough up your skin but tough enough to invigorate for skin and hair. I highly recommend this Conair Man Smoother Set
Date published: 2023-06-06
bvseo_sdk, dw_cartridge, 18.2.0, p_sdk_3.2.0
CLOUD, getReviews, 6ms
reviews, product