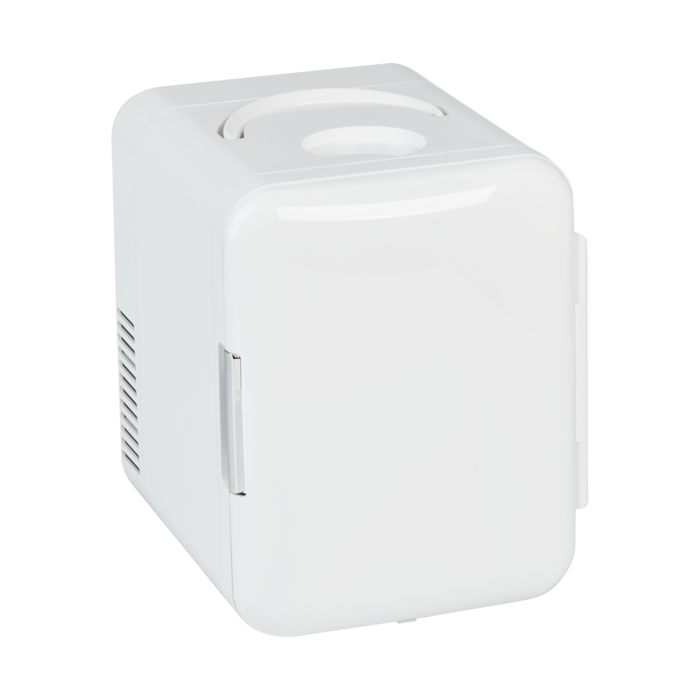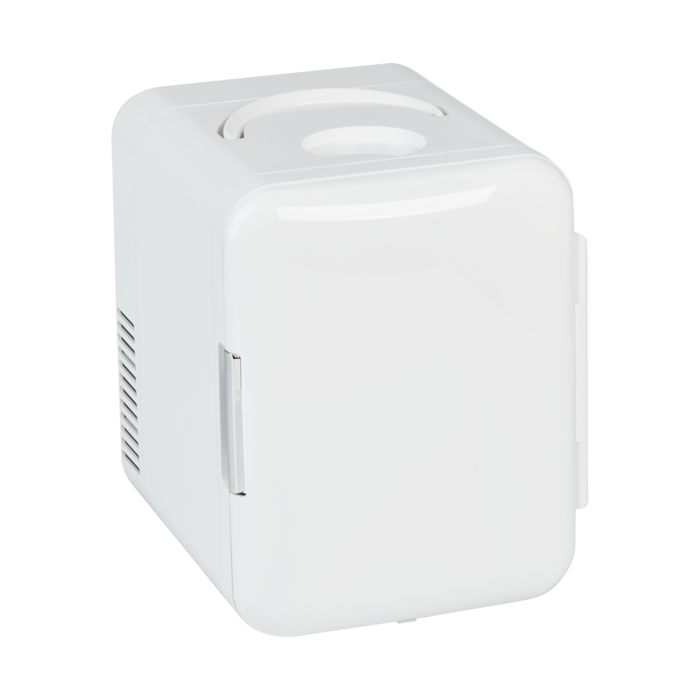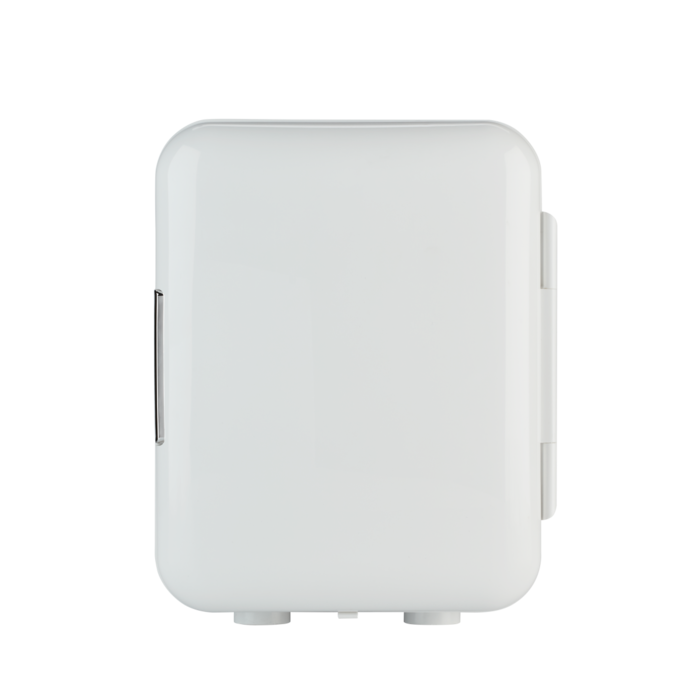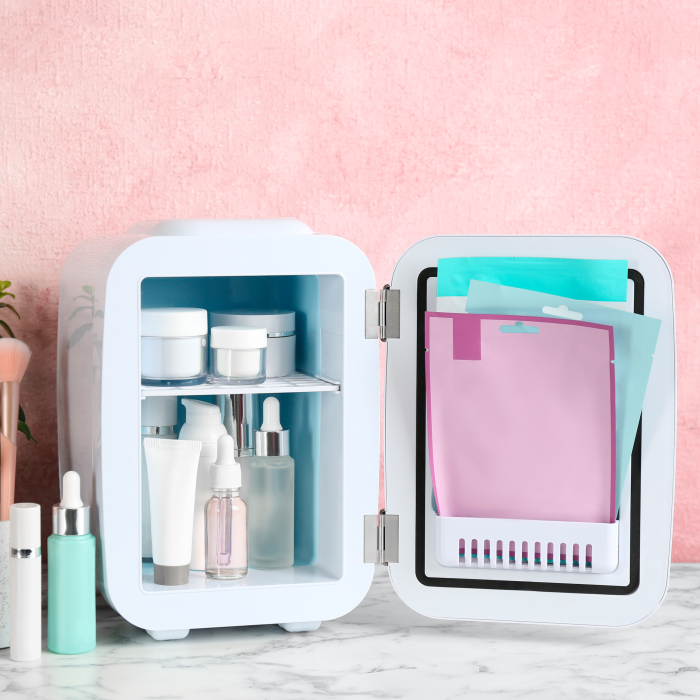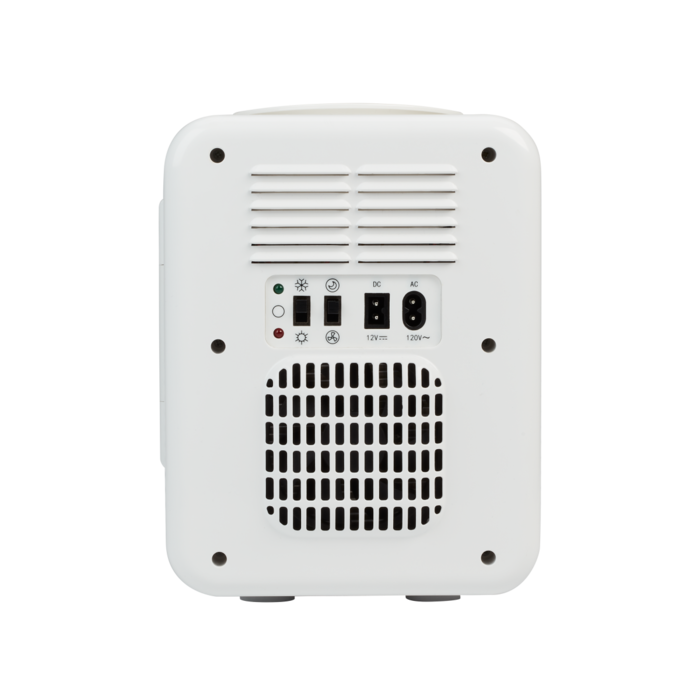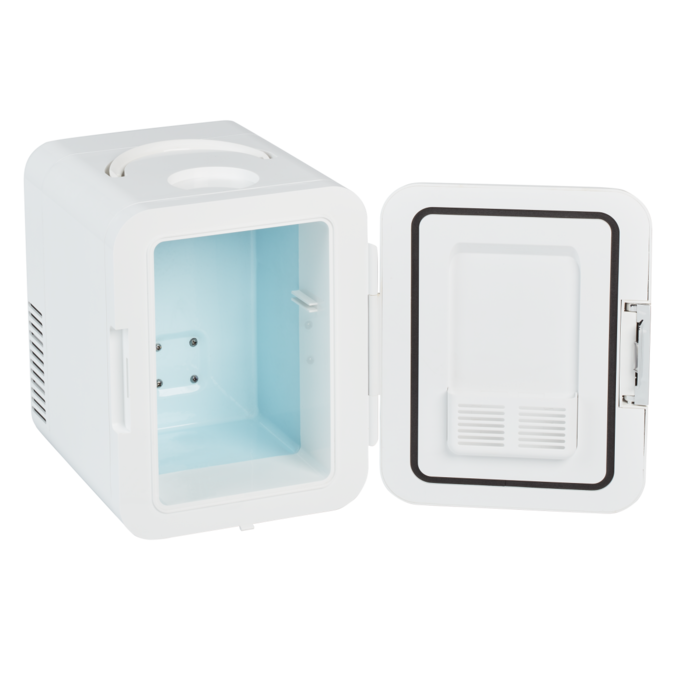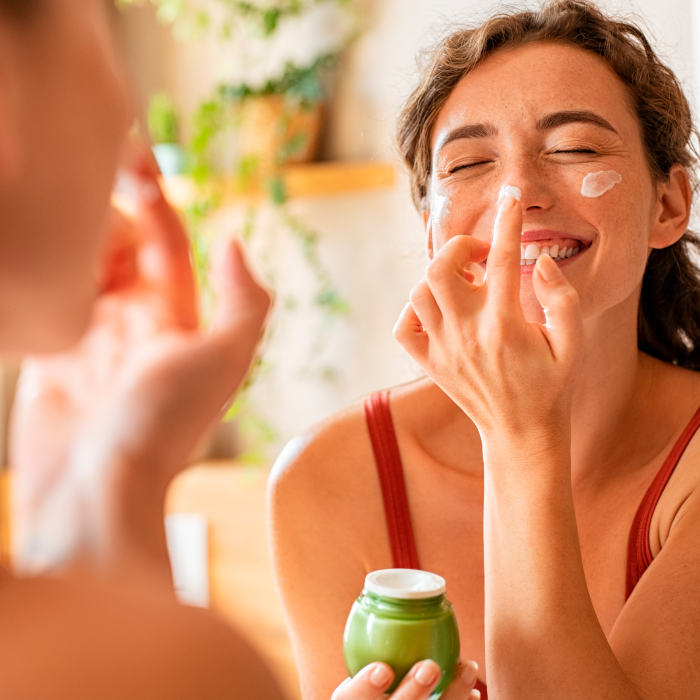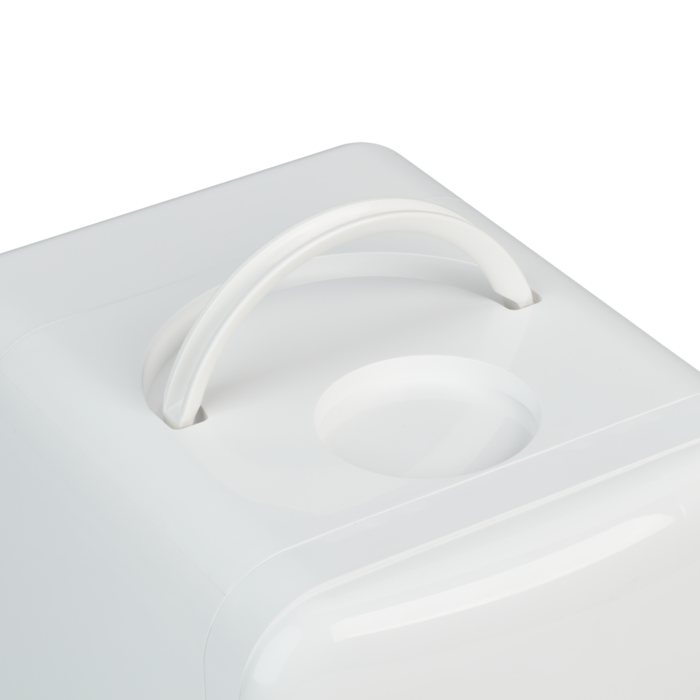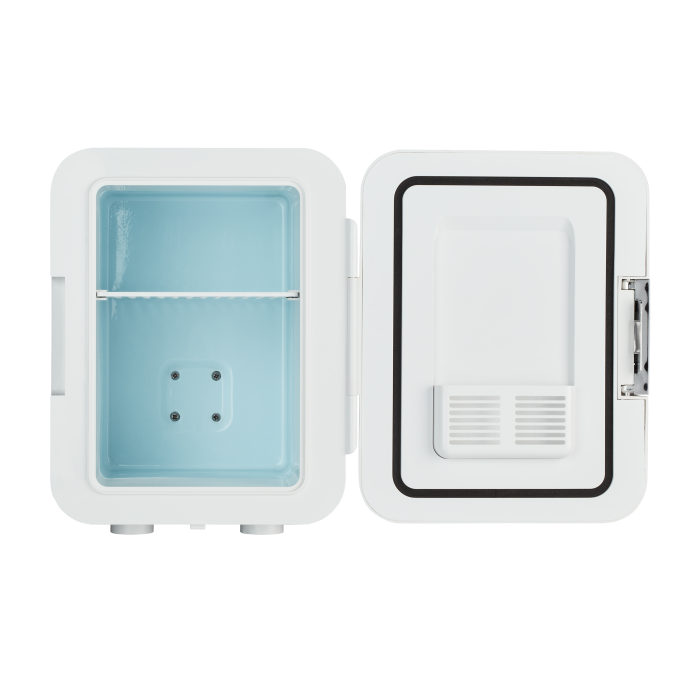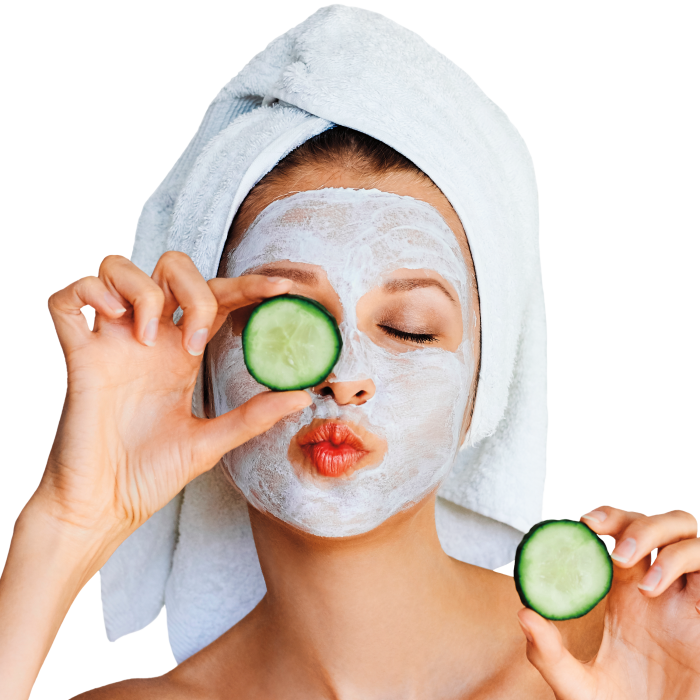 This item is currently not available
This item is currently not available
Keeps your beauty tools and skincare essentials cool and fresh.
Description
Store your beauty tools in the cool, compact beauty fridge that keeps all of your skincare essentials nicely chilled so they stay fresher longer. Beauty masks, moisturizers, mists, rollers, makeup, serums, and cleansers—and in particular, natural products that have fewer preservatives—maintain their potency in the consistent cool conditions of the 41°F case, ensuring the first application is as effective as the last. Awaken and refresh your skin with the invigorating touch of a chilled jade roller or a pore-opening solution that makes you feel like you're being treated to a day at the spa!
Features
Stays Cool at 41°F: Preserves and protects the active ingredients in your liquid beauty products by keeping them at an optimal cool temperature.
Extends Product Shelf Life: Natural products stay fresh and potent longer when refrigerated so you can enjoy them right to the very last drop.
Mini Fridge, Max Storage: Compact design (10.43" x 8.18" x 10.63" exterior and 5.51" x 5.35" x 7.95" interior) takes up minimal space in your room but has plenty of space inside for you to stash your beauty essentials. Keep serums, sheet masks, moisturizers, mists, makeup, toners, fragrances, facial rollers, cold therapy masks, and more well organized in the dual-tiered storage space with a bonus door shelf.
Spa Treatment: Apply chilled solutions to experience professional-style pampering that refreshes and renews skin for a healthier-looking complexion with less puffiness.
Cool Design: Durable contoured white plastic exterior with a silver-tone handle has a modern salon look that looks great wherever you perform your beauty routine. Convenient inset handle on top for easy portability, solid footed base, chain hinge support.
Plug-in Power: Motorized fan generates and maintains a consistent 41°F (with the door closed) without the need for settings.
Specs and Support
Model Number
SKIN1
Shop By Tools
Beauty Fridge
Warranty
Limited 1-year warranty
Rated 5 out of 5
by
Meekma5
from
Cool Fridge, Literally!!
Not going to lie, I was super skeptical about this one. I mean, who needs a fridge for beauty? Well......This. Changed. My. Life. I'm not kidding! I put every face product I use in there, including my primers and I can already tell I'm going to get extra mileage out of every bottle and tube. The temperature is perfect - putting my face cream on every day is refreshing because it's cool, but not cold. It wakes me up in the morning and soothes right before bed. There's plenty of room inside for my jars, roller, bottles & tubes. This is completely worth the money if you are invested in a good skin care routine and want to get more bang for your buck out of your products!
Date published: 2022-01-10
Rated 5 out of 5
by
AlyssaC
from
Exactly what I needed!
I am so excited about this Conair Beauty Fridge. I can finally purchase all of the makeup and skincare I couldn't before because of having to store it in the fridge. This fridge is the perfect size to be able to fit both small bottles and larger ones. I love the removable shelf. It makes it possible for me to nicely organize and things and tailor the fridge to what I need it for. I also like the size of the fridge and the fact that it is not loud. I can keep it in my bedroom without it taking up a ton of space or making a ton of noise. I would highly recommend this fridge!
Date published: 2022-01-22
Rated 5 out of 5
by
Jewels53
from
Perfect
This beauty fridge is perfect for keeping my skin care products cool . Hopefully I can get longer use out of my facial products now. Because I don't want them to go bad . I like the size of the fridge , I wish it had more than one shelf but it's still great . It has a handle that makes it easier to carry . The product isn't heavy at all and gets cool pretty quickly . I would recommend and I'm definitely going to continue to use .
Date published: 2022-01-08
Rated 5 out of 5
by
Debbie66
from
Keeps beauty products cool and refreshing!
As soon as I received this beauty fridge, I plugged it in and in less than an hour, it was cool enough to put my beauty products in it. It has a shelf that can be removed to accommodate taller beauty products. There is also a small compartment on the inside of the door for extra space to store extra beauty products. I love storing my facial serums, creams, and other beauty products in this fridge. They feel amazingly cool and refreshing when I apply them to my skin after being stored in the fridge. I received a free product for my evaluation.
Date published: 2021-12-28
Rated 1 out of 5
by
bchicobraun
from
Doesn't work
I was SO excited to get this Conair Beauty Fridge. Living in Florida this product is an essential. However, this fridge never got cold. I read the instructions thoroughly. I placed in on a well ventilated hard surface with plenty of room between the wall and the vents. I plugged it in and turned it on and nothing. After 24 hours I. checked again and the fridge is still at room temperature. I can hear the fan running, but the inside does not get cool. I tested the temperature multiple times with a thermometer and the temp inside the fridge is the exact same as the temperature in our house - 74 degrees. I would have LOVED for this to work because it holds all of my products so well and even has a cute little sleeve for my eye masks on the door.
Date published: 2022-01-15
Rated 5 out of 5
by
FabMama
from
Perfect little fridge for all your beauty needs'
I received this item for free in exchange for my honest opinion. I absolutely love this little mini beauty fridge by Conair! Not only is this super cute and perfect size to store all your beauty masks and creams, serums, gels, and any other topicals' there is enough room for all of it! Plus throw in a bottle of water to keep you hydrated too!! Can't go wrong with one simple plug and bam it's on and starting to cool down immediately! This mini beauty fridge that is all white and can be designed in any way to match your beauty bar!
Date published: 2022-01-15
Rated 3 out of 5
by
Cavi
from
Cool beauty
l The conair beauty fridge has its pros and cons. Firstly, I love that the product effectively cools my products to an appropriate temperature.I used it to keep my natural masks cool mostly. it excels at doing what its designed to do. My only gripe is the size. Its a bit large for smaller bathroom counter tops.it will fit but takes up a lot of space. Which kinda makes you question if you should just use the fridge in the kitchen. So the dilemma would be would you rather save a trip to the kitchen and sacrifice space or vice verse.
Date published: 2022-01-04
Rated 5 out of 5
by
Tinkerthetester
from
Love it!
This mini beauty fridge has been a nice addition in my bathroom. I am able to keep my makeup and skin care products in it to keep everything fresh. I like the compact size as it looks small but fits a lot inside. I also like that it isn't loud. It's very lightweight and has a handle for ease of moving it. There is also a nice metal handle to open the fridge on the side. I've never used a beauty fridge and since using one I wish I would have started years ago I could have saved a lot of products that the heat and humidity ruined.
Date published: 2022-01-20
bvseo_sdk, dw_cartridge, 18.2.0, p_sdk_3.2.0
CLOUD, getReviews, 5ms
reviews, product