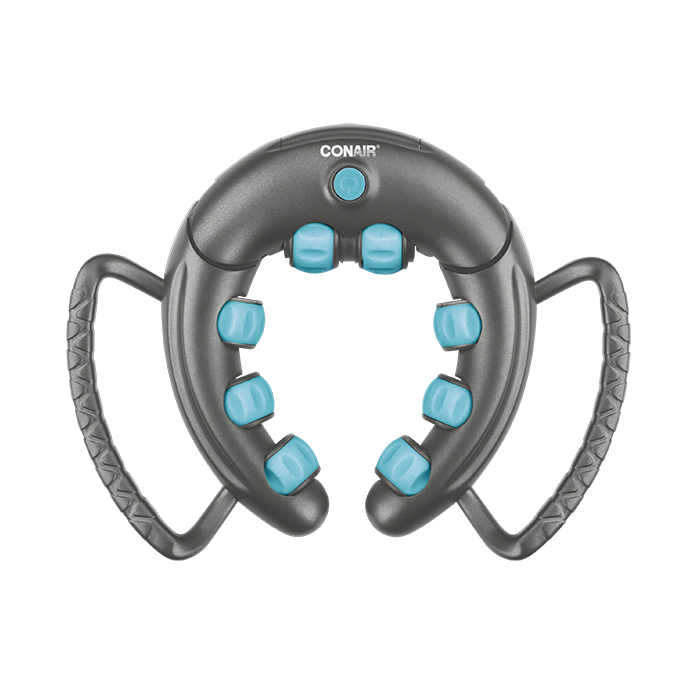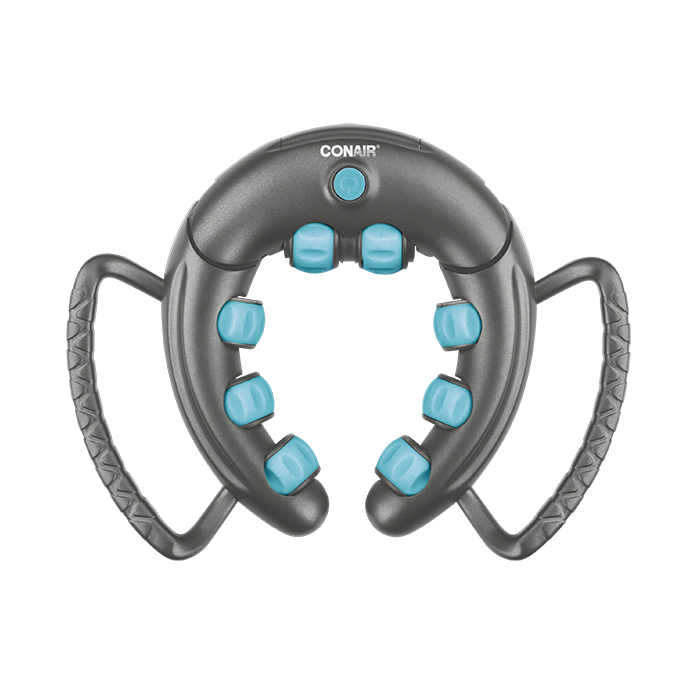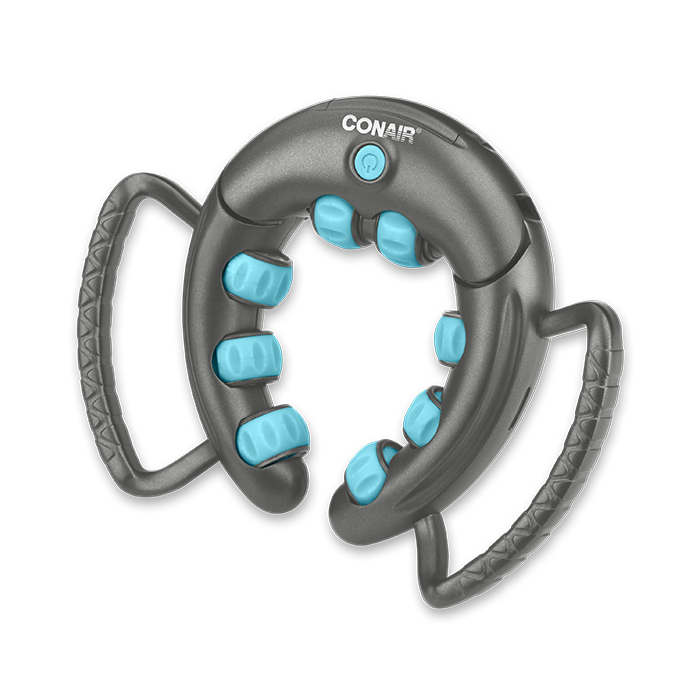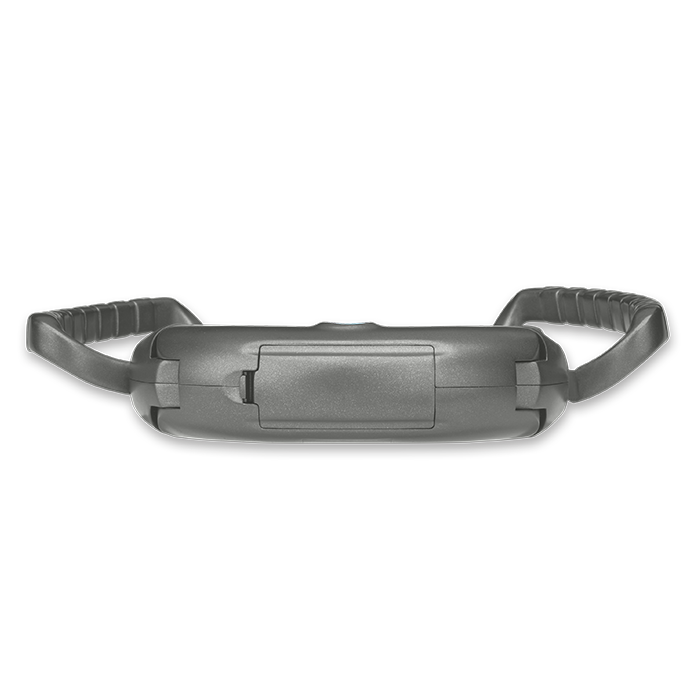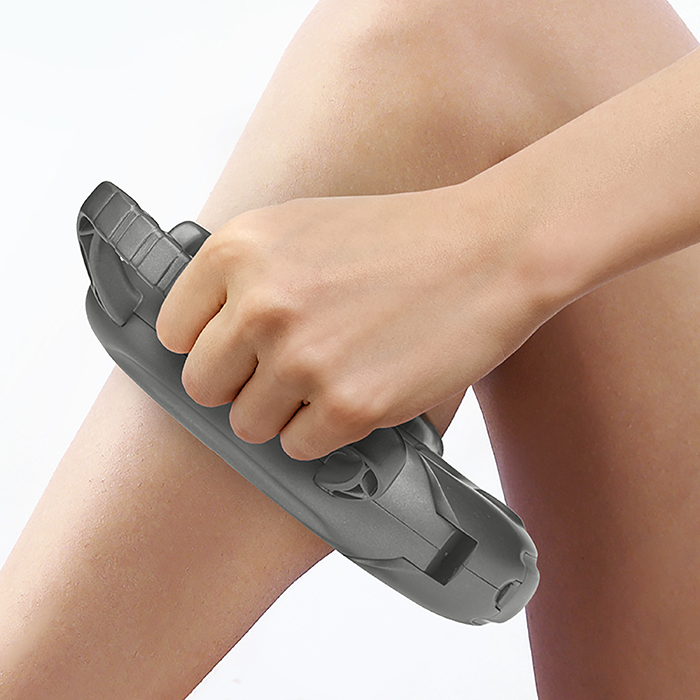 Soothe sore calves and legs with invigorating massage with vibration.
Description
Revive tight, achy leg and calf muscles and improve blood flow with a rolling massage and gentle vibration from the ConairCare® Calf & Leg Massager. The horseshoe-shaped massager has handles and hinges that make it easy to expand, so it comfortably fits the contours of the leg and other body parts. Eight textured roller balls glide evenly and press deep into muscles, helping to relieve post-workout pain, rejuvenate achy muscles, and loosen tension so you can recover more quickly from tough workouts and daily activity. Target specific areas that need customized pressure, rolling until knots and pain are relieved. For combination care, simply press the ON button to activate a vibration mode that pairs with the rollers, together stimulating tired muscles, improving circulation, and helping the skin to appear smoother. This patent- pending vibrational massage technology enhances the effects of the treatment, so you feel total relief faster. For legs that feel rested, restored, and ready for another round of reps, roll with the Calf & Leg Massager by ConairCare®.
Features
8 Moving Roller Balls: Glide over pressure points, rejuvenating achy muscles and helping to relieve post-workout pain.
Vibration + Rollers: Combination treatment helps relieve tired legs and calves and increase circulation.
Easy to Use: Roll manually over the leg. Turn on the vibration mode for deeper treatment. Uses 2 AAA batteries (not included).
Deep Tissue Massage: Improves circulation and may help skin appear smoother.
Custom Fit: Comfortable angled handles let you adjust the hinged opening to fit other body parts. Fit will vary for individual users.
Specs and Support
Rated 5 out of 5
by
Coach Fonz
from
Excellent massager for those stiff leg muscles
I was admittedly leery about a massage tool as I've found most don't really actually massage... especially stiff, sore muscles. The ConAir cslf and leg massager really does work! I liked how it worked initially but wasn't dealing with any stiff muscles so I didn't have a good idea overall. Then, I had a calf muscle stiffen up on me. The massager worked because I could apply light pressure at first. After a few days and improvements, I could give it a little more pressure. So the ability to control the pressure as you're massaging is great. The little rollers worked fantastically! Highly recommended!
Date published: 2023-03-11
Rated 4 out of 5
by
Deathbykarianne
from
It's great for leg cramps and overworked muscles
Excellent for quickly relieving a sudden leg cramp! Through the BzzAgent sampling program, Conair sent me this free Calf & Leg Massager with Vibration & Rollers. It's a surprisingly light massager that's easy to grip while using. It does not have a particularly strong massage action when compared to other massagers. To feel relief from tired or strained muscles, wrap it tightly around your calf. For me, the requirement for manual manipulation up and down the leg is a detriment. I dislike doing all the work. However, it is useful for quickly alleviating an unexpected cramp (commonly termed as a charley horse) with out having to connect stuff. If you have skinny legs. You have to press it firmly.
Date published: 2023-03-09
Rated 4 out of 5
by
Foxbrains
from
I would give this as a gift
The con air calf and leg massager was provided free in exchange for an honest review. At first I was skeptical of this unit. I wasn't sure that it would help with my achy calves. I was pleasantly surprised by how easy it was to use and how great my calves felt after a couple of long days on my feet. An added benefit was that the leg cramps I get when I over do it really didn't affect me heavily. The only thing that kept me from giving it 5 stars is that I am not sure it will hold up with heavy use over. Time. I used it 3 times a week for two weeks and it was great.
Date published: 2023-03-19
Rated 4 out of 5
by
TLHC712
from
Love this lightweight massager!
I truly love the weight of this massager. It's just the right size but packs a good little punch. After a long day of working on my feet as a special education teacher, it's nice to come home to this to relieve my aching muscles. I've used it on my calves, which are a little larger, and it accommodates them just fine. I've also used it on my arms and thighs. I love that I can use it with or without the vibration. The only drawback for me is that my muscles can be a little sensitive to pressure, but this massager is flexible enough to allow me to adjust the sensitivity. Everyone is my household has tried and all love it, though my husband frequently uses a longer muscle roller that allows him to target larger areas. This, however, is the perfect size for me.
Date published: 2023-02-27
Rated 3 out of 5
by
KathC
from
I'd give it 2 1/2 Stars if that was an option
I am not sure what I was expecting but I had hoped it would be something you clamp around your leg and it did its thing. This is not that. It will vibrate but you have to manually roll it up and down your leg. That wasn't a big issue but my legs are on the thinner side and it hurt the top of my calf when I rolled in my calf area. I had to pull the massager out and away on top so I could try it on my actual calf muscle. It was better on my thigh but to get the full benefit I had to stand and this became awkward.
Date published: 2023-02-28
Rated 4 out of 5
by
Shortie
from
Perfect massage for smaller calves
I enjoyed the product on lower part of leg if it was a little longer handles could have gone around my calf more as I went up the leg. Product felt nice though after trying it out. Was used for my family as well to see there thoughts and felt the same way as it has to be turned around to get the other side of the leg since it is a small message. Worth it to help relieve strain in your legs with using it for 15 minutes on one side of the leg to back half another 15 minutes felt great. Would recommend this product
Date published: 2023-03-04
Rated 3 out of 5
by
ValW
from
Good for quickly getting rid of a sudden leg cramp
Conair sent me this free Calf & Leg Massager w/Vibration & Rollers through the BzzAgent sampling program. It is a surprisingly lightweight massager, easy to grip and use. It requires just two AAA batteries. Compared to other massagers, it doesn't have a very intense massage action. You have to hold it tightly around your calf in order to feel any relief from tired or strained muscles. The need for manual manipulation up and down the leg is a minus for me. I'd prefer to just use compression boots instead. That said, it is good for quickly getting rid of a sudden leg cramp (also known as a charlie horse) without the need for having to plug something in to do it. I would recommend trying it to people who need something they can take with them, on the go, for massages to sore or strained lower legs after a workout at a gym.
Date published: 2023-02-26
Rated 4 out of 5
by
twistedreality
from
Gives a nice vibrating massage if you have a sore
I received this product for free to review, and it is a handy little massager. If you have a sore muscle giving you problems it's good for a local treatment. The product works by wrapping it around your leg (arm,neck,etc) and working it up and down. The massage wheels work the muscle, and turning it on adds vibrating to the massage. If both legs or arms need attention it would take a while but could get the job done.
Date published: 2023-03-12
bvseo_sdk, dw_cartridge, 18.2.0, p_sdk_3.2.0
CLOUD, getReviews, 4ms
reviews, product