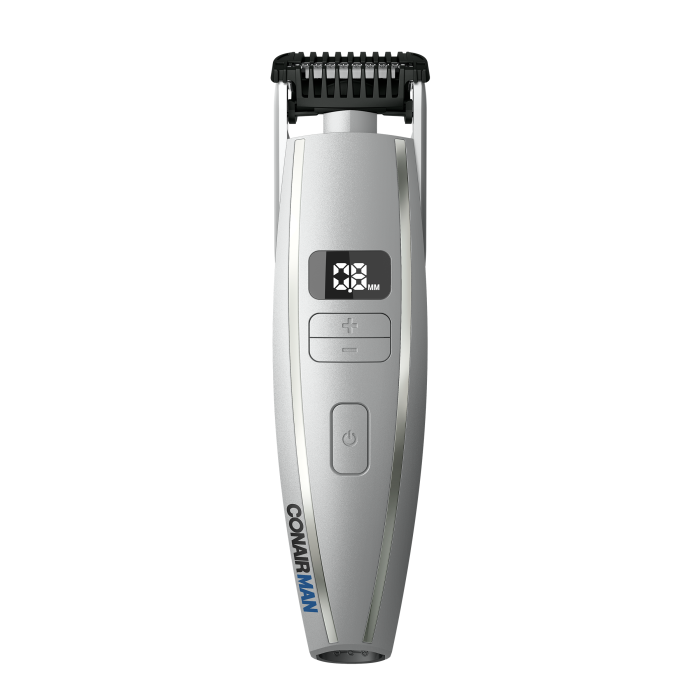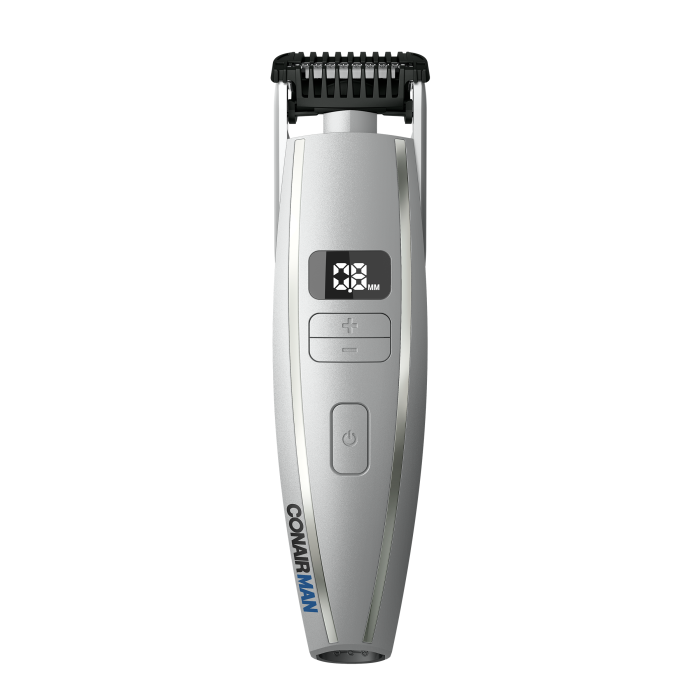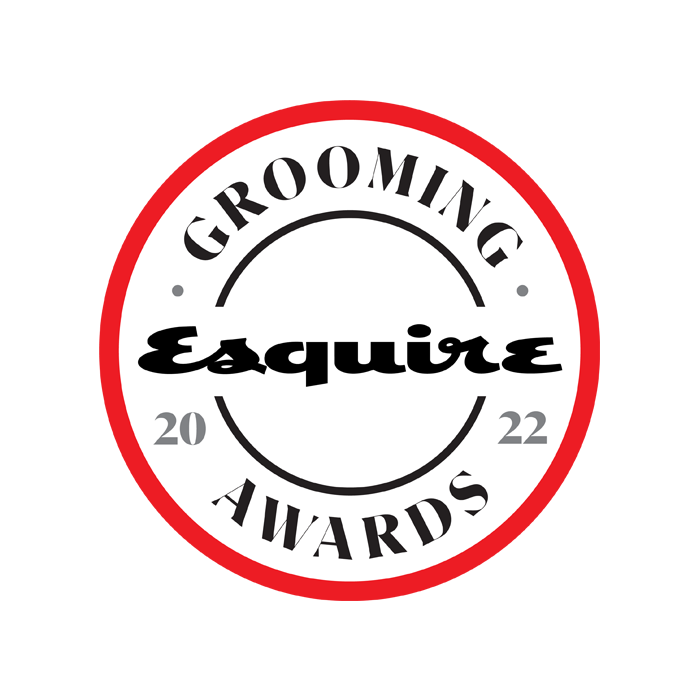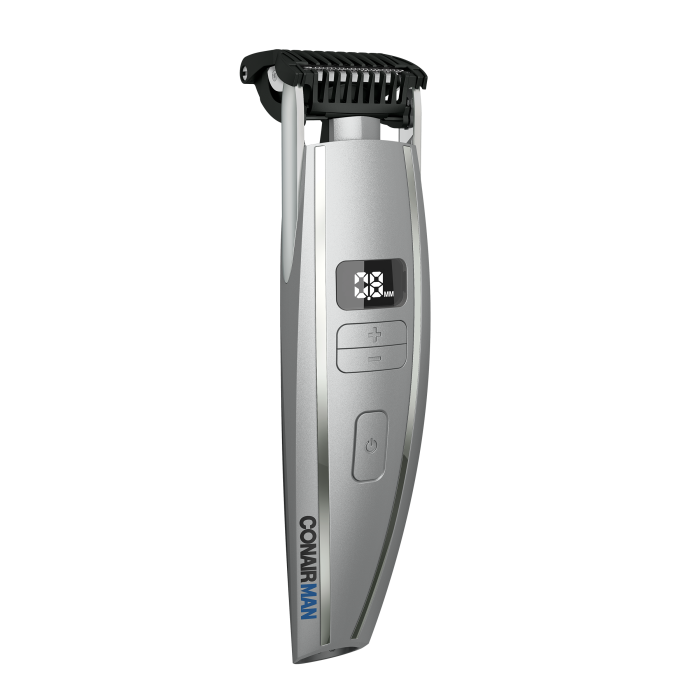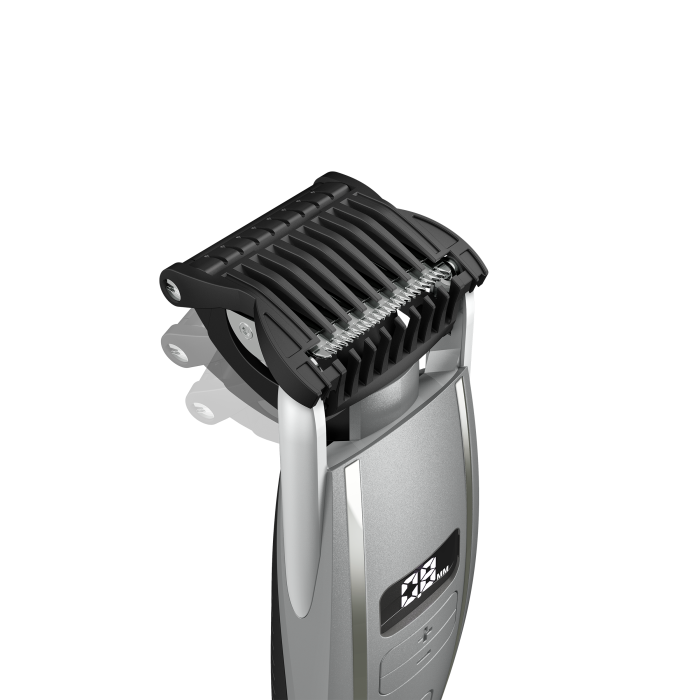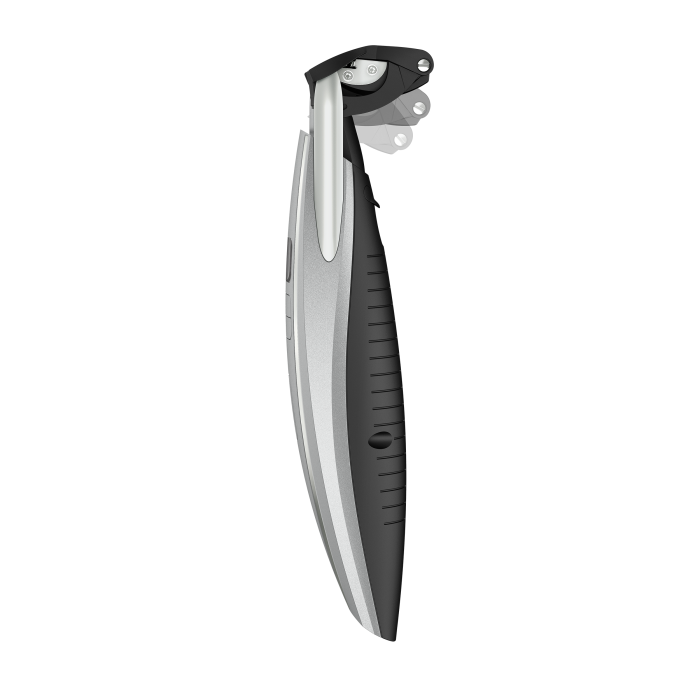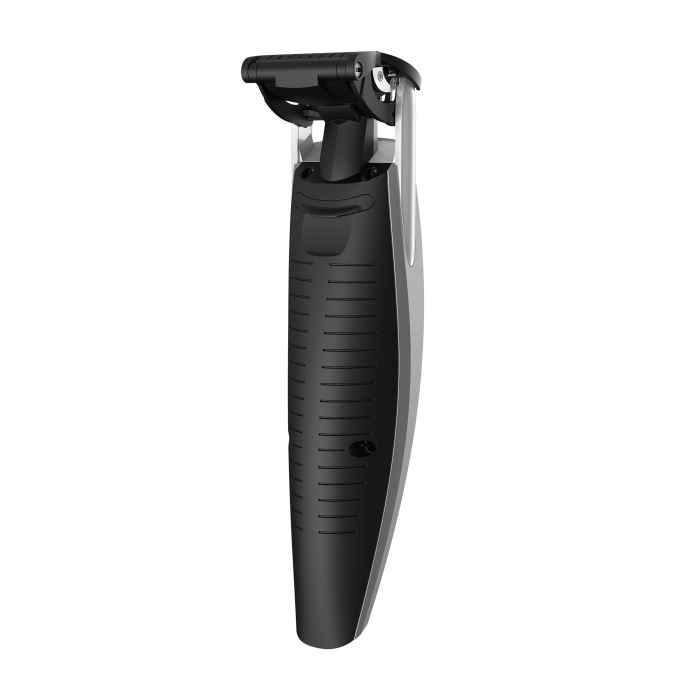 Close Trim Precision Flex Head Beard & Stubble Trimmer with Advanced Blade Technology
Unique flex head trimmer that follows the contours of your face for the perfect trim.
Description
Take control of your grooming regimen with the customizable tool designed to follow the contours of your face for the perfect trim. Engineered for cord or cordless convenience and superior performance, the ConairMan® Close Trim Precision Flex Head Beard & Stubble Trimmer with Advanced Blade Technology features a unique contouring head that flexes to conform to your facial curves for a perfect trim. Premium Etched Blades combine extreme sharpness and durability with complete safety to provide an ultra-close trim with no nicks. The Digital Length Control makes it easy to adjust the length from a 0.4 mm shadow look to a 5.0 mm beard, so you get exactly the look you want. Customize your look with a total of 15 ultra-precise length settings, from stubble to full beard trimming. Flip back the guide comb and use the blade for detailing and edging. The LCD screen displays the length you select and charge time remaining—up to 60 minutes on a single charge. You can also use this versatile tool to trim your body hair for a perfectly groomed look. When you're done, use the travel lock to keep the trimmer off when on the go or stored away.
Features
Unique Flex Contouring Head: Tracks the curves of your face for exceptional accuracy.
Advanced Blade Technology: Skin-friendly, premium etched blades for extreme sharpness and durability.
Digital Length Control: From 0.4 mm to 5.0 mm with precise automatic adjustments for ultimate length control.
All Over Grooming Made Easy: Also safely and precisely trims body hair for a clean, neat look and feel.
LCD Screen: Displays selected length and charge time remaining.
Rapid Charging: 90-minute charge provides 60 minutes of use or 5-minute quick charge for a single stubble trim. Advanced Power Performance: Long-lasting dual battery system for reliable beard and stubble trimming. Protective Comb Guide: Delivers ultimate length consistency, removable for easy cleaning and edging. Travel Lock: Ensure the trimmer stays switched off when on the go or stored away.
Instruction Manual
Reviews
Rated

5

out of

5
by
TrentB
from
Terrific digital length control!
I couldn't wait to try this! I have used a trimmer for over 25 years on my beard. I have tried several different ones over the years. I may have even had a version of this one some years ago. This one has a digital length control that is fantastic! Selecting a different length at the touch of a button is cool and unique. The blades were sharp and cut through the beard easily. One downfall, was the cutter collected hairs just under the blade. I felt the unit didn't do as well when the hair was stuck in there. The weight of the unit was good as well. But overall I enjoyed this! I received this as part of a promotion.
Date published: 2022-03-23
Rated

3

out of

5
by
arsny714
from
My Father's Review Of The Conairman Adjustable Tri
The pros: Does a good job trimming goatee and mustache. The fact that it is adjustable is a plus. However, since this trimmer is only good for beards and mustaches, it is irrelevant as most people would use the same length adjustment each time. Cons: Feels a awkward in the hand. When opening the comb to expose the blade for closer shave/trim, unable to see the edge of the blade. Makes the blade hard to place on the face when shortening mustache above lip line. Would be better if the comb was removable and not just adjustable. Blade feels flimsy on the skin compared to other trimmers. Requires regular oiling. More maintenance than other trimmers on the market.
Date published: 2022-04-21
Rated

4

out of

5
by
tylerolv
from
A Decent Trimmer
Conair's Flex Head Trimmer has its pros and cons. On a positive note: it feels well made, has a cool digital length adjustment feature, is wireless, and is relatively quiet. I like that the hair guard is attached to the device so it doesn't get lost when not in use. Things to consider with this product are that the motor doesn't give much confidence for thicker, longer hair. As the name suggests, it is strictly made for trimming short, stubby hair. The angle of the blade is different than a normal trimmer that I'm used to. It takes time getting used to holding it at a 90° angle to your face. Overall not a bad trimmer.
Date published: 2022-06-21
Rated

5

out of

5
by
drewk
from
Best electric trimmer I've used
Ok, I got one complaint and that's how close it gets to the skin, but I believe that's expected. It is not a razor after all. If you have a long beard, this isn't for you, but no trimmer is. Now for the great: Digital display of battery life. 60min run time is great and never a problem, but actual numbers telling you how many minutes are left is a chefs kiss design. I keep a very short but full beard. 5mm on the beard and 3.5 on the mustache. The device has these specific measurements. I actually use a Manscape as a personal trimmer, blows it out of the water on my face. Weird I know, but we all have budgets.
Date published: 2022-04-26
Rated

5

out of

5
by
Anonymous
from
really enjoying this so far
I went through many beard trimmers and shavers etc. I really enjoy how this has the electronic raising of the guard. the blade feels really sharp but of course it's brand new so of course it would I like how the guard flips over the back to expose the you know up against the skin trimmer. the actual plastic guard that brushes through your beard does take a little getting used to it feels a little different because of the way it pivots and bounces but I do have thicker than normal kind of coarse hair so maybe that's just me but I would recommend it so far the battery lasts forever I like how the little display gives you battery left in minutes and not just like a battery symbol
Date published: 2022-05-05
Rated

3

out of

5
by
Anonymous
from
Practical depending on how you want to keep your b
My husband has a beard and he's the one that tried this product, so those are his thoughts about the product: I like that you can change the size of the blade with the touch of a button, without having to swap heads (and potentially lose a lot of different clipper heads in a junk drawer). It's rechargeable, so you can use it cordless. It's not waterproof, so there's that as a downside. It works just fine for trimming the beard, and you can use different sizes of blades for different portions of the beard depending on how you want it to look like. However, I like to trim my beard with 6 or 7mm and this only goes up to 5mm, so unfortunately that's not the best solution for me.
Date published: 2022-04-25
Rated

4

out of

5
by
dereks12
from
Conair Man Flex Head & Stubble Trimmer
I really enjoyed this trimmer after giving it a few trys. It works as a corded, or cordless device and is rechargeable. I enjoy the fact that the trimmer is digitally set, which means you dont need 10 extra plastic length guards to deal with keeping track of. The digital read out tells you the length setting, as well as how much time you have left in your charge. This trimmer is definitely for those that keep their facial hair short and tight, and not those with longer facial hair. Trim range is from 0.4mm - 5.00mm, so if your facial hair desires go beyond that, I'd suggest a different ConairMan trimmer.
Date published: 2022-04-25
Rated

5

out of

5
by
anthonyw11
from
I found my new trimmer
I was very surprised to received this trimmer to review. the first thing that was a surprise was the vox was so empty. Generally when purchasing a trimmer, the box is full of guards for each level you can trim and or cut your hair. Second was the digital display showing the battery life and lastly, the sleek design. An added bonus is the way the guard flips back so that you can expose the cutting blade to get a cleaner cut or shave. This product scored a homerun with me especially after using. The adjustment of the guard to different levels is effortless and even shows the height on the digital display.
Date published: 2022-04-15
Rated

5

out of

5
by
Jaime2
from
By Far the BEST Beard & Stubble Trimmer
This beard & stubble trimmer is by far the best one I have used. No other product has came close to the quality, results, and reliability. The benefits of owning this product is you will have precision cuts and trims. The head is flexible and gets hard to reach hairs. You can adjustable the trim level and set it at the length you like (many settings). It cuts through the densest beard and gets hard to reach areas without trouble or pain. The battery life is excellent and long lasting compare to other trimmers. I would definitely buy this products without hesitation. I would recommend this product to friends and family who are looking for trimmer that has quality, results, and reliability!
Date published: 2022-03-27
Rated

5

out of

5
by
nicksavings
from
Next Gen Beard Trimmer
This thing is truly the next level in men's grooming. It has a digital LED screen that tells you how much battery is left and it shows you just how close of a trim you're getting as you adjust the settings. It starts at 5.0 mm and goes all the way down to 0.4 mm for a super close trim. In total there are 15 settings to choose from or if you want you can push & lock the guard back to get a skin close trim. You can even use it while it's plugged into the wall which is handy for when you forget to charge it & have to leave the house in a rush. Definitely thankful to have received this little guy.
Date published: 2022-04-30
Rated

3

out of

5
by
jongrosso
from
Conair Man Flex Head & Stubble Trimmer
I was excited to try this trimmer out because of the electronic adjustable guard. Pros: Very easy to adjust - just click the + button for a longer trim, up to 5.0 mm and the - button for a closer trim, down to 0.4 mm. You can either press the power button to turn it on or put it in a rest mode. Press and hold the power button to turn it completely off. The digital display lets you see how long you have the guard set and how much battery life you have left. Easy to clean - the head flips up for easy cleaning. Con: Do NOT get this trimmer wet! It is not waterproof or even water resistant.
Date published: 2022-06-20
Rated

5

out of

5
by
NelsonL
from
Smooth, quiet and lots of trim settings
The ConairMan Close Trimmer is smooth and doesn't cause any skin irritations. The best feature is probabily the flex head. It allows the head to smoothly glide and trim over most surfaces. I haven't seen any other trimmer that can do this - you will definitely feel the difference. Each trim is very repeatable and precise since there are about 24 different settings from 0.4 mm to 5.0 mm. If you remove the guard, it can also reach a 0.0 level. Even at 0.0 level, the trimmer feels smooth and doesn't cut or irritate the skin. I also was able to make sure that it is also completely water-proof. It's very portable and fully wireless. I like to take it on business trips and put it in my small travel bag.
Date published: 2022-03-30
Rated

5

out of

5
by
Doc Smith
from
Amazing lines
I got this beard and stubble trimmer because I am among the club of men that doesn't like to close shave their face. I don't like a straight razor on my face. I easily made my face from a full beard, to a trimmed beard with a goatee with stubble on the side, which I love! Later, my wife wanted me to shave my face completely, which I don't like but... My picture says it all! If you like to keep the hair on your face, this is great! It hugs every contour of your face and give a great shave! I would definitely recommend this to any guy who likes his face and wants to keep it that way!
Date published: 2022-03-20
Rated

4

out of

5
by
jamesw34
from
Conair Man trimmer
I've used this trimmer once and I thought it was great for what it is designed to do. It has a digital screen that shows how many minutes of use are left (more more dead trimmer halfway through a face!). And the easy button press to raise,lower the guard is wonderful and fast! However this device is limited. It only can leave hair as long as 5mm. So you cannot keep even a medium beard with this. Stubble and long stubble only. It also does not have a removable head to change for a nose trimmer option. Also, when using no guard for precision trim, the head is fairly fat and it's a little hard to see where you're trimming. 5 stars for what it's supposed to do. 4 stars overall due to its limitations.
Date published: 2022-05-12
Rated

4

out of

5
by
zikor
from
Good Beard trimmer
Nice beard and stubble trimmer ,It will get the job done when comes to a normal Beard not a thick one though , I like the slick design and the flexibility of the the head , it makes it easy for you to reach those hidden spots on your neck , the battery Life is also a great thing to mention with the cordless option. It can get jammed so you have to constantly keep emptying the head from the hair . Nice fades since it got the range from0.4mm to 5.00mm ,the motor seems to work fine no lagging or sudden stops which makes it a plus for those ones who wants to get a quick beard trim .
Date published: 2022-04-24
Rated

5

out of

5
by
derickb
from
Modern Bonus to Age Old Rituals
I actually rolled my eyes the first time I got my hands on the product. Oh look another beard trimmer. What's new right? Boy was I wrong. The device is elegant and subtle. The flex contouring head worked fantastic. Blades were sharp with no pulling. I thought the digital length control was going to be gimmicky but it worked so well. I'm blown away! This is q premium device with well thought out features. You can use it corded or cordless which makes it great for travel as well. Very agile and comfortable to use. Would recommend it to anyone looking to try a new trimmer.
Date published: 2022-04-18
Rated

3

out of

5
by
James M
from
Wish it got a closer shave
Although the length changing abilities is great, I don't think I'd be able to use this for myself. I was hoping it would get a lot closer of cut when I'm not trimming my actual beard and just trying to line up the edges and clean up the growth. The adjustable lengths is great for when I can't get to the barber in a timely manner and I want to trim a bit, I just wouldn't use only this to trim my beard. It has limitations on its flexibility for thick beards that just don't do what I need it to do. I'd recommend this product to a friend with a thinner or just shorter beard
Date published: 2022-04-08
Rated

5

out of

5
by
beliza
from
Awesome razor; just NOT for smooth legs
I believe this razor was sent to me because until recently my ex boyfriend and I still lived together and he probably said he'd try it. Of course he loves his beard too much so I had my brothers give it a try and the two that tried it really liked the digital functions. The 37 year old said having the "countdown timer" until the battery goes out is really helpful for shaving in a rush (he tends to run late). I wanted to know if it would shave my legs since Conair makes some great products but this was not the one for a super smoothshave; more for trimming and buzzing
Date published: 2022-05-23
Rated

4

out of

5
by
philopatirg
from
Pretty Decent
After receiving this item in exchange for a review from Influenster, I've gotten the chance to use it over the past few weeks. It's meh. If you have a hard time getting the exact length you want, then this is for you. Mostly suited for guys with shorter beards and stubble. The trimmer attachment is strange undoing it and I don't like how it collects a bunch of hair. While it feels a lil more awkward than a traditional razor, I still had good cuts with it. Overall it's not too bad if you're looking for something new to try, but I'll still to a regular electric razor.
Date published: 2022-06-10
Rated

5

out of

5
by
btlaskey
from
Amazing Trimmer that Lasts and Lasts
This is the coolest trimmer that I've ever used! No more fumbling with different guards, or remembering where they all are. Everything is here, it's all digitally monitored and you can't go wrong. I love how I can flip the guard back, for a super close trim, or put it down and then adjust it's length for my grooming needs. Also, I charged it out of the box, and have been using it for FOUR WEEKS and have YET to need to recharge it! The battery life on this thing is AMAZING! I love this ConairMan Close Trim Precision Flex Head Beard and Stubble Trimmer!
Date published: 2022-04-14
Rated

5

out of

5
by
Felicia4
from
Lots of convenient features
I took it out of the box and charged it and... That was it. This trimmer practically runs itself is. It's super intuitive, I like that it tells you exactly how much longer it'll run before you need to charge it, and it gives a super close trim on the shortest setting. I also feel like it's less likely to pinch during a close shave in delicate areas than other trimmers I've used in the past. It's really smooth and easy to operate, lightweight, and handles coarser hair with no issues. All in all, I really like it and would recommend it to anyone.
Date published: 2022-04-06
Rated

5

out of

5
by
CarniverousCarny
from
Precision Personified
Conair has made an excellent beard/stubble trimmer for every man's face. This trimmer features a flexible head that runs along the contours of the face. No matter what shape your jawline, chin, or cheeks take, the blades give an even shave. I've had other trimmers in the past that weren't nearly as accurate and the blades would sometimes scratch or nick my skin under the stubble. I haven't experienced any issues with this Conair trimmer. 15 different length settings range from 0.4 mm to 5.0 mm ensure a tight stubble trim to a full beard. This dry trimmer has a cord to charge. It offers easy cleaning and a 3-year warranty. The blade is as gentle and precise as you'll ever find. I cannot recommend this Conair trimmer enough.
Date published: 2022-03-29
Rated

5

out of

5
by
jnsmartt
from
Favorite by far
I have used many trimmers, and this is by far my favorite. The adjustable head in millimeters makes it super convenient for trimming consistency. The best part is no more looking for lost guards! I love the new 3 second hold locking feature on this iteration to avoid it turning on while packed away in luggage. Battery is also fantastic. This is my go-to trimmer anytime I am choosing to grow a beard that I want kept <5.0mm in length. The only downside that I found is that they limit the length adjustments to 0.5mm increments beyond 2.0mm.
Date published: 2022-05-11
Rated

5

out of

5
by
SteveD33
from
Easy to use, digital adjustment
This Beard and stubble trimmer is very easy to use. I really like that it can be adjusted from 0.4mm to 5mm in length digitally so you know it is precise and accurate. It does take a little getting used to angling the head and which way it goes, but once I did, it trimmed quickly and shaped up perfectly for me. The flex head helps this to get the right angle and provides the ability to get the right trim. The ability to use this corded or cordless is a great addition. Overall this is a great trimmer that does what you expect and want
Date published: 2022-03-27
Rated

1

out of

5
by
Anonymous
from
Needs a lot of improvement
I did like the lcd adjusting, cordless and corded. Plus rapid charging. I did also like that it shows a digital display of how much battery is left. Also has a lock feature: however as you can tell didn't really work. As well as left a lot of areas really red. I had to finish with my other razors. Which I couldn't finish with because left me a little sore and will have to wait a couple days til the redness goes away. I even tried one of the other lengths of the 5.0 m or less and didn't take any of the hair. Needs a lot of improvements.
Date published: 2022-05-08
Rated

5

out of

5
by
grillita27
from
Great quality trimmer!
This product works great. Husband and son used it weekly to shape up hair and beard. Also mustache and even hair on legs. This has made their lives easier by cutting hair with many features that can be adjusted using the bottoms for the desirable setting. Gab is adjustable with plus and minus bottoms and you can see the adjustments on the LCD screen. The comb can be flipped back to allow edging and detailing the hair or beard etc. Blades are excellent and the flex its perfect. Easy to move from face to neck as it flexes. It has 15 settings and it's reachable which it was sons favorite thing. Battery is long lasting, it is easy to clean and safe to use. I recommend trying this product. Perfect for a gift! I wish I knew about it long ago.
Date published: 2022-06-07
Rated

5

out of

5
by
Trev
from
MOST PRECISE TRIM EVER!!
This trimmer is amazing! Dialing in the length I want just with the click of buttons rather than changing out gaurds is so quick and easy. Before I used to have to keep track of multiple attachments and change them out depending on my cut. With this trimmer I simply click the up or down buttons and get my desired length. The functionality saves me a least 10 minutes every time I shave/trim just in running around for gaurds and cleaning multiple items. The product quality is up there with the best trimmers/razors that I have used. 9/10.
Date published: 2022-03-29
Rated

5

out of

5
by
derricky1
from
Absolute game changer!
Wow! Confirm really got it right on this one. This is one of the best trimmers I have ever used. No more loose individual blade guards that always seem to get misplaced. With this ConairMan you can adjust the closeness of the shave with a simple touch of a button. The digital screen is nice as it shows you the setting you have it on for the blade and shows you the time left on the charge. The cordless design allows you to do all you trim without that worry some cord getting in your way. If you are in the market for a new trimmer you should definitely give this CONAIR MAN Trimmer a chance. I think you will love the Flexible head, Digital length control and it being cordless. Oh and don't forget it will last 60 min on a single charge. #respecttheritual
Date published: 2022-04-23
Rated

4

out of

5
by
jessew16
from
Good little trimmer
So I tried out the trimmer sent to me by Influenster. It worked really well for beard, chest, and underarm hair. The electronic adjustable guard is neat so you can change trim length (really good if you tend to lose those clips since it is attached). Also the guard catches most of the hair so not nearly as messy. I actually shaved my whole head with it and it was ok for that. Had to go over a few spots multiple times. There is also a feature so you can use it cordless or with the cord which is great for when you forget to charge it.
Date published: 2022-04-16
Rated

3

out of

5
by
Matrim
from
Cool design, flawed in practice
I wanted to love this. The automatic adjustment was so enticing. Unfortunately it takes way too many passes to evenly cut my beard. It doesn't have the range of lengths that clippers with removable heads have. The lack of "waterproofyness" or even water resistance is a terrible oversight, as it makes too much of a mess to not do in the shower. I'll be going back to my Braun, which checks all these boxes, plus, they don't make you oil it right out of the box. Sadly, the auto adjusting length just wasn't enough to win me over.
Date published: 2022-04-06
bvseo_sdk, dw_cartridge, 18.2.0, p_sdk_3.2.0
CLOUD, getReviews, 6ms
reviews, product