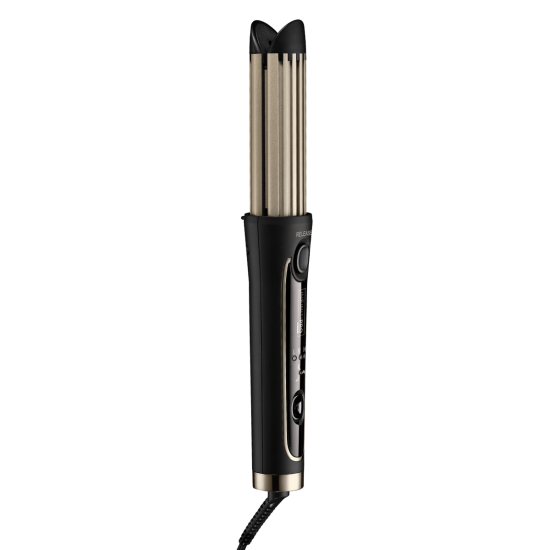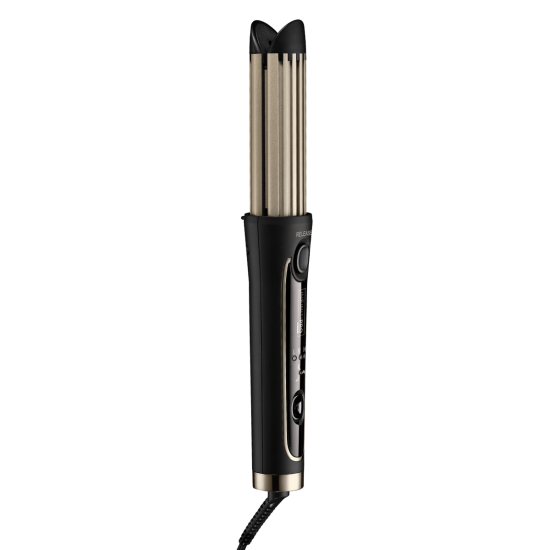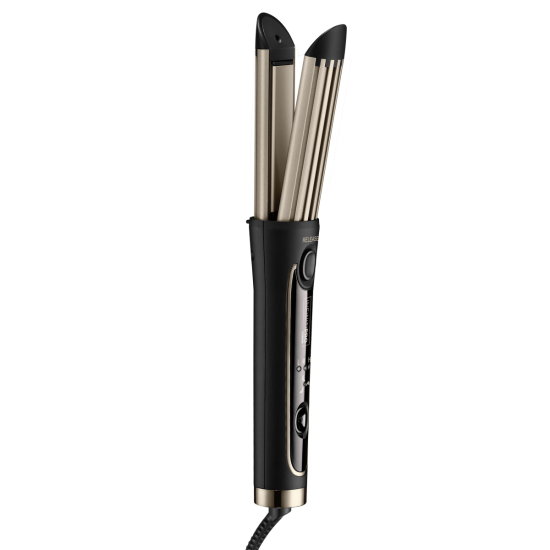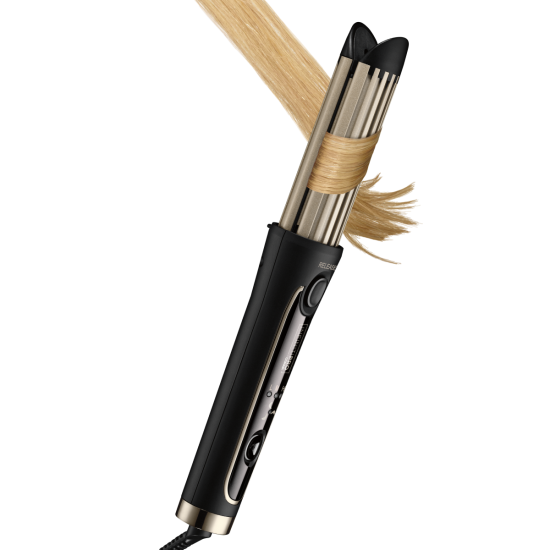 Heats, curls, and cools in one step. Ceramic technology and cool air help protect against damage setting your style for long-lasting results.
Description
Looking to create effortless curls while COOLING DOWN damage? Designed with ceramic technology and a unique cool air system, the InfinitiPRO by Conair® Cool Air Styler heats, curls, and cools your hair to help protect against damage while setting your style for long-lasting, gorgeous results.' The hair is heated by the quartz ceramic-coated plates, which provide an effortless glide to form silky, smooth curls. Once the curl is formed, cool air flows along the channels on the outside of the barrel, to instantly cool your hair, which sets the style and protects against heat damage. You get fast, consistent heat up to 400°F for even results as the cool air locks in your style. Three heat settings, plus a cool air setting, make it easy to customize styling for your hair type. A must-have for anyone who wants to get maximum curls with minimum fuss, the InfinitiPRO by Conair® Cool Air Styler features innovative technology that's simple to use. As you wrap your hair and curls take shape—the cool air coming up through the channels on the outside of the barrel ensures they are instantly cooled and set perfectly for long lasting results to protect against damage. The cool air system does the work for you, instantly setting your curls to keep you looking like you just stepped out of the salon. How To: Place a section of hair between the plates, rotate the styler, wrapping hair around the outside of the barrel and glide down through the length of the hair. Set and protect your curls like a pro–quickly and easily–with this innovative styling essential from InfinitiPRO by Conair.
Features
Smooth glide: Heated quartz ceramic-coated plates glide through the hair to form shiny, smooth curls.
Effortless curls: Heats, curls and cools in one step.
High heat: Inner plates heat up to 400°F.
Fast, consistent heat: Heats up in 30 seconds and maintains heat level upon reaching a stabilized temperature.
Heat for every hair type: 3 heat settings (low, medium, high) plus cool air setting–choose the right one for you.
No stress: Automatic safety shutoff lets you focus on styling without fear of forgetting to turn the styler off.
Specs and Support
Model Number
CD2112
Shop By Tools
Stylers
Warranty
Limited 1-year warranty
Dimensions
1.8 x 1.8 x 1.8 in.
Unit Weight
1.1 in.
Rated 5 out of 5
by
zaliaibra
from
Easy to use and protect hair from the heat
This "be the PRO Infiniti PRO CONAIR" with a cool air system is awesome. I love the designs of this cool air styler with three heat settings (low, medium, and high) and the release button, which is easy to use and so practical. It has a quartz ceramic-coated plates glide that smoothly curls my hair. Also, it includes a unique cool air system that allows cool air to flow outside of the barrel to set the curl and help protect the hair immediately. Additionally, it is fast, consistently heating up in 30 seconds, and maintains its heat level. Lastly, It's an automatic safety shutoff which I loved. I will repurchase this product and will highly recommend this to my friends and family.
Date published: 2021-11-02
Rated 1 out of 5
by
shaelyng2
from
Not a fan
I really did not like this product. You have to push a button to get the clamp to open unlike regular flat iron and you have to squeeze it hard on the end in order for your hair to stay in between the barrels. It didn't curl my hair and I followed the instructions and tried different methods. The cooling fan did not keep the outside cool… it started heating up not even halfway through my hair. The fan is also pretty loud which I wasn't expecting. Definitely wouldn't be worth it to purchase over a nice flat iron. I did only use it on medium heat but I never use high heat on my hair and haven't had any issues with any other type or hair styler.
Date published: 2021-11-22
Rated 4 out of 5
by
ksalom
from
Interesting Product
I was really excited to try this Cool Air Styler it's got a super unique concept to it with the air that blows to cool and set your hair. The product heated up quickly and has an auto-off feature if left on too long. I have very thick, waist-length hair to preface, but I struggled to make consistent pretty curls with this styler. I want to love it because it's so unique but I just seemed to struggle and struggle to make it turn out correctly. That being said, it did work nicely on a friend with shoulder-length hair. Overall, I would recommend this product because it can make some beautiful curls, but might not work great for long, thick hair.
Date published: 2021-11-10
Rated 4 out of 5
by
delightfullygilded
from
really nice way to curl my hair
This styler is an easy way to curl my hair, with the downward motion my arms do not get tired like a traditional curling iron. I did notice that my curls last longer with this tool because of the cooling effect of the fan. The only thing I didn't like is that there is only one button for multiple settings. If there was an on/off button and then another button for the heat settings it would be perfect. There is a learning curve and it would help if the instructions were a little more clear. "Wrap hair once around the barrel" is confusing since there are 2 barrels attached to one. Once you get used to it, it is a nice way to have long lasting curls
Date published: 2021-11-06
Rated 4 out of 5
by
kososkie
from
hold curls all day!
I've used this now several times. The first time I did read the directions and felt it was pretty easy to use; however, I wasn't able to get the top of my hair, near my roots, to curl. After serval attempts, I've gotten better but still the top doesn't curl great. But, the rest that does curl really holds a curl! The first time I used it, without ANY products, the curls lasted all day and even through the night! The cold air really helps set the curls. Another downfall is that it tends to make my hair a bit frizzy, but it's easily tamed with product. I'll definitely continue to use this product and have already recommended to a handful of friends!
Date published: 2021-11-28
Rated 3 out of 5
by
jcubedz
from
Not the best curler
The concept and structure of the Conair air styler is great. The bottom of the device that's connected to the power cord really does swivel 360, which helps make it easier to use. Granted, I do wish it was cordless. It took a couple tries to figure out how to use it, and I kind of got the hang of it, but it was difficult to get uniform curls. I had seen reviews that it didn't clamp onto hair well, but I had the opposite problem. It seems loose at first, then as I twisted my hair, it grabbed on almost too tight and I definitely lost some hairs. I ended up with poofy hair. It has some potential and I think my hair will look better with some practice.
Date published: 2021-11-01
Rated 3 out of 5
by
ghostofevil00
from
Conair learning curve with long hair
I like the overall idea of the curler and it is a pretty decent product to give you wavy curls. The main issue I have with the product is that there's a bit of a learning curve when it comes to first-time users and if you have long hair. if you have long hair, I find that you have to set it to the medium level in order to get it hot enough to keep the curl in the hair by the time you get to the tips. I also find you have to wrap your hair a couple of times to get a good curl pay off as well. Overall, if you have short to medium length hair, you might have an easier time using this product than those with extremely long hair like myself.
Date published: 2021-10-23
Rated 3 out of 5
by
tarag67
from
challenging
I was super excited to receive this product and try out a new styling technique. I have fine, thin hair that's very easy to style with hot tools. I feel like this tool holds potential but it's far more difficult to use successfully than a wand. I struggle to get consistent results and end up with a bunch of different curl shapes. The other challenge I had was sometimes my hair got stuck as I was trying to glide it down my hair and if my finger wasn't trigger-ready on the release button, I was worried I was burning my hair while it was trapped. I'm open to continue to try this tool but the curling wand will definitely still be my go to.
Date published: 2021-11-06
bvseo_sdk, dw_cartridge, 18.2.0, p_sdk_3.2.0
CLOUD, getReviews, 5ms
reviews, product