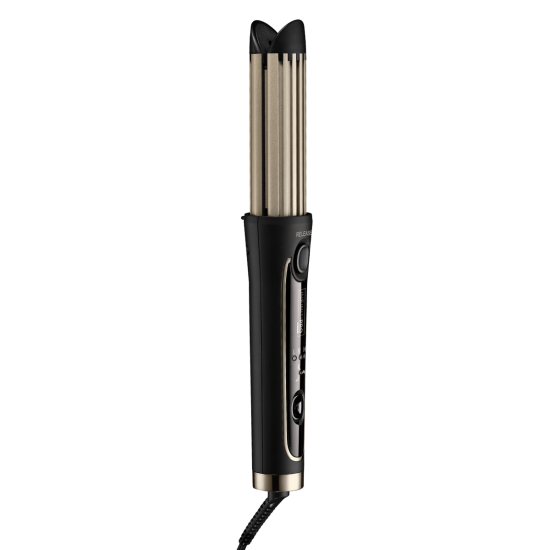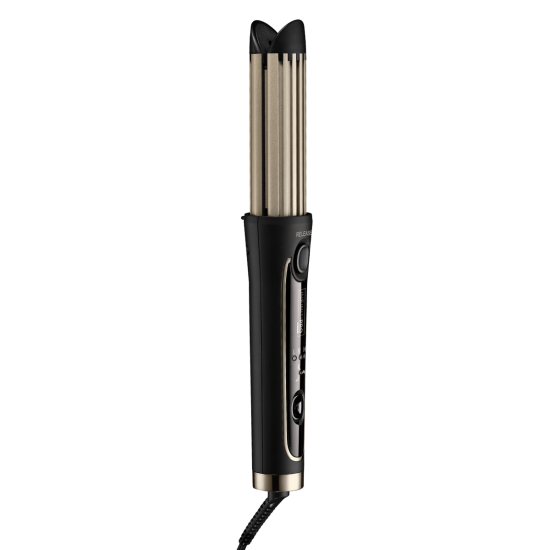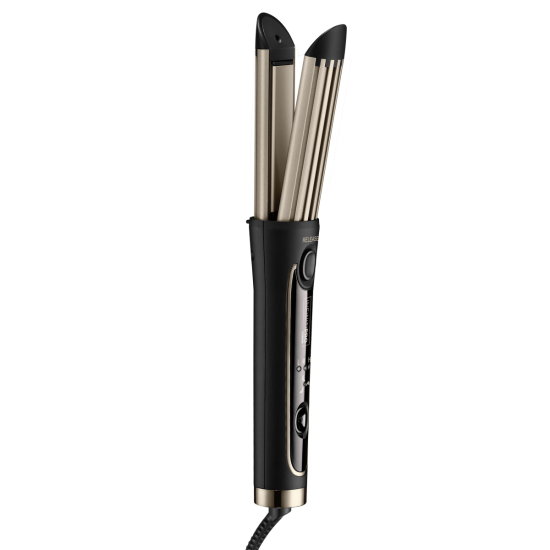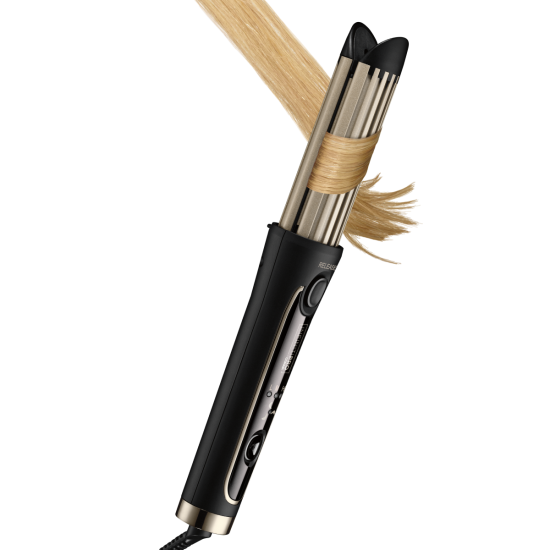 Heats, curls, and cools in one step. Ceramic technology and cool air help protect against damage setting your style for long-lasting results.
Description
Looking to create effortless curls while COOLING DOWN damage? Designed with ceramic technology and a unique cool air system, the InfinitiPRO by Conair® Cool Air Styler heats, curls, and cools your hair to help protect against damage while setting your style for long-lasting, gorgeous results.' The hair is heated by the quartz ceramic-coated plates, which provide an effortless glide to form silky, smooth curls. Once the curl is formed, cool air flows along the channels on the outside of the barrel, to instantly cool your hair, which sets the style and protects against heat damage. You get fast, consistent heat up to 400°F for even results as the cool air locks in your style. Three heat settings, plus a cool air setting, make it easy to customize styling for your hair type. A must-have for anyone who wants to get maximum curls with minimum fuss, the InfinitiPRO by Conair® Cool Air Styler features innovative technology that's simple to use. As you wrap your hair and curls take shape—the cool air coming up through the channels on the outside of the barrel ensures they are instantly cooled and set perfectly for long lasting results to protect against damage. The cool air system does the work for you, instantly setting your curls to keep you looking like you just stepped out of the salon. How To: Place a section of hair between the plates, rotate the styler, wrapping hair around the outside of the barrel and glide down through the length of the hair. Set and protect your curls like a pro–quickly and easily–with this innovative styling essential from InfinitiPRO by Conair.
Features
Smooth glide: Heated quartz ceramic-coated plates glide through the hair to form shiny, smooth curls.
Effortless curls: Heats, curls and cools in one step.
High heat: Inner plates heat up to 400°F.
Fast, consistent heat: Heats up in 30 seconds and maintains heat level upon reaching a stabilized temperature.
Heat for every hair type: 3 heat settings (low, medium, high) plus cool air setting–choose the right one for you.
No stress: Automatic safety shutoff lets you focus on styling without fear of forgetting to turn the styler off.
Specs and Support
Model Number
CD2112
Shop By Tools
Stylers
Warranty
Limited 1-year warranty
Dimensions
1.8 x 1.8 x 1.8 in.
Unit Weight
1.1 in.
Rated 3 out of 5
by
nikim20
from
struggle
not sure if it's just me not using this thing correctly, but we're really struggling over here! low & med heat settings are way too low. it doesn't do anything to the hair no matter how long we hold it around the barrel. the high setting works but not too great for us. it curled my daughters bangs well. like very well & has held all day! but the rest of her hair looks like we never touched it w/ this styling tool. i can't figure out why it doesn't work the way we want it to, but gatta be fair w/ admitting i might not be the best at doing hair & my girls aren't any better! its a struggle for us, but we're determined to figure it out (if possible) lol
Date published: 2021-10-31
Rated 5 out of 5
by
joannes1505
from
It works!
I'm into curling my hair and if there's an easier way I'm all in. I like the idea of instant cooling after heating it up. I'm always having to wait few minutes for my hair to cool down before running my fingers through it. this cuts down my time. It took me a few trys to get it down but once I got the flow going it was fairly easy. I have long hair so it would be nice if the barrel was a bit longer. the clap isn't tight but I actually like it be a use I was able to just glide the curler down smoothly. It does curl tighter than I'm used to but I know it will loosen up and will last. Over all I like it and so far the curls are still in.
Date published: 2021-10-22
Rated 2 out of 5
by
rosannac9
from
Needs Instructions
I've attempted to use this curler twice now, and both times left me more confused than the next. This didn't come with any instructions, so how hard could it be to use?! Well, there's one power button that allows you to navigate the Low, Medium and High settings, with a green light flashing which I assume means the cooling fan technology that this boasts. However, maybe I'm missing something but these settings emit heat despite the name of the product. The tool doesn't seem to allow me to set just the cooling option to curl. The curling iron also makes a relatively loud noise, and the clasp on the barrel doesn't create the waves that I'm looking for.
Date published: 2021-10-21
Rated 4 out of 5
by
beautywithcari
from
Honest Opinion
I found that the InfinitiPRO by Conair Cool Air Styler was much easier to use that I anticipated. It was a struggle at first as it is a bit different than I'm used to, but as I went I got the hang of it! I was super excited and happy with the results I got in no time with this curler! My curls set perfectly and lasted all night long! I love that this curler actually smooths out the hair as it curls! I would give it all the stars, but in the learning process it pulled out my hair a bit as I went. It would get trapped in the clamp if not put in just right. Overall, I LOVE this curler, will definitely keep using it and highly recommend!!
Date published: 2021-10-24
Rated 5 out of 5
by
skullsandsass
from
love it
This was an amazing surprise from Influentser and Conair! This worked so well to give my straight locks the wavy, beach curls that I love for special occasions. I do have to say this this product works best in your favour if you know how to curl with a straightener/flat iron. Thankfully, I have experience, so I definitely benefitted from the nice waves I could create. If you aren't too great with giving yourself curls or waves with a flat iron, then this isn't the best tool for you. Overall, I am highly satisfied with this product and would definitely buy again. (Photo attached shows the first strand that I used with this tool).
Date published: 2021-11-05
Rated 4 out of 5
by
originallondoner
from
Smoothed Hair, Not Really "Waves"
I have long hair that reaches the middle of my back. I followed the directions but I didn't get the waves promised. I may need to look up some tutorials to see if others have any tips or tricks that result in more of a wave. It did smooth my hair and give a nice shape to the ends. The cooling fan is not too noisy and I'm glad for the finger-safe area at the tip. I'm happy to have this since it gives the ends of my hair that slight curl that my usual flat iron cannot, but those who already use their flat iron to obtain that kind of effect may not need to purchase this separate tool. I received this product for free from Influenster.
Date published: 2021-10-24
Rated 4 out of 5
by
Jilljpeg
from
Versatile and Effective
This has given me the curls I've been wanting!! I've been using a wand without a clamp and haven't achieved the results I've been looking for. For some reason, even with product, the curls come out wonky and don't stay. With this wand and all the different settings plus the cool air option, I've been able to get the curls and waves I've been looking for while feeling like my hair is being protected and not damaged. It heats up in literalllllly 30 seconds or less and maintains the desired heat level. Plus with my busy lifestyle, sometimes I forget to unplug or turn things off and with this, it turns off automatically which saves me the headache and stress.
Date published: 2021-11-06
Rated 5 out of 5
by
siennao
from
actually sets my curls without needing hair produc
I was skeptical when I received this in the mail - the cool air sounds like a gimmick. However, from the first time I tried this product I was impressed. I have thick hair that is hard to curl and this did it easily and had the benefit of setting the curl so it didn't fall out immediately. It essentially functions like a hair straightener with cool air around the outside so you press a section, flip it over the wand and pull through. There are three heat settings, the hottest worked best for me. Only downfall is the cool air channels requires a fan so this is had a slight background hum that might be irritating to some although it didn't bother me at all.
Date published: 2021-10-20
Rated 5 out of 5
by
jasminem50b4
from
I loved it
Hi in the past stopped using tools for straightening and curling my hair because I had done it so often I ended up damaging my hair. This was my first time ever using this product and I have to say it was amazing I would definitely buy any kind of hair styling tools in this type of direction 100%. It was super easy to use my hair once I have figured out the way to use it and my haircame out beautiful and flawless there was no damage to my hair in the way that you see were traditional products. All I can say is I can't recommend it enough. Just read instructions on how to properly use so you don't damage your hair or the product.
Date published: 2021-11-13
Rated 3 out of 5
by
chelseacollected
from
learning curve
To be honest I had trouble getting mine to turn on to begin with. At first I thought it was my outlet so reset it. That didn't work so had to reset the actual plug on the tool a couple times and finally got it to turn on. It heated up quickly which is nice. When I went for my first curl I was taken aback by how little it actually opens up. I was able to only get a small amount of hair in at one time. It did make a very soft pretty curl for me on Med heat setting. Another thing I wasn't really a fan of is the humming noise it makes for the cool air feature. Overall not an instant love for me. Willing to give it another try though!
Date published: 2021-10-18
Rated 3 out of 5
by
vickieh17
from
Just okay
This product definitely works. It cools the hair as it heats so it's not super hot after curling each strand. However, the buttons/settings are extremely confusing and there is definitely a learning curve to using this. The instructions say to turn 180°, but I was only successful with a full 360° rotation. This products creates RINGLET curls. I'm talking straight spirals. The images attached are what it looks like before and after combing out. I will try this product again, but the curls I got out of it are not the type that I tend to prefer. I like more beachy wave as opposed to spiral curls. Overall, not terrible, but I'd rather stick to my curling iron.
Date published: 2021-10-17
Rated 5 out of 5
by
ambroshah
from
Sets your curl so fast!
When the InfinitiPro arrived both me and my 15 year old daughter had to try it out right away. The iron gets nice and hot, and I love that it has plastic on the end so that you don't have to worry about touching a hot tool. The slightly annoying fan noise is well worth the results. I've tried for years to perfect the flat iron type curls, but have never really been able to. The cooling fan on the outside made it happen, finally! the cool air set the curl so quickly, I was really impressed. My daughter is really skilled at doing her hair with all kinds of tools and she also really loved this tool. She said it was really easy to use and had great results.
Date published: 2021-11-03
Rated 3 out of 5
by
laurenn42
from
Takes practice
This product is essentially like curling your hair with a straightener, which I find somewhat difficult. I have medium-long hair that generally curls very easily with a regular curling iron, but I struggle a little with this product. Even after watching video tutorials, I was not able to use this very easily. Most pieces of hair took me several tried to get curled, so it was not very time-efficient to use. I think I would like it a lot if I could use it properly, but it's not super easy to figure out. I will probably end up using it as a regular straightener or curling iron which kind of defeats the purpose of having air, but it works better that way for me!
Date published: 2021-11-12
Rated 5 out of 5
by
kimberlyk86
from
This curler is amazing!
I was skeptical at first because I've curled my hair many times with a flat iron and it never turns out quite right. But the shape and smoothness of this product makes it incredibly easy to give my hair that everyday wave. It does take some practice to get the technique down, but I've already used it several times and I can already tell my technique is improving and my curls are looking better! I have pretty poofy and thick hair and I can curl my whole head in under 10 minutes. The fan function on this curler also makes me feel like my hair is being protected and that this product is less damaging. Definitely would recommend!
Date published: 2021-10-30
Rated 4 out of 5
by
kristinap42
from
User friendly
If you prefer to curl your hair with a flat iron then this InfinitiPro would be a good buy for you. It heats up super fast so be careful! The only thing I didn't quite get was how to turn on the fan system at first but after reading the instructions a few times I got it. Other than that it is user friendly, it's easy to pick up on the hand motion after a few tries. The curls come out very pretty, depending on the amount of hair you take you can make different types of curls. The curls do drop a little bit faster but a nice wave will remain. Overall not bad I think it's beginner friendly but I still prefer my curling irons.
Date published: 2021-11-01
Rated 4 out of 5
by
malvarez77
from
dyson alt???
What a neato contraption, it does have a slight lurking curve but once you get the hang of it it is pretty cool. While the only curls I was able to get were ringlets ): it by definition did what it could. I have very thick hair and lots of it so unfortunately I could only get so much hair in the plates, I didn't care to use it for curling BUT…man oh man straightening your hair with this is amazing! My hair never looked and felt so smooth, soft, and shiny. If you're new to hair tools this is a great beginners tool. ***I did receive this complimentary from influenster for testing purposes & in no way shape or form is my review biased toward either companies favor.
Date published: 2021-11-04
Rated 4 out of 5
by
vyn16
from
a hit and miss
I like the straightener-style curling iron, i've never curled my hair this way before. Usually I curled it with curling iron, so I like the idea of using a straightener to curl hair. This is definitely was made for curling hair, the buttons were a lil difficult to operate since it's all in one button. It does make my hair a lil messy looking, but also maybe i'm just not good at using hair straightener. It heats up super fast! Within 30 seconds and it's already hot. I like that the fan puts out cool air on the outside. It's definitely worth a try if you are into using hair straightener to curl your hair. It heats up very fast so don't let it on your hair too long.
Date published: 2021-10-20
Rated 4 out of 5
by
Miche123
from
Works well but takes some learning
I was super excited to try this cool air stylist because it reminds me of Dyson technology. I usually use my flat iron to curl my hair so using this device wasn't too difficult to use. The button that opens the clamp is definitely a little hard to push and requires a bit of hand strength to keep open. Be warned that the clamp does not open too widely and the hair slips out of the top if you place it too high up. After using the stylist a few times, it got easier and my hair looked amazing. The curls were a tad too tight for my liking but after brushing them they loosen. My hair felt soft and heathy after use so that's a perk. Overall I'm pleased with this stylist!
Date published: 2021-11-04
Rated 2 out of 5
by
Sarah16
from
Not a hit
I was gifted this product in exchange for an honest review. I was super excited to get it, but it just isn't a hit for me. It's hard to get your curls to curl the same way, and the curls are pretty tight. I would compare this product to using scissors to curl ribbon. That's how your hair turns out too. It still is hot inside, so don't be fooled by the "cool air." It just helps set the curl. It still damages your hair, and I'd rather use a wand with a more predictable result. I ended up using it to straighten the curls back to normal rather than continuing to curl my whole head. I would pass on this. The quality is great and it looks nice, just doesn't hit the mark.
Date published: 2021-11-05
Rated 3 out of 5
by
sladhad9
from
Great idea in theory but not in love
I was really excited to try out this product because I love the idea of the heat + cool all in one. I have a love hate relationship with Conair products in general as I find they are damaging to my hair but was definitely willing to give this a shot. I love the sleek design of the curler, it is very easy to use. I like the rounded plates as well. the issue I found with it though was that it gave inconsistent curls. I tried different heat settings, tried curling in different directions but found that I wasn't loving the finished look. some curls turned out really pretty but I wasn't able to replicate it around my head. unfortunately I would not recommend this product
Date published: 2021-10-20
Rated 5 out of 5
by
christinen46b5
from
great 2 in 1 styler, versatile curls that hold
I have to be honest, there's a bit of a learning curve. Discouraged me at 1st but glad I gave it some time. Well worth spending a little time to get quick, beautiful curls that last. I have thick hair with a slight wave & a little texture = easily tangled must be styled hair. Definitely would recommend and so happy to receive this complimentary from Influenster! I wasn't able to do as big of sections as I'd like, so it takes a bit longer than usual. Well worth it bc my curls hold, saving time not touching up, using other products or tools. Love that the outside of the barrel stays cool and the shine this gives my hair.
Date published: 2021-11-11
Rated 3 out of 5
by
vanessapcc00
from
a little disappointed
I was really excited to try this and thought it would speed up my hair routine while keeping it protected from the heat. It was kind of awkward to use. You have to hold the clamps closed by holding the cool tip together and I ended up burning my fingers a few times. Also, somehow as I was rotating the barrel my fingers kept shutting it off or changing the settings. I had to go over some pieces of hair several times and all the curls look different so it looked kind of messy. Maybe with more practice and use of this tool I will figure out how it works best for my hair but I feel like a regular curling wand is eaiser for me to use. This might work better for short hair.
Date published: 2021-10-23
Rated 5 out of 5
by
htathu1012
from
Amazing new technology!!
I recently receive this hair tool from influencer and I am blown away at how well my curl hold with this technology. Since the outside of the curler constantly blow cold air, my hair is instantly set right after I curl it. No need to pin my hair up, no need to use hair spray, my curl literally hold for 3 days! It is crazy easy to use this hair tool to curl or straighten my hair. However, since it does set the curl instantly you would have to either brush it multiple Time or wait for the next day for a looser curl look or a more relaxed look. Highly recommend if you like your curl to be more define and hold for days!
Date published: 2021-11-29
Rated 5 out of 5
by
haleyd123
from
Awesome Tool!
I've read some pretty negative reviews about this tool and I don't see why! I absolutely love this thing! It easily give my hair beautiful waves and causes less frizz than if I do the same thing with my normal flat iron. It does take a little while to get used to (i.e. how to hold it, how to get the best curl, how to turn it on and off) but if you practice with it a few times you'll get it down and fall in love! I have been using this every time I style my hair since getting it from Influenster. Honestly don't think I'll ever go back to using just my flat iron ever again!l. My only complaint is that it's a little bit loud (because of the airflow) but you get used to it.
Date published: 2021-10-30
Rated 4 out of 5
by
amsf
from
Really nice!
I got this #complimentary from @influenster in exchange for my honest review. I really like this because it's super easy to use and works on any length of hair. I like that it is ready in under a minute and is user friendly and able to be used on kids. I used this on my 7 year old and myself and I liked how easy it was to use on both of our hair. My kiddo was so excited to use it and do their hair with it. I will say that the fan only comes on when it wants to and it doesn't always curl the same which means you'll have to go over it again (which isn't too much of a big deal for me) but other than that, it's nice!
Date published: 2021-10-24
Rated 3 out of 5
by
hyl009
from
infinite pro styler
In the beginning, I was a bit frustrated as the gap between the two plates was a bit closer where I had difficulty grabbing the hair. I was satisfied with the curls right after styling them. To use it, you have to press the release button and this made my thumb tired. I used it as the flat iron and the curler. I tried with the cool air to curl hair and the curl came out nicely. But curls didn't last for a few hours. If you want to use it as a curler with a cool air system, you might want to use a style fixer to keep the curl. I'm not sure using the cool air system will less damage the hair but it's always good to use the heat protectant spray before using any heat styler.
Date published: 2021-11-21
Rated 2 out of 5
by
maryf29
from
Love the concept but needs some work
I don't curl my hair often, although I do like the look. I haven't upgraded my curling iron in years. I was excited to try this and loved when I read the description and the features. Unfortunately for me it just doesn't work. I was so excited because the first little section I did had a nice curl in the lower part of my hair. Unfortunately that was it. More often then not it was leaving a dent or straightening my hair. I messed around and tried a few different methods. I see others struggled with this as well, so it isn't just me. Maybe I'll try it some more at a later time if I see some tips people say works.
Date published: 2021-11-23
Rated 2 out of 5
by
amberd9b65
from
Takes serious practice
This is not something the hair novice can pick up the day of an event and just figure out. I stood in my bathroom for over a half hour trying to use it, watching the few tutorials available, and walked out of the bathroom with very straight hair. The next time I picked it up, I did manage to get some curls. It was so frustrating though, I haven't given it a shot since. I much prefer a simple curling wand. That being said, if you curl using a flat iron, this should be no problem. And I love the idea of the instant cooking air to prevent damage! I am going to keep trying with this one and see if I can master it.
Date published: 2021-12-01
Rated 3 out of 5
by
avisn1
from
almost perfect
This makes lovely, unfussy waves. I especially appreciate the results as someone who has always been terrible at styling my hair (I like to think of it as Alexa Chung or Jane Birkin style rather than ineptitude) That said, there was still a steep learning curve. And the process of figuring it out left my hair smelling BURNT for DAYS even after washing. I've never had that happen, not even in middle school when I overused a cheap, hairspray coated straightener. I'll still pick this up when I want to look more put together, but the one setback was a major one. Otherwise it would have been a 5 star product.
Date published: 2021-10-28
Rated 5 out of 5
by
samanthab428
from
just as good as the Le Duo!
I have a Le Duo and absolutely LOVE IT- I thought nothing could compare!! But this is honestly just as great, and certainly feels more well-built and less flimsy! My hair curled extremely quickly- I had LONG and THICK hair and this baby curled it all in 18 minutes on my first try!! After cutting my hair shorter, it took about 15 minutes! It also lasted a solid 2.5 days without any hairspray at all. This product is easily worth $80 so the fact that it's only around $40 makes it SUCH a great investment!! I will absolutely be using this for years to come, and purchasing it for my mom and sister for Christmas!!
Date published: 2021-10-29
bvseo_sdk, dw_cartridge, 18.2.0, p_sdk_3.2.0
CLOUD, getReviews, 6ms
reviews, product