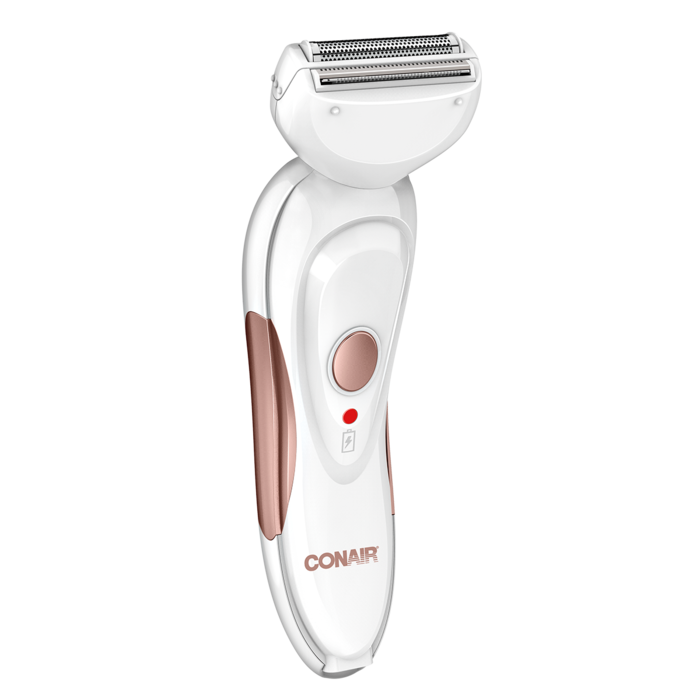 Cordless/Rechargeable Shaver
Close, comfortable, precise shaving, with no nicks—wet or dry.
Description
Ergonomically designed for easy removal of unwanted hair, the Conair® Cordless/Rechargeable Shaver is the home spa essential that keeps your skin irresistibly smooth and soft. Perfect for wet or dry skin, it features hypoallergenic foils that never nick or leave irritation, so you always get a close, comfortable shave. The shaver fits perfectly in the palm of your hand, with a No-Slip Grip™ that provides extra comfort as you shave hard-to-reach areas and trim sensitive spots with ease and precision. This 2-in-1 shaving foil and trimmer removes hair all over your body, gliding over your skin with a contoured shape that conforms to every curve. And because it's cordless and rechargeable, it combines performance with convenience for a spa-like indulgence you can enjoy at home or on the go.
Features
Wet/dry
Hypoallergenic foils for less irritation
Shaving foil & trimmer
NO-SLIP GRIP™
Precise trimming
Nick free
Skin friendly
Specs and Support
Model Number
LWD30R
Shop By Tools
Shavers
Warranty
Limited 2-year warranty
Color
White
Rated 5 out of 5
by
Djmor23
from
Best electric razor ever
I have tried a couple razors before but nothing compares to this one. Gets a super close shave and doesn't catch the skin at all. It is a little noisey but I don't mind it.
Date published: 2021-09-20
Rated 1 out of 5
by
Ash25
from
Not That Great
To be honest, I hated it. Sure, it was easy to use and I loved that it's waterproof. But unless you're someone who let's all your body hair grow out longer than 1/4 of an inch, this is not for you. I tried it on my legs and it did nothing. Armpits, still nothing. Tried the bikini area, and regretted it instantly. It grabbed my skin and just sliced right through it. The only good thing about this product was that it's waterproof. Definitely would not recommend if you like keeping your body hair super short.
Date published: 2021-10-07
Rated 4 out of 5
by
MandyE
from
Very smooth shave and quick and easy to use!
I received this Conair Satiny Smooth, Cordless / Rechargeable Shaver to review for my honest opinion and went in a bit hesitant because I have only ever used a cordless shaver for my body one other time because I have Keratosis Pilaris (chicken skin) and most times shaving, especially with an automatic razor can irritate my skin; but I tried it and was very pleasantly surprised. It didn't pull or scratch my skin. It gave a very close smooth shave and actually even helped make my bumps less prominent and not raise up. My legs were much more smooth than with a handheld disposable razor a it was done so much faster! I will say as a personal "con" for me was trying to use it on my arm pits or more sensitive areas. I felt it was a little too rough for me on those areas. I do prefer a disposable in those areas, but that is just personal preference I believe. This razor is also nice that it can easily be recharged with a USB cord, so no more constant battery changes when im trying to quickly rush a shave before an important event. And its waterproof. And can be used wet or dry. Very nice. Over all this was a very nice razor I would definitely talk about to friends.
Date published: 2021-10-01
Rated 1 out of 5
by
DBNV
from
On/Off Button fell off and cutters don't last
The on/off power button fell off in my hand after only a few uses (no, I did not drop it). I taped the button back in place with duct tape and continued to use the shaver. After about 10 uses it no longer cuts any longer hairs on my legs.The product literature says the foil head should be replaced about every 6 months but mine did not last anywhere near that long. I tried to find replacement foil heads on the Conair website but they are not listed. When recharging there is no indicator that the shaver is fully charged. A light comes on when it is plugged in but it always stays the same color and never turns off to advise that the shaver is fully charged. I left it in charge mode for 2 days but nothing changed. I do not recommend this shaver.
Date published: 2023-05-24
Rated 2 out of 5
by
Reginaqui
from
Not very satisfied
I received this product for free to try out. I was pretty excited to receive it as I often use a shaver and I was hoping this would be an upgrade to the one that I have. While there is a couple of pluses, hence the two stars, it was not of the best shavers. The look odd sleek and the noise level of the shave is good. It isn't very loud like others I used. However, I was hoping it would shave very smooth, but that wasn't the case. I feel like the foil roller is what throws it off. If the remove that part maybe I would have a better outcome.
Date published: 2021-09-26
Rated 3 out of 5
by
MGarza78
from
So So Shaver
How does this product compare to other products you've tried? I have not tried any other electric razors on my legs so I don't have anything to compare it to, but I would not recommend this shaver if you are wanting smooth legs. It misses half the hairs and leaves your legs feeling spiky and a tad bit almost burned from rubbing it back and forth. What are some benefits of owning this product? This shaver did however work well on the lady parts. It helps get rid of the longer hairs and makes it much easier to shave with a razor afterwards. Would you buy this product? I would not buy this product unless it was the only thing available. Would you recommend this product to your friends or family? I sadly would not recommend this product to family or friends.
Date published: 2021-09-28
Rated 5 out of 5
by
ValerieT
from
Pain free
I'm a fan in Conair brand, but this shaver is by far the best too I have ever tried. I'm pretty hairy, especially on my legs, so I just put a lot of shaving gel to make it foamy, because my skin is super dry and then use this shaver, the process is smooth and quick, but most importantly for me that I don't have cuts anymore, with other shavers or even razors I used to cut myself a lot. Another perk is that it's cordless which means I can take care of myself whenever and wherever I want! It charges quickly and lasts long time until another charge. The color is beautiful and size is perfect to fit pretty much any of my bags. All in all, with a lot of traveling and being a busy mom this cordless shaver has become my quick fix to remove unwanted hair painless.
Date published: 2021-09-09
Rated 3 out of 5
by
Kristin5
from
Not sharp at all
Hi!!! It is super cute and easy to use. However I feel like a male would use this more maybe for a beard? It's def more a trimmer, instead of a razor/shaver. The blades are not sharp AT ALL. Maybe if I let my leg hair grow out for a month or so, but I'm a everyday shaver and this product didn't work for me. I used it on my cat and it worked better as a groomer tool. It didn't get close enough to the follicle at all on a human. Definitely would recommend to a male for beard trimming, but not to a women for bikini/leg shaving.
Date published: 2021-09-20
Rated 5 out of 5
by
Angie90
from
Works so well
I don't think I've ever used a rechargeable shaver that actually works so well. It is so small so I figured it wouldn't really get the job done. But wow, it really went beyond my expectations. I used it on my legs and my husband on his chest. It was amazing to see how it was removing all that hair and not leaving any patches or hairs behing. It is very smooth and really lasts a long time. I have yet to charge it because it is still going strong. I am definitely a fan now and will continue using this rechargeable shaver.
Date published: 2021-09-05
Rated 1 out of 5
by
Woods A
from
Uneven and painful shave
I had high hopes for this razor. But after using it on both my legs and my arms, I am left unsatisfied. It did not get a close or a smooth shave. It left lots of stubble and it was painful. It left my limbs red. I had to re shave my legs with my usual disposable razor.
Date published: 2021-09-10
Rated 5 out of 5
by
bnj2216
from
Best electric shaver I've used!
I've tried a couple different electric razors/shavers. This one has been the best so far! It's very easy to use and fits nicely in my hand! I've had problems with others being too big and bulky. It hasn't given me and razor burns or bumps. It super convenient that it's rechargeable because I never have batteries when things happen to need them. It is a little nosey but if you already have your bathroom fan on its not a big deal! I would definitely recommend this! It'd be a perfect stocking stuffer!
Date published: 2021-09-19
Rated 1 out of 5
by
EJ10
from
Don't waste your money
Spent 3xs as much time, to get the worst shave ever. Essentially scratching myself to get as close as possible and not getting close to a good result. And I'm a relatively hairy person. I get better results with a normal razor . Do not bother
Date published: 2021-09-08
Rated 5 out of 5
by
1999sara
from
Obsessed with this electric shaver
I can be pretty lazy when it comes to shaving, and this shaver solved all my problems! It works fantastic and keeps charge for forever. I was so excited to try this out because I've always wanted to try a rechargeable razor, and oh boy it did not disappoint! There wasn't any razor burn or even razor bumps which I personally struggle with when shaving with a regular razor! I would recommend this to anyone on the market for a rechargeable razor because this is a game-changer!!
Date published: 2021-09-16
Rated 3 out of 5
by
econsmom
from
Mediocre at best
I received this product for free in exchange for my honest review. Personally, I was unimpressed by this personal shaver, as it had the same issues I have experienced with other similar products: scraping of skin and pulling of hair. The scraping is the biggest issue for me. Does it do what it I intended to do? Yes. But does it do it well? No necessarily. I wouldn't purchase this one outright. Instead I'll wait for a product that follows through on the "satiny smooth" claim.
Date published: 2021-10-02
Rated 1 out of 5
by
Anr131
from
Doesnt work
Followed all the instructions in the provided manual and it doesn't shave anything. It doesn't work with wet or dry. Not for me.
Date published: 2021-09-05
Rated 1 out of 5
by
Toria
from
Worst electric razor on the market!!!
The blades DO NOT CUT!! It rips the hair out rather than cut it, wet or dry brand new, oiled it's still absolute garbage!!
Date published: 2023-04-11
Rated 3 out of 5
by
Larralu
from
Just ok
I have to say that I was expecting a lot more with this shaver then I got. With the name I was hoping for a closer shave then what I got. It works fine if I just want to do a quick shave job. If you want a close shave it won't work very well. I also had issues with getting nicked when trying to shave my arm pits. You need to go slow and be very careful to make sure that doesn't happen. For a quick job it's fine but a close shave requires something else entirely.
Date published: 2021-10-01
Rated 3 out of 5
by
SamKy
from
It's okay. Gets the job done.
I love that it is cordless and easy to charge. It is comfortable even with prolonged use. The handle is feels nice in my hands. I do not really mind the sound but let me tell you; it's loud. It gets the job done, worked well in my legs but I have to do multiple passes before I can even get to a close shave. I also tried it in my underarms but it gets warm which feels odd in my skin; same result. Worked as it should but had to do multiple passes.
Date published: 2021-09-25
Rated 4 out of 5
by
Soph1
from
Great!
I was so excited to give this product a try as I am always looking for new and different hair removal options. I tried this on my legs and I was mostly pleased. The two in one trimmer and foil makes it very convenient. I love that it is rechargeable so I don't need to even repurchase batteries. The instructions said if using wet, shaving cream or soap may help, but upon trying both with and without shaving cream, I found it to work better with nothing. The shaving cream just seemed to clog up the foil. My legs were very smooth afterward. I would recommend using this with hair that is a little longer. My hair wasn't that long as I'd only shaved about two days prior. I think it would be more effective on a bit longer hair than stubble. Overall, I still need to get the hang of it a bit more but for the most part I was very pleasantly surprised with it!
Date published: 2021-09-03
Rated 5 out of 5
by
Kay7
from
Love this!
This thing is super convenient!! Bends pretty good to the contours of your skin. I was nervous to use it, but I had no reason to be as this thing is safe, gentle but effective. My issue is that it's really loud though, So when you're using it in the bathroom, it kinda sounds like you're using something "else" instead. Buzz.. buzzz. Buzzzz… lol. Other than that, it gets real close and gives you a smooth shave.
Date published: 2021-09-12
Rated 2 out of 5
by
KC14
from
Ouch
This shaver has the potential to be a good accessory for my everyday self care. Unfortunately it pulls hair. It does shave but it Doesn't have a close shave leaving stubble I had to shave by hand with a safety razor. And it also gave me razor burn. While leaving me with these horrible ingrown hairs all over my body that I've been battling for weeks since I shaved with this concur satiny smooth shaver.
Date published: 2021-10-01
Rated 5 out of 5
by
Courtney2
from
Impressive!
So far I'm loving this cordless shaver. I was surprised how smooth my skin was after using it. I expected there to be some stubble left behind but there wasn't! So far I've used it on my armpits & legs. My only complaint was it's pretty noisy & also felt a little rough on my armpit but it didn't cause any irritation. Neither cons were enough to change my rating, overall I'm really pleased with it!
Date published: 2021-09-25
Rated 5 out of 5
by
Jessica14
from
Quick, Smooth, and Easy
As a disclaimer, I have never used an electric razor before to shave. I was definitely intimidated by the sound of the razor at first. However, I didn't cut myself at all! This electric razor is honestly amazing. Once I got over my fear of cutting myself, this razor was so efficient that it cut my normal shaving time in half. It was super gentle and easy to clean, and the design of the razor is easy to hold at any angle without slippage or cuts. While I didn't get as close of a shave as my normal razor, I think it was because I was nervous to press the electric razor too close to my skin at first. I did experience slight irritation after the first use, but my skin quickly adjusted after the second use. This product worked great for my legs and armpits. My only complaint is it wasn't as close of a shave, but I think that was because I didn't press the razor close enough to my skin at first.
Date published: 2021-09-15
Rated 3 out of 5
by
Mama K1
from
Subpar shave
While I was super excited to receive this cordless/rechargeable shaver, I was really disappointed when I finally was able to use it. When you get your shaver, you need to charge the shaver for 16 hours. Not that big of a deal, but be aware of this. Instructions are included, but it's pretty straightforward. You push the button and it turns on. Here's where I struggled - no matter what I do, I cannot get a close shave with this item. I shaved my legs, but when I was done, it felt like I had 2 day stubble! I appreciate the convenience of being cordless and rechargeable, but the fact that you can't use gel shaving cream with this item was bothersome...as well as the fact that you just can't get a close shave. I suppose this would be handy in a pinch, or if you're hacking back a hair forest before you get a smooth shave with a regular razor. I wouldn't recommend this item to friends and family.
Date published: 2021-09-16
Rated 3 out of 5
by
sjsize
from
Bummed
I've had this product for just under a year (same as another rechargeable Conair razor I used) and once again it won't charge. It just stopped suddenly when I've been charging it according to the instructions. One of the heads also just stopped working about 3 months ago. I likely won't be purchasing conair again, which is a shame because they used to be my go-to for anything hair related.
Date published: 2023-03-29
Rated 5 out of 5
by
Raquelh3
from
Great shaver
The Conair Satiny Smooth, Cordless Rechargeable Shaver is easy to use. I was able to use it both wet and dry and did feta close shave without any nicks. This was my first time trying a cordless recharge razor and overall thought it was a good shaver! I would buy this product and recommend to my friends or family. I received this product for free for my honest opinion.
Date published: 2021-10-01
Rated 5 out of 5
by
Kyra82
from
Best cordless shaver I've found!
This Conair Satiny Smooth, Cordless / Rechargeable Shaver has been the best one I've found yet! The design is very sleek and comfortable, the charge lasts for several uses between charging and the shave gets super close for an electric shaver. I would highly recommend this product for anyone looking for a clean, easy, close shave. I would buy it again for sure!
Date published: 2021-10-01
Rated 3 out of 5
by
Nagem
from
Worth the hype?
I believe this razor looks great & would be a first pick if looking for a sleek look. On the downside while using conair satiny smooth cordless razor I found it to be extremely difficult to get down to the skin far enough to not leave "prickly hairs" I have tried it dry and with wet legs neither seemed to get a close enough shave for my liking.
Date published: 2021-09-10
Rated 5 out of 5
by
C4R43
from
Nice shaver to have
I received my free sample of Conair Satiny Smooth, Cordless Rechargeable Shaver. I have used it on my legs without any shaving cream or water. It works really well. I used it on my face. I am pleased with the results. I thought the light would turn green when charged. It doesn't change colors, so that is the only negative thing I have about it.
Date published: 2021-09-18
Rated 5 out of 5
by
Lifewasosarcasm
from
Extremely convenient!
I love that I can use this in and out of the shower. Sometimes it's too dark to really see all the hairs in my shower so the fact that I can use this without water is a huge pro for me. The charges lasts well and despite the other reviews I've seen I haven't had any issue getting a satiny smooth finish. I haven't had any cuts or knicks either!
Date published: 2021-09-27
bvseo_sdk, dw_cartridge, 18.2.0, p_sdk_3.2.0
CLOUD, getReviews, 6ms
reviews, product