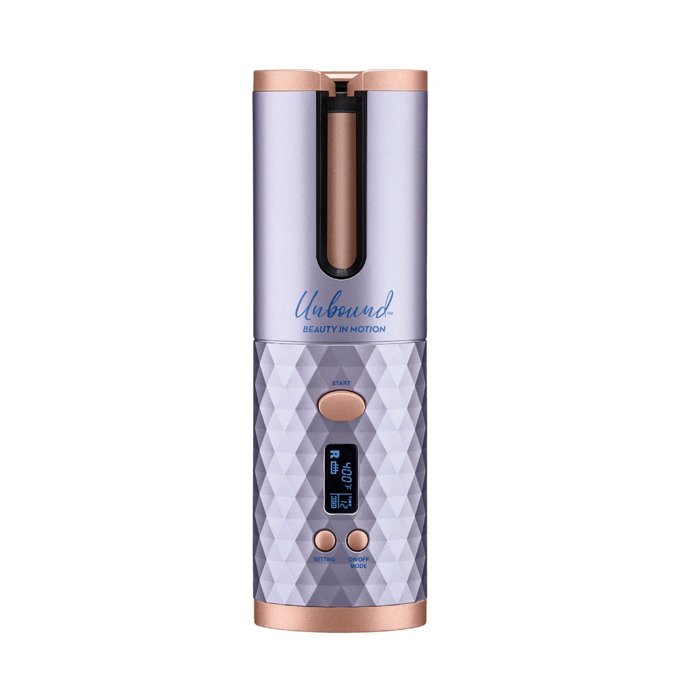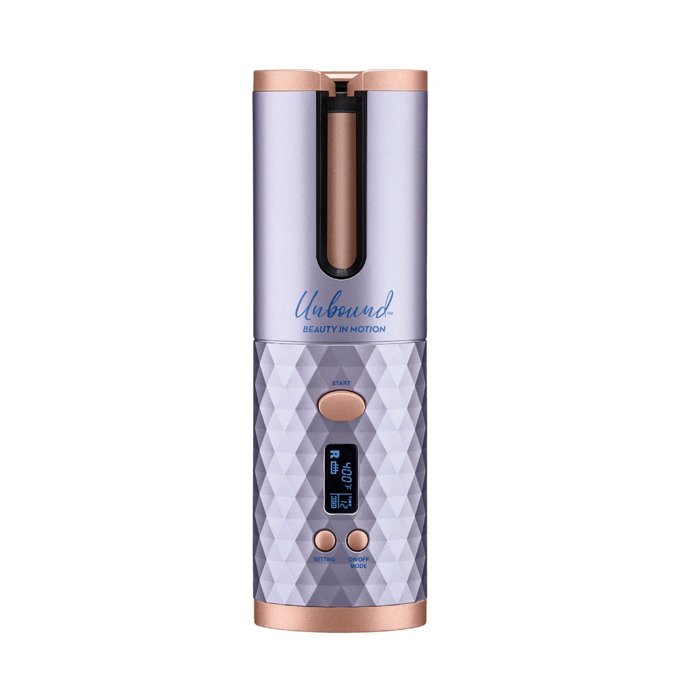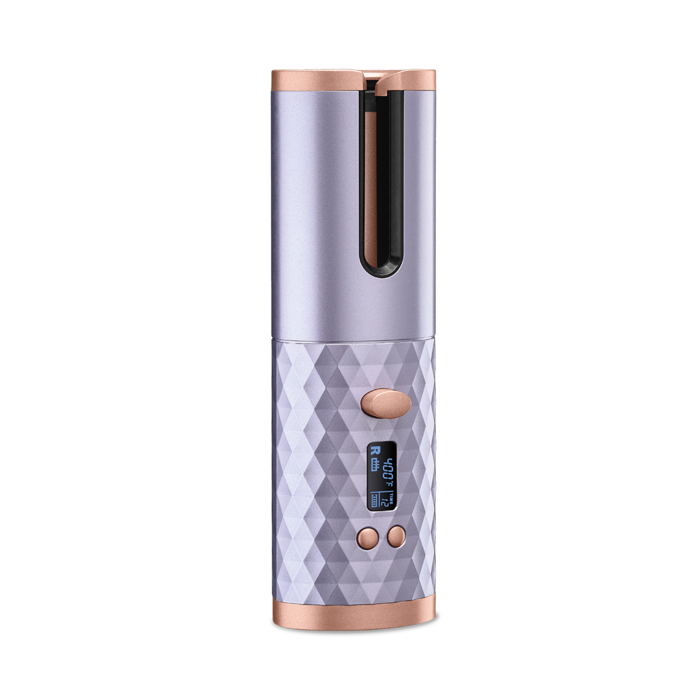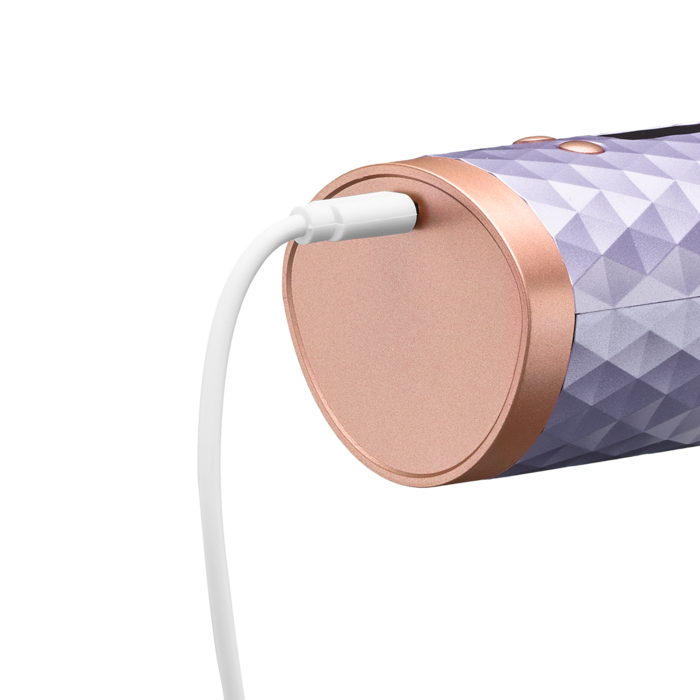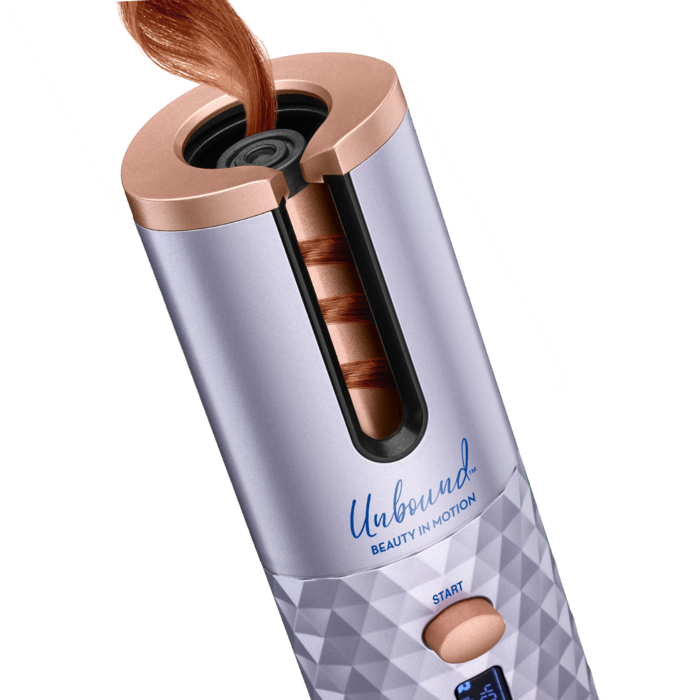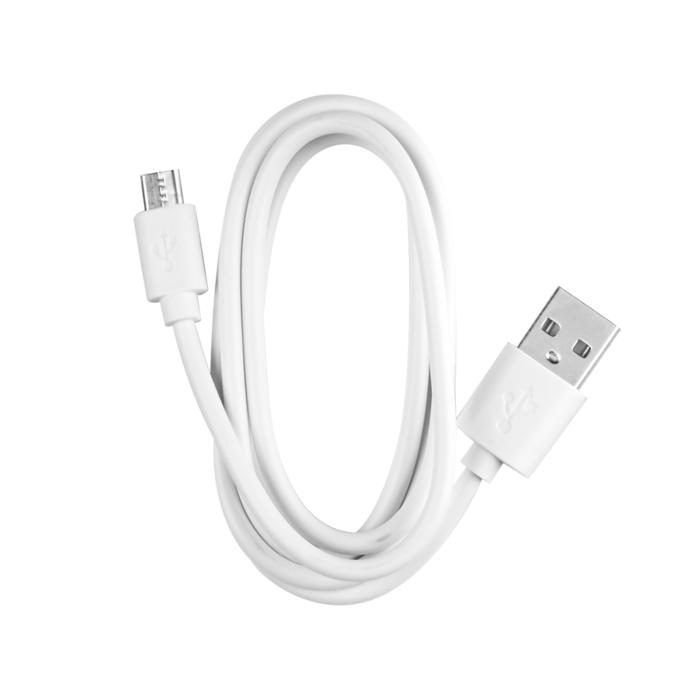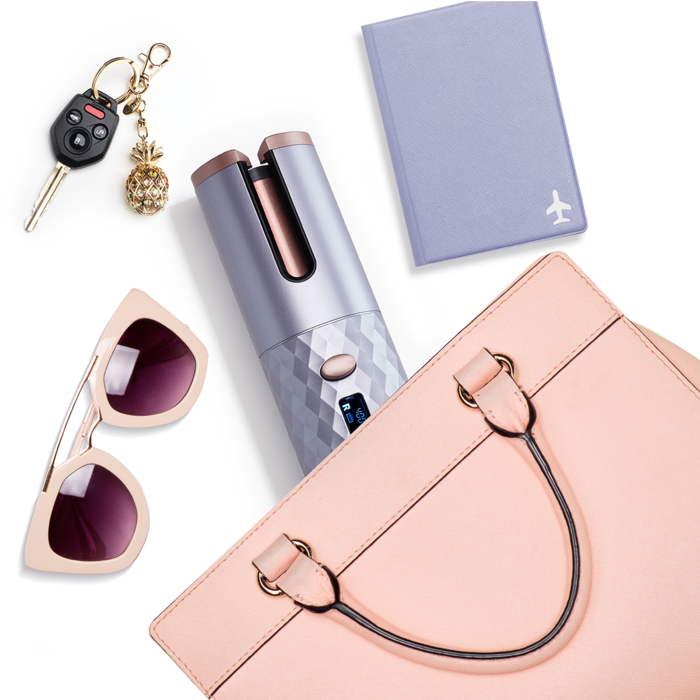 This item is currently not available
Curls without cords. Beauty without bounds. #UNBOUNDBEAUTY
Description
Live unbound and get the look you love with Conair's new Cordless Auto Curler. Experience the freedom of creating luxurious curls and waves anytime, anywhere, without any cord to hold you back. Break free from the same-old, same-old and enjoy beauty in motion with this innovative styling essential, complete with 400° high heat, 3 settings and 4 timer settings, and other easy-to-use, hard-to-resist features. Curl it, flaunt it, love it–only with Unbound™.
Features
Rechargeable, Cordless Auto Curler
Up to 60 minute cord-free runtime*
Multi-directional curl action
400°F High Heat
Anti-tangle protection
Ceramic coated barrel
3 heat settings and 4 timer settings
LCD Digital Display
USB cord for easy charging
2 lithium-ion batteries**
15 minute auto-off to preserve battery
Please note: This product cannot be shipped to a PO Box.*Depending on hair type and heat and timer settings selected.**Contains 2 lithium-ion batteries. Airline restrictions may apply. Please check with your carrier.U.S. Patents 8,651,118; 9,629,434; 9,788,625; 10,238,196 and D902,482, other pending/granted U.S. and international patents.
Instruction Manual
Reviews
Rated

4

out of

5
by
Vanityvixen09
from
Great for my short hair!
I have hair that is a little above shoulder length and very thick! This little gadget is a super cool way to curl your hair without having to twirl a curling iron around or holding it up to the point where your arms get tired! It is super lightweight and easy to learn to use. I love how you can control the direction of the curl, temperature and even the amount of time the hair is in the barrel! My only gripe is that due to having thick hair, I have to put small sections of hair at a time, so it takes a bit longer but the curls come out BEAUTIFUL so it's totally worth it! The curls held up better than when I use my curling iron.
Date published: 2020-06-06
Rated

5

out of

5
by
AmyQ
from
I have found the best curler
I have used many curlers but they usually get my hair tangled somehow and pull my hair badly and that stops me from using curlers. When I was about to use Unbound beauty in motion, I was expecting the same pull and wasn't thinking that this curler would be any different. I was amazed, by how well and thoughtfully this hair tool has been created. Loved the result. it was extremely easy to use, one thing should be kept in mind, the curler should be fully charged before use. the best feature of this curler is it being cordless. As is curling hair is hard and cord tangling makes it harder. Overall I love it and can't be more impressed by it. It is a great curling tool that is effective and easy to use.
Date published: 2020-10-05
Rated

4

out of

5
by
amberkrista
from
super convenient
I am simply terrible at curling my own hair, despite a multitude of video tutorials. I love this because it basically does all the work for me! Being cordless is even better- I can easily take this with me traveling and spruce up my curls whenever I need to. I just had a couple of issues: one is you need better instruction on what to do if your hair gets caught to prevent a situation where you're yanking your hair out and hoping it doesn't tear. Secondly is that the charge really doesn't last very long. It seems like it takes no time at all for the curler to be down to zero charge. Aside from that though I love this!! This has made curling my hair so much easier.
Date published: 2021-11-23
Rated

5

out of

5
by
Mrsmaref
from
Amazing!
I am absolutely in love with Conairs unbound cordless curler! So easy to curl my air!!! So simple anyone can use it! I have already recommended this amazing hair styling tool to all my friends,family and co-workers. I will never go back to old curling irons again. This is easy to travel with so I am able to use it anywhere! This is a hassle free hair curler, I've made tight curls and beach waves so far. Has different heat settings to allow a tight or loose curl. I absolutely love this!!
Date published: 2020-06-12
Rated

3

out of

5
by
saraloera81
from
haven't used it much but I like the idea
I have to tell the truth, I only tried this thing a couple times. It reminds me of a Barbie hair curler I used to use on my dolls in the 80's that their hair would always get stuck in. I think it is a cool tool in theory, no cord to get tangled up, almost zero risk of burning yourself and the tool does all the work for you. But I'm pretty handy with a regular curling wand so this just didn't make sense for me because you can't be as accurate with your work and the sections of hair you have to put into it need to be fairly small. Not something I would implement in my regular routine but might be great for someone else!
Date published: 2021-12-24
Rated

4

out of

5
by
BzzEm
from
Takes some getting used to
The first time I tried out the Conair Unbound Cordless Auto-Curler I almost ripped a clump of my hair out. That is why I will say this portable cordless curling iron alternative definitely takes some getting used to. My mistake was thinking that I had to firmly put my hair into the appliance. NOOO! Do not do that! I have found what works best is to gently rest each strand of hair that I am looking to curl into the spot to the point where it is barely dangling in there. I also find that it works best for me to remove each curl before the "beep". Now that could be just the thickness of my hair but I feel like if I leave the section of hair in until the beep, my hair ends up coming out tangled or just not a good curl.
Date published: 2020-06-24
Rated

5

out of

5
by
Vicky92
from
Awesome
This automatic Unbound cordless pliers is really amazing and the best thing is that I can use it in different places and at any time. I had always wanted a team to curl my hair at different times and I had never found anything like that because of the hair length and little curl and I only managed to keep them done for a short time ... instead with this curling iron I have achieved a perfect, fast and lasting definition. I am excited and happy with every result obtained ... it is really what I needed and expected from the Conair line .... 100% recommended for its quality as a product, I love this curling iron.
Date published: 2019-11-25
Rated

5

out of

5
by
MandaPanda1
from
I love my new Unbound Auto Curler by Conair!!!!
This product is absolutely amazing!!!!!! When you first open it you'll want to charge it for about 2-3 hours first. After it charges you'll want to turn the wireless curler on and set your settings such as temperature and which direction you'd like to curl in. Next you'll put about an inch of hair in the curler then you'll push the button and watch and wait for the magic to happen!!!! If you curl left you get a different curl style than when you curl right. Both styles are equally beautiful in their own ways!!! The curler does an amazing job!! I highly recommend and will be buying my nieces one for Christmas!
Date published: 2019-11-13
Rated

4

out of

5
by
jubulee1980
from
I Love It
I like this curler because it's cordless and I can take it with me anywhere I go. I made sure it was charged fully before I used it and the length of time it lasted was pretty good. The functionality and design of the curler is unique and different from your normal type of hair curler which is great. The product decreased the amount of time it normally takes me to curl my hair so that was a definite plus for me. I really suggest you read the directions first before using the product because it was really helpful to me before I started to curl my hair.
Date published: 2019-11-27
Rated

5

out of

5
by
Tiah
from
In love with this curler!
I was very impressed by the Commit unbound cordless curler! It is so much better than other curlers! For one it is cordless! For two it times for you to know when the hair is done curling. It saves you from damaging your hair. You can also adjust the timer for how long you want to curl! It is simple all you have to do is part your hair and stick it in and the curler does the rest! You can now curl your hair and multitask! It's great to own this product because I all but gave up on hair curlers that didn't work! I would definitely buy this product and have already recommended it to so many people!
Date published: 2020-05-26
Rated

3

out of

5
by
katiep178
from
Neat idea
I was pretty excited to get this Unbound Beauty Tools VoxBox. The curling iron wasn't as easy to use as I had hoped. I did get my hair stuck in there one time and kind of panicked! I do like the fact that this is portable, cordless and a rechargeable curling iron. It has different heat settings, different curl directions and different curl strengths (loose, tight, or waves). It also has an auto shutoff incase you forget to turn it off. It came with a nice velvet carry bag as well. This is a neat little curling iron but I wish it would be easier to use. @Influenster @Conair #unboundbeautyunboxed
Date published: 2021-11-15
Rated

5

out of

5
by
Magends
from
This is life changing
This is hands down the best invention on the planet. No more burnt fingers, no more burn hair, no more I can't curl my hair because I am running late. This is so quick and easy. You can have light wavy curls or tight bouncy curls. The charge time is close to about 4 hours. The charge kept is fantastic. I love that you don't have to plug it in anywhere. Just throw it in your bag and when your ready to use pull it out and go to town anywhere. Curls don't turn out too hot either. There is a timer so you can choose how long you want to curl your hair. You don't have to worry about it tangling in the devise. The only thing I wish it did was curl the hair close to your scalp. There might be a possibility but I havent figured it out yet. But it is worth every penny. Oh and anything thing it has different setting on what side you want to curl your hair. That is a huge plus.
Date published: 2019-11-12
Rated

4

out of

5
by
rpadgett30
from
Cool Concept
For travel purposes, I really enjoyed this tool. It's extremely light, the battery holds a good charge, and it's very easy to use. That being said, I really didn't enjoy the curl it produced. Even on the loose setting it still made tight ringlet curls that wasn't what I was looking for. I then tried a lower heat setting and that helped some. However, I really liked the ability to change the temperature and direction of the curl. I do really like the way the iron operates and the design ensures your hair will not get stuck. Great product, just taking off a star from preference!
Date published: 2021-12-07
Rated

3

out of

5
by
nomadgirlbeauty
from
pretty good
I received this tool in exchange for an honest review. The auto curler works pretty well, but not great. It takes forever to charge, and you can't use it while charging. It IS pretty cool that this is wireless, so you can take it on the go if needed. I don't know if it's my hair or what, but it only slightly curled it, and the curl didn't stay very well. I was also constantly terrified my hair was going to get caught (but that didn't happen), since there's no way to stop the curling motion until it completes it. But, it did create some curls, so it did do what it's supposed to.
Date published: 2021-12-23
Rated

5

out of

5
by
Cait2
from
Obsessed!
I used this as a perfect curler for my mom. She has shoulder length hair and it is the perfect size for her. I tried it on my hair, which is to the bottom of my back, and it didn't work as well. I would for sure use a wand on long hair. However, this is a GAME CHANGER for short hair. It curled my mom thick head of hair in under 15 minutes. The fact that you can pull your hair out and ensure it won't be stuck inside the chamber if any malfunctions were to happen eases an anxiety. It is so quick and easy to use on someone else of on yourself. I think this is an amazing purchase for anyone with short hair for sure. The curls were shiny and bouncy and lasted for two days between washes on her. She loved it so much.
Date published: 2020-05-25
Rated

3

out of

5
by
Ali B
from
Impressive, but Not for Everyone
This cordless curler is pretty impressive. You just charge it, and can pop it in your bag to bring anywhere. No annoying cords and it's relatively compact. It's easy to use but I've found that for my long hair, it's definitely time consuming and sometimes catches my hair weird and tangles it. For its cost, I was shocked. I guess you pay for convenience - I think for me it's great for touch ups but I would stick to my other styling products to save time. Would recommend for anyone who struggles with the traditional wands or curling irons and has hair about shoulder length.
Date published: 2020-05-26
Rated

4

out of

5
by
kristac39
from
fun gadget!
I was so excited to receive this product from influenster! I have never been good at curling my hair so this was perfect for me. It's so easy to use! I was worried about my long hair getting stuck in it but that didn't happen once. It did take me a while to curl my whole head but I think I'll get better with practice. Love that I can do it from anywhere and don't have to worry about being plugged in or burning myself. A little bulky and the chamber where you put your hair in could be a little larger but overall this is a great product I would definitely recommend trying!!
Date published: 2021-11-11
Rated

2

out of

5
by
Jaycee
from
Great concept but not for long hair
I was excited to try this curler but ended very disappointed. I have elbow length hair and this curler just did not work for me. The concept of it is very neat you add some hair to the barrel and ta-da a beautiful Shirley Temple curl. This was not the case for me. The first curl was beautiful (smallest layer) the next layer my hair kept getting stuck in the barrel. Luckily I was able to remove my hair with causing any damage. In my opinion this is just not meant for long hair.
Date published: 2019-11-15
Rated

3

out of

5
by
Megalega
from
Great curls but takes practice
I love that the Unbound Auto Curler is cordless but it would be nice if it had a regular wall plug to recharge. I don't have a USB charger in my bathroom where I use the curler. It takes quite a bit of practice to use the curler. You have to use a small section of hair or it kind of jams the machine and then you have to pull your hair out. If you get the right amount of hair, and push the button for the right amount if time the curl turns out really beautifully. If I get used to using it, I'm sure it will get easier but for right now I prefer a regular curling wand.
Date published: 2019-11-30
Rated

5

out of

5
by
nerempfer
from
love!
Not going to lie I was SUPER skeptical at first, however I ended up loving this. there was a slight learning curve but nothing too difficult. I did have to get used to doing smaller sections and with having a lot of hair it was odd at first and did up taking a good chunk of time. however the battery lasted and the curls were all very consistent and perfect. I got a ton of compliments on my hair. I have medium long hair and it worked great, however someone with long to extra long hair might have more of a learning curve. overall I will use this over and over again.
Date published: 2021-12-03
Rated

4

out of

5
by
SR11
from
Surprisingly good.
I would never have thought of buying this product on my own but its surprisingly not so bad. Currently i have short hair, just a few inches below my shoulder. So for me this worked really well. I'm concerned it might not work well for people with really long hair. But otherwise it's a great product. Curled my hair really easily. The trick i learned is to keep the hair around the rod for an extra 5 seconds after the second beep (the one indicating to release the start button) For me the extra 5 seconds really helped form the curl. I liked that you can choose the duration the rod rotates and it has a "Mixed" option (basically rotates left and right). It's compact, easy to travel with. Comes with a nice soft bag to store.
Date published: 2020-05-24
Rated

5

out of

5
by
lseegs
from
Amazing!!!!
Not only is this an amazing device just to have in general, but would be so perfect for someone who travels a lot too! It's lightweight, it doesn't feel like you're holding something heavy or make your hand feel strained. It's cord free so you don't have to worry about flipping and readjusting to watch where or how the cord is. It's super straightforward and easy to use, it has minimal buttons making it nearly foolproof. The best part is that it works SO good, every time. I used this on my hair and my daughters hair, I was so impressed by how consistent and uniform the curls ended up being. I would 100% recommend this product, especially if you're not as confident with a curling iron, THIS would be a great alternative.
Date published: 2020-06-12
Rated

5

out of

5
by
meganlindey91
from
amazing
I'm honestly surprised. I don't do much with my hair daily, I'd like to but I have 3 kids and they take up a lot of my time but this curler has made it so easy for me to add a little spice to my look. I'm not gonna lie, the 1st time I tried it I got my hair stuck and was super irritated but in all honestly I should of looked over the instructions 1st haha. after that I figured it out and it's super simple and makes beautiful curls or waves easily and I'm in love and so happy I got to try this product. thanks influenster I love it! my hair game has changed forever!!!
Date published: 2022-01-09
Rated

5

out of

5
by
Paige23
from
A great tool!
I bought this to do my hair quickly for a family photo shoot (which was at sunrise!) and it works so well! I'm the type of person who doesn't wake up early to do her hair no matter what, so this product is a lifesaver for me. Thanks, Conair for offering an affordable auto curler that you can easily pack into a suitcase or weekender bag. Easy and fast to use, curls stay tight all day long without hairspray. I recommend using a thermal protection spray, however.
Date published: 2020-10-22
Rated

4

out of

5
by
alliex16
from
Decent tool!
I was skeptical about this curler, but it honestly surprised me! It's really easy to use and created really nice curls. I won't be ditching my curling iron for this compact curler since it really doesn't allow you to customize your curls (ie. you can't leave the ends out of the curl for a more relaxed look) but when it comes to an on-the-go touch up this tool would be amazing! The rechargeable battery could also make it great doe international travel since traditional hair tools are really easy to fry with the change in voltage. Overall a really decent product!
Date published: 2021-11-11
Rated

3

out of

5
by
roslyny
from
Just Fine
I was very excited to receive this curler. I have thick, straight, Asian hair. I had to use the highest heat and time setting to get curls. The curler works pretty quickly, but I can't say that I love the curls that I am getting. The overall look ends up pretty messy looking. I also wish it would curl while also charging. It ended up being enough time for me to curl my hair, but I know if I'm getting ready with girlfriends they'd want to try it out too! I think I'd use this in a rush, but if I had time I would still curl my hair with a traditional curling iron.
Date published: 2021-11-29
Rated

5

out of

5
by
Destiny
from
Conair unbound
I really love this concept of a cordless curling iron I must say that is so innovative! I did really enjoy this product the only thing is my hair is very thick so I just had to remember to take smaller portions of my hair. I charged the curling iron all night the night before and it lasted for maybe an hour before it died but I love this product and will use this product in the future. It's way faster and you can get your curls done way quicker then normally curling ur hair. Thank you so much for sending me such a generous gift I appreciate bzzz agent so much!
Date published: 2020-05-27
Rated

4

out of

5
by
Christina7
from
Easy and compact!
My first impression was how easy and quick it heated up. As someone with somewhat curly hair naturally, it was interesting seeing how it would turn out on my type of hair. It is a bit time consuming since you can only do a bit of time but the results are fantastic. Highly recommend making sure your hair is 100% knot free because my hair did get caught in the iron a few times. Other than that, the turnout of my curls were just what I was looking for!
Date published: 2020-05-28
Rated

2

out of

5
by
alexis2
from
Ouch!
I thought I would love this wireless curling iron, but boy was I wrong. First it was so hard to understand how to use the product, there was little to no instructions on how to use it. I had to google how to. Starting curling my hair like the instructions told to do, it kept getting caught in my hair and I had to almost pull my hair completely out of it. everytime it auto curls it kept getting stuck in it. i literally hated every minute of it.
Date published: 2020-06-02
Rated

2

out of

5
by
Letty1
from
Cute curls but Not for long hair !
This product at first glance seemed like a life saver. However it's a little tricky to use. Also I believe is more for people with short hair. I have hair down to the middle of my back and my hair either 1) would just curl maybe like 2 inches up which is ok (but not my preference. Or 2) my hair would get caught and tangled in it ! I tried a few face framing pieces and it was ok . I think this would be nice for car trips for a quick look!
Date published: 2020-05-31
bvseo_sdk, dw_cartridge, 18.2.0, p_sdk_3.2.0
CLOUD, getReviews, 7ms
reviews, product