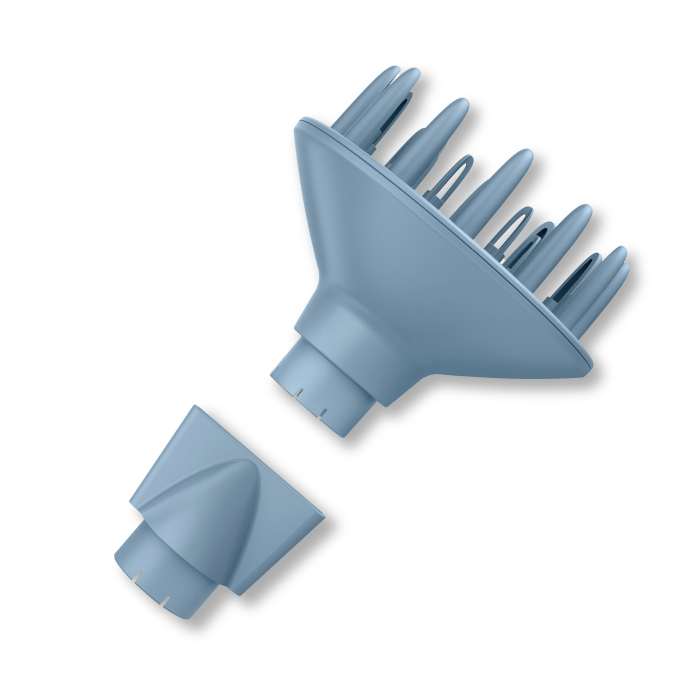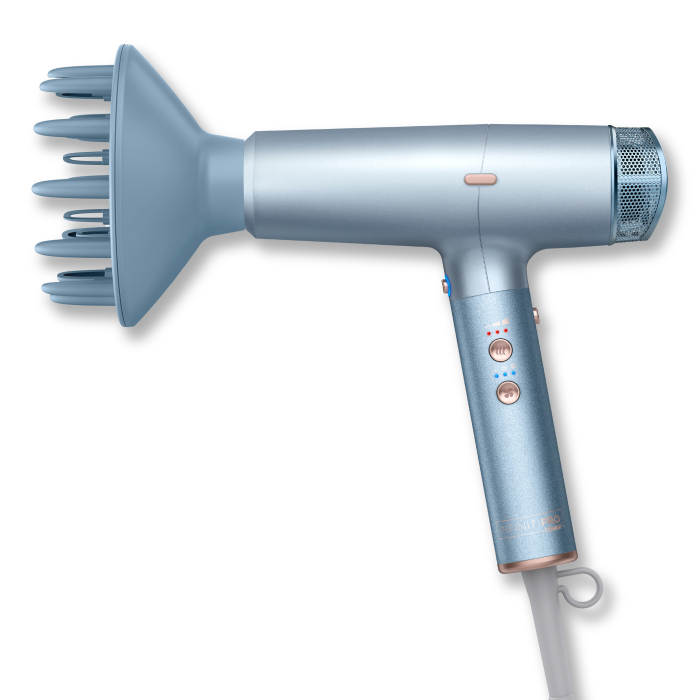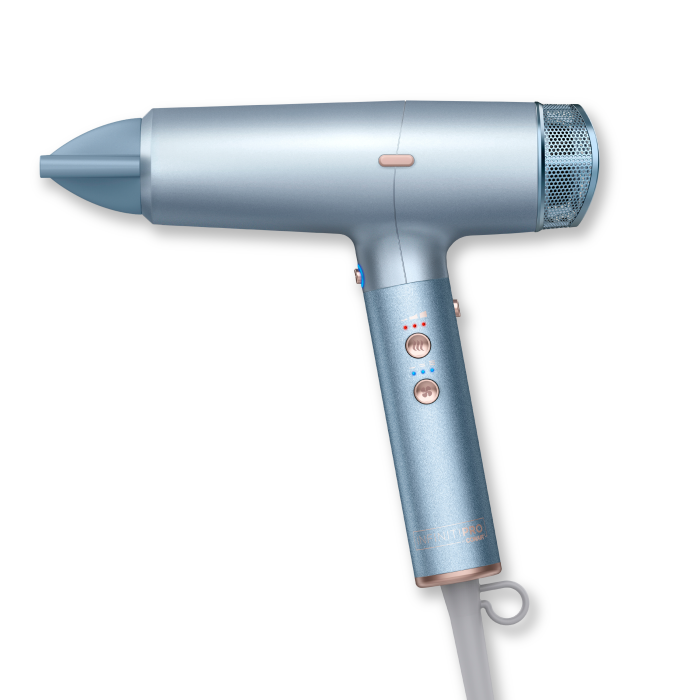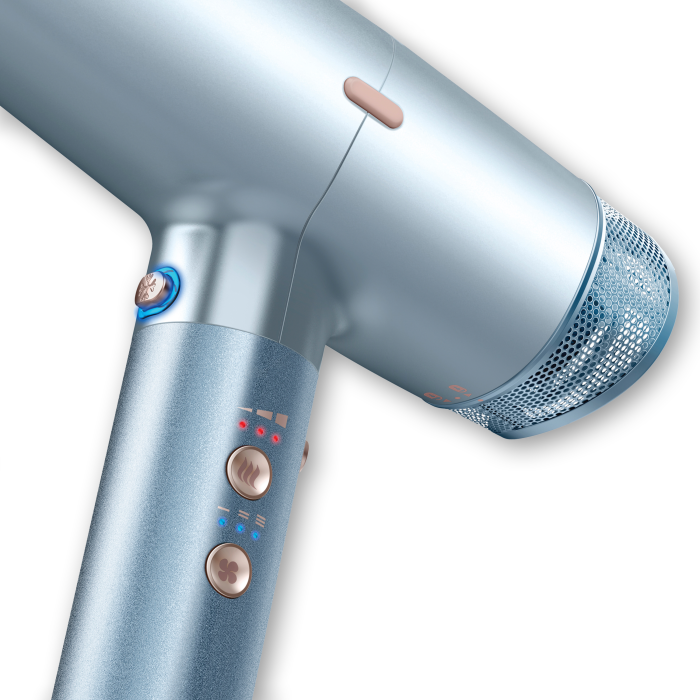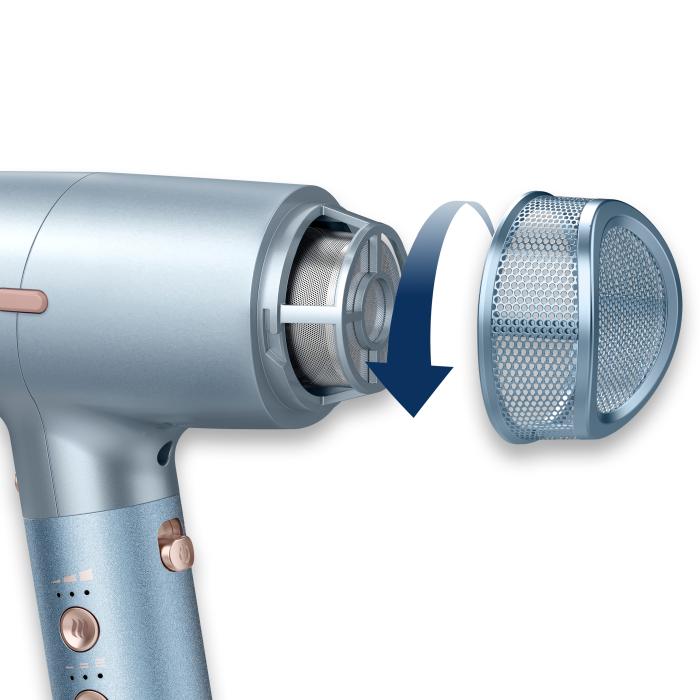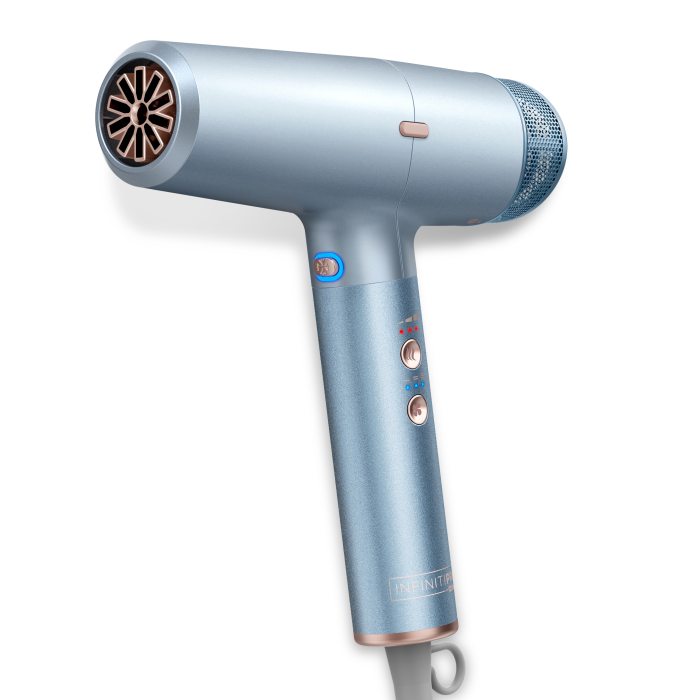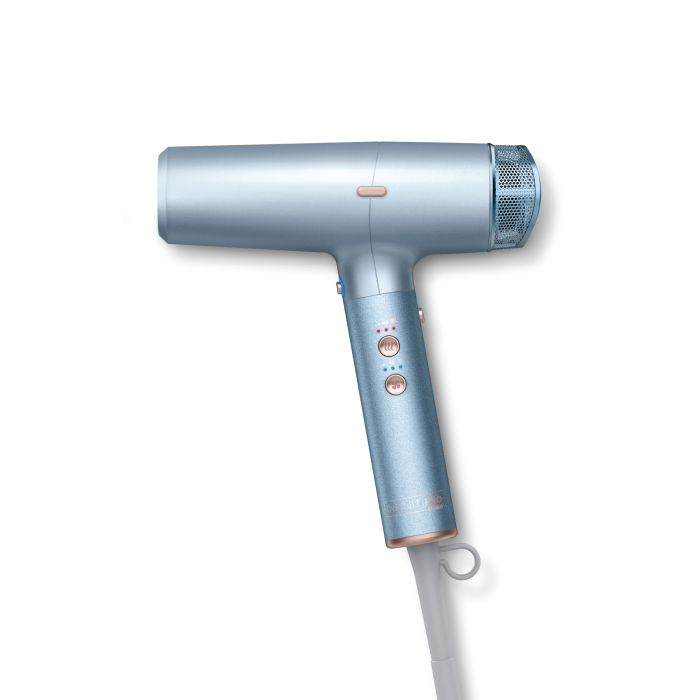 Root-to-tip drying with less damage and a frizz-free finish.
Description
Experience the ease, convenience, and cutting-edge performance of DigitalAIRE Advancing Dryer Technology from InfinitiPRO by Conair. Beautifully designed by Conair's Styling Engineers, this innovative dryer merges modern style with precision engineering for a truly exceptional drying experience. Explore a wide variety of trending looks, from the tousled lob to the feathered bob, with next-gen air performance that provides accelerated root-to-tip drying. Get salon-perfect results with the dryer that expands your styling range and delivers more, including 75% more air pressure, up to 5x more speed, and up to 50% more ceramic area, when compared to other Conair® DC motor hair dryers, for fewer hotspots and less damage. Frustrated with frizz? Not anymore. Frizz Defense® eliminates frizz with conditioning ions from a powerful internal ionic generator. Up to 30% lighter compared to our other professional AC motor dryers, DigitalAIRE features a sleek, slim profile for easy handling and a 7-foot cord for greater flexibility. Electronic toggle controls ensure precision styling with 9 total heat and speed settings, and once you've perfected your look, the cold shot with locking action seamlessly sets it in place.
Features
Accelerated Drying: Digital circuitry spins motor up to 90,000 RPMs for up to 5x more speed compared to other Conair® DC motor hair dryers. Next-Gen Air Performance: 75% more air pressure than our other DC motor hair dryers delivers root-to-tip drying power. Honeycomb Ceramic Technology: Up to 50% more ceramic surface area than our other DC motor hair dryers helps prevent hotspots to minimize heat damage. Frizz Defense®: Internal ionic generator diffuses conditioning ions to eliminate frizz. Sleek & Lightweight: Up to 30% lighter compared to our other AC motor hair dryers. Locking Cold Shot: Illuminating salon-action true cold shot sets your style in place. Designed to Be Noticed: Contemporary beauty to level up your vanity. Extra-Long Reach: 7 ft. cord gives you more flexibility. Precision Controls: 3 heat and 3 speed settings for customized styling of every hair type and texture.
Specs and Support
Model Number
999
Shop By Tools
Full Size
Warranty
Limited 4-year warranty
Dimensions
11.68 x 11.68 x 2.3 in.
Unit Weight
1.34 in.
Color
Powder Blue
Rated 5 out of 5
by
Sal
from
Small but fierce, perfect for travel!
I took this hairdryer with me to a wedding out of state, and and it was perfect! It's small, and quiet, but has multiple settings and puts out a LOT of heat. I have a ton of hair that's super fine, so it takes a billion years to dry, and this got it done quickly. There are multiple heat AND cool settings, as well as a couple attachments and a cleaning brush. I actually laughed when I got it out of the box because it made my old hairdryer look like a beast. It takes up SO much less space and comes with a cleaning brush. Definitely a worthwhile purchase! OH, and the cord has a Velcro strap to keep it wound! Wiiinnnnn!
Date published: 2023-06-10
Rated 5 out of 5
by
Veraf
from
I would definitely buy this incredible dryer!
I received this product free from BzzAgent and Conair to sample and leave an honest review. This is a fantastic hair dryer. I currently own a Conair Infiniti Pro and this new, current version is definitely an improvement. It's lightweight, has three different heat levels and three different speeds in addition to a cool blast feature. It comes with two attachments, a concentrator and diffuser. I use the diffuser as I have naturally curly hair that would get frizzy if I didn't use it. My hair is thin so doesn't take too long to dry but this dryer definitely sped up drying time. I cannot think of any cons on this product. I love it and would definitely recommend!
Date published: 2023-06-10
Rated 5 out of 5
by
Mom of Two
from
My favorite hairstyling tool!
I received the InfinitiPRO by Conair DigitalAIRE Ionic Dryer free for review from Bzzagent. I am in love with my new dryer! I used to avoid drying my hair because of my fine hair. I love the heat setting with this dryer. I can select from multiple heat options so I don't have to worry about damaging my fragile hair. I dry my hair on the coolest setting. It also comes with attachments to prevent my wavy hair from getting frizzy. When I am done drying my hair with my new dryer, my hair feels and looks like it does when I leave the hair salon. I will never be without this dryer again! My hair feels so much healthier and more manageable!
Date published: 2022-12-17
Rated 5 out of 5
by
RoxanneC1
from
InfinitiPRO by Conair DigitalAIRE Dryer
My hair routine is to let my hair air dry after washing to about 50 to 70% and then finish blow drying and then straightening with a straightener. This digital air hairdryer eliminated me having to straighten my hair after blow drying with another hair tool because of its concentrator attachment. I have naturally curly hair, so the diffuser attachment is an added bonus for me. Attachments click on and click off easily, keep in mind that they do heat up a bit when using an attachment. I would buy this hairdryer over its $500 plus competitor any day I have used the more expensive hair dryer with a new technology and the results are more than comparable.
Date published: 2023-10-19
Rated 3 out of 5
by
Rsp0005163
from
Hair dryer
I was excited to try this out just based on pictures seeing the color and sleek design. Unfortunately, I don't feel like this is a good fit for my curly hair - the power is too strong and I felt like it actually left my hair more frizzy after use. If I use a lower setting, it just takes too long to dry. On the positive side, I do think this would work well for someone whose sole purpose is to dry their hair and no specific styling. There's multiple heat and speed settings and the cool shock air actually lets out cool air compared to other dryers! I'd recommend the hair dryer based on specific use but for curly hair, I'd have to pass
Date published: 2023-10-09
Rated 3 out of 5
by
Desert1
from
Experienced both positives and negatives.
I have extremely difficult to manage hair, curly and frizzy. I have tried multiple hair dryers and had yet to find one that works well. The InfinitiPro is the best one I have used so far. I have tried it using various combinations of fan intensity and heat intensity. The low heat/low fan seems to work best for my hair. It did an awesome job drying and straightening, The straightening was way easier and better than my normal flat iron is, which impressed me. However, no matter what settings I tried it on, the frizz was out of control, much worse than normal. I would buy it though because of how great it worked for drying and straightening. Wish it was better with the frizz part though.
Date published: 2022-12-09
Rated 3 out of 5
by
MyraB8
from
Fast drying speeds
The InfinitiPRO has extremely fast drying times. Even on a lower heat setting, the dry time is very quick. This really comes in handy when I want to blowdry my hair straight, which usually takes an hour. I'd say that my dry time has been cut in half. That being said, I do not think that this dryer is ideal for curly hair. Even when used with the included diffuser, my hair becomes frizzy regardless of heat or speed setting. The low setting is quite cold, and the medium setting feels like the hot setting on other dryers. I will continue to use this for styling my hair straight, but will not use this moving forward for styling curly.
Date published: 2023-10-06
Rated 3 out of 5
by
arr393
from
Dries in no time!
I enjoyed using this hairdryer because it looks so futureistic and technologically advanced! It is nothing like any hairdryer I have used in the past. It dried my hair lightning quick! That being said, it was quite a bit heavier than I'm used to, so my hand and wrist did get tired fairly easily. Also, it did create knots at the bottom of my short hair, I could imagine this being a big problem for those with longer hair. Thus, it was pretty challening to style. This hairdyer has a ton of power and blows hard even on the lowest setting- it would probably work best for someone with very short hair who needs a super quick blowdry with a minimal styling regimen.
Date published: 2023-10-15
bvseo_sdk, dw_cartridge, 18.2.0, p_sdk_3.2.0
CLOUD, getReviews, 5ms
reviews, product