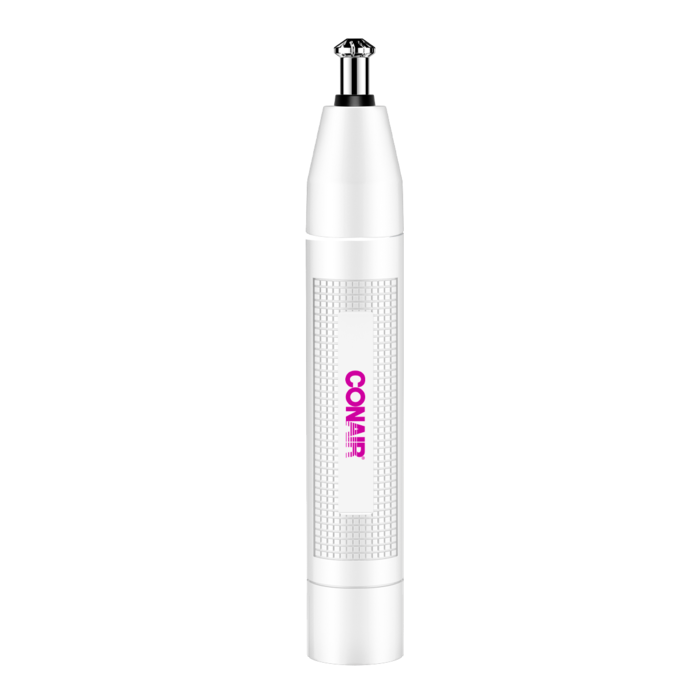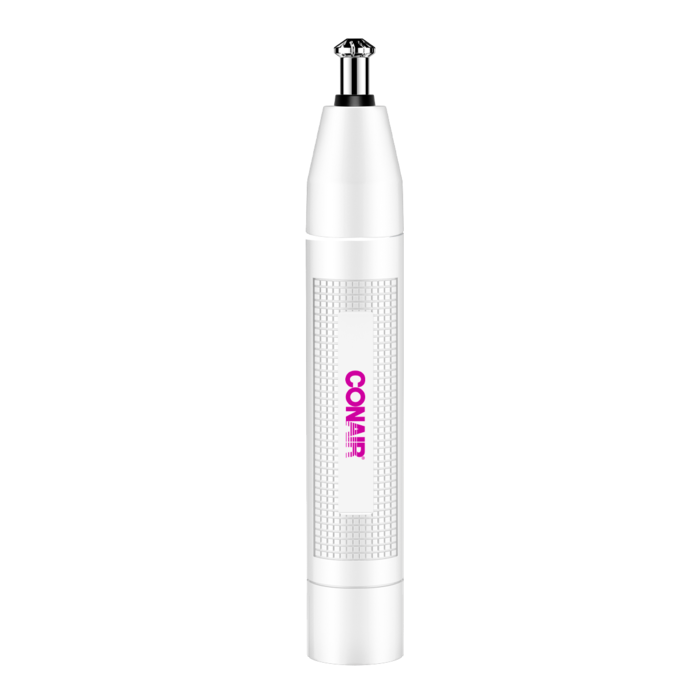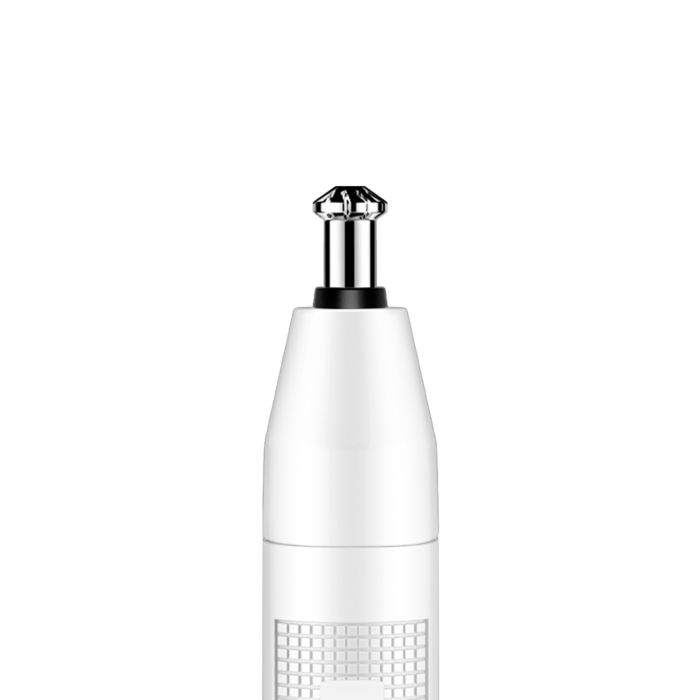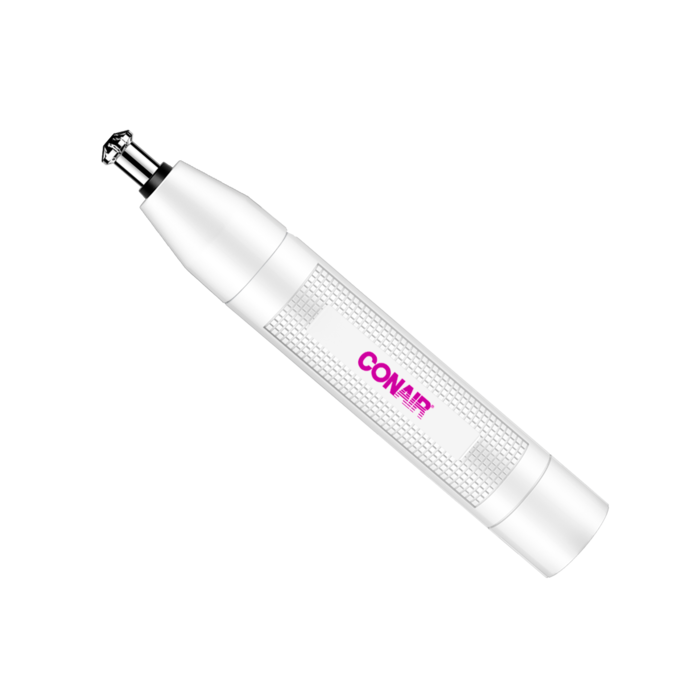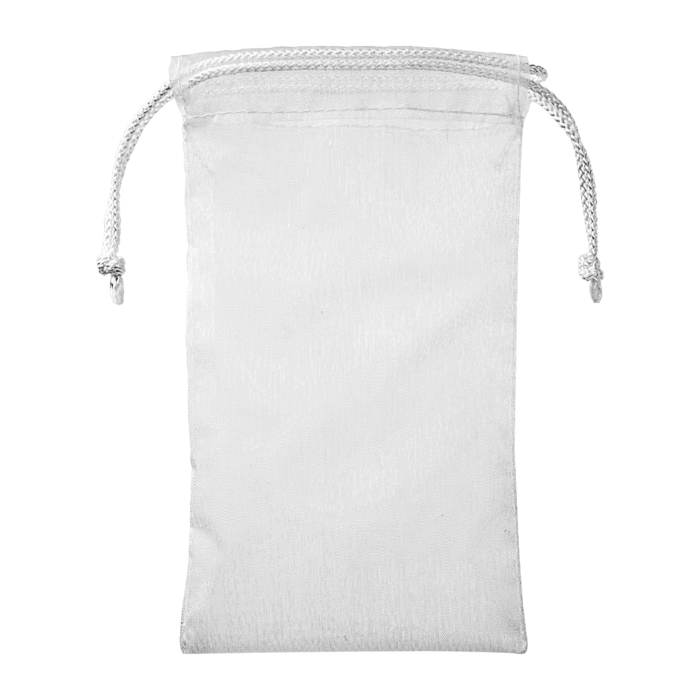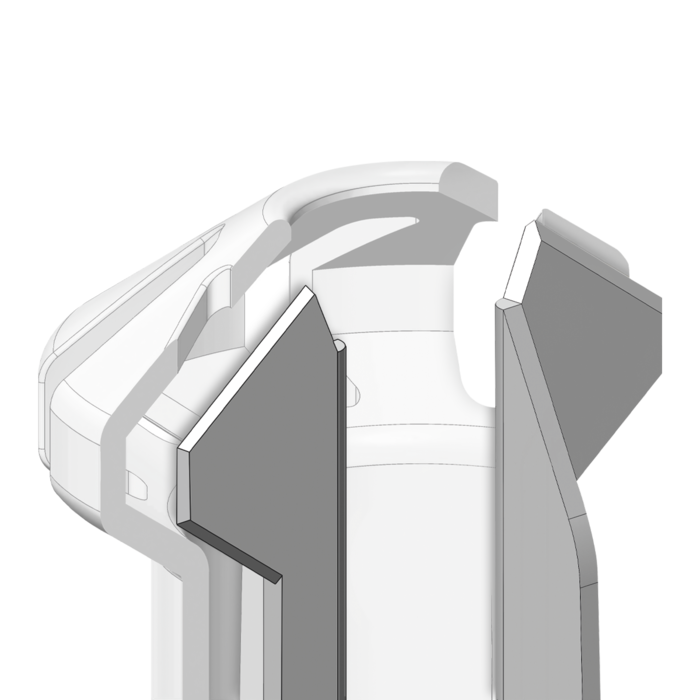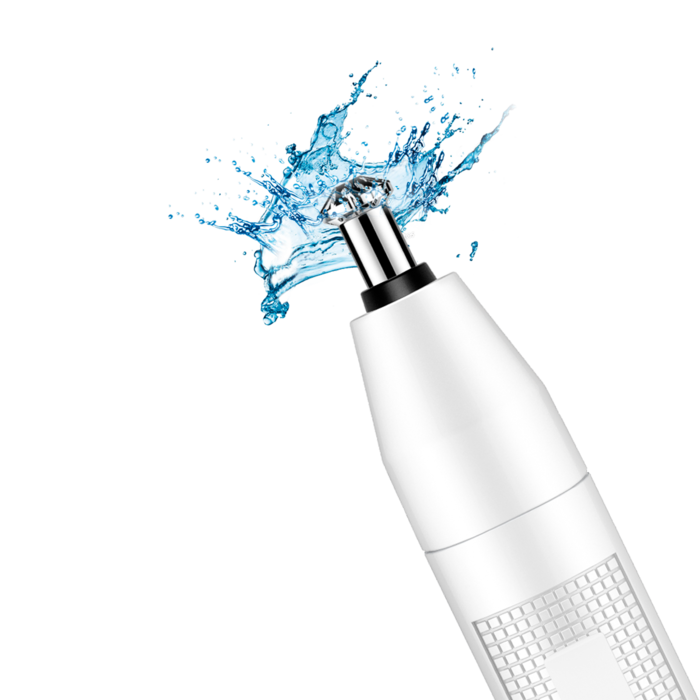 360° rotary bevel cutting system for safe and precise nose and ear hair trimming, anytime, anywhere!
Description
Complete your personal care routine with the precision nose and ear hair trimmer, beautifully designed for easy, cordless on-the-go grooming. With a hypoallergenic foil that prevents irritation, the new True Glow™ Ear/Nose Trim System by Conair® is the quick, safe way to remove those wiry, hard-to-reach hairs. The patent-pending, diamond-shaped, 360° rotary bevel cutting system is so accurate, you no longer have to worry about nicks, cuts, and painful pulling. Trim unsightly hair from nose and ears with the gentle catch-and-cut speed and precision of the 3-bevel blade with a washable head. A handy pouch is included for neat and discreet storage, making the trimmer perfect for tossing in a purse and taking along on your travels.
Features
Cordless/Battery Operated: Compact for convenient portability, this handheld trimmer operates quietly on a single AA battery (not included), allowing you to maneuver freely at any angle without getting caught up in a cord.
360° Rotary Bevel Cutting System: Patent-pending, diamond-shaped technology blades ensure 360° rotation and protect against painful pulling, nicks, and cuts.
3-Bevel Blade: Uniquely contoured with 3 razor-sharp bevels that maximize trimming by cutting every hair with exceptional accuracy and speed.
No Pulling, Nicks, or Cuts—Guaranteed: A protective head covers the 3-bevel blades that gently catch and cut hairs while keeping the delicate skin around the nose and ears safe.
Hypoallergenic Foil for Less Irritation: Sensitive skin stays smooth, soft, and free from irritation with skin-protecting foil.
Washable Head: The protective head easily rinses clean beneath running water.
Safe and Easy to Use: With a simple single-touch button you can safely tidy and trim overgrown hair in the ears and nose with beveled blades positioned beneath a protective head.
Instruction Manual
Reviews
Rated

4

out of

5
by
orange76
from
Trim head is well made
The body of this product feels inexpensive as it's just plastic. The trim head is well made and seems to work so far. Takes a AA battery and you're ready to use. Not sure how long this will last, but I'm hoping the motor and twist body has a decent life span. The price point is a little higher than competitors, but the trim head might be worth it (fingers crossed). I would love to see a slimmer/more well fitting travel back. The one that comes with this is just a mesh gift bag that is too large.
Date published: 2021-01-07
Rated

5

out of

5
by
Cherry1985
from
Great Quality Small Trimmer!
Packaging: This comes in an easy to open box which also includes a bag to store the trimmer when not in use or while traveling. Opinion: I really like this Ear/Nose trimmer, which does a good job than others in the same range. It is battery operated to take out the hair from the nose & ear without pulling nicks or cuts. It is easy to use and the head is washable. I always had a problem to trim the nose hair but this product works great & easily reaches all corners of the nose. This is lightweight thus gives more control while in use. I have used this multiple times and it works great each time. I am quite happy with the performance of this trimmer. I would highly recommend this if you looking for a touch-up then this would be a great product for you. Overall a great quality small trimmer.
Date published: 2021-01-21
Rated

4

out of

5
by
Kengjojo
from
Clean and Tidy with Conair Nose & Ear Trimmer
I received the Conair True Glow Discreet Nose & Ear Trimmer for review and I really enjoyed the product. The product can reach sensitive areas and remove all hairs without hurting the skin...The product is also nicely shaped and can fit into any makeup bags easily. The only thing i had to say is that i wished the products came with the batteries required, but in terms of the features i have nothing to say. Therefore, 100% would recommend this to people.
Date published: 2021-01-22
Rated

5

out of

5
by
FJP820
from
Quick, easy & pain free!
Up until recently I've never had to trim my nose hairs but, unfortunately, with age comes some unpleasant changes. Before I received the Conair True Glow Discreet Nose & Ear Trimmer I would use a small pair of scissors to trim any noticable hairs but it's awkward & sometimes painful. Luckily the Conair True Glow Discreet Nose & Ear Trimmer has been a fabulous addition to my beauty routine! It is so easy to use & 100% pain free!
Date published: 2021-02-12
Rated

2

out of

5
by
Jessica12
from
I'd rather wax
I never leave wholly negative reviews, so I'll start with the fact that once I put the battery in, it did indeed turn on. After that, I basically hated it--it was uncomfortable, vibrated a lot and just barely did it's job. Now I have an itchy, vibrating nose and another electronic device that I have to figure out how to recycle. I'll happily use the included cute little pouch to carry tampons or something.
Date published: 2021-01-28
Rated

3

out of

5
by
Chrissy2
from
Sleek But Noisy
When I received this I tried it out immediately. The packaging is lovely, comes with a nice white pouch to put the trimmer in. Disappointed at the fact that it did not come with a battery. It also was a bit big for my nostrils. Very noisy turning it on and had a very metal smell that was almost hard to take. I would not purchase this again and I would not recommend to friends or family due to the size of it.
Date published: 2021-01-21
Rated

5

out of

5
by
Tiffany7
from
Everything You Need!
What an upgrade from nose hair scissor trimmers! The Conair trimmer is discreet and compact yet gets the job done super effectively and quickly. I gave this to my husband to try as the ultimate test and he loved it. It trimmed his nose hairs way neater and faster than the old scissor trimmers he had. It doesn't hurt and it doesn't snag on any hairs. He's surprised he's gone this long without this upgrade.
Date published: 2021-01-25
Rated

5

out of

5
by
Kimberlee
from
Discrete and Gentle - Easy to Use!
I admit, I was skeptical when I received this item as a free sample, as I've never used a nose/ear trimmer...nor had I really considered it! After using it regularly for a little over a month, I can say this is a great product. Easy to use - nice and gentle and it looks feminine, which is a nice touch. I'm a convert! I would definitely purchase in the future and recommend to family and friends!
Date published: 2021-01-25
Rated

5

out of

5
by
Stef
from
Great design!
This is an excellent nose and ear hair trimmer. The design is incredible! Perfect for getting the pesky nose and ear hairs easily and quickly. The design of the trimming head is innovative and fits into the small areas to efficiently get the job done. This is so much easier to use and more effective than products I have used in the past. I would definitely recommend this to anyone!
Date published: 2021-01-16
Rated

4

out of

5
by
TwinMom1014
from
Slightly loud
I've never used a nose hair trimmer before so this entire experience was brand new to me. The trimmer is a little louder than I expected so it's not as discreet as they advertise but it does work very well so I am satisfied. My husband also likes this trimmer more than his usual brand so I'm sure he will use it more than me but I am happy to add this product to my beauty routine!
Date published: 2021-01-24
Rated

4

out of

5
by
Sienna
from
Does the job!
I've never used an ear or nose hair trimmer before so while I was eager to try this, I was still pretty skeptical about what it would do. I love that it's battery operated and very straight forward. I didn't get any cuts from the trimmer and the hair was noticeably shorter. I'd definitely recommend this to those in the market for a product like this!
Date published: 2021-01-08
Rated

5

out of

5
by
eflint26
from
So easy and painless!
I've never tried an electric hair remover before and was sure it would hurt just as bad as plucking. But to my surprise, it didn't hurt at all and it was so quick! I received this as a free sample but I've already told everyone I know how great it is and I will probably be purchasing more as gifts. If you need easy hair removal, this is for you!
Date published: 2021-01-17
Rated

5

out of

5
by
WKinCLT
from
Painless hair removal
Finally a tool for women that rivals the one for men. This trimmer is light weight and so easy to use. The blade feels comfortable and doesn't pull on the hairs. The removable head can be rinsed off under water. There is also a nice convenient storage pouch. Affordable and a must have trimmer to add to every women's beauty tool collection.
Date published: 2021-01-17
Rated

4

out of

5
by
Scout
from
Adequate
This is the first trimmer I have tried to keep tiny nose hairs neatly trimmed. It isn't much of a task for this tool but I found it just adequate. I feel like the cutting mechanism could be stronger/sharper making trimming more precise and quicker. Overall, I would say this trimmer gets the job done but could do better.
Date published: 2022-05-27
Rated

5

out of

5
by
TGab
from
Its Conair so quality is expected!
As expected, this performed really well. I have my Dad to thank for these nose hairs but Conair to thank for easy removal. I was considering asking my wax esthetician to remove them but this was much less painful and super simple. I 100% recommend this item for easy hair removal on your face and sensitive areas.
Date published: 2021-01-28
Rated

5

out of

5
by
Okoboji
from
Totally painless!
Plucking nose hairs is no fun, but sometimes it was required. I procrastinated getting this trimmer because I thought it was too fancy—tweezers will do. Still I was self conscious about my nose hairs, especially when speaking to people taller than me! Just buy it and you'll know what I mean. It does the job!
Date published: 2022-07-09
Rated

4

out of

5
by
IGH007
from
Almost Perfect...
I absolutely loved this nose & ear trimmer. The white color and pink branding makes it easy to find wherever it's stored. The mushroom style head is the best design I've seen in any trimmer I've used as it allows for a closer and better trim. The only downside was the size. I would have to disagree with the "discreet" description as this is anything but. The white color makes it stand out and the size, as well. As you can see in the picture provided, it's almost as tall as my iPhone 6s Plus. A small drawstring bag is included for storage/travel purposes, but in my opinion, bags just make people curious. Although, I do appreciate it being included as it proved more hygienic ones stored since the trimmer does not include a cap for the head. That is not to take away from the function itself, which is wonderful, but in order for me to qualify this as discreet it would have to be a lot smaller, lipstick size smaller. If it were smaller it would also be great as a travel sized item.
Date published: 2021-01-30
Rated

5

out of

5
by
Morgan3
from
Works perfect!
I was so shocked this worked so well because I've never used one before! After cleaning it, my husband tried it and said it has helped eliminate nose tickles sensation with his sleep machine! I was gifted this and would absolutely buy it as a gift! It has a cute little discreet bag for traveling too.
Date published: 2021-01-22
Rated

5

out of

5
by
Tish3
from
Compact and Easy to Use
I wasn't sure how I would like this trimmer but as we get older, strange things start happening to your body that you never expected. This trimmer is compact, easy to use and perfect for the little extra grooming touches we may need as we get older. My only problem is, my husband wants to steal it!!
Date published: 2021-01-21
Rated

5

out of

5
by
CourtneyMUA
from
Impressed
I've tried other trimmers and they were uncomfortable and painful. This one isn't like that at all. I can trim my nose hairs without feeling like they're being yanked out. I highly recommend this for any woman that needs to trim but is worried about the pain. This is a lifesaver.
Date published: 2021-01-26
Rated

5

out of

5
by
TheSteadyHand
from
Does a great job
This trimmer is quiet. It is the perfect size and easy to hold. I like that the blade is enclosed so you don't have to worry about nicks or cutting yourself on accident. It is easy to use. I like that you can remove the head to clean it. Overall I think this is a great product.
Date published: 2021-01-15
Rated

5

out of

5
by
Terra
from
Nice Trimmer, Excellent and Useful
I was really hopeful I wouldn't need this apparatus at my age. I think my nose hairs knew I was looking at the trimmer, because they grew appropriately. I love the trimmer. It doesn't pull, and it rinses right off under water (and then I promptly clean it with rubbing alcohol).
Date published: 2021-01-20
Rated

5

out of

5
by
Connie1
from
Great hair trimmer for women!!!
I admit that I am self conscious about the nose hair I have.. and ear hair when I put my hair up in a pony tail.. that is why I am in love with this product! It is light weight.. easy to use and get the job done!!! I am recommending this to all my friends and family!!
Date published: 2021-01-20
Rated

5

out of

5
by
MamaLope13
from
Actually Surprised
I haven't used any other nose trippers so I have nothing to compare it to. But I was really amazed at how well they worked. They are a smooth cut and would definitely recommend to anyone who wants to get rid of nose hairs lol...I don't have hair in my ear
Date published: 2021-01-19
Rated

4

out of

5
by
Jenn_8400
from
Easy & Convenient
Never use a trimmer before but this was a good experience in itself. I've always wanted to start getting rid of my nose hair. As a women for me its not very attractive. Not only was it simple and easy but very safe. It will be used daily from now on.
Date published: 2021-01-14
Rated

5

out of

5
by
Melissa9
from
Big Item, Little Package!
What an awesome little trimmer! Big things come in small packages! This little trimmer was amazing!! It didn't make a lot of noise, small enough to fit in my makeup bag, and takes care of those unsightly hairs that we all wish would disappear!
Date published: 2021-01-20
Rated

5

out of

5
by
Lisa12
from
Fantastic
My husband and I were both a lil shocked as to how good this worked. Super easy to use. Makes hair removal easy and convenient. I highly recommend purchasing one for yourself to perform at home hair removal. Easy to charge and fit well in hand.
Date published: 2021-01-20
Rated

5

out of

5
by
Counselor1212
from
Great
I recently received this product and started using it for the first time. I think this is a really good product if you are looking for something to help get rid of unwanted hairs. I used it for nose hairs and it worked perfectly.
Date published: 2021-01-24
Rated

5

out of

5
by
Makeup by Bia
from
Easy & Safe to Use
So happy to have this product. I had been looking for a trimmer like this for some time but just didn't know which one to get. This ear/nose trim system is so easy to use. No pulling or cuts at all which makes it safe too!
Date published: 2021-01-15
Rated

5

out of

5
by
Vickie707
from
Does the work
I've been looking for a product that removes my nose hair that I seem to be getting more and more as I get older and scissors or plucking it's just not gonna cut it great little tool got rid of all of them in seconds!!!!
Date published: 2022-10-17
bvseo_sdk, dw_cartridge, 18.2.0, p_sdk_3.2.0
CLOUD, getReviews, 10ms
reviews, product