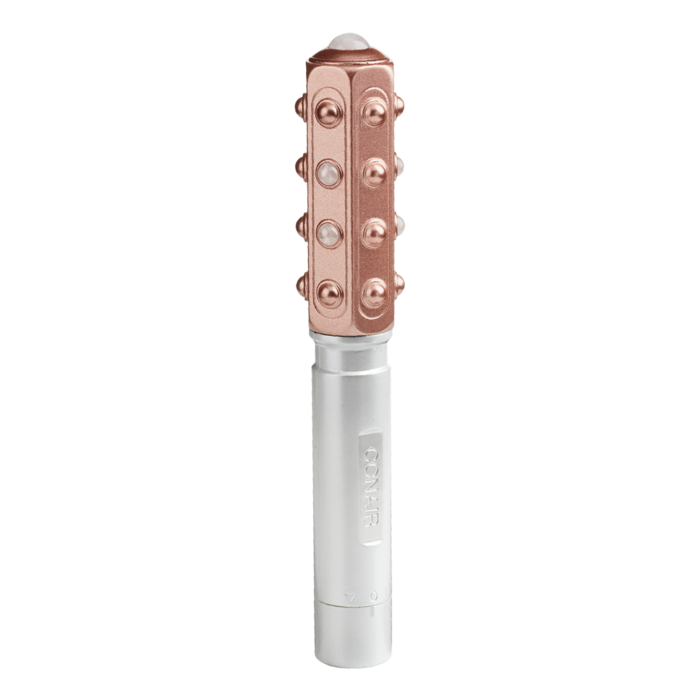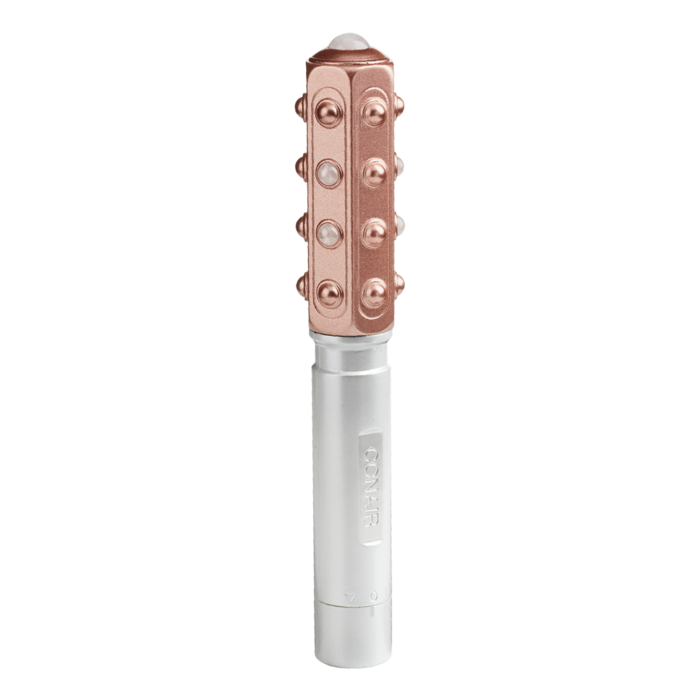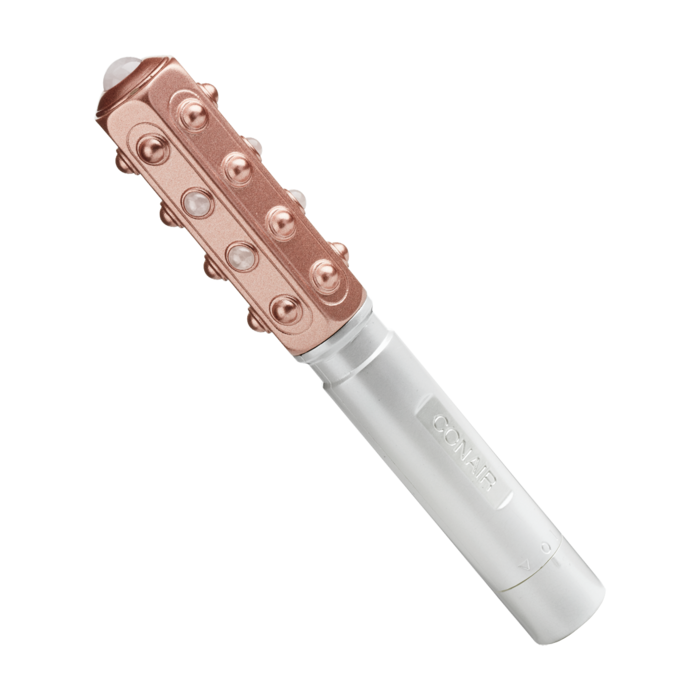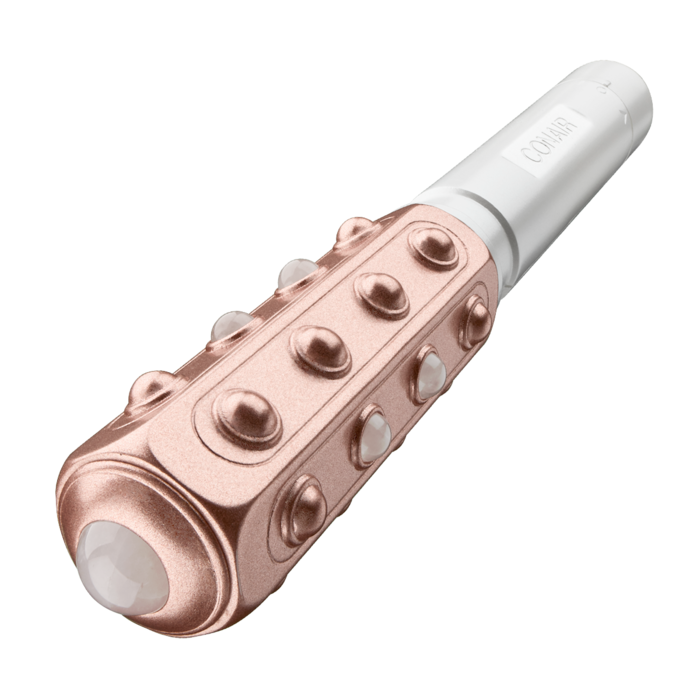 Facial Massaging Beauty Roller
Go for the glow with the Facial Massaging Beauty Roller!
Description
Bring out your natural, radiant glow with a daily massage from this stainless steel and rose quartz facial beauty roller. The battery-operated roller glides with ease across the contours of your face, gently invigorating the skin with 360° rotating stones that give you a bright complexion. Roll the massager from the center of the face outward for 3-5 minutes and instantly see your face transform to a more youthful look that's firmer and less puffy. Target high-stress areas with a massage from the roller's rose quartz tip. With gentle motion and pressure, you'll feel trigger point tension disappear. Compact and contoured with simple-to-use features that work beautifully to apply facial treatments, the Facial Massaging Beauty Roller is the best way to stimulate your skin for glowing results!
Features
Battery-Operated Facial Massaging Beauty Roller: This beauty massager has gentle massaging beads that rotate in 360° motion and stimulate delicate facial skin, gently renewing, reviving, and energizing skin for a healthy-looking glow.
Easy to Use: Turn the massager on and place it on the skin at the centerline of your face. Roll it away from the center, massaging each section of the face for 3-5 minutes.
360° Rotating Massaging Stones: Rows of stainless steel massage stones are embedded beneath the roller's multi-paneled surface and rotate in a small circular motion, gently invigorating the skin's surface and giving it a youthful glow.
Top Gemstone for Trigger Point Therapy: Target high-tension areas with a gentle massage using the rose quartz stone mounted on the tip of the roller.
Skin Treatment Applicator: Improve your skincare routine by using the Facial Massaging Beauty Roller to evenly smooth serums and moisturizers onto the skin for optimal absorption.
Dual-Headed Roller: Treat your face to two kinds of massage. Use the multi-surfaced roller for a facial massage with stones that rotate, eliminating puffiness as they brighten and rejuvenate skin, or target tension points with the rose quartz tip for stress-relieving trigger point therapy.
Specs and Support
Model Number
FR1
Shop By Tools
Facial Rollers
Warranty
Limited 1-year warranty
Rated 3 out of 5
by
LadyT663
from
Not Sure About this Roller
I tried this product for a few weeks to see how it works and what it does. I used it as directed after washing my face and applying moisturizer. I wasn't sure what to expect. At first I didn't see much change. As I continued to use I noticed a little less puffiness. While using the roller it was was a bit loud, but not too distracting. After using the roller my face felt a bit tingly, but no irritation and further issues. I am not sure if I would buy this product, but again I don't feel I used it long enough to determine it's accurate results. I cannot say that I would recommend it either. My skin looks smoother, but that may also be the other skincare products I use i.e. moisturizer, day and night creams along with a serum.
Date published: 2021-11-15
Rated 5 out of 5
by
Kaykaylala
from
Vibrating beauty roller not just ANY roller
I really love this conair roller. This beauty roller not just rolls in the direction you'd like it to roll on your face but the moment you put a batter in, you would turn it on and it starts vibrating. I wish the roller would've spun automatically on its own as I'd anticipated it but maybe it wouldn't have been as effective. I do think there are benefits to beauty rollers but this one not being just ANY kind of roller. I like that there's a quartz tip to get precisely to the areas you want. This is very handy, very compact to load and take on the go and very practical as there are more than just one use for it. My skin is definitely glowing and already I've seen amazing results.
Date published: 2021-11-16
Rated 5 out of 5
by
madlindz
from
Strange Gadget Exceeds Expectations
So I'm a busy mom. I barely have time to wash my face and put on sunscreen every morning, and my beauty regimen is quite sparse. I've heard of these roller gadgets, but never really knew the benefits until I was asked to try one. This rose quartz, True Glow Facial Massaging Beauty Roller is an easy to use little gem that makes my face glow from within. I never thought I'd need a roller in my life, but now I truly enjoy winding down by taking the time to roll my face in the evenings. I truly see a glow after I'm done, and my skin looks better than ever.
Date published: 2021-11-10
Rated 4 out of 5
by
Roscoemom
from
Convenient & Easy to Use.
I have been using the Conair True Glow Facial Massaging Roller for a couples weeks now and I have to say it is the easiest and most convenient beauty product to use. It is compact enough to pack into a purse or carry bag so it would be a gem to take on trips. It is lightweight, takes only one AA battery and is simple to use. The roller head vibrates a little as you roll it across your skin, I use it at night while I'm watching TV. Just a few minutes on the skin in each of the areas of the face (see instructions for details) and I'm done. At the top of the roller is a larger "gem" that is designed to hit the harder to reach areas of the face, like between the brows or around the eyes. You can use the roller on a clean washed face with or without serum or moisturizer, I suggest using it immediately after you wash your face. All-in-all this roller is convenient and easy to use and will travel well packed into a purse or pack. I have not seen a lot of change yet, but I am looking forward to seeing more long term results as I continue to use it.
Date published: 2021-11-10
Rated 5 out of 5
by
Lane
from
Amazing - Comforting - Must Have
Truth be told, I've never thought to purchase a facial masssager. I'm addicted to my jade roller, so I was very excited to add stimulation. I am obsessed. After a long day, I can curl up and wave the wind over my face, giving my skin a good a gentle therapeutic rub. It has delicate rose quartz on the ribbed sides and a larger one on top to reach your lines. I highly recommend this wand to anyone wanting to give your face a lovely massage and tighten up your lines. 10/10!
Date published: 2021-11-03
Rated 5 out of 5
by
LilShawt21
from
FANTASTIC
I really enjoyed this beauty roller. TO MY SURPRISE it takes batteries! I was very shocked! It's feels GREAT on my skin and the targeting rose quarts rolling ball found on the tip was so good for my under eyes. It's stimulated my face very nicely. My products went on smoothly when applying them with the roller. It messaged them in very nicely. I highly recommend this product to anyone serious about their facial products.
Date published: 2021-11-02
Rated 5 out of 5
by
Aleks
from
Great Gift Idea!
Sure, this massaging facial roller isn't something you NEED, but it is a wonderful little self-care treat. I definitely see a difference in my skin's texture after using it for a few weeks. It would also make a fun gift idea, especially if you could combine it with a nice-quality facial serum or moisturizer for a spa night gift. It's good quality and easy to use.
Date published: 2021-11-10
Rated 5 out of 5
by
ValerieT
from
Perfect for massage
I love Conair products, this roller is perfect for massaging face and lifting it. I use it daily right after cleansing and it feels amazing. I have a lot of mimic wrinkles and I think it makes it visibly not that noticeable. Overall, it's convenient to have on hand as it's portable and i can use it in the mornings to reduce my puffy eye area.
Date published: 2021-11-05
bvseo_sdk, dw_cartridge, 18.2.0, p_sdk_3.2.0
CLOUD, getReviews, 12ms
reviews, product