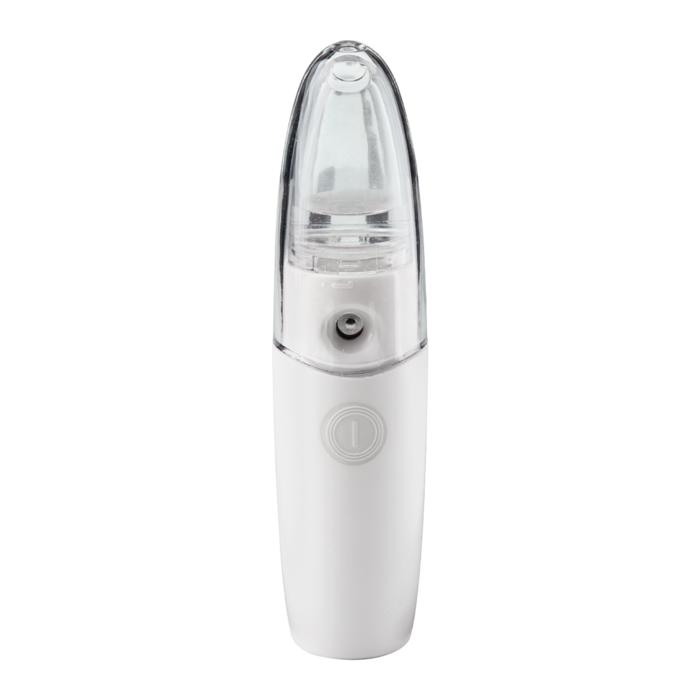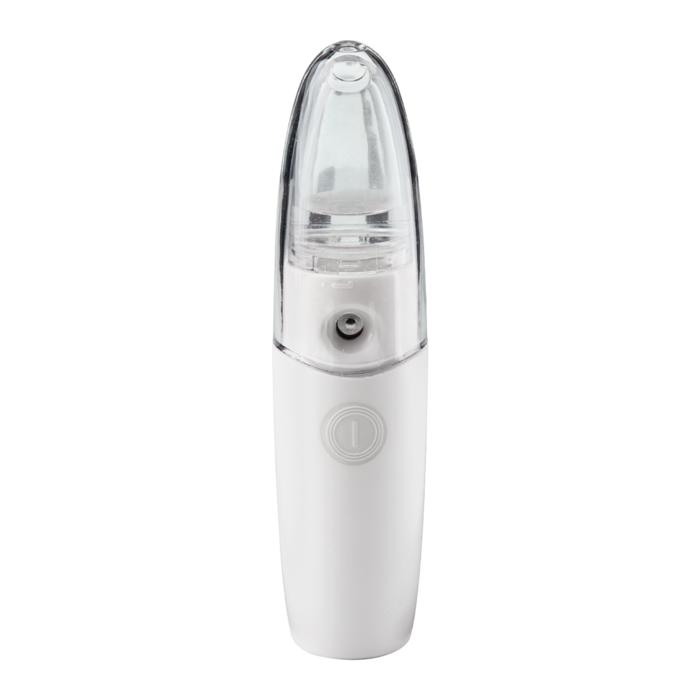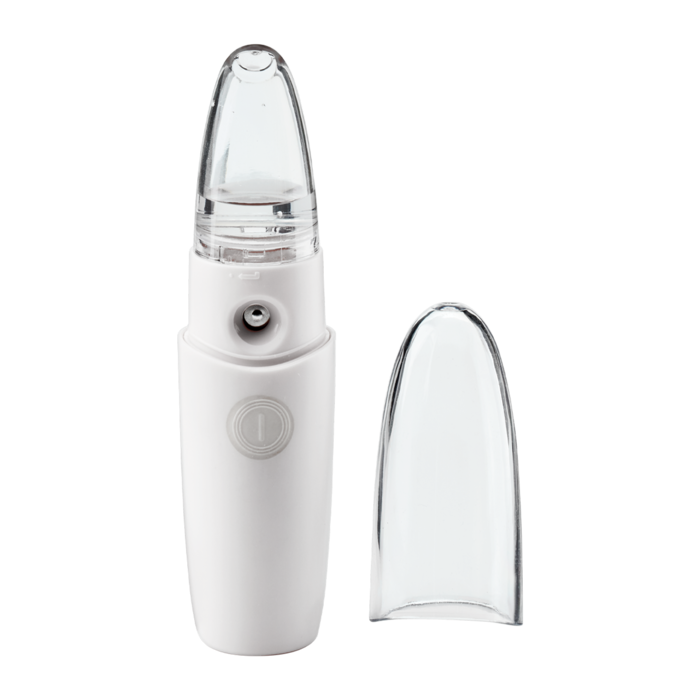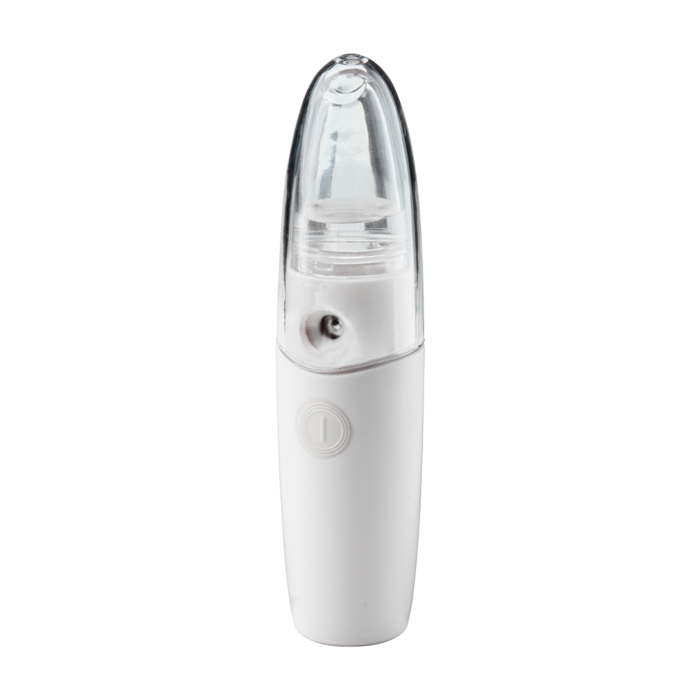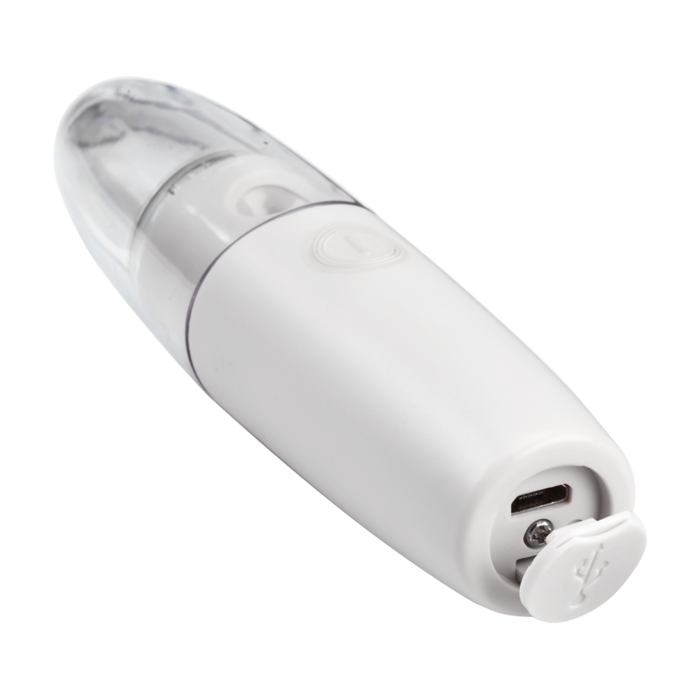 Anytime facial hydration in a gentle mister
Description
Whether it's the weather or the air quality that's got your face feeling extra dewy or dusty, reach for the Facial Mister that hydrates your face, neck, and décolletage with a soft mist that doesn't melt your makeup. Compact and sized just right for sliding into a purse or pocket, the mister is the perfect go-to for restoring your natural, healthy-looking glow. With a topped-up water tank and full battery (charged with the convenient and portable USB cable), you'll always have a fresh burst of moisture at your fingertips, ready to cool, calm, and brighten your skin with the simple press of a button. This portable pocket-size Facial Mister is the perfect take-along face care accessory. Make it your go-to for keeping your face fresh and hydrated before and after you wear your facial mask!
Features
Facial Mister Hydrating Mist Spray: Keep skin hydrated and healthy-looking with a gentle, even mist sprayed on face, neck, temples, and chest, whenever you need to cool down or freshen up. Perfect for moisturizing skin before and after you wear your facial mask.
Easy to Use: Fill with water, charge with the USB connector, and press the button for a light, hydrating mist that gives you a gorgeous glow.
Compact and Portable: The slim, contoured sprayer fits perfectly in a bag, so it's perfect to take with you everywhere!
USB Rechargeable: The misting sprayer has a standard USB connector for fast, easy charging on the go. Perfect for travel. No batteries required.
Easy-Fill Water Reservoir: Fill the tank right up to the fill line with fresh tap water for a clean, hydrating burst of freshness.
Instruction Manual
Reviews
Rated

5

out of

5
by
rgof
from
This little thing is like a hand held facial
Honestly, I was not sure what to expect but i love it. It is a tiny little facial in your hand. It works just as well as a larger unit but with a lighter mist which I actually like. Sometimes bigger units make it hard to breathe. This is light and refreshing. I love how easy the USB charger is to charge it up and i can drop it in my make up bag and take it with me for the day. I would buy this as a gift for my daughter in law who also loves skin care. It is a fun product. I would suggest it as a birthday or even bridal or new mom gift. It is something that lets you feel pampered but it is not hard to us. Simple and small. I love it.
Date published: 2021-08-21
Rated

4

out of

5
by
Lacy1
from
Great on-the-go mister
I received the Conair True Glow Facial Mister from Bzzagent to review. I really enjoy using this on very hot days when I just want to cool down my face and neck. The mister is perfect for on the go because of its small pocket size. The charge time is quick and battery lasts a long time on a single charge. I would recommend this product to those who live in a dry, hot climate or those who frequent the beach or pool. The only reason this does not get 5 stars because I don't believe the mist is fine enough to use with makeup as it states on the packaging. Also, it requires distilled water so that is cumbersome to those who just want to use tap or bottled water.
Date published: 2021-08-17
Rated

3

out of

5
by
Sheenastardust
from
Bring on the mist
I am guilty of buying those facial mister bottles already filled, so I was excited to try this out. But to be completely honest, I found it to be a bit of a let down. Pros: Less waste since it's reusable Compact size making it easy to carry Cons: It needs distilled water so it's a pain if you don't already have any. You have to charge in order to use. I forget to charge things and it's not fun to go to use and it's dead. It does what it says, but honestly wasn't a fan of the way it misted. I think this could be great for like a plane, carride or day outside, but for normal daily use, I don't think it's for me.
Date published: 2021-08-26
Rated

3

out of

5
by
TJD1
from
Not For Everyone
I tried the True Glow Facial Mister, and while it does do a good job of misting your face without messing with your makeup, I just can't see why an everyday person would need it. If you work in a field where makeup was important (actor, for example) it would be a great and necessary tool. In the real world, it could be used for a special occasion (a wedding), but I don't know too many people who worry that much about messing up their makeup. That, and I wouldn't want to carry it around based on the design, because it looks like something else entirely (you know what I mean...).
Date published: 2021-08-18
Rated

5

out of

5
by
WPeach
from
So handy and refreshing!
I live in the super hot Cali desert and this has saved me! I can carry it in my purse or pocket and mist on the go! It comes with a USB charger and charges really fast. You can even charge it up in the car. I would recommend this product to anyone. It's perfect for us Southern California girls and anyone in warm climates or during the summertime. Let's face it, things are getting hotter and hotter. Thankful I found this little lifesaver, was a hit with my friends at the pool and kids too. I received the Conair True Glow Facial Mister from Bzzagent to review.
Date published: 2021-08-21
Rated

2

out of

5
by
taletreader
from
Innovative but Ineffective
The True Glow Facial Mister was a product I was excited about. Because it's portable, I thought it would be great to take camping to cool off when coming in from the heat or to freshen up my makeup. There was just not enough power to do what I thought it would; it felt like nothing was coming out. I used it as directed, and my face still felt dry afterwards with no other benefits either. I think what I most struggled with was how cheap this product felt. I kept thinking I was going to break it every time I had to fill it up with water. It was easy to use, and I appreciated that. I just hate how cheap it felt in my hands. I doubt I would recommend this to others, and I would not buy it, but I do think the idea is innovative at least.
Date published: 2021-08-26
Rated

5

out of

5
by
Ash24
from
LOVE for hot days!
I've never tried anything like this before and I really like it! I do like that it's rechargeable and that I can easily take it on the go with me whenever I'm at work or for when I go to the gym and need a spritz of water after a long workout or just as a refresher whenever I need to freshen my makeup with my Mario Badescu spray! It is also nice to have as well for the days when I forget to set my face and can easily use it on the go! It's also really nice to have for the beach or pool and need a spray of water since it is a scorcher here in Texas!!
Date published: 2021-08-25
Rated

5

out of

5
by
Nikki H
from
Surprisingly light mist
I wasn't entirely sure what to expect with this product. The last thing I want to do is spray my face with something and then look like a clown the rest of the day, but that was not the case. It's a very light mist, not drops or wet at all. It gave my face a nice dewy glow and all my makeup stayed in place. It was great for a refresher after being at the lake, and I loved using it when my face felt wind blown and dry, it restored my look without adding extra layers of makeup. Our summers are very dry so I feel like my skin will over compensate and become oily, this product really helped my skin from producing extra oil by helping it retain its moisture. I'll use it year round in the dry Colorado climate! The usb charger is an added bonus as there is no need for battery changes.
Date published: 2021-09-03
bvseo_sdk, dw_cartridge, 18.2.0, p_sdk_3.2.0
CLOUD, getReviews, 6ms
reviews, product