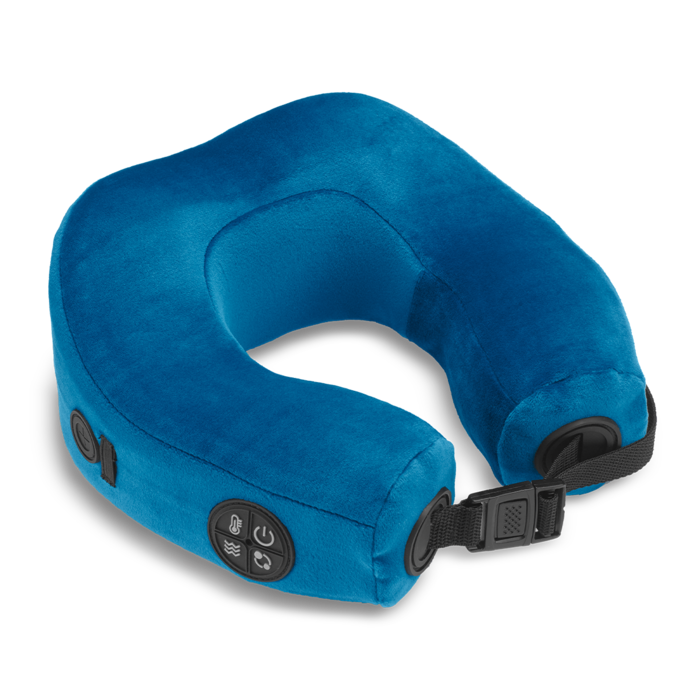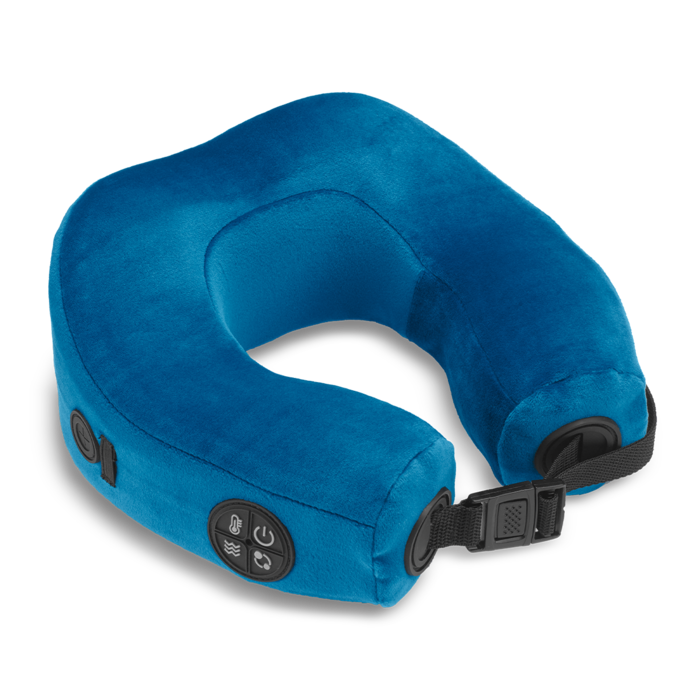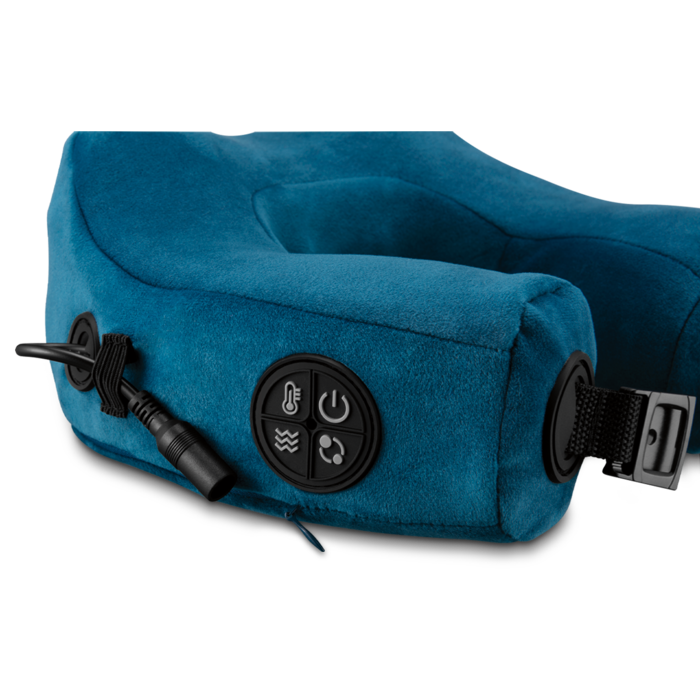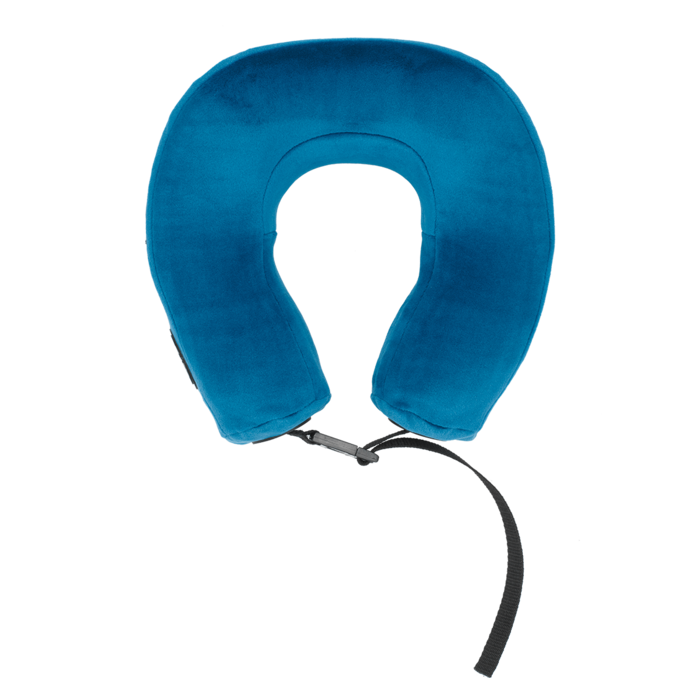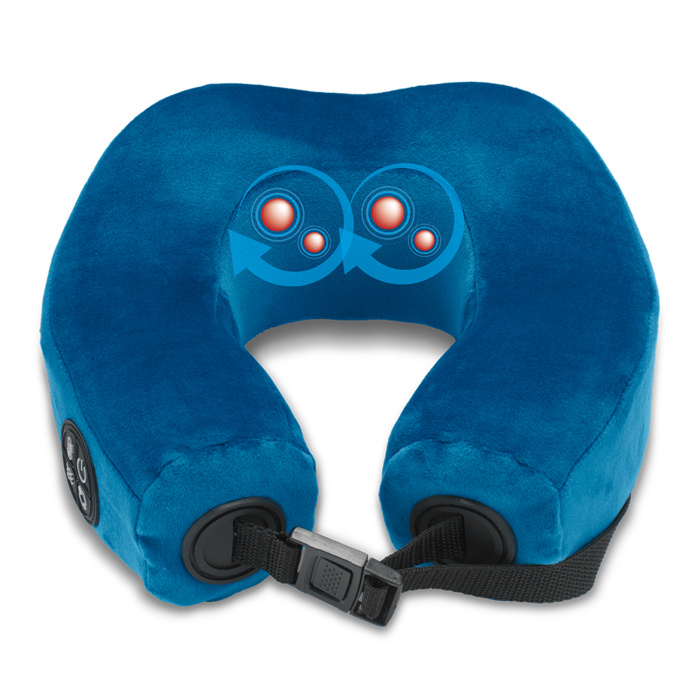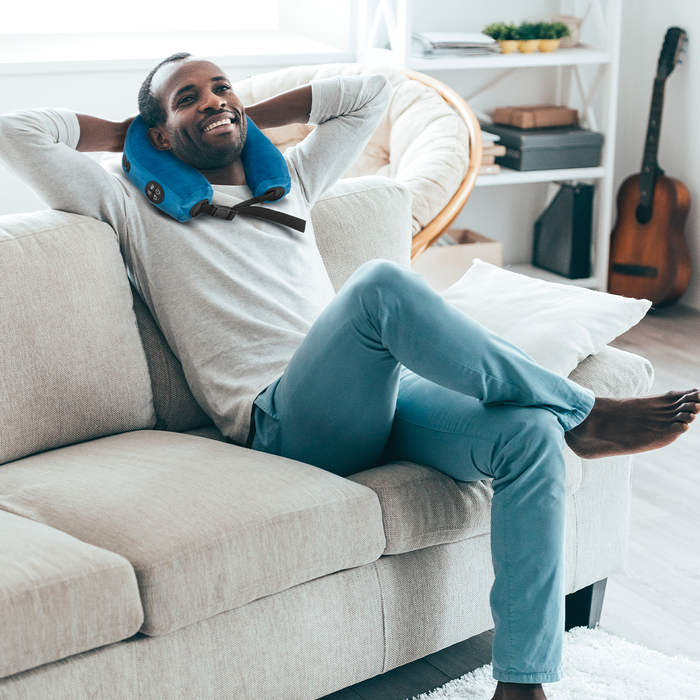 HeatShiatsu+ Neck Rest with Vibration + Heat + Shiatsu Massage - 3 Massage Modes - Cordless/Rechargeable
This item is currently not available
This item is currently not available
Relieve, relax, and restore achy neck muscles with kneading shiatsu, soothing vibration, and heated massage.
Description
Treat yourself to a rejuvenating shiatsu massage and soothing heat with the HeatShiatsu+™ from ConairCare®. Equipped with 3 massage modes—kneading, vibration, and kneading + vibration—this innovative neck rest puts deep, quick relief at your fingertips. Sit back and relax as a heated massage alleviates achy neck muscles and eases away tension and stress. Adjust heat and massage intensity according to your preference and needs with easy push-button control settings. Designed with plush, soft fabric and an adjustable strap to ensure maximum comfort, this home spa essential is cordless and rechargeable, with a lithium ion battery that powers a 1-hour runtime on a single charge. And because it's compact and portable, with its own adapter, HeatShiatsu+ is perfect for use at home or when traveling. There's even an auto-shutoff feature so you can doze worry free, knowing that the massaging neck rest turns off automatically after 10 minutes.
Features
Rechargeable lithium ion battery: Powers 1-hour runtime on a single charge.
Soothing pain relief: A combination of heat and massage provides quick, effective relief to tired, achy neck muscles.
3 massage modes: Choose from kneading, vibration, and kneading + vibration, depending on your preference and needs.
Easy controls: Touch-button settings for on/off, shiatsu + vibration + heat, and adjustable massage intensity simplify operation.
Plush soft fabric: Designed to cushion and embrace your neck for complete comfort.
Cordless/rechargeable with included adapter: Ensures ease of use at home or while traveling.
Adjustable strap: Snaps together for the perfect fit, no matter what size your neck may be.
10 minute auto-shutoff: Rest easy knowing that the massager turns off automatically, ensuring safety and saving energy.
Specs and Support
Model Number
NM25F
Shop By Tools
Neck Pillows
Warranty
Limited 1-year warranty
Rated 4 out of 5
by
Sweetdeseos
from
Relaxing massage pillow
The Conair Care Neck pillow is great! It a beautiful turquoise color and it has different settings for vibrating massages and shiatsu massage and also a heat button to make the pillow warmer. The pillow fastens around your neck and stays in place securely. There is also a separate charger to use for the pillow when you are on the go. I like the different massage options but the actual pillow is not very comfortable on it's own as it is very stiff, it's great only if it's just being used for a massage. It actually gave me goosebumps, the massage tickles at first until you get used to it. Overall it is nice and great to use for a quick neck massage.
Date published: 2021-10-03
Rated 5 out of 5
by
VZ10
from
Great features; portable size
My wife and I have fallen in love with the ease of use and portability of this ConairCare Rechargeable Neck Pillow with Vibration, Shiatsu, and Heat. The ability to have 1 hour of massage on the go without the need of an outlet is a huge plus. This is so useful for long drives in the car without need any adapters or plugs to relax and restore. I really love the auto shutoff after 10 minutes to save on battery and not exceed a massage session. The massager also auto changes direction every minute or so which is a nice feature to keep things evenly massaged. My only gripe is that the controls are kind of hard to use without being able to look at them.
Date published: 2021-10-06
Rated 5 out of 5
by
SushiPat
from
The most comfortable way to travel!
I will never again travel with a generic neck pillow. Having a job that requires me to fly/drive 90%, the ConAire neck pillow has been a godsend. I'm always using the shiatsu massage feature to prevent a stiff/sore neck that I also get while flying with a traditional neck pillow. There is no comparison for the size and functionality of this pillow. Device and features are easy to use. I love the heat setting. My only suggestion is the rechargeable aspect. It only holds a 1 hr charge and most airplanes do not have an electric 110V outlet for you charge. If they can upgrade to be USB chargeable, this would be even more amazing.
Date published: 2021-09-15
Rated 3 out of 5
by
Brooke4
from
Does an okay job
This neck massager comes with a vibration feature, shiatsu, and heat. I do enjoy the heat function and definitely need it after work as I often times come home with a sore neck and shoulders. The vibration doesn't do much for me, but the shiatsu is okay. I wish it kneaded slightly slower as it goes pretty quick. I feel like if I pull the sides of the pillow so that it gets deeper into my neck, it does a better job. Otherwise it just sort of sits there and doesn't do much for me at all. The pillow itself is soft and it charged quickly, but I think the shape could be better in order to get a more relieving massage.
Date published: 2021-09-23
Rated 5 out of 5
by
Xhanelstyle
from
Incredible product!! Must get it!
So I really can't hype this product enough. It is super easy and super comfortable to wear and adjust. It has several modes and oh boy! The massage it gives feels heavenly. I totally recommend you sitting down on a sofa/couch for a better position of your neck against it. I totally became addicted to using it. The massage is strong at first if you are stressed out and your muscles are contractured but as time goes by it starts feeling better. I recommend using the shiatsu and vibration together. So so awesome. You won't regret buying this product and you'll become addicted to using it
Date published: 2021-10-05
Rated 4 out of 5
by
HeWho
from
Great Fit
This ConairCare Rechargeable Neck Pillow with Vibration, Shiatsu, and Heat is really good quality. When I took it out of the box I could tell that it was higher quality than some others on the market. The cover material on the pillow is very soft and comfortable. I love the fit. It fits really well and snug around the neck. I like the shiatsu mode best but it seems like you have to turn and move while pushing back on the pillow to apply pressure in order to get the desired results for both modes. I think this would be better for people with milder neck problems, I don't think people with more severe neck issues will find the result they are looking for. That being said, I would recommend to the right person.
Date published: 2021-09-16
Rated 5 out of 5
by
Klynm
from
What a dream!
I always have issues with my neck hurting, it may be because I work on a computer all the time. I have been looking for relief and this neck pillow has been a life saver. I love that it is heated, it really helps get rid of my aches and pains. The heat paired with the vibration and the shiatsu is absolutely a dream. I like putting this on in the morning before I work, as well as after work so that my neck is nice and loose all day. I feel like I'm getting a nice massage professionally, all from a neck pillow! It is very comfortable as well and super soft material.
Date published: 2021-09-24
Rated 5 out of 5
by
Amy1656
from
Great Neck Massager
I was very impressed with how nice this ConairCare neck massager is. The massager is very comfortable to wear and stays on nicely with a plastic clasp. The heat gets warm enough to enjoy however not too warm. The neck rest is extremely comfortable with a soft velour color. There is an on/off switch to control the vibration. I like that it shuts off after 10 minutes so I don't have to think about about turning it off. My favorite feature is the Shiatsu massage. There are rotating nodes that push into my neck with just the perfect pressure.
Date published: 2021-09-16
bvseo_sdk, dw_cartridge, 18.2.0, p_sdk_3.2.0
CLOUD, getReviews, 4ms
reviews, product