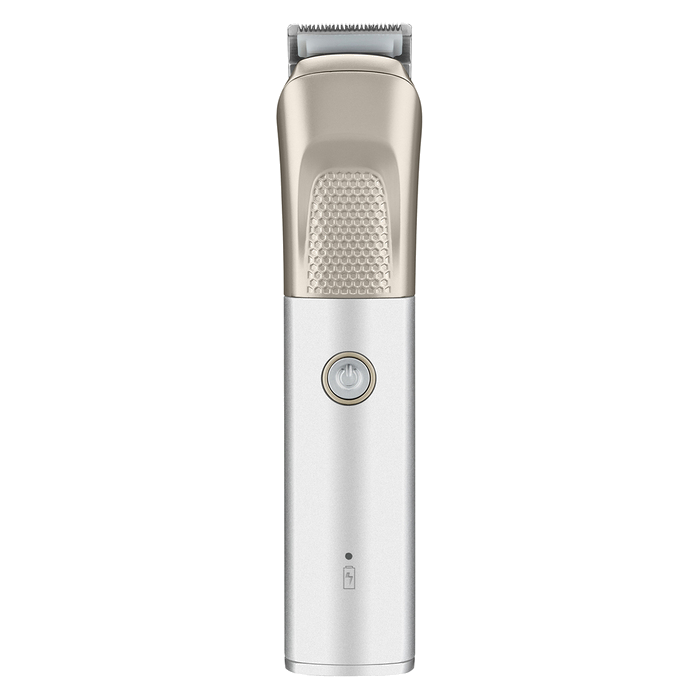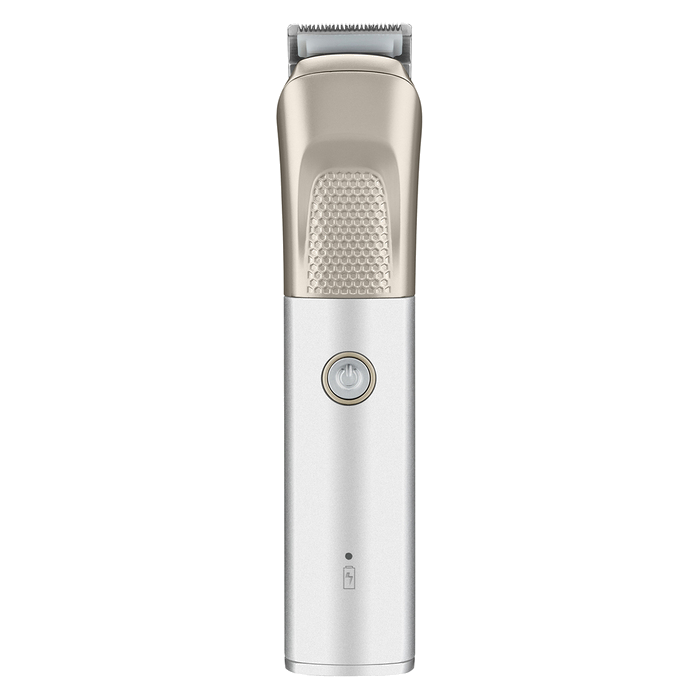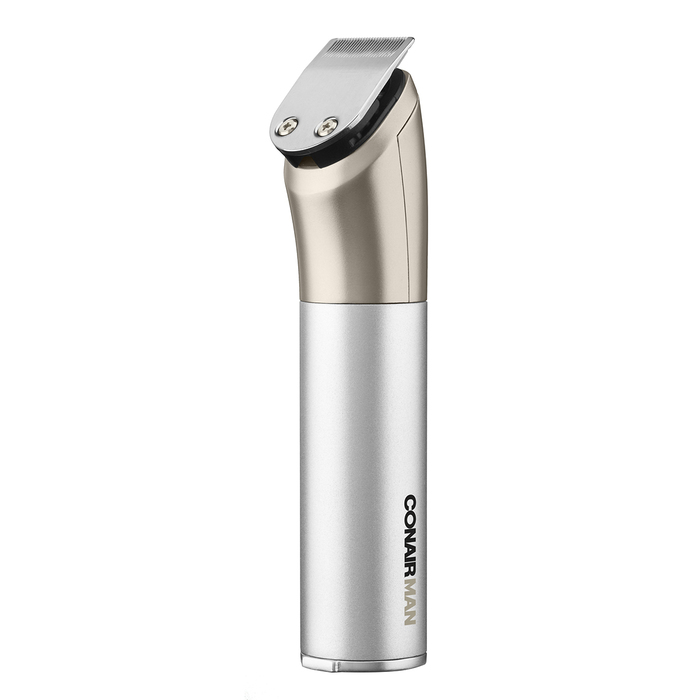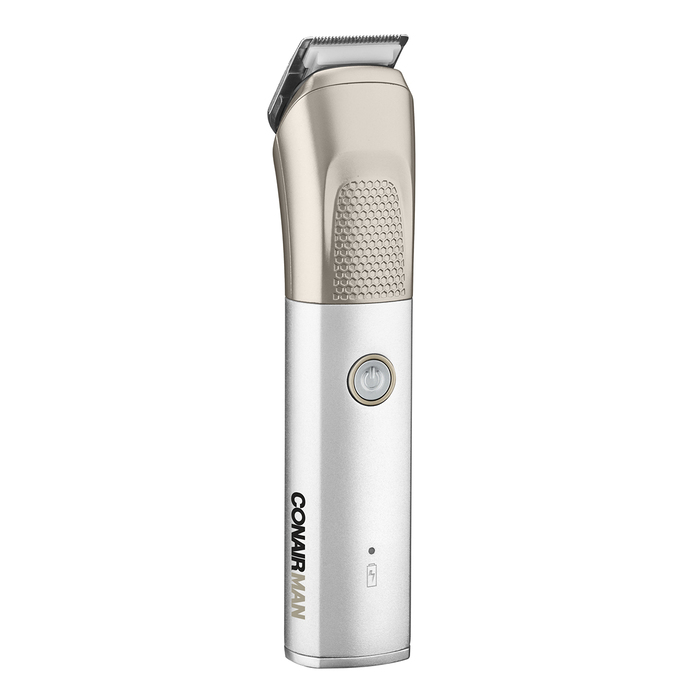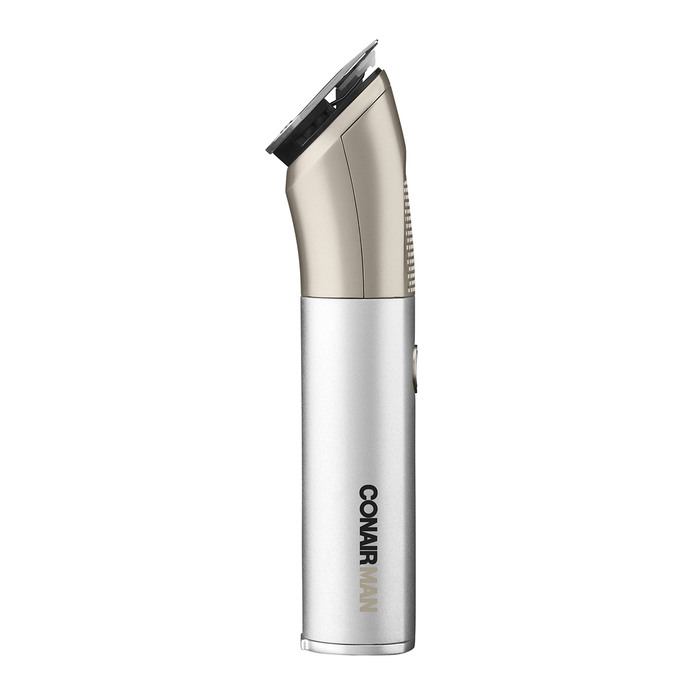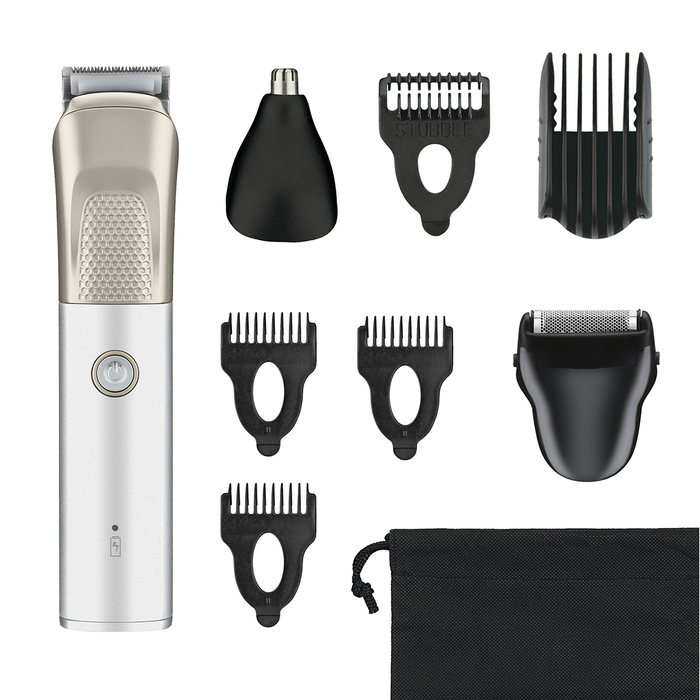 High-Performance All-in-One Metal Trimmer
Professional-grade power and performance. It's more than maintenance, it's MetalCraft™
Description
Define and refine stubble, 'stache, sideburns and beard with the precision of MetalCraft™ from ConairMan®. This powerful, professional all-in-one trimmer has self-sharpening, etched stainless steel blades. It's a metallic must-have for any guy who wants to get a grip on his grooming. The easy-to-use attachments— Ear/Nose Trimmer, 3 Jawline Combs, Shaving Foil, Stubble Comb, and 5-Position Adjustable Comb—help put professional-grade trimming right in the palm of his hand.

Equipped with a high-torque DC motor, this pro-grade power tool also gives him all the rechargeable, lithium-ion energy he needs to get the job done—without a cord to hold him back. Featuring a smooth metal handle for complete comfort and control, this rugged gear can be his go-to for confident high-performance grooming, now and years from now. Professional-grade power and performance. It's more than maintenance, it's MetalCraft™.
Features
Professional all-in-one hair trimmer: Includes a variety of attachments for all your trimming needs—from shaping full beards, to managing your mustache or maintaining your stubble.
Cordless/rechargeable lithium ion: Holds charge for sustained power performance and cordless convenience.
Premium metal housing trimmer: High-torque, professional DC motor provides optimal power and smooth metal handle ensures complete comfort and control.
Self-sharpening stainless steel blades: Maintains sharpness for smooth, precise trimming.
Hair trimming blades: Forged from high-quality stainless steel, these etched blades are made for precise trimming and detail work.
Nose trimmer attachment: Reaches deep to remove those notorious nose and ear hairs safely and certainly.
Shaver attachment: Custom-designed shaving foil captures hair and cuts close to the skin for a clean shave without irritation.
3 jaw line combs: Vary the closeness of your trim and conform to the contour of your jaw for exact results.
5 position adjustable comb: Customize trimming, from stubble to 'stache to sideburns to full beard.
Instruction Manual
Reviews
Rated

5

out of

5
by
Caradineme2
from
Durable, reliable and comfortable trimmer
This is a very comfortable handheld trimmer. Several attachments and guards are included. It has a very close trim without the guard, almost razor shaving close. It is a little heavier than other trimmers I have used but most of the weight seems to be at the trimmer end. It includes a ear/nose trimmer, 3 jamline combs, 1 shaving foil, a stubble comb, and adjustable comb with 5 positions and a carrying bag. It runs off of a 1000mA Li-Ion battery that is charged with an included micro-USB charger. I've only charged once and can't speak to how long the battery last but my wife and I have both been using it. Switching attachment are easy but with the nose trimmer, you have to be careful installing it as you could accidently break off the drive shaft that runs the attachment. Overall I've been happy with this trimmer and haven't thought about using my old one. I haven't had any nicks while trimming my neck or face but do be careful if doing any "man scaping" as you could receive a nick or two then.
Date published: 2021-10-01
Rated

5

out of

5
by
Escott
from
I love this trimmer
I truly love this little machine. I didn't think much of it at first because my old trimmer was amazing for its age, but wow not only can it take down my bushy beard but its super quite and the battery lasts forever. If you're considering it I say get it, it won't disappoint
Date published: 2021-10-20
Rated

5

out of

5
by
DylanL
from
A great razor for trimming beards!
I use this electric razor to trim my beard 2-3 times per week and I love it so far! It is sharp to get a good close shave but also gentle on the skin. Using the foil attachments you can also get a good close shave. It's overall great, just wish it had longer battery life.
Date published: 2021-10-29
Rated

5

out of

5
by
Gizmo1
from
Great Trimmer
I do not have a full grown beard or mustache so this trimmer is the perfect solution due to my sensitive skin. I don't use razors and never invested in a trimmer to know if this was right for me. Conair produces quality products and I would highly recommend this trimmer.
Date published: 2021-10-16
Rated

4

out of

5
by
Barchie
from
Works great
It feels like a quality trimmer that will last. It has all the attachments needed and make it easy to switch attachments out. Super easy to use and works great. My only reason for not doing 5 stars is I would like to see a nicer travel/organizer bag with it.
Date published: 2021-10-16
Rated

5

out of

5
by
TheMule
from
Best trimmer
This is by far the best trimmer I have ever used. I have tried battery powered and corded trimmers.this rechargeable trimmer blows them all away. The charge lasts week with me using it 3 times a week. And the quality of the trimming is amazing.
Date published: 2021-10-20
Rated

5

out of

5
by
Cavalier85
from
Great trimmer
Had an older trimmer but it has been pulling and snagging on my facial hair more and more. I've tried this and it was so much better. It didn't snag my coarse hair and perfectly trims my hair without me having to go over it again and again.
Date published: 2021-10-09
Rated

4

out of

5
by
Dakid
from
Trim
I like this trimmer better than the one I currently own.. i don't have to keep it plugged in while I'm using it which makes it easier to use… charged it up and put it to work… it's real simple and easy to use and I came out looking great to
Date published: 2021-09-25
Rated

3

out of

5
by
Frankie1
from
Wish I had no expectations
The clips I feel like were made cheaply. The one attachment dropped on the table when I opened the box for the first time and it snapped right off! I'm like well there goes that. Haven't been able to get customer service to help replace it.
Date published: 2021-10-29
Rated

4

out of

5
by
Lambo
from
So far so good
Brought this about a month ago, use it for couple times to trim my hair. It is excellent for trimming the sides and back of my head. It is cordless and the batteries seems to last. This trimmer is good for small job or touch up.
Date published: 2022-02-24
Rated

5

out of

5
by
AP83
from
Great Trimmer
It comes with multiple attachments and guards for different lengths of beards. It has an amazingly long lasting Lithium battery. I received this trimmer as a sample for my honest review. #BZZAGENT #CONAIR It's definitely worth it.
Date published: 2021-10-20
Rated

5

out of

5
by
Steve1
from
Great options
This product is super versatile as it comes with different heads. It has a sleek look, and the packaging is attractive yet basic. Time will tell how well and long this product lasts for, but so far, I have no major complaints.
Date published: 2021-10-28
Rated

5

out of

5
by
TXRick
from
Best On the market
Metal craft high performance trimmer is the best on the market. I travel very frequently, I'm constantly packing my trimmers to ensure I'm well groomed for work. I've had many sets in the past. This is by far the best yet!
Date published: 2021-11-05
Rated

2

out of

5
by
Less Bald than I was
from
Unhappy
In today's world and to be a Man's Trimmer you need to be able to handle the head. I am head shaver and was so excited when this came. It does not meet any sort of expectation. This will not even trim down 2 day stubble.
Date published: 2021-10-16
Rated

5

out of

5
by
Tim1
from
Great Razor All Around
I absolutely love this razor and everything about it. it comes with every possible attachment you could need, its small and lightweight, and it's very easy to clean and maintain. Perfect razor for the price for sure.
Date published: 2021-09-15
Rated

5

out of

5
by
Honeybadger57
from
Lose shave
Lots of attachments easy to switch out. The trimmers worked awesome on my goatee. Used the smooth shaver to finish up. Face was smooth and felt great no burns from the shaver. I will definitely recommend this shaver!
Date published: 2021-09-21
Rated

5

out of

5
by
Willyd86
from
Great trimmer
The blades of this trimmer cut the hair evenly and quickly. The trimmer feels great in my hands. I love the nose hair trimmer, I don't have to worry about cutting myself. I would definitely recommend this product.
Date published: 2021-10-27
Rated

5

out of

5
by
Tehrocko
from
Amazing all in one
I was absolutely amazed by how great this was! The multiple attachments make it useful for lots of different things that i didn't realize I was missing. The build is solid and feels like a quality product.
Date published: 2021-10-20
Rated

5

out of

5
by
Worlee
from
Great Clippers
The clippers are lightweight and easy to hold in your hand. The clippers are not bulky and easy to grip. The attachments are great and give you the option to do a great haircut, beard trim or hair lining.
Date published: 2021-10-28
Rated

5

out of

5
by
26122 Richard
from
Conair Trimmer
Great trimmer. Plenty of power to do the thickest hair and the charged battery holds a long charge. You can cut multiple heads of hair on one charge. Lots of functional attachments that come with it too.
Date published: 2021-10-21
Rated

5

out of

5
by
kballard27
from
a great value
i started using this because i wasn't getting close enough in the ears and nose and below the nose and lower lip i can now EAILY get all those areas it was real easy to change accessories as well
Date published: 2021-10-16
Rated

5

out of

5
by
Zac1
from
Awesome Shaver
This a very stable powerful shaver. It comes with 5 accessories. It has a metal handle which makes shaving easier. I would buy this product without a doubt. I highly recommend it.
Date published: 2021-09-24
Rated

5

out of

5
by
SuperBeard
from
The Perfect Trimmer!
This trimmer has been amazing! I've trimmed up my hair with it as well as used to to neatly shape up my beard. No snags, no cuts, just a clean, to-the-skin buzz that feels great!
Date published: 2021-10-20
Rated

5

out of

5
by
Chip1
from
Great cut
I used it for my head and beard. Battery life a fantastic. The cutting edge is sharp and with all the attachments it come with you can't lose with what ever you're cutting.
Date published: 2021-10-30
Rated

5

out of

5
by
ThePaperskinnedman
from
Taking this to Mars with me!
If I was an Astronaut being sent to live on Mars and was only allowed to bring 10 items with me, this would be one. Okay, seriously If you are anything like me, then you like to know what others say about a product before buying it. I can make this very simple for you and here is why. I have spent my entire shaving life in fear of trimmers. My beard is pretty thin and patchy in some spots. When you add the unusual softness of my facial skin you are asking for a disaster. Every set of trimmers has torn my face to pieces! I almost always looked like I just left a knife fight after using them. It didn't matter how careful I was, my skin would always catch and I would bleed. I tried way more types of trimmers than I care to admit. So here is why these are a simple yes for anyone. They left my skin exactly how it should. Still attached to my face! No cuts or nicks or slices. I know that may sound crazy but It's someone I have struggled with my entire adult life. I'm still blown away by how well these worked for me. I can take the hair all the way down as short as I want and I have ZERO worry about regretting it later.
Date published: 2021-10-24
Rated

5

out of

5
by
Josh4
from
Love this trimmer!
This is my new favorite trimmer! Cuts really well and love all the attachments. Previously I had a couple different tools for hair grooming but now got all in one!
Date published: 2021-09-15
Rated

5

out of

5
by
Bill1
from
A new player in the beard game!!!
I was very reluctant on this shaver out performing my norelco one blade. I was astonished on how sharp and precise the conairman was. This is my new go to shaver.
Date published: 2021-09-29
Rated

4

out of

5
by
kerplunk
from
Wonderful Clippers
These clippers are well designed and work great. They give a close cut and offer many different guards for various trimming of body hair. Very easy to use
Date published: 2021-09-16
Rated

5

out of

5
by
PDiddy
from
Amazing Product!
This trimmer is fantastic and so much better than the other options I have previously tried. Definitely recommend it for anyone with coarse hair!
Date published: 2021-10-20
Rated

5

out of

5
by
Andrew1
from
Fantastic
The build quality is great. The trimmer feels like it's well made and is durable. Pieces are easily interchangeable without feeing flimsy.
Date published: 2021-10-16
bvseo_sdk, dw_cartridge, 18.2.0, p_sdk_3.2.0
CLOUD, getReviews, 6ms
reviews, product