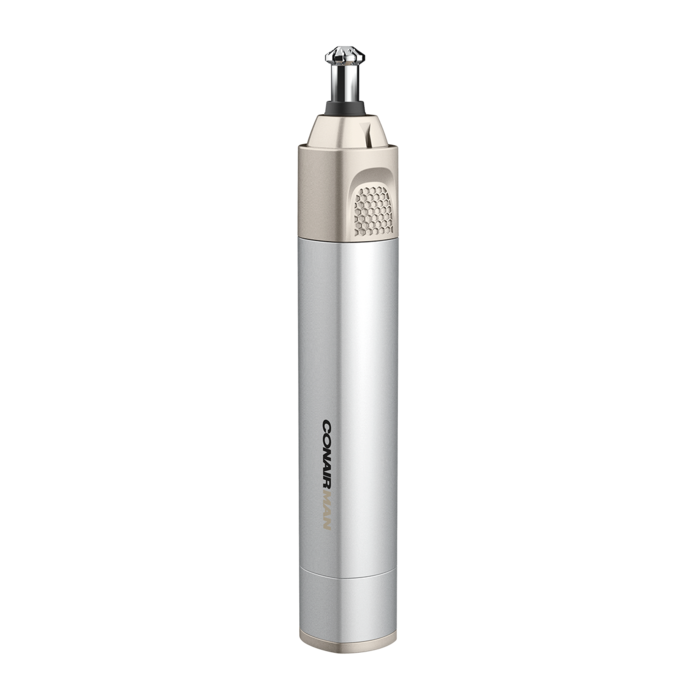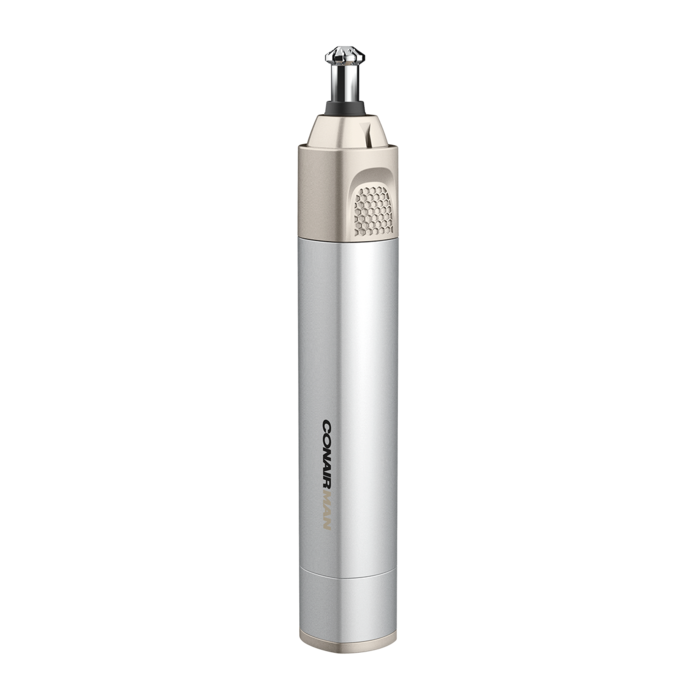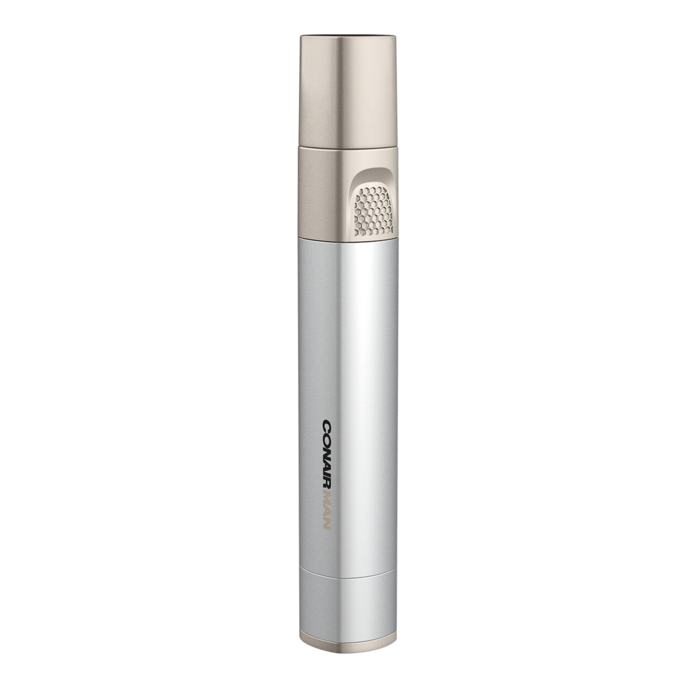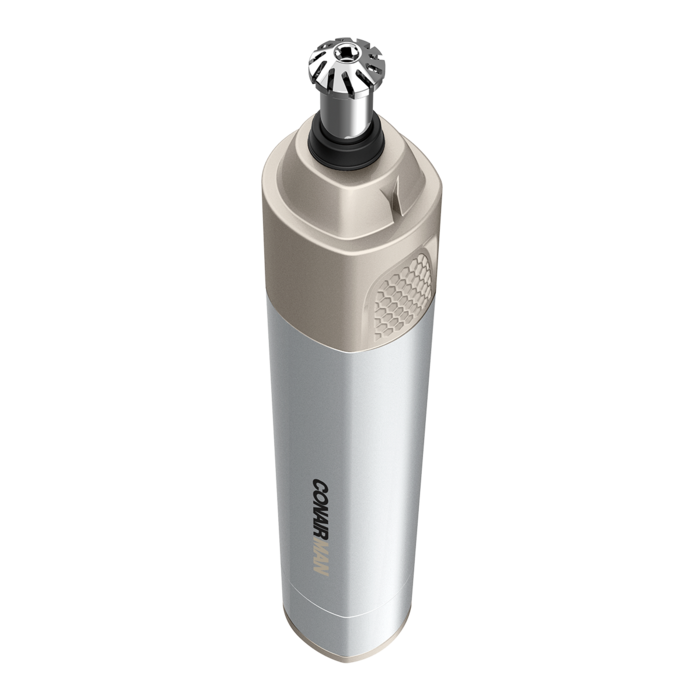 High-Performance Metal Ear/Nose Trimmer
Professional-grade power and performance. It's more than maintenance, it's MetalCraft™.
Description
Grab a fistful of metal for man-sized grooming.

Define and refine ear and nose hair with the precision of MetalCraft™ from ConairMan®. This powerful, professional all-in-one ear/nose trimmer has a patent-pending Advanced 360° Rotary Cutting System. It's a metallic must-have for any guy who wants to get a grip on his grooming.

Equipped with a diamond-shaped 3-bevel blade, the trimmer quickly and easily removes annoying nose and ear hairs with no pulling, nicks, or cuts.

This battery-operated grooming essential (AA battery not included) gets the job done right—without a cord to hold him back.

Featuring a smooth metal handle for complete comfort and control, this rugged gear is built to last, with a washable head for easy cleaning, and can be his go-to for confident, high-performance grooming, now and years from now.

Professional-grade power and performance.

It's more than maintenance, it's MetalCraft™.
Features
Advanced 360° Rotary Cutting System: This patent-pending technology features a diamond-shaped 3-bevel blade that thoroughly removes ear and nose hairs with no pulls, nicks, or cuts.
Washable head: Just run water over the head and wipe dry to keep this men's grooming essential clean and always ready for use.
Durable, compact design with blade cover: Perfect for on-the-go trimming and safe, easy storage.
Cordless convenience: Powered by 1 AA battery (not included), the trimmer gives the freedom to groom without a cord to hold you back.
Instruction Manual
Reviews
Rated

4

out of

5
by
Bobik
from
The good and the glitch
The first quality ear and nose trimmer with a decent warranty and reasonable price that I have purchased. Although originally sceptical took a chance because in the personal care market Conair has a good reputation. The glitch: The operating instructions are wrong. They tell you to insert the battery one way but it doesn't work. After contacting customomer service I was told to REVERSE the battery and it operates OK. A very good lesson for the product manager - sweat the details and review carefully! I purchased at CVS and took the manager to the display and suggested she put up a sign identifying the error in the printed instructions.
Date published: 2021-09-19
Rated

5

out of

5
by
Dddd
from
Solid
Overall I would say this trimmer is very solid. Solid in construction and performance. It definitely has a better hand feel than most that I've used. The metal feels premium over the plastic versions I've previously been using. It has a different head design than my previous devices which enables it to get a closer trim on the nose hairs. The hairs don't feel as prickly or sharp either when compared to my other trimmers performance. Overall I think it's a solid buy. I would happily purchase this device, and recommend it to anyone who is considering it, or a trimmer in general. I received this product as part of a free sample program.
Date published: 2021-11-27
Rated

4

out of

5
by
saltoftheearth
from
works well for intended purpose, but on trick pony
This is a great nose hair trimmer...no doubt. it is made in a way that I have never seen before and that allow you to very comfortably trim very closely near the delicate skin in your nose to get all the hair. it is a nice size and weight, and runs well on one AA battery. I guess that my only problem with it is that it is a one trick pony in that it has no other attachments and so it would not get used very often when I can use something that has the other tools that i need for a total trim of all my needs. It looks like it has a twist off head, so where are the other attachments?
Date published: 2021-11-24
Rated

5

out of

5
by
Jose2
from
Powerful
The Conair Metal Series High Performance Nose/Ear Trimmer is a great performer. I have two or three branded nose/ear trimmers and this is the best one by far. As soon as you pick it up you notice that it is well made. It has some weight to it but not enough that is going to tire your hand while holding it. I received this unit in exchange for an unbiased review, and honestly, I haven't found any negatives with it, yet. But I've only been using it for three weeks. If you need a good quality nose/ear trimmer, I recommend you try the Conair Metal Series High Performance Nose/Ear Trimmer. #buzzagent
Date published: 2021-11-29
Rated

4

out of

5
by
Ken2
from
Cheap looking but decent trimmer
I found this nose/ear trimmer to be pretty efficient. I tried the device to trim my nose hair and it did it successfully. Only down side was that you might have to move the device around a lot to make sure you properly get the job done. The device is pretty simple to use and the shape is ideal for a nose trimmer. I thought the packing of the trimmer was really nice looking but the trimmer it self looks cheap and sort of makes me think it was removed from and older box and put into a newer nicer looking box. My only recommendation for this product will be for it to have an aesthetics update.
Date published: 2021-11-27
Rated

5

out of

5
by
JMonk7
from
effective and painless
The shape of the head is different than what I'm used to but it turns out to be a more effective shape than others trimmers. This trimmer takes 1 AA battery that seems to last for a long time. With other trimmers I used to have to poke around the inside of my nose until I thought I got them all but with this one, it felt and looked like I got them all with minimal effort. The product may not be all that versatile but quality usually means "do one thing and do it well!"
Date published: 2021-11-29
Rated

4

out of

5
by
Jim3
from
Adios, annoying nose hair!
360 degrees of painless nose/ear hair trimming. This tool may "only" do one thing, but it does it very well. The design is different than any other trimmer I've used, and works flawlessly. Cuts the hair without risk of cutting you and doesn't pull the hair. Simple operation and easy cleaning. It takes one AA battery and seems to last quite a while per battery. The metal body of the tool feels durable and reliable unlike similar plastic tools would. I would definitely recommend this to anyone looking to quickly, easily and painlessly trim their nose/ear hair.
Date published: 2021-12-03
Rated

4

out of

5
by
Sleeper3333
from
Great!
Great product! Like most of you men over age 40 I started noticing hair loss where I did not want it and hair growth where I especially did not want it...nostril hair. I used wide blade tweezers hoping that pulling the hairs from the roots would work. It was a painful failure. I bought a small metal device that one had to twist back and forth to engage the blades. This was okay. Then I found this trimmer and decided to give it a try. It comes with a nose cone and an ear trimmer blade. It is battery operated. It is inserted in the nostril and trims hair at the base (plucking is a losing and painful proposition). It clears everything. It may clog with mucous and I just disengaged the tip and washed under running water with soap.
Date published: 2021-12-16
bvseo_sdk, dw_cartridge, 18.2.0, p_sdk_3.2.0
CLOUD, getReviews, 7ms
reviews, product