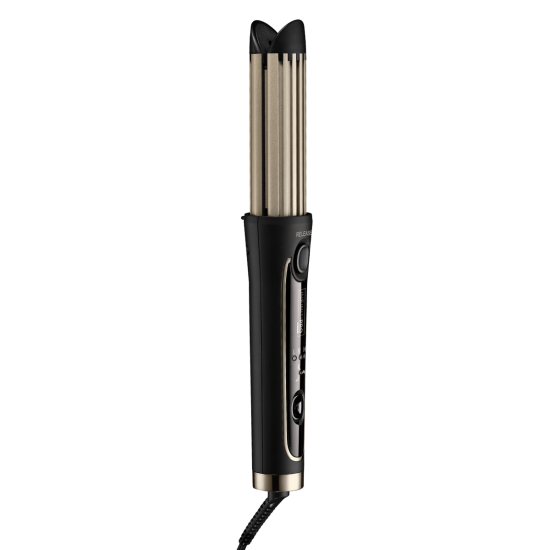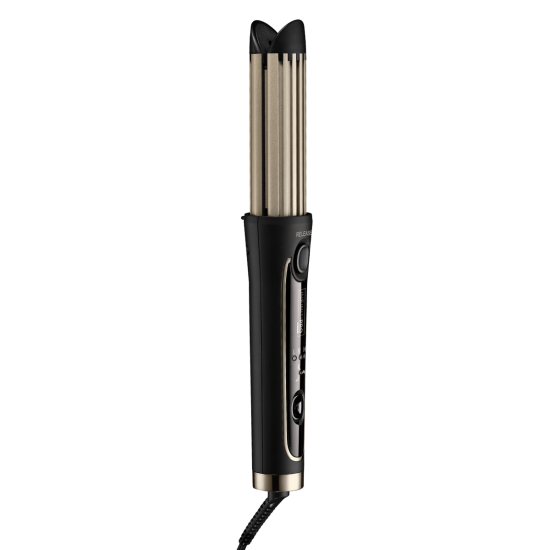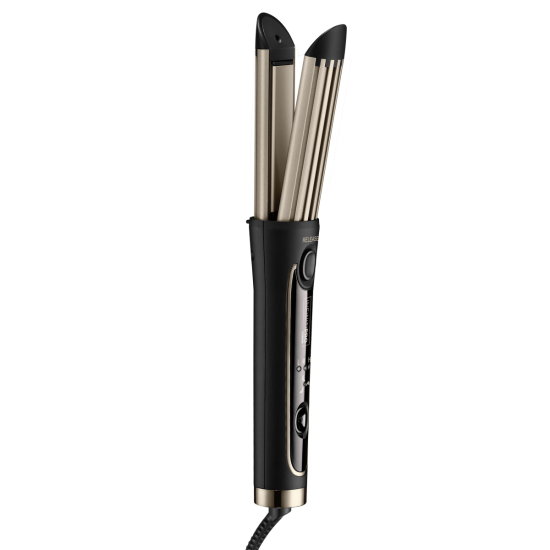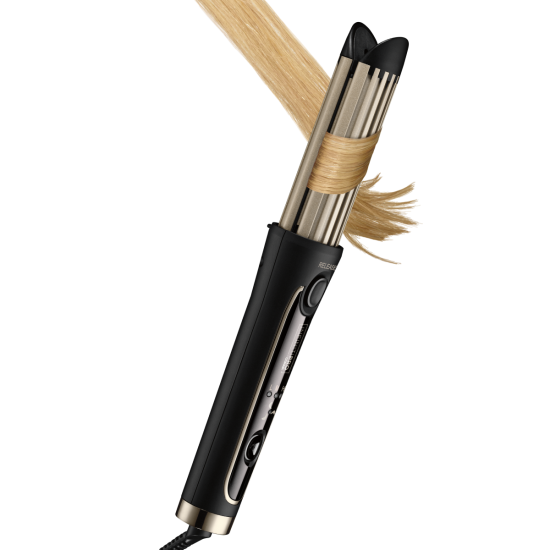 InfinitiPRO by Conair® Cool Air Styler
Cool air system sets your style for long-lasting results.
Description
Want a quick, easy way to create gorgeous, salon-worthy curls that last? Designed with a unique cool air system, the InfinitiPRO by Conair® Cool Air Styler curls, cools, sets and protects your hair for long-lasting, gorgeous results. The hair is heated by the quartz ceramic-coated plates, which provide an effortless glide to form silky, smooth curls. Once the curl is formed, cool air flows along the channels on the outside of the barrel, to instantly cool your hair, which sets the style and protects against heat damage. You get fast, consistent heat up to 400°F for even results as the cool air locks in your look. Three heat settings, plus a cool air setting, make it easy to customize styling for your hair type.
Features
Effortless glide: Heated quartz ceramic-coated plates glide through the hair to form shiny, smooth curls.
Lasting loose curls: Unique cool air system flows cool air through the channels along the outside of the barrel to immediately set your curl and protect your hair.
High heat: Inner plates heat up to 400°F.
Fast, consistent heat: Heats up in 30 seconds and maintains heat level upon reaching a stabilized temperature.
Heat for every hair type: 3 heat settings (low, medium, high) plus cool air setting–choose the right one for you.
No stress: Automatic safety shutoff lets you focus on styling without fear of forgetting to turn the styler off.
Instruction Manual
Reviews
Rated

4

out of

5
by
Anonymous
from
Takes a few tries to get used to
This took me a few tries, but my hair looked really voluminous after I got the hang of it! It only pulled my hair a few times and that was when I got the barrel too close to my head, so after that I didn't get it so close and had no pulling. It heats up fast, has a fan and no fan option + 3 different heat settings. I wouldn't use this if you are a hair beginner, but I would say for someone like me who has used many hot tools for years. I like that is doesn't damage your hair as much and has the cooling aspect. I think $90 is a little steep for this tool, but my hair did look good after figuring it out. 4/5.
Date published: 2021-11-04
Rated

5

out of

5
by
macyp9
from
I think I love it?
So the first time I tried this was kind of a disaster so I watched some YouTube videos to get a better idea of what I'm doing and the second time went WAY better. So definitely a big learning curve but that aside…I've been trying to minimize my heat usage to keep my hair healthy and I feel like the low setting does a REALLY good job and I love that it's not a tight grip on my hair so I don't feel like it's breaking my hair off. I typically use a curling wand if I'm going to curl my hair but I'm actually considering switching to this bad boy because I love the loose look of the curls and I feel like it's way less heat damage. But if you get it, DONT GIVE UP AFTER UR FIRST ATTEMPT
Date published: 2021-11-20
Rated

5

out of

5
by
sjarvis84
from
Conair infinity pro cool air styler
I absolutely love this product! I am normally so uncoordinated when it comes to trying to curl my hair ,but this particular curler is so much easier to use . I have hard to style hair so having the cooling fan function has been a game changer for me. It curls great and my curls last way longer than I normally can get them to. I'd highly recommend this to beginners in curling hair..The only thing about it I am not too crazy about is the fact it doesn't open very much which can make it kinda tricky to get hair in for some people particularly when doing the back of the head..other than that great product!!
Date published: 2021-10-22
Rated

5

out of

5
by
kissthesun34
from
Excellent!
**I received this product free through Influenster. All opinions expressed are my own** I've used a lot of hair straighteners and curlers over the years, and this one is fantastic. I have medium/fine hair that's usually kind of wavy, and this was very effective at straightening my hair. The fact that this tool has a cooling system makes it so much better for my hair. I also love the clamp mechanism and the fact that the tips stay cool. I've had so many tools that have claimed to have ends that stay cool so it won't burn you, but this is the only one I've had that actually works as it claims. Fantastic!
Date published: 2021-10-22
Rated

4

out of

5
by
Celeste
from
Need to practice
This curling iron is quite interesting in a positive way. It cools your hair as you curl it so it practically sets your hair immediately. It gives you beautiful curls plus I realized you can use it as a flat iron too. My two cons are the clamp doesn't open wide enough so at times it can be difficult to slide your hair in. The other is the first few times you use it, it's really tricky to get the hang of it. If you want a full curl you have to maintain the pull from the root. I kept pulling the iron toward the tip of my hair I ended up straightening it. All in all, with practice I do like this product. If you're willing to take the time to get the hang of it I would highly recommend.
Date published: 2021-11-20
Rated

5

out of

5
by
poohbear1983
from
Beautiful curls all day
This InfinitiPRO by conair cool air styler is perfect. This curler doesn't pull or tear your hair up. There is 3 heat settings you can choose from. Plates on high heat can reach up to 400 degrees, plus it has cool air setting. Will not damage your hair either. My curls where perfect and not to loose or to tight. I got several compliments about my hair and the curls. You will definitely have long lasting results with your curls. I will be using this cool air curler all the time, especially with the holidays coming up. You can use heat on this curler to. I assure you, you won't be disappointed when you give this cool air curler a try. Perfect curls for weddings, birthdays, holidays.
Date published: 2021-11-04
Rated

5

out of

5
by
cailliecakes
from
Thin, fine hair Approved!
Coming from a person with thin, fine hair, I have always avoided using heat on my hair. I've tended to my hair very carefully only putting all natural shampoos and products in my hair except for the occasional color. That being said, I never curled my hair except for very special occasions but I also used a natural heat free method. I got this curling iron and tried it for the first time and loved it! The directions were easy to follow and there was no wierd smell I usually smell when people use curling irons or straighteners. The only problem I had was inexperience and had trouble figuring out if I got the back of my head. So, if you have any tips on curling hair, please let me know!
Date published: 2021-10-21
Rated

3

out of

5
by
meghanno1
from
Interesting concept, not great at curling
Conair is marketing this as a curler, but let's be real here: it's a straightener except with a rounded exterior barrel. I like the concept of it, using cool air to set your style as you're curling it, but I don't like the type of curl it creates, and my hair feels frizzy after a couple hours and the curls simply don't look great after awhile. I've used this several times, on varying hair days (1 day after washing, 2, 3, etc) and I get the same results. I also wish the straightener part opened up wider, it's very narrow and can be really challenging to do the back of your head where one can't see as well. All in all, it's a cool concept (no pun intended), but this one is a miss for me.
Date published: 2021-10-28
Rated

5

out of

5
by
danav39
from
best curler
"I received these products for free from Influenster and brand(s) in exchange for my honest review. " I love it because it does work for my short hair and does not feel like I'm going to burn my hair with it. It does  take a while to get used to using it but then does it really good. I am really happy with the turn out of the curls. I think that I will continue to use the product for nice events. I think that the cool air technology is good for me Bc I will be able to use with short or fine hair. I would recommend this to people that like to curl their hair but are worried about heat damage.
Date published: 2021-10-16
Rated

5

out of

5
by
meganp245
from
Different from all other curling irons
At first I was confused on what this curling iron offered. It seemed gimmicky at first with the cool air but I ended up enjoying it a lot. It definitely is not like your traditional curling iron, it's more like a straightener with a round barrel. It also blows cool air, but isn't too loud. It's like the low setting on a blow drier. It took a while to get used to, but afterwards it actually became easier than using a curling iron. My curls did stay longer and I noticed that my curls felt cooler than if I were to use a normal curling iron. One thing that did bother me about it though was the button to release, after a while it began hurting my finger, but other than that I really like this.
Date published: 2021-10-20
Rated

3

out of

5
by
liupw
from
Unsure about this product design
The product was pretty loud with the fan on. While the concept of having a cooling technique is neat, it just didn't really handle my thick straight hair very well. It took a few tries to get a good curl but the tough part is pressing down on the release button. The opening of the clamp just has a harder time when running through my thicker hair. A little disappointed that I struggled with this. I will say I was able to curl fast, however it's very inconsistent and the top of my hair is super flat. Soooo, at the end of it all I'm looking like a flat top haired with lower Farrah Fawcett vibes lol!
Date published: 2021-10-17
Rated

4

out of

5
by
ninao11
from
I don't have much experience using a styler..
I'm not the type of girl who uses a curling iron or even a hair dryer. So I can't say I even know how to use this product correctly, but I still gave it a try! I think the cooling fan feature is a bit noisy.. but no louder than a hair dryer, so perhaps not an issue for most. The heating plates get really hot. I have fine hair so I used it on low, but it still seemed very hot. I wasn't able to do much to my hair with it but that's more because I'm afraid of frying my hair since I don't know what I'm doing. But the product itself is really cool! I would definitely recommend to anyone who enjoys a nice curly look. It heats up quickly, it's also lightweight and easy to maneuver.
Date published: 2021-10-29
Rated

2

out of

5
by
suliezee
from
It's okay
Where do I start? Okay overall it took me a few tries to get the hang if it but I was able to maneuver the air styler to create curls. The curls are beautiful and stayed although when I tried to create longer curls, where I started at the top near the root of the head curls didn't stay. Only the bottoms were curly while the top didn't hold maybe it's more of a technique thing then the actual styler as I'm more use to a wand curler. The main reason I'm not in love with this product is that I wasn't able to finish my whole head because unfortunately it died on me half way. I do not know why? Not sure on what happened there but yeah, a bummer! I had to finish the rest of my hair with my wand.
Date published: 2021-10-17
Rated

3

out of

5
by
Demandthebest
from
Idea Is Good
I have very long hair of medium thickness. I take very good care of my hair. Styling irons/dryers can be very damaging therefore I only buy the best. I really like the idea of cooler temperature curls. A nice cool down to set the curls this product does that. When you turn on the styler you here a constant fan. That is unlike any other product I've used. I would prefer a dial to set the temperature of heat rather than low/med/high. This product takes practice. I had problems in that the mouth doesn't open wide enough. Also my hair got snagged at the base. I like the product. I love the idea. I think it needs some tweaking. In its current format I think it is better for med length hair.
Date published: 2021-11-12
Rated

3

out of

5
by
qinnny
from
Just Ok
Packaging is not bad and it was lightweight. However, I thought the clamp didn't open wide enough and when it close, it didn't close tight enough either. It pulled a few strands of my hair out at the inner corner of the clamp as well. At the medium heat setting, my curls came out cool to touch and actually shinier than expected which I liked. I have medium-long fine thin hair and the waves stayed without me putting on any hair spray after. I think this item would work better for short to medium hair length. However, for this price point I would expect not to have these cons that I listed above.
Date published: 2021-10-18
Rated

4

out of

5
by
keshat3
from
Need to get the hang of it - great 2-in-1 device f
I wish this product came with more easy to use buttons, however I'm pleasantly surprised with the results once you take the time to learn how to use it/get used to it. I think this is a great device to take traveling if you like to both straighten and curl your hair, without having to take both a straightener and curler. I don't think you get much control straightening but it does the trick. I was shocked on how close the curls got to my normal curls because I'm quite particular about them. The curls are very quick however this device doesn't allow you to grab tons of hair. Overall, this may not be my permanent replacement but I could definitely see myself using this for travel purposes!
Date published: 2021-11-04
Rated

3

out of

5
by
michelleewan
from
Very loud, learning curve
The tool has a built in cooling fan, so it is pretty loud for a hair styling tool. I'd compare the noise level to a hair dryer on a low setting. Using the tool itself, there is a bit of a learning curve because you're essential curling your hair with a straightener/flat iron. The clamp also doesn't open up very wide, so if you have thick hair, you'll definitely need to take smaller sections to make sure you're getting all your hair. The curls make my hair a little frizzy but that could also be from the learning curve as I haven't figured out how to use it well yet. I'm not sure this would be my go-to tool for curls or even waves because my curling wand is just much easier and quicker to use.
Date published: 2021-10-20
Rated

5

out of

5
by
ahughes311
from
Awesome Styling Tool!
I received this from Influenster for free to review and give my honest opinion. I have long fine, color treated hair with keratin tip extensions. I was a little intimidated by this at first, but it's so easy to use! You can make loose beach waves or curls. The release button makes it fool-proof. I have tired in the past to make beach waves with my Chi straightener, I but I can't master the flick of the wrist. With this tool, you don't really have to think about it - it just works! It didn't damage my hair or pull at my extensions. I recommend this to anyone who isn't advanced in hair styling.
Date published: 2021-12-01
Rated

1

out of

5
by
shanny_pans
from
It's a NO
I was excited for the technology here. Cooling the curl immediately after creating the curl makes a lot of sense. Unfortunately, I didn't think the results were very good. Here are my thoughts: Pros -easy to use -quick styling since the curl sets immediately -price point seems reasonable -not too heavy/bulky Cons -curl pattern was reminiscent of Shirley Temple. I'm more of a beach wave person. -curls did not last. It's currently fall where I live and the weather is cool and dry. Even with the cool setting and the Tight curl, these fell fast. -the barrel is so short. I could see it being a problem if you have long hair or very thick hair. I would not purchase this item or give it as a gift.
Date published: 2021-11-04
Rated

3

out of

5
by
Lauren a
from
Unique but not great for thick hair
This is a really unique product. I haven't seen anything like it on the market . It works like a straightener to create curls but there is a built in cool air dryer to set the curls . It's simple to use once you read the instructions and made soft feeling curls. Downsides - I do have thick curly hair and this took me quite a while to do my whole head. I also had to do several passes in some sections to get the curl to look good. At times my hair did snag in the crease of the device and the buttons/ settings weren't clear. Overall I think this would be a great product for someone with thinner or medium hair. It also offers a nice alternative to high heat styling which isn't great for hair.
Date published: 2021-10-27
Rated

4

out of

5
by
Anonymous
from
learning curve
I've only been able to use this a couple of times so far and it's taken me a bit to figure it out. You have to make sure to rotate it at least 180 degrees, or it won't curl, at least for me it wouldn't, and I couldn't figure out how to make the curl anything less than pretty tight, even with thicker pieces of hair. It's a cool idea, wondering maybe if the barrel was thicker the curls wouldn't be as tight. This would work really well for shorter hair. I don't plan to give up on it just yet because, in general, my hair holds curl better being styled with a tool like this versus a curling iron.
Date published: 2021-10-29
Rated

2

out of

5
by
dawelch
from
Doesn't work well on fine hair
I was super excited to receive this, but it just doesn't work well with my hair type. My hair is super fine, so perhaps it works better for thicker/coarser hair. My hair just doesn't glide easily through it and have to force my hair through it. Then it gets stuck and pulls out pieces of hair out. I tried several different methods, but I just couldn't get it to work for me, even at the hottest setting. The curls also didn't come out nicely and ended up looking unevenly curled/wonky. It was way more trouble than it was worth. A normal curling wand is far less effort for me with better results.
Date published: 2021-10-16
Rated

3

out of

5
by
Meghan W
from
All Kinked Up
Well, I really wanted to like this more than I actually did. I spent about thirty minutes trying to get it to work. I was trying to get those popular beach wave type curls. All I got was strange kinky hair. What I did like was that the iron held the hair tight. It did not fall out easily. I also liked how the iron was not too hot to the touch. I always burn myself and didn't with this iron. I just could not get my hair to wrap properly. Because it wrapped around the barrel and it wasn't completely round. I think that was the issue. Anyways, regardless there were more cons than pros on this one for me. And, I'm still on the hunt for the hair tool that will give me those loose beach curls.
Date published: 2021-10-30
Rated

5

out of

5
by
nadiar68
from
impressed
I cannot curl my hair with a straightener. I have watched a million videos and tried so many times but I have to use an old school curling iron or hot curlers and they do not give you the same look. But THIS product fixes all of that! You simply drag it through a section of hair and slightly twist at the end and it pulls your hair through- straightening the majority and giving that beachy fun curl at the end! It's also super quick to use! The only thing that takes a bit of time is it doesn't open super wide so if you have thick hair and are used to big sections you can't use it the same way
Date published: 2021-10-16
Rated

2

out of

5
by
leddyalready
from
Hard to use
I've tried several times to use this, but I found it difficult to get good curls. I managed to get a couple, but there didn't seem to be a technique I could replicate to get a whole head of curls. I even tried to read the instruction manual, but it wasn't a ton of help. The design is really cool - when closed, it's round like a curling iron, but when open, the inside has plates like a flat iron. It's pretty noisy, it seems to suck air in to cool and set your style while styling. I wish the instructions were more helpful in creating a whole head of curls, because I was so excited about this!
Date published: 2021-11-27
Rated

5

out of

5
by
liz2020
from
Life changing styling tool!!!
This styling tool has completely changed the way I will curl my hair from now on. I'll be honest I didn't have very high expectations because my hair is fine, doesn't hold curl well and I really am not great at the curling technique with a regular curling iron.. I thought I'd give it a go. My first try was so easy, looked like the waves my stylist gives me and it actually holds up even without spray product. I finally feel like I can curl my own hair and I'm blown away. Where has it been all my life?! I would recommend to anyone who wants effortless gorgeous waves that last all night! 10/10
Date published: 2021-10-15
Rated

4

out of

5
by
lillyv12
from
A COOL styler!
I have been using hot tools most of my life. With long hair i love styling it with different wands, irons, straightners etc, so I was delighted to try the INFINITIPRO BY CONAIR COOL AIR STYLER. The styler took a few to get used to, using the release button and slipping the hair through the panels. After i was done with was a gorgeous, voluminous head of curls- seriously i looked like i stepped out of the 70s. The next day curls looked even better once they dropped. I'd say the best part was the hair after curled was cool to the touch unlike other irons where you can feel the heat damage. I will definitely use this product again and practice with it to achieve even better styled look. Thanks Conair!
Date published: 2021-10-26
Rated

5

out of

5
by
jessicam1114
from
Addresses some curling iron hassles
Gorgeous curls like you get with a straight iron. The fans cool the hair so it's not too hot to touch right out of the tool, and they are quieter than even a hair dryer. the tip is cool to touch throughout the heating, which is so nice. I also accidentally tapped my forehead with the barrel (...for science of course) and it felt hot, but did not leave a mark/blister like a curling iron would. the learning curve was quite easy too. I need a small bit more practice, but nothing excessive. I have fine-normal hair and used the middle setting on fully dry hair (like the instructions say to).
Date published: 2021-10-24
Rated

4

out of

5
by
juliejie
from
Gets the job done!
The first time I tried it, it was a little difficult for me because I found it a bit heavy. I have thick hair so I have to divide my hair into sections which means I have to do my hair longer. One thing I love the most is you don't have to wait longer to curl your hair unlike my old one I had to wait because the heat wasn't enough. I gave it 4 stars because the buttons, I constantly hit it while I'm using it but maybe it's just me being careless. All in all it's effective and gives me the result that I expect. Would recommend it to friends and fam as it can save them time and money.
Date published: 2021-11-14
Rated

3

out of

5
by
kpunkgrl
from
Did not hold curl in my hair
My hair is fine, but it's thick - I have a lot of hair. Clipless ceramic irons seem to work the best to hold curl in my hair. I liked that this did not pull my slide, my hair slide easily through the barrel once wrapped. I had trouble getting the curls consistent looking, and I feel that sometimes pulling my hair through flattened some of the curl. As I rolled the iron I keep hitting the on switch, which turned down the irons temperature. It was awkward to use. I also had trouble turning the iron off. I found myself holding the off button waiting for the unit to stop cycling and completely shut down. Some of my girls released still feeling hot, so i'm not sure the cooling effect changed the end result.
Date published: 2021-10-28
bvseo_sdk, dw_cartridge, 18.2.0, p_sdk_3.2.0
CLOUD, getReviews, 9ms
reviews, product