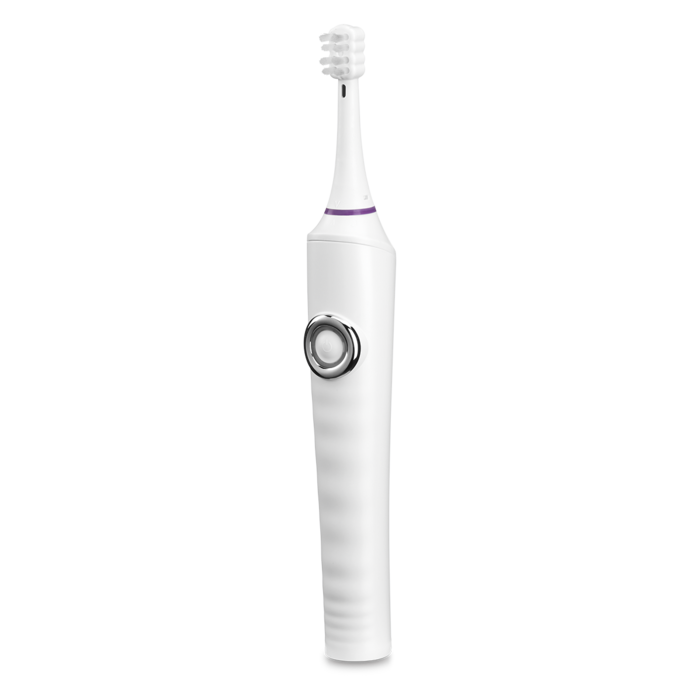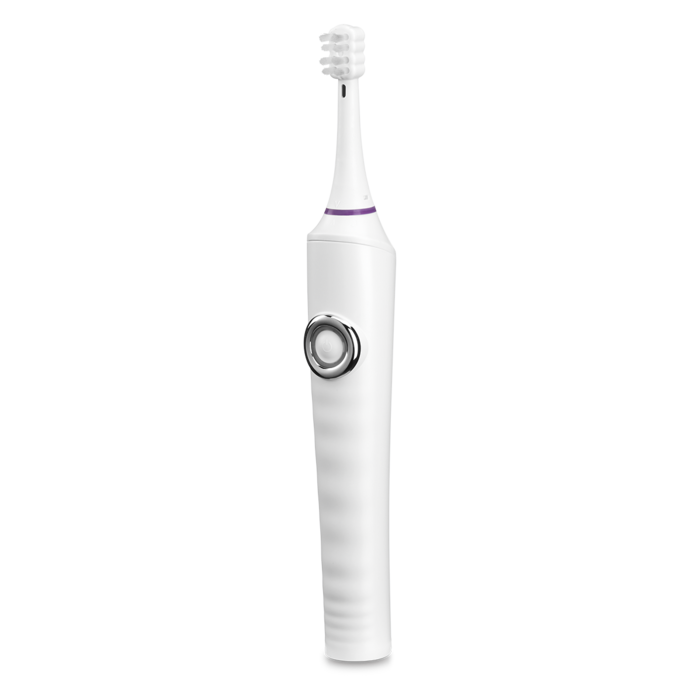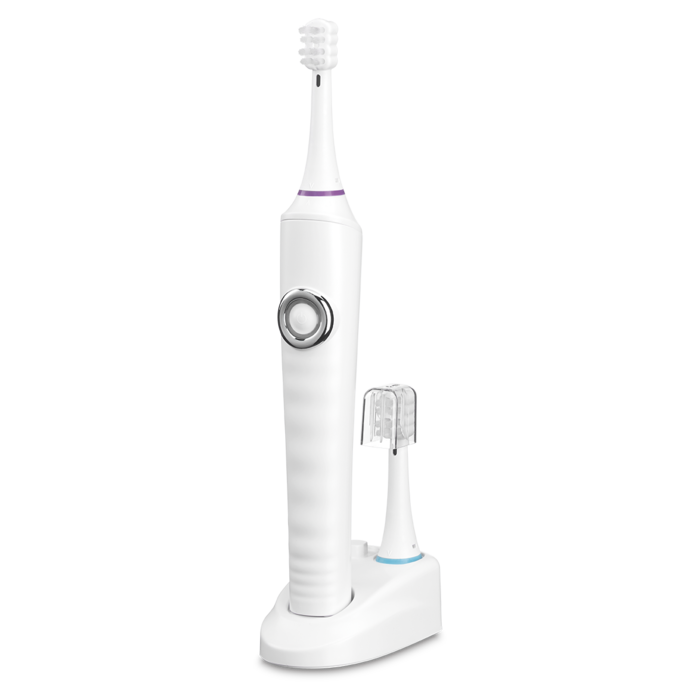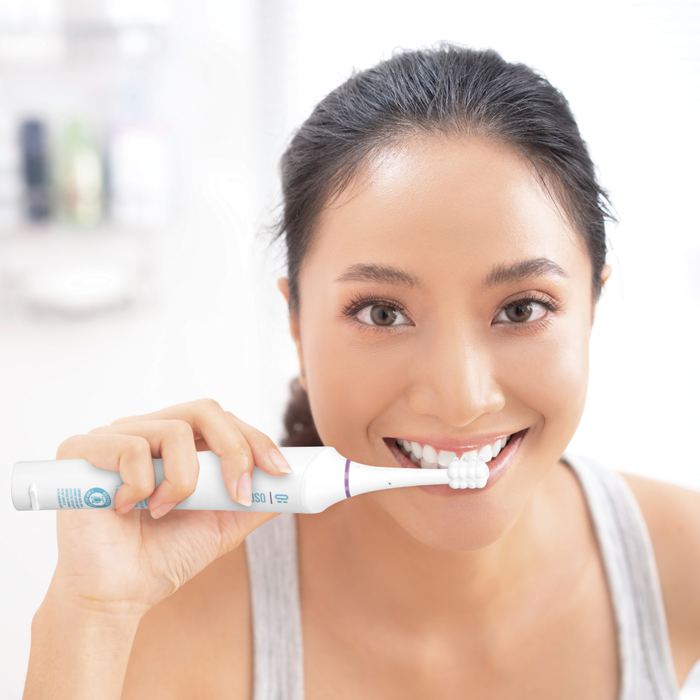 OSCILL8® Rechargeable Toothbrush
Revolutionary 8-tuft brush head gives teeth and gums a complete cleaning.
Description
Clean and polish your teeth with thorough yet gentle precision, plus treat your gums to a rejuvenating massage, with the revolutionary rechargeable power toothbrush featuring 8 individually oscillating tufts of bristles. Clinically proven to reduce gingivitis and help remove plaque from teeth, this at-home essential for dental hygiene also helps prevent gum disease and promotes oral health. The oscillating bristles follow the contours of your teeth and gums, with the long tufts extending deep between teeth, and shorter tufts polishing flat surfaces. Brush heads are easy to remove and replace, and the comfort grip design ensures comfortable brushing for hands of all sizes. A convenient stand with a water-resistant charging base holds and charges the brush, so it's always ready for use.
Features
The revolutionary brush head features independently oscillating tufts of tapered bristles that work to eliminate plaque from even the tightest places
8-tuft brush head with 270° tuft rotation
2-minute auto-off timer
Water-resistant charger base included
2-color LED indicator lights signal low battery and charging mode (blue and red)
Comes with 2 brush heads
Subscription service available for replacement heads
Specs and Support
Model Number
NT18
Shop By Tools
Brush
Rated 5 out of 5
by
Soleskiewicz
from
Toothbrush + Replacements are Affordable to Contin
I don't have countertops in my bathroom and only have a small area on my bathroom sink so I never tried anything other than a battery operated toothbrush without a base. This toothbrush is small enough though that I'm able to use it on my sink and it's nice to not have to worry about replacing batteries all the time. Another thing that I really like about this toothbrush is that replaceable toothbrush heads have little plastic covers over them, so whether your toothbrush head is on your toothbrush or sitting in the additional spot in the back of the toothbrush they can both stay covered. I looked into replacement heads and their also much more affordable than other brands and is something Ill be able to affford,
Date published: 2021-06-25
Rated 4 out of 5
by
Jillxo
from
Great electric toothbrush!
I have always in my adult life used an electric toothbrush. What I like about this electric toothbrush specifically is the size of the head. I feel it does a wonderful job brushing all around the entire tooth. It's good length (as the head has 6 bristles) and wraps around the entire tooth as it brushes. So, if you feel what you use now doesn't do the best job getting your teeth, this is great. However, the reason I knocked 1 star off was due to the speed of the brush. I thought maybe the brush wasn't fully charged, but that wasn't the case. Speed it slower, so I felt the brush was dying, but not the case. However when it comes down to cleaning, that is what is most important to me. This brush also has a 2 minute timer, which is quite helpful. Overall pretty impressed and I think ill be using the conair OSCILL8 for a long time.
Date published: 2021-06-08
Rated 3 out of 5
by
Jaclyn T
from
Very loud and bulky
I was not a fan of this toothbrush. This one is pretty loud and obnoxious. White the rotating brushes is an interesting design I feel like there is a lot of open space between each bristle set, which means I have to be more careful of brush placement in order to make sure every part of my teeth and gums are brushed. The pros were quick and easy charging, and the wider handle made it easy to hold. I did like the twist and lock function of the replacement heads as well. But overall, I much prefer a brush head with more bristle area and one that is quieter.
Date published: 2021-06-14
Rated 5 out of 5
by
Heather23
from
Good cleaning
Conair's OSCILL8 Rechargeable Power Toothbrush provides a excellent cleaning experience. I like that it cleans hard to reach places. Each set of bristles move on their own which is unique. I can really tell a difference after using it. It powers off after the reccomended amount of brushing time. The power button lights up which is nice. It also has a spot to hold two additional toothbrush heads so that multiple people can use it. I received this free to review. I honestly will continue to use and buy more replacement heads. I definitely recommend.
Date published: 2021-06-12
Rated 5 out of 5
by
Jbeard25j
from
Cleans and massages
This Conair OSCILL8 Rechargeable Power Toothbrush leaves my mouth feeling clean and fresh. It actually cleans, polishes and massages at the same time. The toothbrush bristles are very soft and help remove plaque as they polish your teeth and massage your gums. I really like that this toothbrush helps improve the health of my gums and it's very gentle. It comes with a brush charging stand and has a comfortable grip handle so it's easy to use. I would definitely recommend this toothbrush and I am very happy with how clean my mouth feels after using it.
Date published: 2021-06-02
Rated 5 out of 5
by
Honeyb3037
from
Fast Easy Clean
I recently tried Conair's new rOscill8 battery powered tooth brush. This toothbrush is rechargeable. It comes with two replacement heads, brush head covers and a plug in charging base. The toothbrush charges by placing it on a raised peg located at the front of the charger. The brush head bristles are really soft with rounded edges. The brush heads are easy to change out and they have an option to have them auto shipped to my home. There is a blue led light around the on/off button that indicates the brush if the brush is still charging and will off when fully charged. The bristles vibrate very fast reaching deep between teeth and around my gums for nice clean and healthy teeth and gums. I found this toothbrush very easy to hold and use in my mouth.
Date published: 2021-06-10
Rated 2 out of 5
by
Billy B.
from
Disappointments
I recently purchased replacement heads. The on-line description indicated to me that there were 2 heads being purchased, but only one arrived. A day or 2 later I noticed that the head was coming off the unit itself, and I can't keep it attached. There is clearly something not right about the new head, nor the handheld unit itself. When it worked properly I would have rated this 4 out of 5, but now I am left with fighting the toothbrush each time I use it, so I will likely throw it away. What a waste of money!!
Date published: 2023-11-13
Rated 5 out of 5
by
Jennifer4
from
My teeth feel clean!
I've tried other rechargeable toothbrushes before, and while they worked just fine, I noticed a much cleaner feeling with this one. It stays charged for 3-4 days without having to place it on the charger, and is gentle on my gums. I love that it's small enough to get to the cart back of my teeth also.
Date published: 2021-06-28
Rated 5 out of 5
by
Mona3
from
Clean, fresh smile
I normally use a manual toothbrush so this was a nice change of pace. I feel like this toothbrush gets the nooks and crannies so much better than my regular toothbrush. It's rechargeable which is nice not having to worry about batteries. It does seem like it takes over 24 hours for the charging light to turn off. Now having said that it is charged enough to brush my teeth with no issues. I also really like that it shuts off on it's own so you know you've brushed the right amount of time. I was surprised there wasn't some sort of manual in the box, but maybe I just overlooked it; and it is a toothbrush so not super necessary. It came with 2 brush heads. I haven't actually looked at the store yet to see if these will easily be replaced. Overall I really recommend this toothbrush.
Date published: 2021-06-18
Rated 5 out of 5
by
Souns95
from
Love this Power toothbrush
This power toothbrush is absolutely amazing and easy to clean teeth gently. This toothbrush helps clean, polish, and massage gums conveniently. This is easy to use and charge with rechargeable charging. It comes with 2 heads so i can easily replace old head with new one. It is pretty powerful yet gentle on teeth and gums. It is easy to hold in hands with sleek grip design. This toothbrush looks very nice and good quality product. I absolutely love this toothbrush and I will definitely recommend to others.
Date published: 2021-06-13
Rated 5 out of 5
by
Campingpixi2
from
Easy to use and effective
This rechargeable toothbrush cleaned my teeth with no added fuss or attachments. Another plus is that you can have the toothbrush heads shipped directly to you as a subscription. Definitely getting more of these for my other family members.
Date published: 2021-06-10
Rated 5 out of 5
by
MegD630
from
Unique Design Incredible Electric Toothbrush!
I was gifted the Interplak by Conair's OSCILL8 Rechargeable Power Toothbrush and I am giving my honest opinion/review. First of all, this electric toothbrush is one of the best electric toothbrushes I have ever used! My teeth feel extra clean due to the 8 rotating tufts on the brush. It comes with 2 brush heads which you and another person can share! They are color coded so you won't mistakenly use the wrong head. Each brush head has a small clear cover to put over each brush to keep it sanitary. You can also use the other brush as a spare for yourself which I prefer to do. The head is easy to attach/remove with just a small twist of the head and has arrows to line up when in place. The bristles on the brush are soft and do a great job keeping plaque off my teeth! The bristles are soft and gentle on my gums! The grip fits perfectly in my hand and makes it comfortable while brushing my teeth! I love that this is rechargeable and I don't have to worry about replacing batteries! The stand is a great feature because all pieces have a place to be stored! This is a well-designed product and I highly recommend it!
Date published: 2021-06-05
Rated 5 out of 5
by
eep99
from
Clean Machine!
I was so excited to be selected by Bzz to get a free Interplak by Conair OSCILL8 Rechargeable Power Toothbrush! This product came with two brush heads (one for me and one for my husband ) as well as the power brush and charging station. From the first time I tried this brush , I felt like I was getting a dentist quality cleaning. So powerful and fun to use. Yet gentle on my gums at the same time. I am in love with this Interplak power toothbrush and so are me teeth and gums!
Date published: 2021-06-17
Rated 5 out of 5
by
bob22@ yahh
from
oscill8
Unbelievably the best toothbush ever ,get into spots between teeth effectively, must try.
Date published: 2022-08-27
Rated 4 out of 5
by
Cynn
from
Awesome Sauce!
I took away one star because it seems I got a bad one. However, it does work properly on my front teeth but when I get to the back it shorts out. I keep it fully charged and the initial use was fine…until the next day. Regardless, my teeth are super clean and shiny. I use crest and black charcoal toothpaste and the pairing is wonderful regardless of which toothpaste I use. My family and friends are ready to buy their own after they saw my shiny pearls.
Date published: 2021-06-08
Rated 3 out of 5
by
Catherinej90
from
Good toothbrush
It took some getting use to Conairs Oscill8 rechargeable power toothbrush, I wasn't really a fan at first. When using his toothbrush you have to basically let the bristles do the job and focus on just moving the toothbrushover your teeth, you're not supposed to brush like you would with a manual toothbrush. After I got used to this I actually did like this toothbrush. It gave my mouth a very fresh and clean feeling. My teeth are left shiny and clean. The one issue I really have is the $10 for a replacement head. So basically if want to keep using this toothbrush after I go through the two brush heads that were included I have to spend another $10 every two or three months. The toothbrush also felt slightly cheap. There's something about the type of plastic or the way they built it and the fact that the motor is extremely loud while using it.
Date published: 2021-06-11
Rated 5 out of 5
by
AlleyT93
from
Smart Design
If you want your teeth to be super clean, this is the toothbrush for you. Unlike anything I have ever tried before. The brush head really works to get in to those hard to reach areas for a maximum clean. I allowed the suggested charge length before use and got a lot of brush time out before needing to be recharged. The device itself has a light that turns blue while charging and turns off when fully charged. You only need a very small amount to brush too which helps save toothpaste and that's a win win for me. I love that it has a 2 minute auto shut off feature and yes I did time it while using. I really try to focus on the top first and then move to the bottom. It helps to remind you that more time is needed to really get in and get your teeth clean. The brush head itself feels very soft but works very well. Overall I enjoy and highly recommend!
Date published: 2021-06-11
Rated 5 out of 5
by
BluBuddafly31
from
Fabulous Power Toothbrush
I have never had a power toothbrush before but this was amazing. I didn't have to manual change hands to get certain spots in my mouth. I love the replacement brush head included and I love the 8 rotating tufts that fit into a lot of different spots my mouth. The base is very slim so you have room for other things on your counter. I definitely recommend this Conair Oscill8 rechargeable toothbrush over manual toothbrushes.
Date published: 2021-06-13
Rated 2 out of 5
by
Mary 34
from
Broke in a week
The toothbrush was good when I bought it but it started to slow down and initially I thought because I didn't charge it correctly, but It is faulty. It works fine when you turn it on, but when you press it to your gently, it turns off And won't turn on even while charging. Unfortunately, I really love the toothbrush when it did work.
Date published: 2023-12-05
Rated 5 out of 5
by
DanielleG
from
Powerful little thing
I love how powerful this is! I truly feel like my teeth are getting clean because this really works around, and in between, the teeth as well as just under the gumline. My teeth felt a LOT more cleaner than when I used either my manual or my battery powered tooth brush. I like that it looks nice in my bathroom as well, the charging port is a nice touch and it holds the extra heads. I have no problem with this at all.
Date published: 2021-06-11
Rated 5 out of 5
by
Mommyham13
from
Im loving my toothbrush again
Okay, so I have some dental issues but refuse to use a manual toothbrush. Some on the market are too strong and cause tooth pain, but this one is AMAZING. It cleans between the teeth perfectly, you almost don't need to floss. It's so much better than a vibrating head or a big wheel in the middle, each bristle bunch rotates. It's great for stimulating the gums too. No more bleeding after brushing!
Date published: 2021-06-24
Rated 5 out of 5
by
Meranda
from
Feels clean just like the dentist!
I'm always skeptical of power tooth brushes but this one was much better than expected! The brush is just medium enough to feel like I got a good clean and not to hurt my teeth or gums. My only complaint would be the price for the replacement brushes. I have only had it a few weeks and the brush already looks like it'll need replaced soon. It does come with two brush heads so that should help.
Date published: 2021-06-24
Rated 5 out of 5
by
Rorie737
from
Works well
My dentist recommended I use an electric toothbrush for more effective brushing so I got Conair's OSCILL8. I love the tiny countertop footprint it takes and how quickly it charges. It's super easy to use and really feels like my teeth are getting properly cleaned, an improvement from my manual toothbrush. It's not too loud, not rattly sounding, feels solid and well made. Highly recommend.
Date published: 2021-06-13
Rated 4 out of 5
by
Thunt
from
Works great
I try the conair oscill 8 rechargeable power toothbrush. In so far it works great. Clean my teeth well and help remove hard to reach plaque. Also very gentle on my gums. What I like the most about this is that it comes with two brush heads. I am also happy that it has a rechargeable battery. This brand works better than most of the other high prices brands.
Date published: 2021-05-30
Rated 4 out of 5
by
CeMyles
from
Does the job
This toothbrush is just okay. It has a sleek design and doesn't come with the bulky equipment. I usually charge it at night. The bristles are like a medium soft. The sound of the vibration is something to get use to. It leaves a lingering feeling after brushing. The handle is easy to grip and the weight of the brush is light. Overall, it still cleans my teeth.
Date published: 2021-06-24
Rated 4 out of 5
by
Chicago
from
Solid Electric Toothbrush
I've had a couple of electric toothbrushes in the past and in general I'm a big fan. I love the fact that this model is rechargeable and is set at a favorable price point. The two minute timer is great for making sure I spend the right amount of time brushing my teeth. My teeth and gums definitely feel cleaner than they do when I use a regular toothbrush.
Date published: 2021-06-24
Rated 3 out of 5
by
CJ12
from
Good Toothbrush
I never had a toothbrush that was electric before. I can tell a HUGE difference in how clean my teeth get! I'm used to pushing down harder on my teeth when I brush them and I can't with this one and the battery doesn't last as long as I thought it would. If you need an electric tooth brush and can't afford the more expensive ones, this is a great option!
Date published: 2021-06-14
Rated 5 out of 5
by
Kaley79
from
Great rechargeable power toothbrush!
All of the bristles rotate, which to me provides a more efficient and all over clean. My whole mouth feels cleaner after using this, more so than with any other manual or power toothbrush I have ever used. I feel like it reaches more places and cleans more effectively than anything else. I highly recommend this product!
Date published: 2021-06-08
Rated 5 out of 5
by
Gibbs40
from
Oscill8 rechargeable power toothbrush
My experience with the oscill8 rechargeable power toothbrush has been great I really like how well it recharges and I really like how well it gets your teeth cleaned I was very impressed with everything about this very amazing product I have highly recommend this very amazing product to all of my friends and family
Date published: 2021-06-01
Rated 1 out of 5
by
Minnie
from
Interplak by Conair's OSCILL8
I received this product for free to give an honest review. This is the worst power toothbrush I've ever used. Even a cheap battery operated brush works better. First, the charge only lasts for 1 1/2 uses. Second, the power is weaker than a manual. I definitely would not purchase or recommend to anyone.
Date published: 2021-06-18
bvseo_sdk, dw_cartridge, 18.2.0, p_sdk_3.2.0
CLOUD, getReviews, 7ms
reviews, product