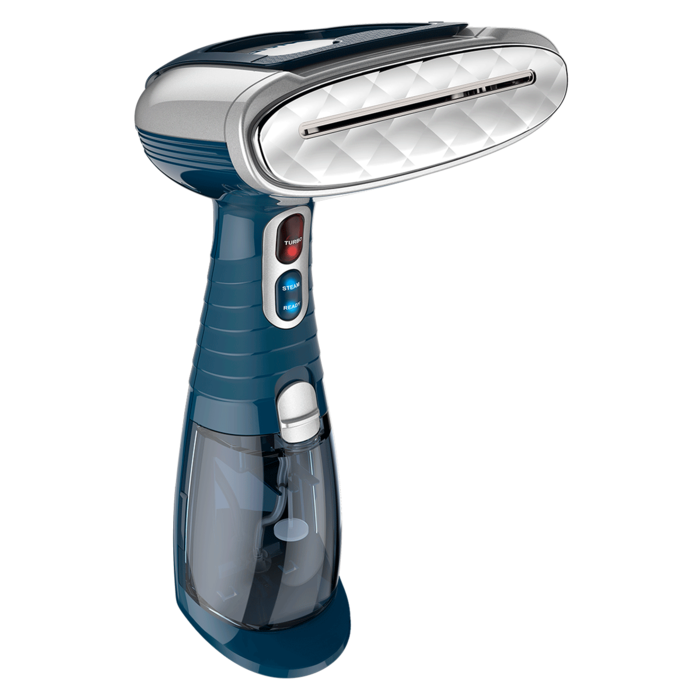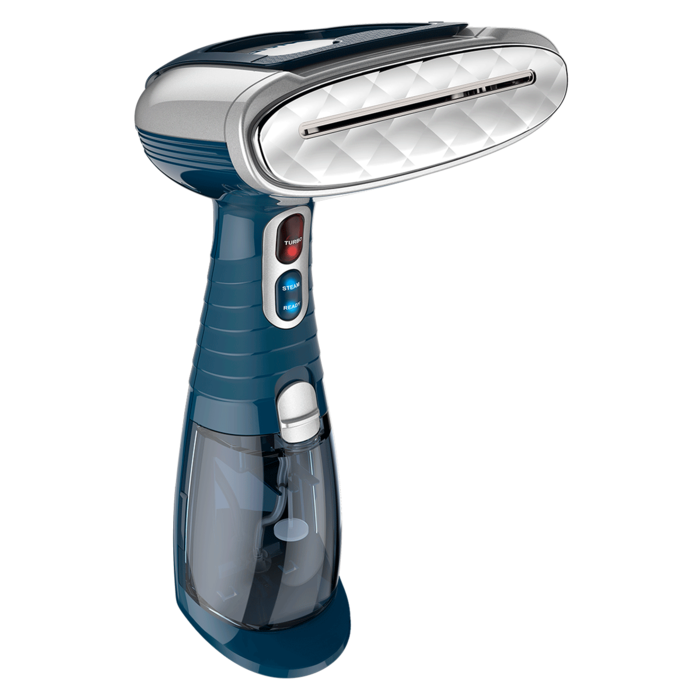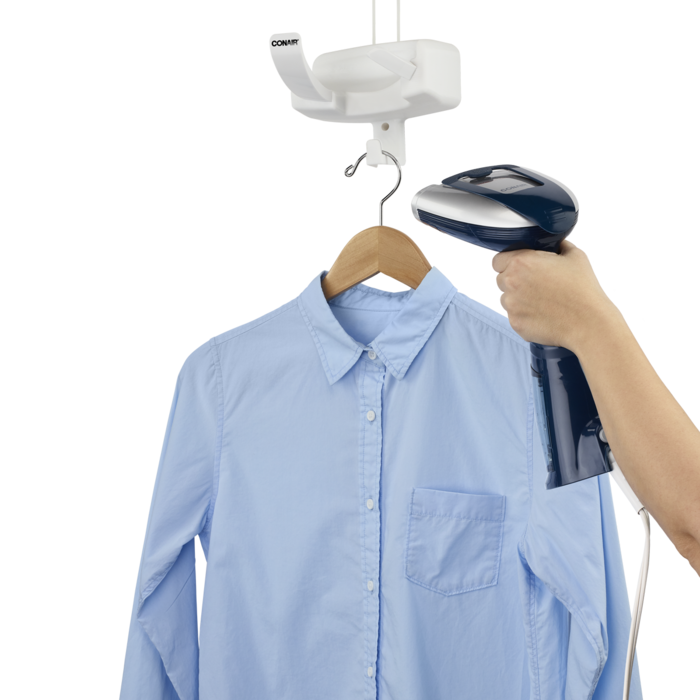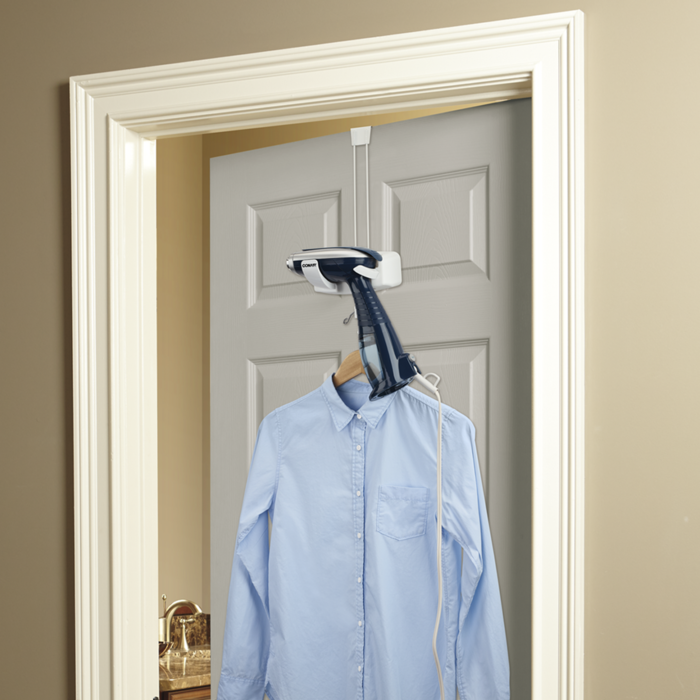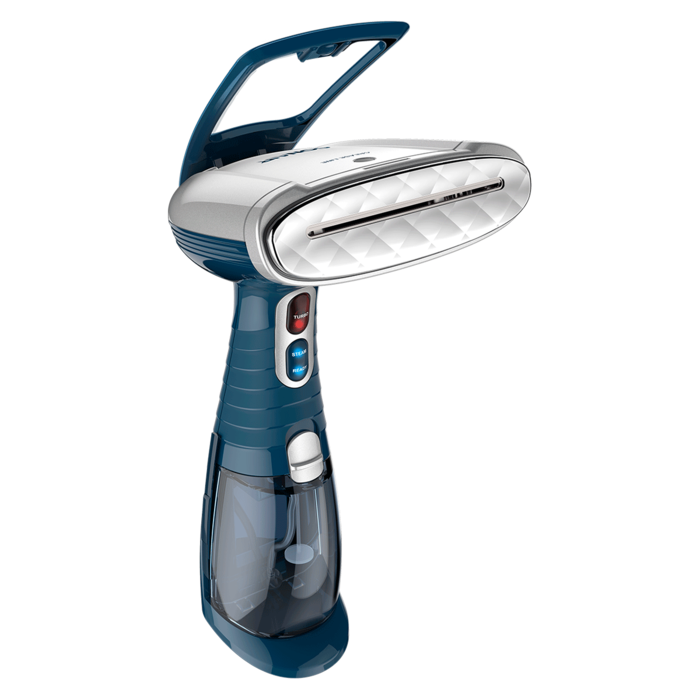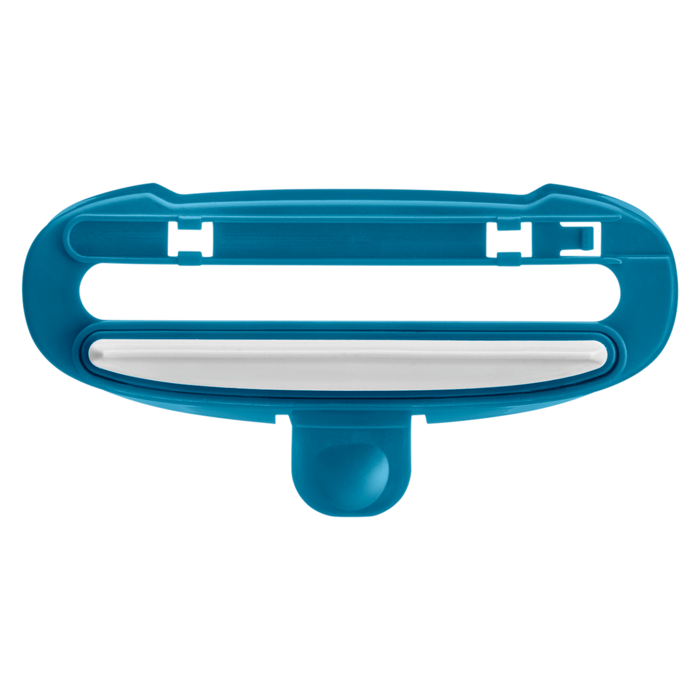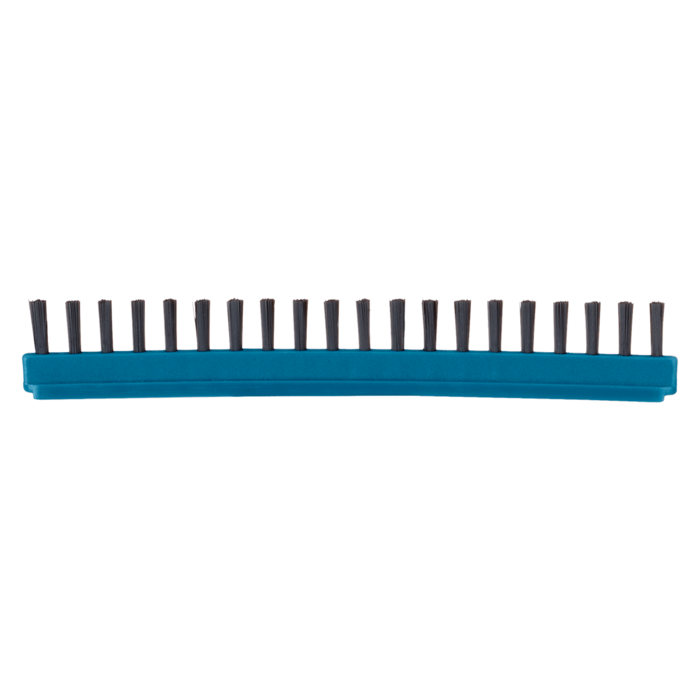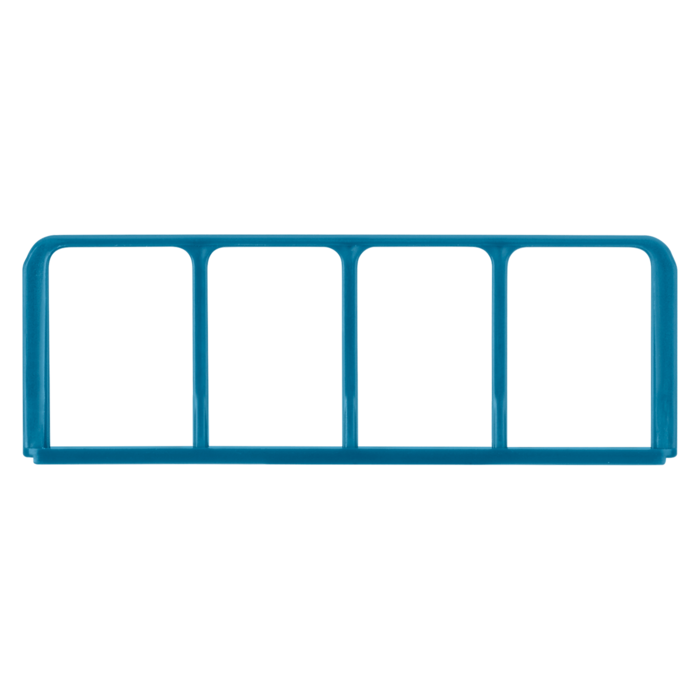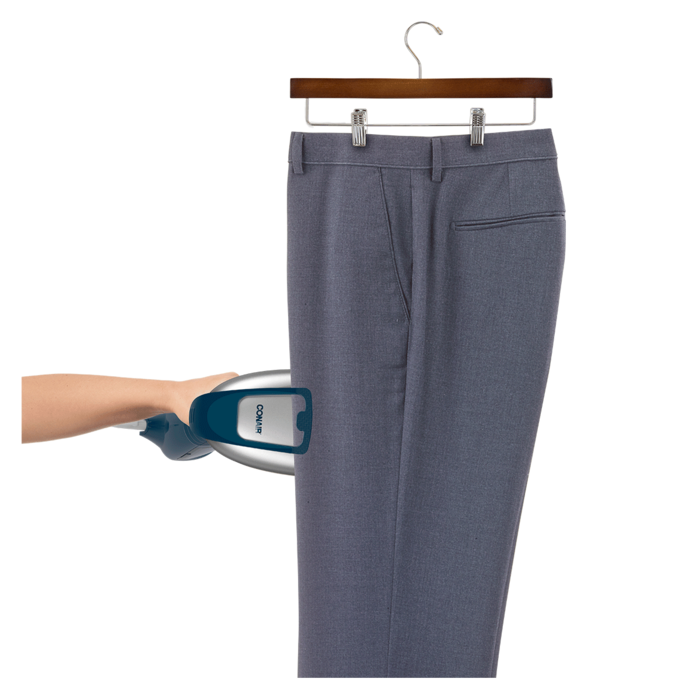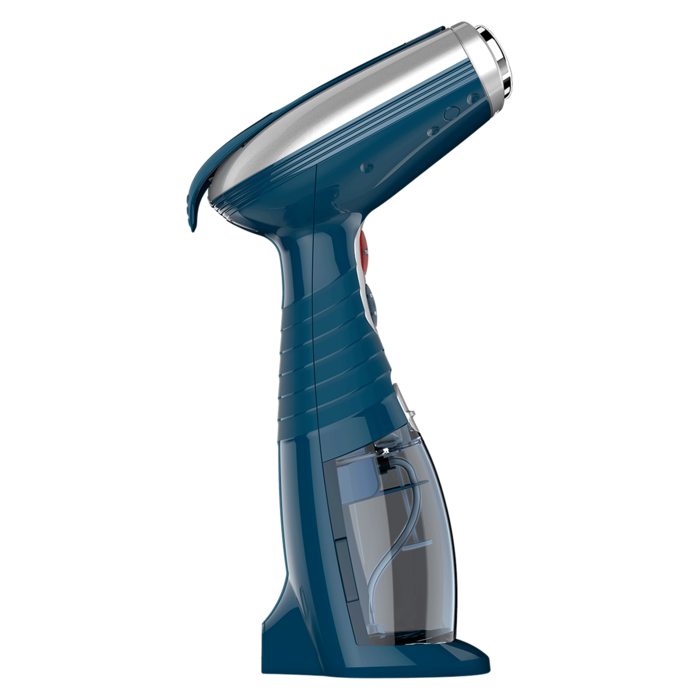 Turbocharged steam de-wrinkles, freshens, and presses.
Description
Get pressed, dressed and out the door in no time. Featuring a professionally engineered Turbo setting, this steamer combines the performance of an iron with the power of steam to instantly smooth out even tough wrinkles. Hot, powerful steam freshens clothing and upholstery, kills bedbugs, and more! Just fill it up and plug it in for a hotter, faster, more effective steaming experience. Saves time and money with hotter, stronger steam.*
Features
Advanced Steam Technology reaches temperatures up to 50% hotter*
Delivers 50% more steam for 67% faster results*
40-second heat-up
7.3-ounce water tank for up to 15 minutes of continuous steam
Quilted aluminum steamer plate performs like an iron for a fresh-pressed look
Built-in creaser for perfect pleats and folds
Stands up on its own – easy to use and easy to store!
3-in-1 attachment:
Silicone band to pull the fabric taut for better results
Delicate fabric spacer to protect trims and safely steam fine fabrics
Bristle brush to ensure steam penetrates fibers for a perfect press, even on heavy fabrics
*Compared to Conair GS15RN garment steamer.
Specs and Support
Model Number
GS38R
Shop By Tools
Fabric Steamer, Clothing Irons
Warranty
Limited 1-year warranty
Dimensions
11.8 x 11.8 x 5.8 in.
Unit Weight
3.2 in.
Depth
5.75
Height
13.625
Weight
3.5
Width
8.5
Color
Blue
Parts and Accessories
Rated 5 out of 5
by
debbat
from
I May Never Use My Iron Again!
I have always wanted a steamer. I see department stores use them, and thought it was something I needed! I love it! It does a great job. It has a nice long cord, but it is a bit heavy. The water tank needs to be refilled often.
Date published: 2021-04-02
Rated 5 out of 5
by
LovinChicago
from
Perfect! Took out all of the wrinkles!
I bought this because I received a new shower curtain that was folded and packed into a very small plastic zip pouch. It was soooo wrinkled, especially to retail for $150. I bought this steamer to knock out those wrinkles. On the first time, it pressed out ALL of the wrinkles effortlessly. The steamer is lightweight, compact enough, and very easy to use. Very glad I bought it!
Date published: 2021-01-13
Rated 5 out of 5
by
yotillman
from
Awesome Steamer
I'm a residential staging expert and I recently purchased this steamer and love it. I used it on the bedding for a staged property and it looks great. This will always be in my tool bag
Date published: 2020-06-21
Rated 1 out of 5
by
Audrey
from
I am returning
I bought this to use on new curtains, they were just sheer. Did not take wrinkles out, spent whole day ironing curtains. Very disappointed .
Date published: 2018-06-21
Rated 1 out of 5
by
Conair Turbo JUNK
from
The worst product ever sold
I bought this steamer at Bed Bath and Beyond and the steamer never worked there was never any steam coming from the steamer, it just got hot and that's it. Never buy the Conair Turbo Steamer, buyer beware!
Date published: 2018-12-20
Rated 4 out of 5
by
DeeHuggs
from
Does the job!
This steamer produces enough steam to remove wrinkles from thick clothing, like denim. It is ready to use very quickly. I appreciate the aluminum steamer plate because this feature replaces an iron. It can steam two entire outfits before having to refill with water. I haven't tried to sanitize any bedding or refresh any upholstery yet. I haven't used any of the included attachments, yet. Basically, does the job.
Date published: 2019-04-02
Rated 5 out of 5
by
Mark P
from
Amazing steamer
I'm completely satisfied with this purchase. For a small steamer it's very powerful. With multi purpose adapters it can steam everything from heavier to delicate fabrics. The water reservoir is small, but it last a good amount of time and is really easy to fill and reattach. It also heats up quickly. I wish I had purchased this a long time ago. I highly recommend getting one.
Date published: 2020-08-01
Rated 5 out of 5
by
RyRy
from
My fave steamer so far
It's working good so far. No complaints yet. The turbo feature is a nice one. I'm able to use it maybe longer than 10 minutes before I refill it with distilled water. I also use this on my fabric chair, hats after I sweat in it and sometimes on sneakers. Make sure you use only distilled water to ensure the optimum level of your machine. Distilled water is very affordable.
Date published: 2018-05-03
Rated 4 out of 5
by
Mainer
from
easy to use, does ok but not an iron
I dont use this steamer that often but it works great removing wrinkles on t shirts and lighter material items that I forget in the dryer. For isolated wrinkles in a dress shirt or pants its fine but its not an iron. Steaming leaves your cloths very damp so either steam long before you have to wear it or steam and hang it up in front of a fan to speed the drying process.
Date published: 2018-06-24
Rated 5 out of 5
by
Nuttykin
from
Wonderful steamer
I'm happy that I bought this steamer. I am a longarm quilter and use steam while a quilt is in my large quilting frame. The cord is nice and long so that I can steam creases out on extra wide fabric that is loaded horizontally. Then as I load the top of the quilt I can ease in any inconsistencies the pieces has sewn in. It steams no matter which way I tilt it.
Date published: 2022-10-27
Rated 5 out of 5
by
Richard62
from
Truly useful
I purchased this item about a month ago and I love it. When ironing, you have to worry about scorch marks if the temperature setting is too high. If the temperature setting is too low, you have to worry about water stains from water dripping from the iron. You won't get pressed clothes using the steamer, but what you will get is a garment devoid of wrinkles.
Date published: 2021-03-26
Rated 5 out of 5
by
citysteamer
from
Great Steamer
Purchased the Turbo ExtremeSteam Handheld Steamer to replace the Conair handheld steamer I had for several years. This new steamer has all the good features of the old one, but it stands up by itself! Heats up quickly and produces lots of steam. A full tank of water gives me enough steam to last 15-20 minutes; enough for a weeks worth of clothes!
Date published: 2019-02-17
Rated 5 out of 5
by
Mom June
from
Great Helper
I have never used a steam machine before but after reading the instructions I prepared the steamer and started to use it on clothes that needed to be ironed but I used the steamer. It took me a while to learn the tips of using the steamer. I really am pleased with the steamer. All the clothes I did came out so fresh and wrinkle free.
Date published: 2021-01-11
Rated 5 out of 5
by
Libra1974
from
Great Product
When I need an article of clothing that needs to be pressed, I no longer need to waste the time to pull out the iron & ironing board to iron a blouse and/or a pair of pants I need to wear for the day. It takes about 45 seconds for the steamer to warm up & use. I am in love with this products & I will never give it up,
Date published: 2019-04-01
Rated 5 out of 5
by
CCartwright
from
Easy to use!
I got this for Christmas & I love it! It was easy to pour the distilled water in, easy to start & heats fast & easy to use. I love it! Now I don't have to get my old iron board out & iron things. Just push the steam button on and few seconds & it's ready. Super quick & easy! Not heavy either. I def recommend!
Date published: 2023-02-19
Rated 5 out of 5
by
Melrich
from
Best gift we received!
We received this for a wedding gift and have used it daily. It is so easy to use and so much better than an iron. The steamer came with many different useful attachments and even has a crease feature. I love using it for my nursing scrubs every day before work! 10/10 recommendation this product!
Date published: 2020-06-27
Rated 5 out of 5
by
Satisfied SteamerGirl
from
That Turbo Button Tho ;)
I have another hand steamer and this one blows that one out of the water. Or should I say steam? The jobs that I normally used it for, their time was cut in half or even shorter because of how much steam comes out of this. And it uses LESS water than my other one. Heats up very quickly as well.
Date published: 2020-09-05
Rated 5 out of 5
by
Blackmoose
from
Where's the wrinkle
I've used other products that are similar but not convenient or easy to load and use. This Conair-turbo is so powerful you go over once and then once more and da daaa, wala no more wrinkles. You will also love the quick and easy clean up when finished. Hope you get every wrinkle straight.
Date published: 2018-05-13
Rated 5 out of 5
by
kenny
from
portability
I have only had a couple of chances to use and ,so far-so good . It replaces a floor model that did not work out too well. I do not expect a great deal of usage--- old 86 year old geezer an basically will use it for slacks ,golf shirts and slacks of the wash and iron variety
Date published: 2019-03-22
Rated 5 out of 5
by
Justin
from
Better than i expected!!!
Once the Turbo is on the steamer is amazing. It's a really great product that's rather unassuming. It's great on my button down shirts for work. And once we pet sit and I steamed and freshend up the coach cushions to get rid of the dog hair smell. I highly recommend.
Date published: 2018-10-04
Rated 5 out of 5
by
DAYS-SAV
from
This steamer is the best!
First off. Read the directions. USE DISTILLED WATER. Makes sense. Regular tap water will cause hardening and make your steamer not work. This steamer is fantastic and I love it comes with its own cord tie. Buy it. Great price and works likes a professional steamer!
Date published: 2022-06-20
Rated 5 out of 5
by
Tony/44
from
Good small unit!
First time using a steam unit, so do not have the option to compare with other like products. This steamer seems to create a very adequate amount of heat and moisture and worked very well removing wrinkles from our new drapes. Would recommend for this application.
Date published: 2020-08-20
Rated 5 out of 5
by
Chief1
from
Great Portable Steamer
We purchased the Conair Steamer based on its excellent online reviews and it did not disappoint! It took the wrinkles out of our new hung curtains and sheers with little effort. A little heavy when full but not at all cumbersome! We would recommend this purchase.
Date published: 2021-02-01
Rated 5 out of 5
by
DrJones
from
Good things come small (sometimes)
I was at my brother's house and I needed to iron over my suit. There on the table next to the iron was this steamer. I tried it and when I got back home I went right out and got one for my house. We had a LARGE steamer that's for our yard sale Thank You Conair
Date published: 2018-11-30
Rated 4 out of 5
by
Hauni
from
Good value
I bought this to steam my new shears and curtains in my living room. It took a little practice but I finally figured out the best way to use it and it worked beautifully. I'm sure I will use it on some clothes that get wrinkled from hanging in a tight closet.
Date published: 2019-08-06
Rated 5 out of 5
by
BEBE
from
Wonderful steamer
Great for the money. I recently purchased a CONAIR TURBO to steam my daughters wedding dress and clothing for the rest of the bridal party. Fabulous and easy to use. Worked quick and heats very quick. Steamed everything from tulle to heavy cotton .
Date published: 2018-10-24
Rated 5 out of 5
by
jubohat
from
Exceded expectations!
I bought this to use on a dress I was to wear to a wedding. Crinkle cloth, I think they call it. The dress was extremely wrinkled. This steamer worked so very well - and made the dress look elegant! A very good investment.
Date published: 2019-08-28
Rated 5 out of 5
by
Mike69
from
Works great
This is exactly what I'd hope I get when I purchased this a month ago. I have used it several times and it does everything I would expect from a fabric steamer. Very pleased with my Conair Turbo Handheld Fabric Steamer.
Date published: 2020-09-12
Rated 5 out of 5
by
Sharbacker
from
Love it
I have now used this a few times and I am pleased with the amount of power with the turbo. I have had steamers in the past that didn't take out my wrinkles. it's not like an iron. It great for touch ups with all fabrics
Date published: 2021-01-10
Rated 5 out of 5
by
acardell62
from
Great features
I received this as a gift and have been surprised as to how quickly it heats up. I have not had to iron much at all since I received this. The steam has 2 settings, love the turbo setting! Stubborn wrinkles melt away.
Date published: 2022-02-13
bvseo_sdk, dw_cartridge, 18.2.0, p_sdk_3.2.0
CLOUD, getReviews, 6ms
reviews, product