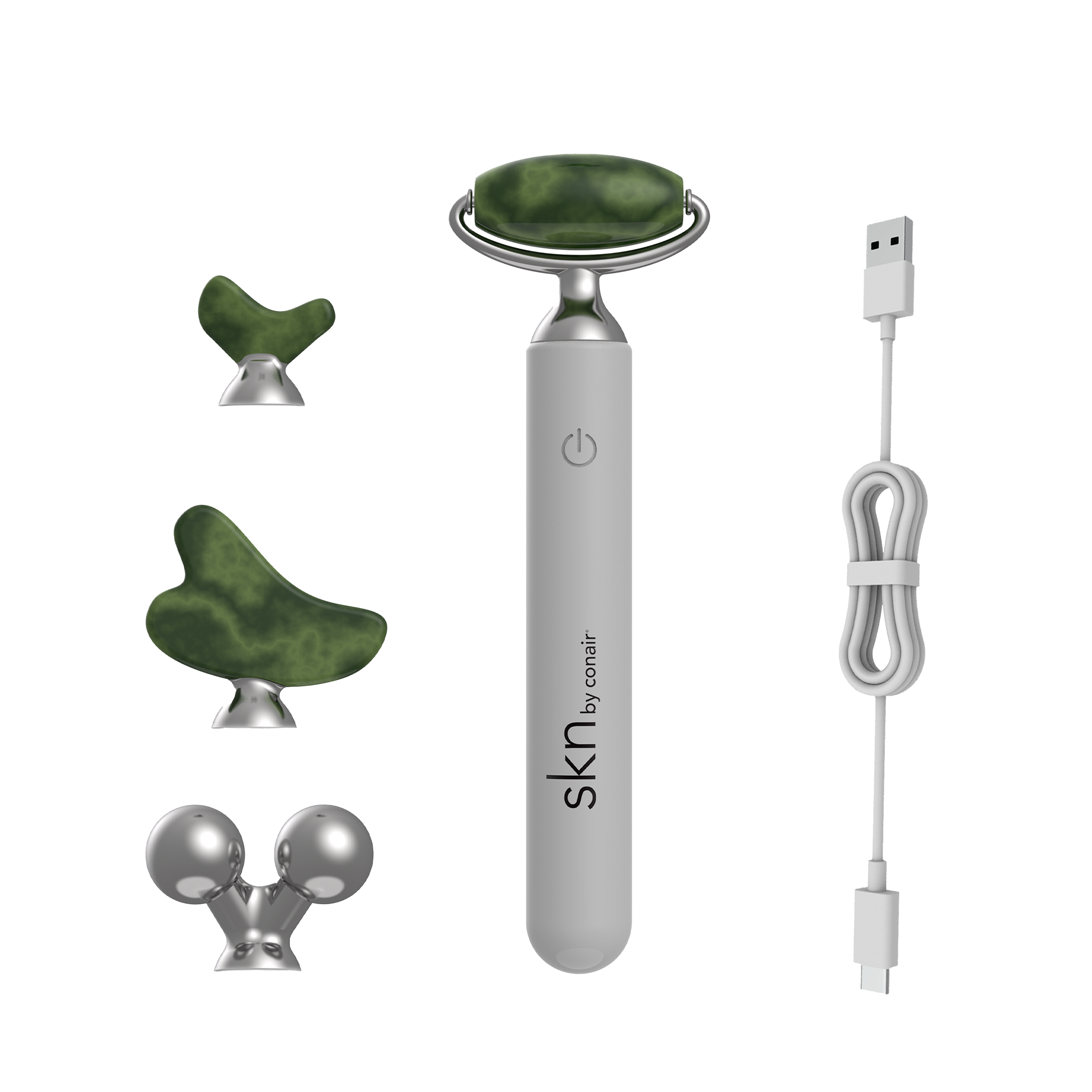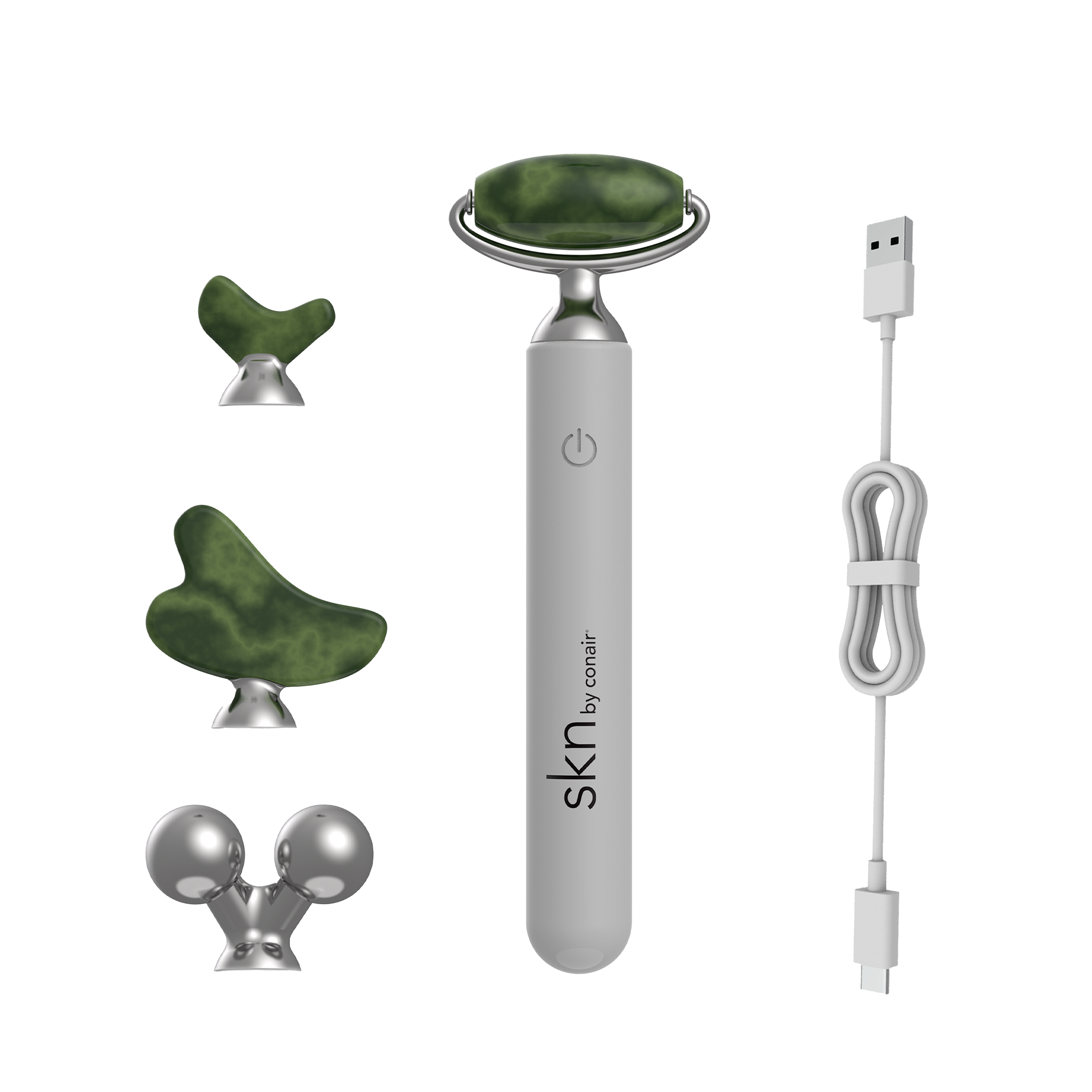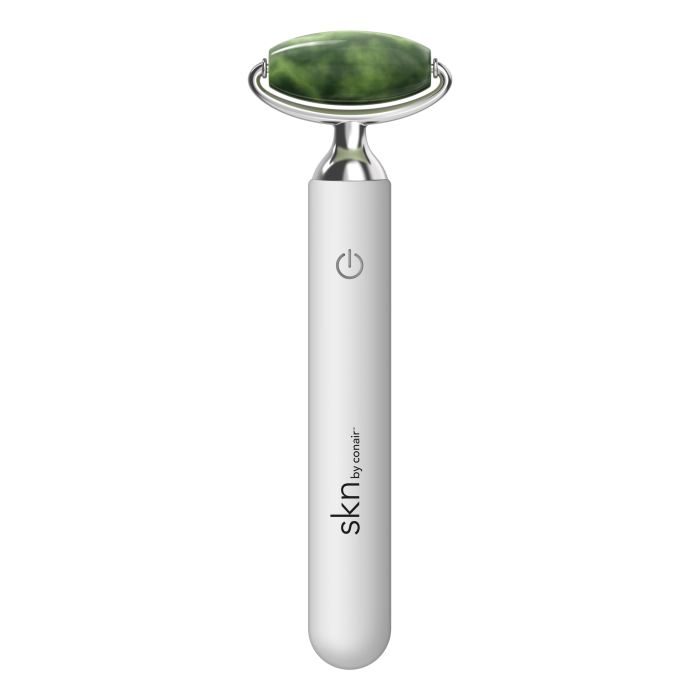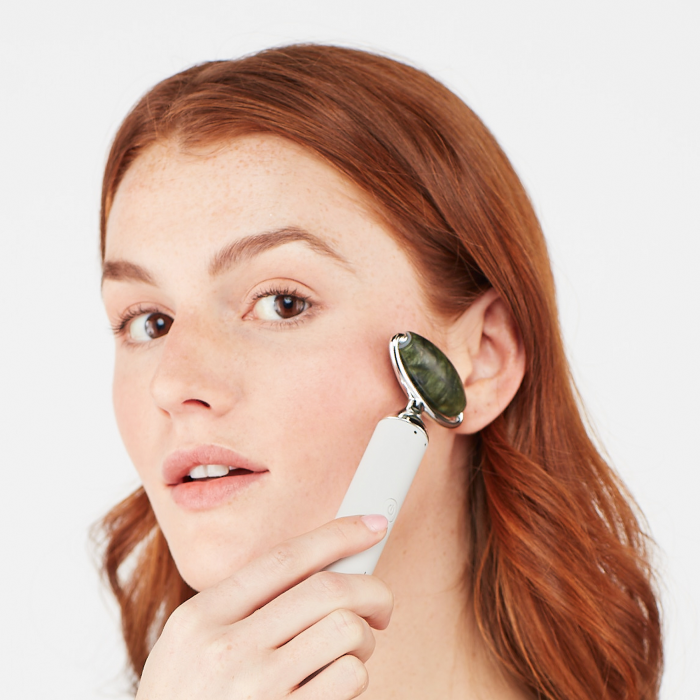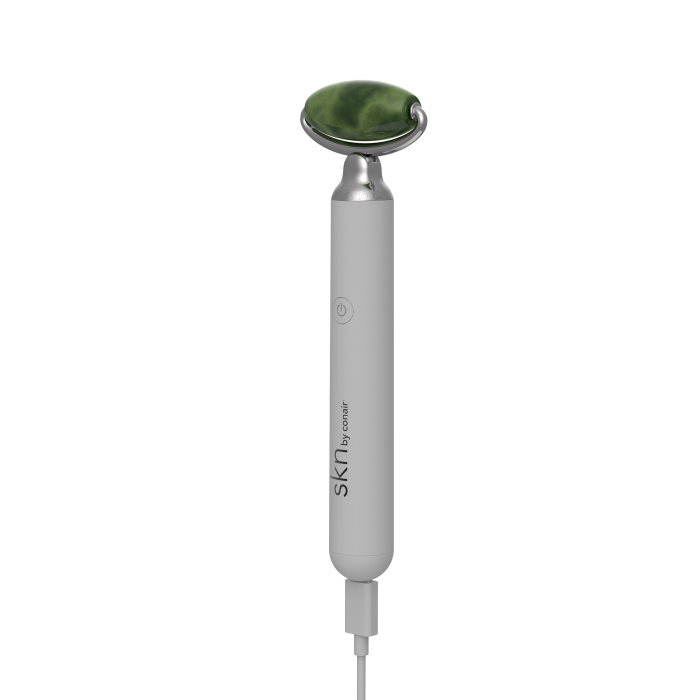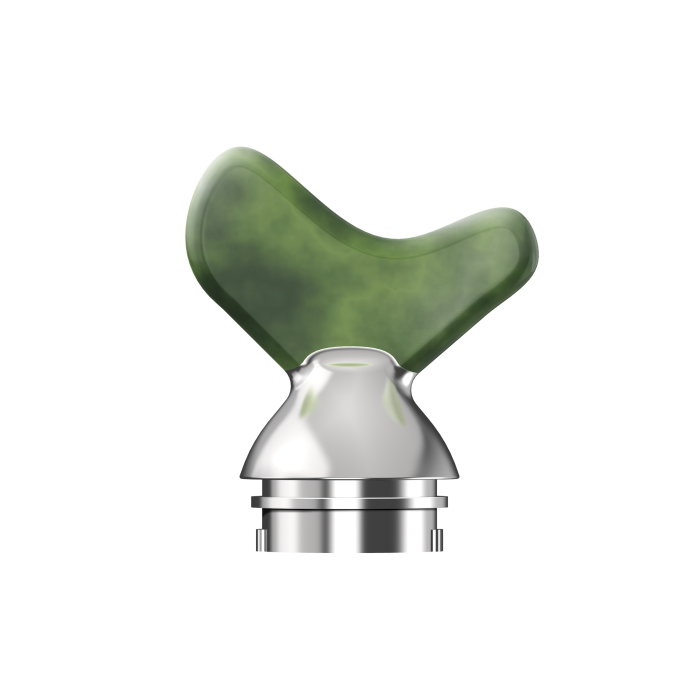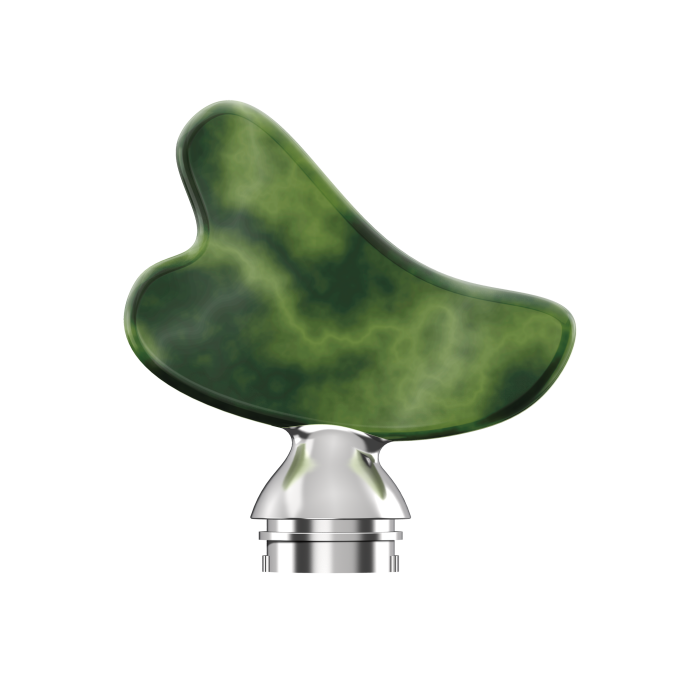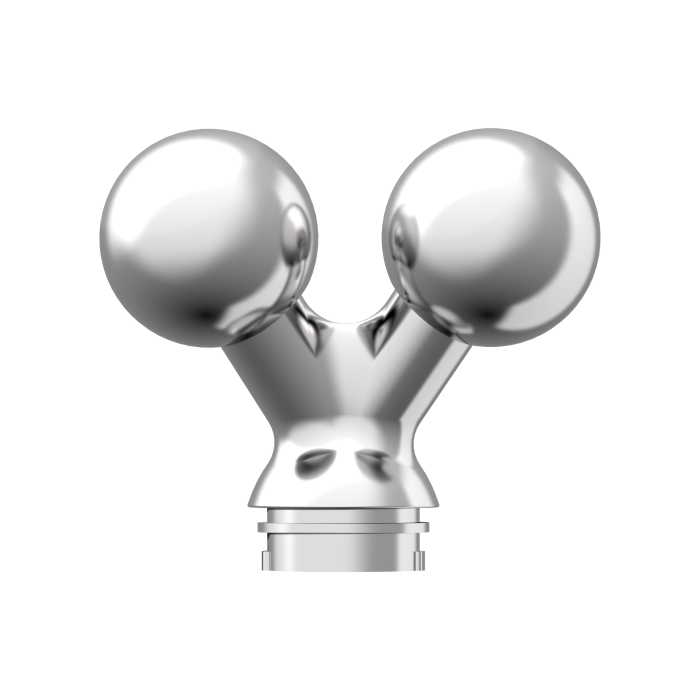 Soothe and smooth skin with the 4-piece vibrating jade gua sha kit.
Description
Pamper your skin with a stimulating, spa-style massage using The skn by conair™ Jade Vibe Roller Kit. Four interchangeable tools — a small jade gua sha stone, large jade gua sha stone, cooling jade facial roller, and silver ball roller — mount on a vibrating handle and provide a gentle massage to delicate facial skin. Follow the contours of the jawline and cheekbones with each customized attachment to naturally relieve tension, promote circulation, lift, smooth, and reduce puffiness and fine lines. Portable, USB rechargeable, and easy to use for personal pampering anytime!
Features
Rejuvenate & Illuminate: Four interchangeable vibrating heads help firm and brighten your complexion. Small Jade Gua Sha: Relieves tension and massages jawline and cheekbones on the smaller contours of the face. Large Jade Gua Sha: Lifts and smooths skin on the larger contours of the face while increasing circulation. Silver Ball Roller: Rolls over acupressure points and contours to promote firmness, stimulate blood flow, and help reduce fine lines. Cooling Jade Facial Roller: Roll in an upward motion to reduce puffiness. Gentle Vibration: Versatile beauty roller with sonic power that massages and sculpts. Perfect for All Skin Types: Gentle enough to use as part of an everyday skincare routine. Rechargeable, Cordless, Portable: USB charging cord provided. Easy to store and use at home or on the go.
Specs and Support
Model Number
FR02
Warranty
Limited 1-year warranty
Dimensions
0.85 x 0.85 x 0.87 in.
Unit Weight
0.09 in.
Depth
5.1
Height
0.85
Weight
00.09
Width
0.87
Color
Green/Grey
Rated 2 out of 5
by
AllysonB
from
Not my Favorite
I wish it came with better instructions on how to use each individual head. I took a gua sha class once but it was so long ago that it would have been nice to have more detailed instructions that came in the box on how to use those 2 heads. Especially when they can go in different directions on your face. I'm not a fan of the vibrating aspect, not sure why that was included in the kit. I don't think that part is necessary. I was excited to have this kit to try it and use the different heads but I was disappointed because I didn't really know what I was doing. I'm sure I'll get the hang of it once I find someone else's videos to watch.
Date published: 2023-01-26
Rated 4 out of 5
by
Lil513mama
from
This product is so relaxing
I love the 4 different interchangeable heads, for different parts of your face. The small jade helps relieving tension. The large jade helps reduce puffiness and dark circle under the eyes (which I have really bad.) The silver ball roller helps with depuffing your skin. And the cooling jade helps calm puffiness when using in an upward motion. It also comes with a charger cord. My favorite is the large jade because I have puffy dark circles under my eyes. I have notice the puffiness is starting to subside. They all work well with face oil and moisturizers. It's a very refreshing feeling, especially after a long day at work.
Date published: 2023-02-24
Rated 5 out of 5
by
Ratney
from
Great multi-use face tool
This is the first face tool that I have seen where you can change out the heads. The tools work perfectly for gua sha and I like the vibration because traditional with gua sha you wiggle the tool at the hairline to optimize lymphatic drainage. With this vibration tool, you don't have to do that wiggle, since the tool is doing it for you. I feel like this works better and is giving me better results than the manual, non-vibrating tools that I have. I also love that multiple tools fit on the base so I have saved a lot of room in my drawer by getting rid of all the individual tools. Very handy, effective and I would definitely recommend
Date published: 2023-03-08
Rated 3 out of 5
by
Jenny6
from
Just Ok
I think the product itself was nice and felt like good quality, I didn't care for the packaging. I wish there had been better instructions on how they recommended using each tool. There was a QR code that you scan to get more info but it just took you to the product link and a short video, where there wasn't any instructions on how they recommend using it. I've used some of these tools before or something similar so I kind of new what to do but a instruction video would be amazing. The tool's themselves did feel nice on the face, except the the roller ball one. That would have been nice if it was metal and felt cooling, instead it just felt like plastic.
Date published: 2023-03-13
Rated 5 out of 5
by
Tester
from
Feels amazing
I used all the heads that came with it. I did five stroke on each part of my face with each head and my neck. The heads are nice and smooth and with it being electric the vibration felt like a nice massage. There's different speeds for the settings. I used the lowest speed and it still felt very nice. Changing the heads can be difficult if your not paying attention as there is a small black triangle you have to match up with the other triangle than turn it. Kinda push on it as you turn it or it might pop out of place. Don't get to close to your ears if they are sensitive. Be careful when you put back in the package you got it from so you don't break the head.
Date published: 2023-02-25
Rated 5 out of 5
by
Joli
from
Great product -easy to use -attachments are wonder
I love this product. Everything is packaged really nicely. Charging this product was very easy. The product and charger are not bulky and can charge right on my night stand. The attachments are amazing. They are easy to take on and off and I have not had any issues with them falling off unexpectedly. I love Gua Sha attachment but all the attachment feel wonderful on my skin. There are three different vibration frequencies on this roller. I honestly did not think that the vibration would make much of a different from my regular jade roller but it definitely did. My skin feel better and looks healthier after using.
Date published: 2023-03-03
Rated 5 out of 5
by
Cece2310
from
Really nice!
I used the skn by conair Jade Vibe roller kit. I really enjoy using this roller. I like that it comes with four different attachment heads that attach to the vibrating wand. They are easy to put on and off and it comes with a USB charging cord to charge the device. Each head feels really nice on the skin and are really good quality it comes with a small Jade Gua Sha, a large Jade Washaw, a silver ball roller, and a cooling jade facial roller. I like that you can use this on or off and you can make it cool by putting the heads in a cool place the vibrations feel really nice and there are different levels of vibration.
Date published: 2023-03-15
Rated 4 out of 5
by
Mampu88
from
Loving it!
I have been using the SKN jade roller by Connair for last 15 days and I must admit I have seen visible changes in the texture of my skin.My skin has become more glowing,soft and smooth after regular use of the roller set.It has 4/5 attachments that you can choose from according to your preferences.It is an electronic jade roller set that gives you extra vibration for better blood circulation.You will definitely feel a change in the texture after using it.It's handy and convenient.I use it regularly on top of my face serum or face oil for smooth glides and strokes.I am loving it and would highly recommend this.
Date published: 2023-02-13
bvseo_sdk, dw_cartridge, 18.2.0, p_sdk_3.2.0
CLOUD, getReviews, 8ms
reviews, product