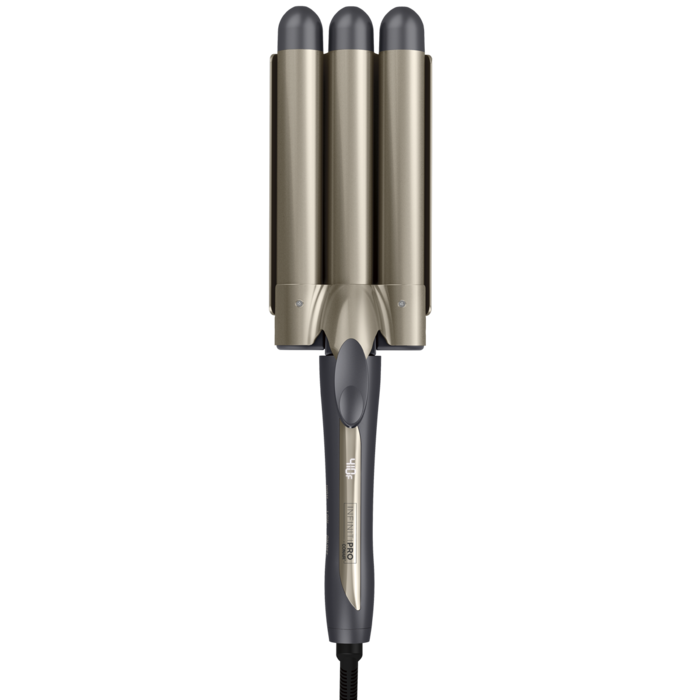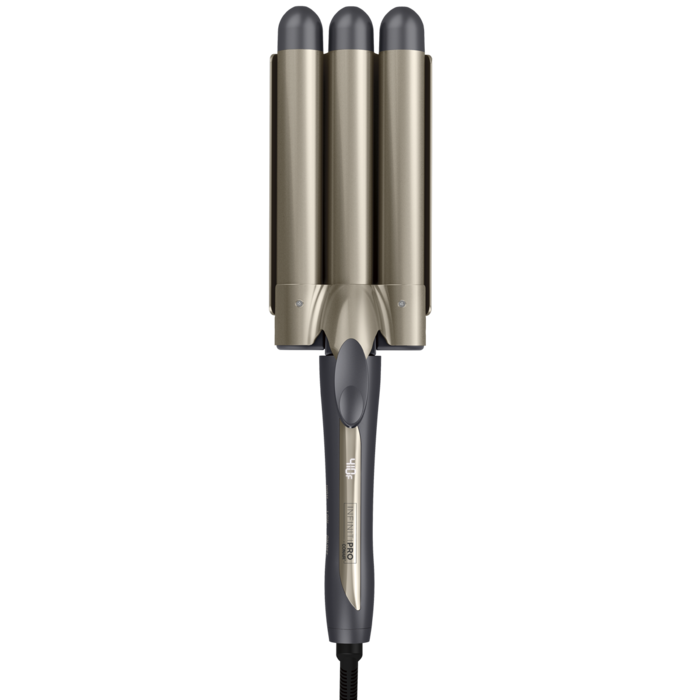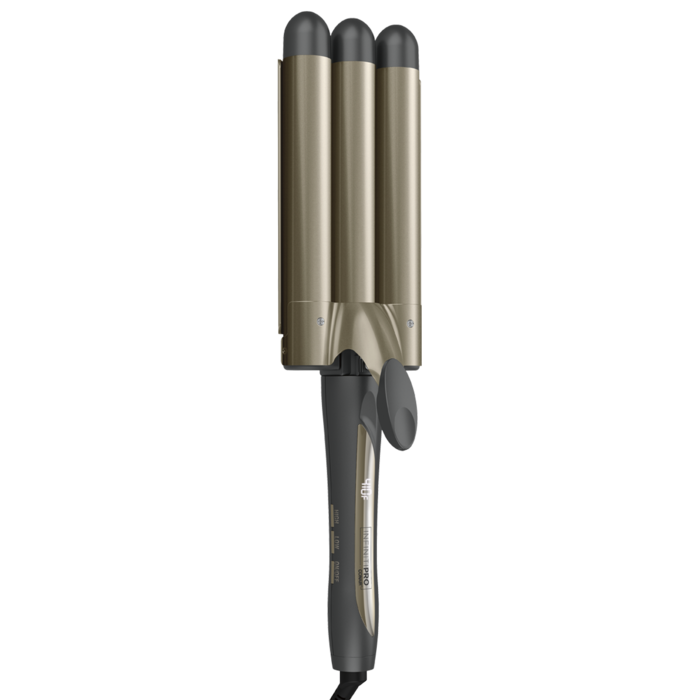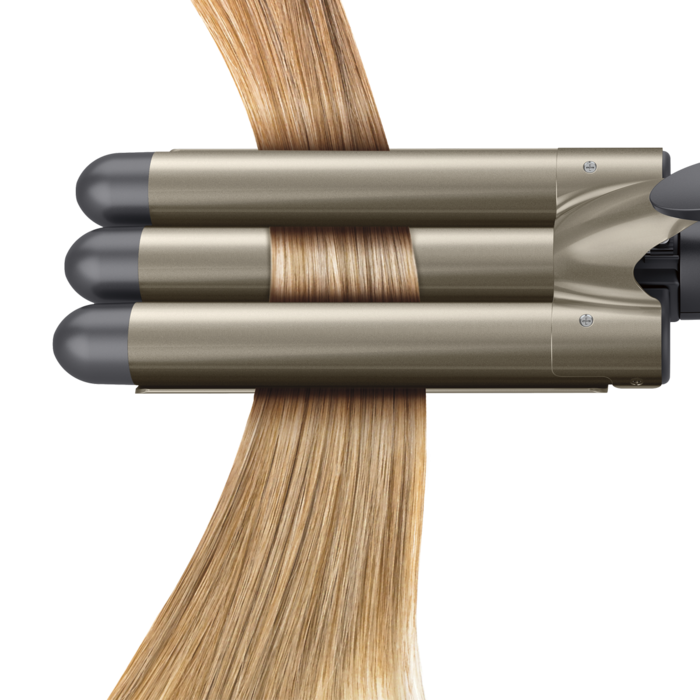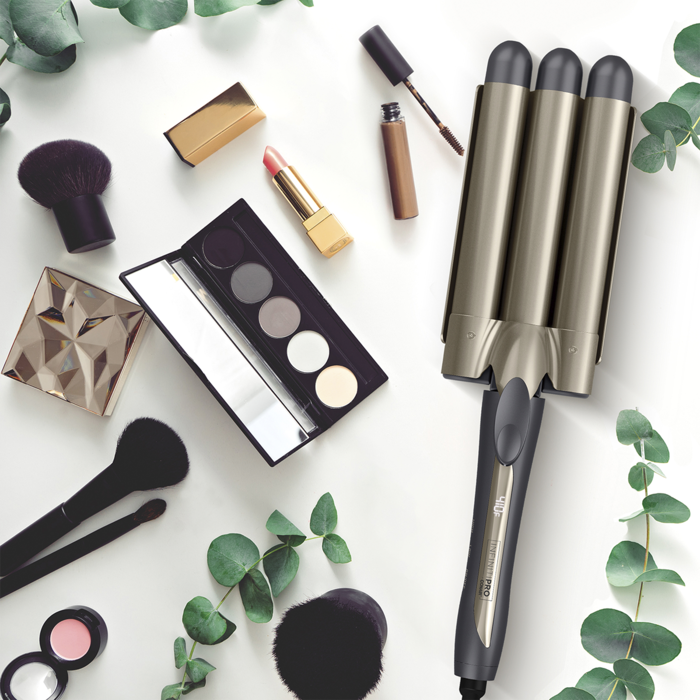 Create gorgeous continuous waves to switch up your everyday style.
Description
Designed with not one but three 1" barrels to create gorgeous continuous waves quickly and easily, the new InfinitiPRO by Conair® Triple Barrel Waver puts the power of salon performance in the palm of your hand. Style your hair, your way with 5 heat settings and a maximum temperature of 410°F, while tourmaline ceramic reduces frizz and boosts shine for a luxurious, healthy-looking finish. There's a setting for every hair type—just choose the right one for you. Engineered to provide three times the waving power of a single barrel waver, this styling essential heats up quickly and maintains an even heat level for consistent results. The auto shutoff safety feature lets you style worry-free. Our Pro Tip: For gentle, soft waves, use larger pieces of hair when you style.
Features
Continuous deep waves made easy: Effortlessly create beachy waves and that natural-looking mermaid hair with three large 1" barrels.
Tourmaline ceramic technology: Reduces frizz, boosts shine, and protects against heat damage for beautiful, healthy-looking hair.
410°F high heat: Perfect for hard-to-style spots or hair with coarse texture.
Fast, consistent heat: Quick heat-up, with even heat levels maintained for consistent results.
Quick styling: Large 1-inch barrels provide ample coverage to create waves fast.
Automatic safety shutoff: Less stress and worry, more carefree styling.
Dual voltage: Ideal for overseas travel, this styler automatically converts to run on foreign voltage systems. No converter required—just an adapter to plug into foreign outlets.
Specs and Support
Model Number
S9
Warranty
Limited 2-year warranty
Rated 5 out of 5
by
sam12
from
A must have !
I was skeptical of this at first. I have very thick very heavy curl coarse hair that goes to my elbows. It holds curls/straightening/etc well, but it's a mess. When I first saw this I thought why do this if I could braid my hair overnight and take it out in the morning? Or I had flash backs to crimping my hair in the early 2000s. Boy was I wrong!! First of all this took me maybe 20 minutes to do my whole head which is a huge step from the hour it usually takes me to style my hair. I was impressed with that alone! But it looked SO GOOD. i got SO many compliments at work and it wasn't too frizzy either! It left defined waves that tamed my hair. I definitely will be using this regularly!
Date published: 2021-05-19
Rated 5 out of 5
by
BzzEm
from
This thing heats up fast!
The InfinitiPro by conair triple barrel waver does beautiful things for my hair. This triple barrel waver claims to heat up in 60 seconds but personally I find that it can heat up to one of the lower settings in as little as 30 seconds. I do have hair that tends to lean towards being in between wavy and curly so I initially wasn't sure if this product would work for me. The waver is very very easy to use to get model like effects. Each section of hair might only take 10-30 seconds (largely depending on hair type and how large of a section) to clamp at the top and work my way down a few times. Spray with hairspray or your favorite styling products after making the waves and it lasts all day.
Date published: 2021-05-30
Rated 2 out of 5
by
Danielle4
from
Meh
So I used this the other day on my daughter's hair and I wasn't too impressed with it. Of course with it being a conair, I was a bit upset. I have another waver, that has ceramic plating on it that works 5x's better than this one does. You put it on the highest setting, which is about 315°, and once it's up to temp, it still takes forever to see any type of wave in the hair, the wave itself is barely visible. Like I said, I used it on my daughter, who is 6, and it barely took to her hair. I would of honestly had better luck braiding her hair when it was wet and taking it down the next morning. All in all, I was very unimpressed with this product, and I'm not sure I would recommend it to anyone.
Date published: 2021-05-13
Rated 5 out of 5
by
Jellybeanbia
from
A must for girls that want waves
This tool is perfect for girls that want beach waves. I love how efficient it is and easy to use. The instructions are simple and easy to understand. The tool even though it seems heavy it is comfortable to hold and easy to maneuver. I really like how it heats up but it doesn't burn and in return burn my hair. I love the looks it gives on my hair. I have already recommended it to a friend and everything. My hair is super straight so it doesn't hold on to curls and waves for too long, but somehow with this is can give me the wavy look for up to 3 days. I love it!
Date published: 2021-05-13
Rated 5 out of 5
by
Jaws
from
Awesome Barrel Waver
I am so happy with this product! I have really thick hair and usually with straighteners/curling irons have to use hairspray or some other product get get my hair to stay; however, with this waver, I didn't have to use anything! My waves lasted all day! Conair does a great job with marketing and describing this product. The waver takes about a minute to heat up like stated and goes to the temperatures described. I also have long hair and the length and thickness of each "prong" was perfect! Highly recommend especially for the price the product sells for.
Date published: 2021-05-17
Rated 3 out of 5
by
Flawsome
from
Not impressed
I was super excited to be chosen to try out this product at no cost to me, I value honest opinions/reviews and give them often. Upon opening the Conair package I soon realized there were no instructions on how to use the product so I went to YouTube and watched a video of someone that has used the triple barrel waver previously (-1 star). So now it was my turn...I found this styling tool to be very awkward to handle and maneuver thus giving me a look I was not impressed with (-1 star). *warning* styling tool stays hot for a long time after turning off
Date published: 2021-05-20
Rated 3 out of 5
by
Bri6
from
More Crimpy than Wavy. ..
My hair turned out cute, but it wasnt exactly how I wanted it. The shape seemed more of a crimpy style than a deep wave style when I was finished. Some parts seemed crimpy and others seemed more wavy. If you like crimpy and wavy hair, get this product. Overall the quality of it seems good. The temperature switch is on the part you hold, so sometimes you change the temperature, so you have to be careful. The Deep Wave Hot Tools waver gives you deep waves 100 percent of the time. It is alot more money though.
Date published: 2021-05-19
Rated 3 out of 5
by
LAU1
from
Good beachy hair option
I do like the end result of my hair. Does create fun beachy waves and I have thick, mostly straight, long hair. One thing to be aware of is it is a rather heavy hair tool and a little awkward to navigate when doing your hair. Additionally, the stand on the handle to allow you to rest it on the counter doesn't support the weight of the tool, so I have to lay it directly on my counter in between pieces of hair I'm doing. If the barrels were a little shorter and the stand worked, it would be a fabulous tool.
Date published: 2021-05-14
Rated 5 out of 5
by
Ariana
from
My favorite hot tool!
This has literally been my favorite hot tool at the moment. It heats up super fast the temperature is adjustable. Easy to use if you want that effortless waivy look or beach waive look in minutes. The barrels are a perfect size for any hair length.
Date published: 2021-06-04
Rated 3 out of 5
by
Susantime
from
A bit hard to wave the hair closer to my head.
Maybe I just need more practice but I think it's quite scary to put close to my head and wave the hairs close to my scalp. It's also so big and chunky that I feel like when I curl my hair, it's at an angle cause it's so heavy and hard to hold completely straight. I wish there was a heat glove that came with it, maybe that will help? It does heat up very fast but not sure what the buttons do because the temperature keeps changing and there's really no directions? All in all, it does wave my hair.
Date published: 2021-05-13
Rated 4 out of 5
by
Ladycupcake90
from
Move over helen of troy
First off ohh that color im in love. This heats up rather quickly and is perfect for long hair. Just a few seconds down each strip and you have waves for days. It was much heavier than similar products I've used but worked great
Date published: 2021-05-19
Rated 5 out of 5
by
Ladyforl1berty
from
Life changing!
I have hair down to my lower back and this only took about 30 minutes to do all of my hair! The waves are PERFECT! I received so many complements on my hair! Love this waver so much!!!!
Date published: 2021-05-15
Rated 5 out of 5
by
Layley
from
Great iron!!
It gives such cute waves! So cute when yo brush them out too. Really glad I have this iron now!
Date published: 2021-05-15
Rated 3 out of 5
by
Ash22
from
Conair tripple barrel let down
I wanted to love this triple barrel curler but I am unimpressed. It has a few perks but the beach waves I got didn't even stay long enough to get a decent picture. The heat setting is digital and goes up to 410 degrees. It's super easy to use and maneuver. If the beach waves would have stayed I would love it. (I used it at its highest setting too.) If your hair tends to not hold curls very well I wouldn't recommend this because the waves are too subtle.
Date published: 2021-06-05
Rated 4 out of 5
by
Charity629
from
Heats up fast and evenly
I love that it heats up very quickly and what seems to be evenly. I've had a product in the past that was similar and did not evenly heat, leaving my crimps uneven. The buttons were a little confusing with no direction card to read, but I think I did it right. My hair came out soft and wavy and I got tons of compliments! Product was a little on the big side and a bit heavy, which didn't make for the easiest handling, but the end results were good!
Date published: 2021-05-20
Rated 5 out of 5
by
RSB17
from
Mermaid Dreams
I am so impressed with this product! I typically only reach for high-end hot tools but this performs just as well. This tool gave my hair the most incredible beach waves. I am going to be reaching for this product all summer! I love how quickly it heats up. You can watch the temperate increase on the screen which is kind of fun. I have thick, coarse hair and I was able to do my whole head in about 15 minutes. I highly recommend this product.
Date published: 2021-05-13
Rated 3 out of 5
by
Lauren11
from
Not for me..
I can see where this would be an awesome product for other people maybe with thicker hair.. but for my very straight fine hair it just was a giant crimper and made it very frizzy and wasn't very flattering. It did heat up VERY quickly. The ends were touch safe so you could control both ends if needed. Overall good product just maybe not for my hair type or may need to try some other methods of use after more practice with it.
Date published: 2021-05-20
Rated 2 out of 5
by
Aer1
from
Didn't love this
I have hair that holds a curl really, really well.. for days. I tried the InfinitiPro by Conair Triple Barrel Waver 4 times and my hair always looked a mess and fell out. I tried it at different heats which helped the hold of the style but all in all, I would not recommend this. It made my hair wide and poofy, it's hard to perfect, and I always ended up looking messy and having to pull my hair back in a bun after using it.
Date published: 2021-05-29
Rated 5 out of 5
by
jhearts
from
Gives the best waves!
This waver was so easy to use to style my hair. It gave me the perfect mermaid hair look! My hair is a little bit longer than shoulder length and it took around 5 minutes to finish waving my hair! Once turned on, it has a little screen that says the temperature. I used the low heat setting and I believe it got to 245 degrees F. The waves stayed in my hair all day (8hours) without any product. I really enjoyed using it!
Date published: 2021-05-18
Rated 5 out of 5
by
Sarah14
from
Very impressed
I have a much cheaper version of the triple barrel waver and I have to say that the quality of this is incredible. I was able to do my hair in 30 minutes with this and it looked flawless! It's a bit weightier than my other one, but It just feels a whole lot higher quality over all! I absolutely love the temp adjustments settings and was very impressed with the speed at which it reached temp! In love with the quality!
Date published: 2021-05-21
Rated 4 out of 5
by
Daffy
from
PERFECT Beach hair
I have medium length hair (a few inches below the collar bone), and this waver was the perfect size for me to "crimp" twice down the length of my hair. For me at least there was a bit of a learning curve since it's such a large appliance, but the results were super cute, wavy hair! End results definitely don't look like natural waves if that's what you're looking for, but I think the crimped style is in right now!
Date published: 2021-05-15
Rated 5 out of 5
by
Nizzy
from
Great product!
This three barrel waver is so much better than the ones I've owned before. It heats up quickly and it is so easy to use. I love the way it leaves my hair with the beach waves. I didn't have to use hairspray to keep the waves, I made sure to just use a heat protectant before use. I would highly recommend this product to my family and friends. I have used it to do my sisters hair and it looks amazing.
Date published: 2021-05-29
Rated 5 out of 5
by
Quana
from
Quick Beautiful waves
I could never get waves in my hair by myself without water or a stylist. Now I can save money. I'm so happy to have dry hair with long pretty waves. The iron does not take long to heat up. Its's easy to press your hair to the end. My husband loves my new look. If you are looking for a new look or save money on wavy hair, then I recommend to buy. I do not have any cons, but pros so far.
Date published: 2021-05-14
Rated 4 out of 5
by
BrutalBetty84
from
Really, not bad!
Nice size barrels for mid-length and longer strands. Heats up quick and gets very hot! Large size of iron area made styling my hair quick and easy although the tool was a bit clunky and cumbersome due to size and offset weight ratio between the handle and iron. The stand could be better, for the tool size I'd like a sturdier stand but overall, really not a bad option for a waver!
Date published: 2021-05-22
Rated 3 out of 5
by
Sabrina4
from
InfinitiPro Waver
I was so excited to try the InfinitiPro Waver I received through Buzzagent! My first thought about the device that it was very heavy and bulky. After my first use I was about half way through my hair when realizing this is definitely an issue): I do like the screen on the handle that tells the temperature, it's all very sleek. But for the product itself I wasn't too impressed!
Date published: 2021-05-28
Rated 5 out of 5
by
Melissa8
from
Beach waves made easy!
I loved trying out this barrel waver by Conair! It was easy to use, and heated up quickly. I have thick hair and this barrel waver totally showed up and waved my hair with ease. The trick is to part your hair in sections (starting at the base) and then work your way up. I kept the tool applied to my hair for about 10 seconds to get a loose wave look. I love this product!
Date published: 2021-05-19
Rated 4 out of 5
by
Angiep
from
Great beach waves
Perfect for beachy waves. I loved the range in heat settings, my hair is dry and the usual high heat setting burns my hair but not with the inifinitipro, perfect beach wave! The only thing I did not like was its not a light tool and on the heavy side, with thick hair arm fatigue is a concern. But the triple barrel speeds up the time it takes to do my whole head too.
Date published: 2021-05-13
Rated 4 out of 5
by
Tini332
from
Worked better in my daughters hair
Soooo. I was so excited to get the Conair Triple Barrel Waver and I do have to say it is a little heavy. It heats up quickly. I have very fine straight hair. I had to use sea salt spray to get the waves to stick. My daughter has very thick curly hair. When we straightened her hair and used the waver it looked so good. So this is definitely getting 4 stars
Date published: 2021-06-03
Rated 4 out of 5
by
croberts0070
from
Nice product
It is a nice product but not something I could see myself using on a daily basis. I have really long, thick hair and it took me a while to do all of my hair. It would be great for special occasions though. I liked the wavy look rather than what you usually get from a regular curling iron. I will definitely recommend this product to family and friends!
Date published: 2021-05-29
Rated 4 out of 5
by
Amandatoryy
from
Does the job
To be fair, my hair does not hold a curl well. It is wave on its own, but I do think the InfinitiPro by Conair Triple Barrel Waver made my hair look better. It looked more uniform and "organized" almost? Like i didn't just sleep with wet hair and wake up. It didn't hold all night but that's probably more my fault than the device.
Date published: 2021-05-28
bvseo_sdk, dw_cartridge, 18.2.0, p_sdk_3.2.0
CLOUD, getReviews, 6ms
reviews, product