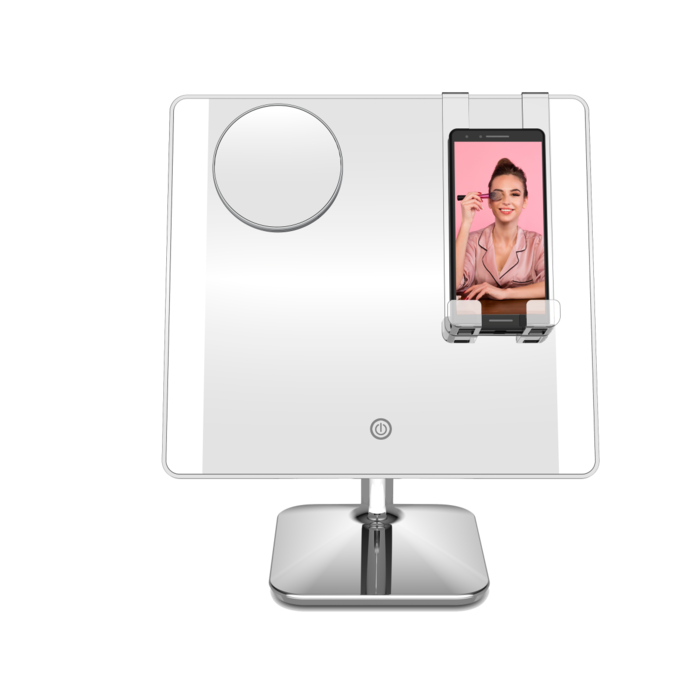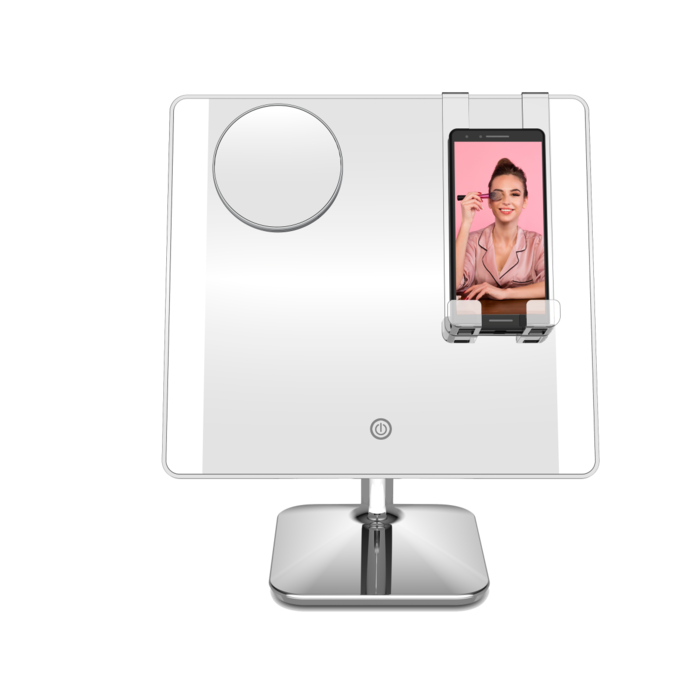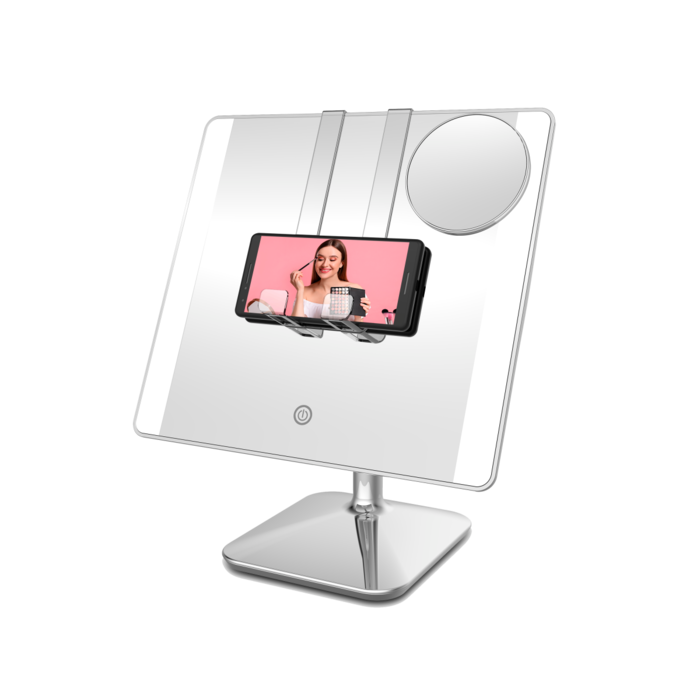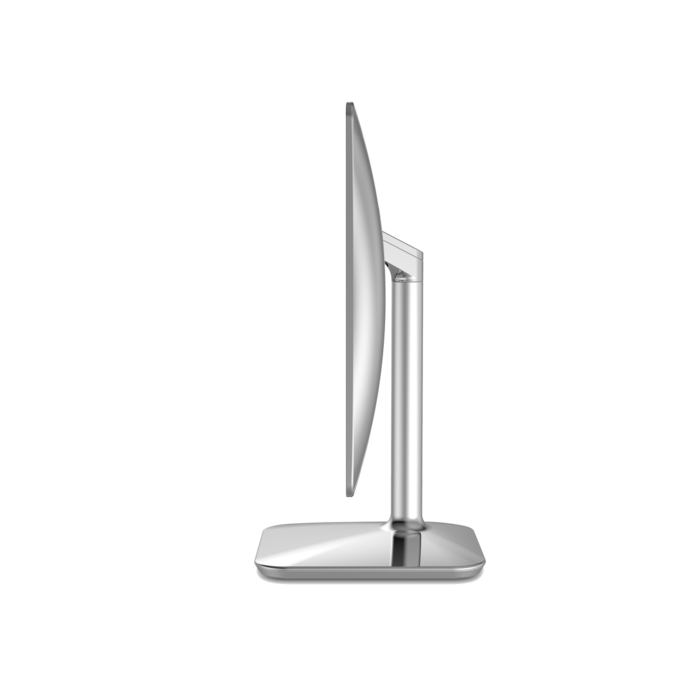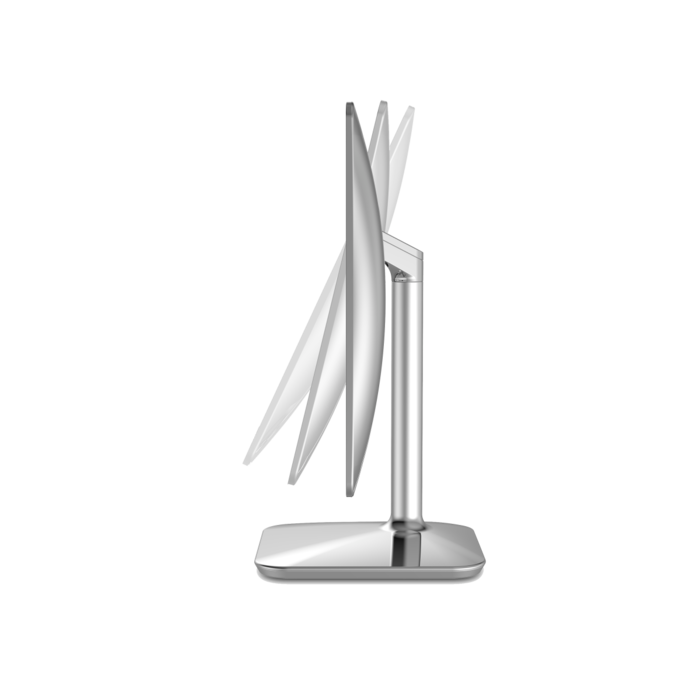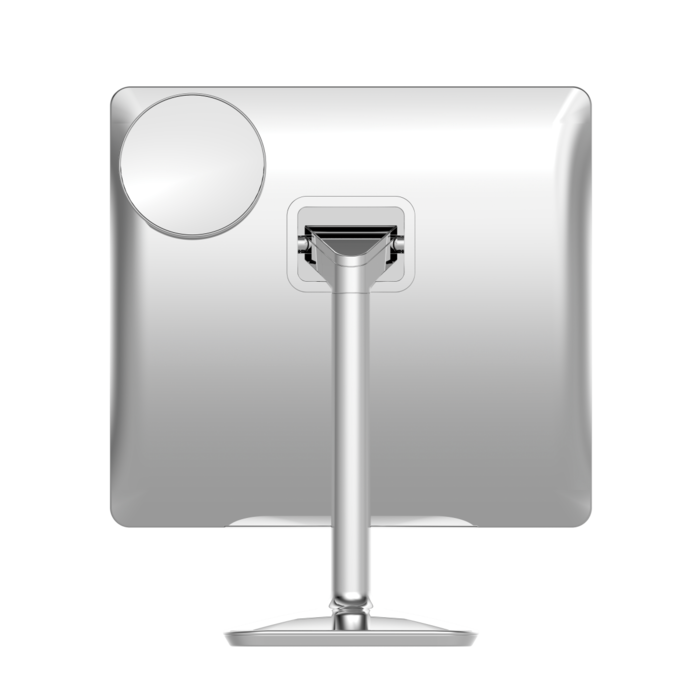 ESPEJO DE AUMENTO CON LUZ PARA LOS MEDIOS SOCIALES
Especialmente diseñado con iluminación LED de pantalla táctil y soporte de teléfono extraíble para toda una vida de belleza.​​​​​​​
Description
Esencial para publicaciones rápidas y fáciles en las redes sociales, el espejo para las redes sociales Halo Mirror de Conair® es el artículo de belleza multipropósito esencial que combina la comodidad, la innovación y la precisión. Esta herramienta, especialmente diseñada con un soporte de teléfono extraíble, es perfecta para seguir indicaciones de tutoriales y crear contenido sin moverte del espejo. La luz LED dura de por vida, por eso las bombillas no se quemarán ni se apagarán. No es necesario cambiar las bombillas... nunca. La luz ambiente ahorra energía y garantiza un maquillaje preciso y un cuidado personal impecable. Los controles en la pantalla táctil te permiten elegir fácilmente entre 4 ajustes de luz: bajo, mediano y alto. Usa el aumento 1x para una vista completa de tu rostro mientras te peinas el cabello o te tomas un selfie. Cambia a 10x de aumento para depilarte de cerca o aplicarte delineador de ojos. Con una inclinación de 180° de la bisagra y una rotación de 30°, el espejo te permite verte desde cualquier ángulo, ¡olvídate girar el cuello para obtener la vista correcta! La bandeja de almacenamiento mantiene los accesorios y el maquillaje al alcance de tu mano. Solo prepárate y publica; es simple y directo con este espejo innovador concebido para tu perfil de redes sociales.
Hasta el último detalle, el espejo para redes sociales Halo Conair® cuenta con un diseño elegante y moderno para una total facilidad y comodidad con visualización sin distorsión. Táctil, con bombillas LED de por vida que proporcionan una iluminación nítida y eliminan la necesidad de bombillas de repuesto, este imprescindible espejo fusiona la sofisticación tecnológica con sus funciones fáciles de usar, desde 4 opciones de ajuste de luz hasta 1x y 10x de aumento. Simplemente enchufa el espejo y toca la pantalla para encenderlo y elegir el ajuste de la luz. Debido a que el soporte de teléfono de acrílico te permite ver y crear contenido de redes sociales justo en el espejo, puedes aplicarte maquillaje, peinarte el cabello y tomar y compartir selfies con facilidad. Los efectos son lo más importante, así que observa por ti misma cómo este espejo marca la diferencia en tu rutina de belleza y te ayuda a sacar el máximo provecho de las redes sociales.
Features
Soporte de teléfono de acrílico extraíble: la herramienta perfecta para seguir o crear contenido.
4 ajustes de luz: elige entre bajo, mediano, alto o selfie.
2 maneras de ver tu reflejo: 1x de aumento para ver tu cara completa al peinarte o tomarte selfies; 10x de aumento para trabajos de cerca, como depilación y aplicar delineador.
Control de la luz personalizado con pantalla táctil: un toque de tu dedo es todo lo que necesitas para encender y apagar el espejo, ajustar el aumento y elegir los ajustes de luz.
Iluminación LED de por vida: nunca necesitarás bombillas de repuesto.
Obtén el ángulo ideal para la selfie perfecta: la inclinación de 180 grados de la bisagra y la rotación de 30 grados facilitan la tarea.
Bandeja de almacenamiento conveniente: mantén tus accesorios y maquillaje organizados y a tu alcance.
Instruction Manual
Reviews
Rated

5

out of

5
by
BJH1
from
Amazing product
I have tried a few friends light up mirrors and this one is the best by far. The quality is great! Also it has 4 light setting and this mirror gets very bright perfect for makeup application and skin care. It's also has a neat high magnifying detachable mirror, and a phone stand attachment to watch YouTube or FaceTime your friends while getting glam. 10/10 already have recommended it to my Snapchat followers!
Date published: 2021-10-21
Rated

5

out of

5
by
goddessglowmo
from
Glow-tastic
I was skeptical that this mirror would really give me the filter like kind of glow that I was looking for but it suprised me tremendously. it has 4 different settings and the size of the mirror is a lot bigger than what I thought it would be. I really like that the smaller mirror is magnetized so it makes it easy to keep up with it and it's wonderful for getting up close so I can properly pluck my eyebrows.
Date published: 2021-12-21
Rated

5

out of

5
by
kitten_87
from
Get it. Trust me!
This was SO awesome to try out for my socials! You can move the magnetized mirror around and the blast of light this thing can put off is out of this world. It's my go-to over my ring lights and I can't stress it enough on how AMAZING it is to have the phone holder that attaches as well! It is on the pricy side and I think that it's a bit ridiculous for its asking price. However, it's gotten it's use!
Date published: 2022-01-16
Rated

5

out of

5
by
Anonymous
from
Amazing product!!
I am testing this out and have to say that it is one of the easiest things I have to use!! I use equipment and ring lights to make videos for social media and this is a game changer. Only honest reviews from me, good or bad, definitely can't go wrong here!! I will be posting additional videos later to show more of the quality. I also posted videos on TikTok and Instagram!! Ladies go run get this!!
Date published: 2022-02-23
Rated

5

out of

5
by
misslilylaurent
from
great quality with versatility
Not going to lie, I love to multitask. This mirror is perfection for tiktoking and watching makeup tutorials while I do my skincare and makeup routine. The magnifying mirror can be moved around because it is magnetic. The light is a clear True Tone with 4 brightness levels. The phone older is simplistic but it gets the job done. I wish the power cord wasn't black, white would have blended in better.
Date published: 2022-02-16
Rated

5

out of

5
by
dnl2231
from
Perfect mirror for makeup lovers and novices
The mirror was so easy to set-up; I just opened the box and took it out then plugged it in. I love that there are 4 different LED lighting settings. The magnetic magnified mirror is a perfect addition, and the little phone holder is perfect for filming or watching a tutorial. Really good mirror! 
 
 • What is your favorite feature of the mirror?


 Find our disclosure policy on your campaign page.
Date published: 2022-02-16
Rated

5

out of

5
by
ashalicole
from
Coolest Mirror Eva!!!
I received this mirror for Free from Influenster, Conair, and Ulta Beauty, for my honest opinion! This mirror is so cool that it has it all. A place to hold your phone for recording videos or amazing selfies! Different lighting options and even a 10x magicifation mirror that, when not in use, can go behind it for easy storage. If you are in the market for an awesome mirror, treat yourself!
Date published: 2022-02-28
Rated

5

out of

5
by
Piggybooboo
from
Glowing goodness!
I was shocked and pleased to see this mirror has several setting for the brightness. It starts out lower and goes up to your desired brightness. I absolutely love the 10x mirror. It is a circular magnetic mirror you can move to your desired position. If you are anything like me, the magnified mirrors make me dizzy (bothers my eyes) so it is nice you can remove it. This magnetic mirror does not make me dizzy though. You can also position the phone holder to where you would like it. I have a thick case on my phone and it still fits which is a plus. The lighting helps you spot imperfections or blemishes you may have in case you wanted to spot treat or cover up. It also spots those stray hairs that need to be plucked. I am a huge fun of this mirror and I highly recommend it to anyone. Even if you do not plan to make videos, it's a great mirror with spectacular lighting. Go out and get yourself one!
Date published: 2021-10-17
Rated

5

out of

5
by
olyviab1
from
really enjoy this mirror!
You can choose whether to put the magnifying circle mirror on the mirror face or there is a special place on back to store it when you won't use it which is so convenient. It holds on magnetically. The design is so sleek and modern and i love that there is the little hook to hold on your phone! The light is pretty good and close to natural toned. It's not too blue not too gold just right!
Date published: 2022-02-07
Rated

5

out of

5
by
jackieb110
from
Absolutely LOVE
This is the best mirror I have ever owned. It is literally a touch screen mirror. It had custom lighting, and even has a selfie mode. There is the 1x mirror , with a 10x magnetic spit magnification. If that's not cool enough it has lifetime LED lighting. I will absolutely be recommending this product to my family and friends. It is a little expensive, but I feel like it's well worth it!
Date published: 2022-02-01
Rated

5

out of

5
by
alexandrara2cf
from
amazing!!
Love that the power button has three levels of brightness making it easier to use depending on the time of day. The small magnifying mirror attaches to the front and has a spot on the back to hold it just wish it had a stronger grip as it tends to fall off easily. Love that there is a holder for your phone in case you want to take a picture or use it while watching make up tutorials
Date published: 2022-02-13
Rated

5

out of

5
by
ksalom
from
Fabulous Mirror!
As a social media influencer - I like to do videos when I am getting ready for the day. This mirror has multiple settings and intensities so you always can find the right lighting you need. I can apply my makeup easily and the mirror is sleek and beautiful in design too! The phone holder is perfect and holds my iPhone 12 Max with ease. Overall, I would highly recommend this mirror!
Date published: 2021-11-04
Rated

5

out of

5
by
jessiejaemua
from
wow!
I love this mirror! I love you can adjust the light brightness and it even has a holder for your phone and a magnet circle mirror. I was worried because it is smaller than my previous mirror but I really like this conair mirror better. The light setting is what I really love in this mirror and I don't know how I was using anything else before lol because change is definitely good.
Date published: 2022-02-21
Rated

5

out of

5
by
michaellag1
from
LOVE
I have a vanity mirror already but it has to be plugged in a USB port and isn't easily transported. This mirror is so easy and convenient to use. I love the different light settings for my different needs. The camera holder is my favorite part! Now I can film makeup tutorials and TikToks without fighting to prop the phone or use my ring light holder. Definitely glad I bought it!
Date published: 2022-02-28
Rated

4

out of

5
by
M103
from
Level up influencers!!
This mirror is amazing! I love making tutorials and this mirror makes it so I can really focus on providing detailed footage without compromising quality! A major plus is the adjustable zoom in mirror! It's so easy to adjust. If I could make one suggestion.. figure out how to get the phone mirrored inside! Other than that this is a great product! Very worth it for my vloggers!
Date published: 2021-10-25
Rated

5

out of

5
by
marinar1
from
exactly what I needed!
For a really long time, I wanted to get myself a nice mirror to do my hair and make up. With bad vision, I always feel like I have to reach across the counter to get super close to the bathroom mirror to do my make up. Not this time! I am in love with the new Conair social media lighted make up mirror. It allows me to adjust the light to 4 different light settings, in addition the small 10x mirror is magnetic and I can move it around anywhere on the mirror. It also has an attachment I can move anywhere on the mirror to place my cell phone while watching a make up tutorial as I'm doing my make up; Or even teach a thing or two for my girlfriends. It's very unique and a really great size. It does plug into an outlet, I do wish I could charge it USB and then have it be cordless but overall a really great quality mirror! I highly recommend it! It's a large enough size to see well yet doesn't take too much counter space.
Date published: 2022-02-15
Rated

4

out of

5
by
aurayvoir
from
Impressed but 1 Downside…
I love almosttttt everything about this mirror. The size of perfect— not too big not too small and the fact that the magnetic 10x mirror has a spot to be stored behind the big mirror is a huge help!! **uploaded a photo with a standard size toilet paper roll for reference** A small problem I have with it though that I didn't realize until I bought it, is that there's only one button for the light but 4 light settings —> meaning that if it's late at night and you just need a quick light (to take contacts off/skincare) you have to cycle through to the brightest lights and basically burn your eyes lol to turn the light off. One more smaller problem is that I wish there was a warm/cool setting vs. 4 levels of brightness… mirror selfies just look nicer to me with warm light. 2 cool & 2 warm would be perfect. I wouldn't return it for these two reasons but I would be interested to purchase a new one with those parameters.
Date published: 2022-02-27
Rated

5

out of

5
by
fefimke
from
Bright Lights
I decided to try this mirror out a few times for different reasons. My first try was for doing makeup & second was for fixing my hair. I love the mirror and that it has 4 different settings on it. I did not get into the phone clip as it was a little awkward being off to the side but it works for content I guess. I do recommend getting this if you want a good mirror!
Date published: 2022-02-22
Rated

5

out of

5
by
Stefanie2
from
Conair social media lighted mirror is a hit!
I absolutely love the Coniar social media lighted mirror. It makes me look so flawless and really makes my face shine. There are 4 settings for the lights which makes it nice to be in control of the lighting it goes from a soft light to a more intense lighting for all different occasions. The magnetic magnifying mirror makes it even better. I can easily see any hairs I miss with the tweezers or any flaws I need to try to perfect. IT is the perfect size not too big not too small, it fits perfectly on my bathroom vanity. The cord length is just right, there is plenty enough cord. I refuse to post any videos to my social media pages without using this mirror. I don't even need to use any filters when taking a video using the lighting the mirror gives off. It is a must have! I highly recommend to any female even if they aren't into social media and videos. The mirror would make any female feel beautiful in their own skin.
Date published: 2021-11-02
Rated

2

out of

5
by
kae19
from
Not all that
I love the mirror but not for $100. This mirror doesn't do anything but light up and hang a phone on it. If it played music or it had color changing lights that would be cool but it doesn't. It's just simply a lighted mirror. Not enough functions to make it seem like $100. I didn't have a coupon so my order was $100 but I wanted to try the product so there's that.
Date published: 2022-03-01
Rated

4

out of

5
by
Brit201518
from
Definitely bright
Well I can say that lighting would never be an issue again with the multiple light settings. And it's great that it has an adjustable angle. I like it has a magnifying mirror to but I do wish that it had a stronger magnet on it. And I also wish it had a way to make the phone holder more stationary like a clip instead of just hang there but overall I love it
Date published: 2021-10-14
Rated

5

out of

5
by
Krissy4
from
Perfect at home make up mirror
This mirror is perfect for at home makeup as well as being able to see well for eyebrow plucking. I think it is a great size, not too big but not too small. I like that it also has the smaller magnified mirror. The lighting is perfect. I would highly recommend. And this would be a great mirror for someone just starting out wanting to do video tutorials.
Date published: 2021-10-28
Rated

4

out of

5
by
lilrocker1000
from
CLEAR
This lighted mirror has many brightness levels to choose from. The selfie option is very bright and truly makes your pictures look great! This mirror helps me clearly see what I'm doing when doing my makeup! The only option that is missing and I wish to see is the ability to change the light temperature. Sadly, the only option is a fluorescent light.
Date published: 2022-02-25
Rated

5

out of

5
by
Sophie1
from
Amazing makeup mirror!
This makeup mirror is so useful! I love the lighting settings, and the 10x magnifying mirror is so handy. I really like being able to use my phone with this mirror. Ever since the pandemic started, I haven't been using makeup as much and my makeup skills got a bit rusty. It's been really great to follow alongside tutorials as I'm using this mirror.
Date published: 2021-10-31
Rated

5

out of

5
by
kaydotbella
from
❤️❤️ love it ❣️❣️
So bought this mirror and fell in love during the first use! Love the brightness and how how nice it fits in my vanity area. It truly fit the brightness i was looking for using my Glamcor light for photos. The size of the mirror is perfect for recording and holding my phobia to play music or videos. Highly recommend for muas and content creators.
Date published: 2022-02-10
Rated

5

out of

5
by
avlovesmakeup
from
Awesome Mirror!
I bought this mirror because my last one was 5 years old. I am super happy with it! The biggest thing is the different lighting settings. It goes up very brightly. There is a plastic holder for your phone, which you can easily remove. There is also a magnetized mirror that magnifies a LOT. You can also remove that! All in all, great mirror.
Date published: 2022-02-01
Rated

5

out of

5
by
Lance
from
Invaluble tool.
Although the type of makeup I do is more special effects, this mirror works great for applying all sorts of makeup. My sister wants to steal it! It is very useful for all sorts of lighting conditions with the lighted side panels. The phone holder makes it easy to stream or just record your makeup application process. Very impressed.
Date published: 2021-11-06
Rated

5

out of

5
by
Laura10
from
Awesome Mirror!
Conair thought of everything with this one! The customizable lighting and additional magnification are perfect for making sure your makeup look is just right. The phone holder is super convenient for following along with a makeup tutorial. The size is just right for my vanity and it is not too heavy at all. This mirror does it all!
Date published: 2021-11-02
Rated

5

out of

5
by
nostalgiakills
from
Amazing mirror!
This is a great mirror. The lighting is super intense, so you can really see what you're doing. I love that there's a magnifying mirror as well. My only complaint is that the cable isn't long enough. I wish it was rechargeable so I didn't have to worry about a cable at all too, but this is an amazing addition to my makeup routine!
Date published: 2022-02-17
Rated

5

out of

5
by
jua715
from
cute bright mirror
This mirror has 3 different light settings which are all bright. It's a plug in which is better than another mirror i have with batteries as the lights tend to dim on that as the battery life lessens. Its a great size to pluck your eyebrows, do your makeup/try to learn a new makeup technique. The phone holder is an added plus.
Date published: 2022-02-13
bvseo_sdk, dw_cartridge, 18.2.0, p_sdk_3.2.0
CLOUD, getReviews, 8ms
reviews, product