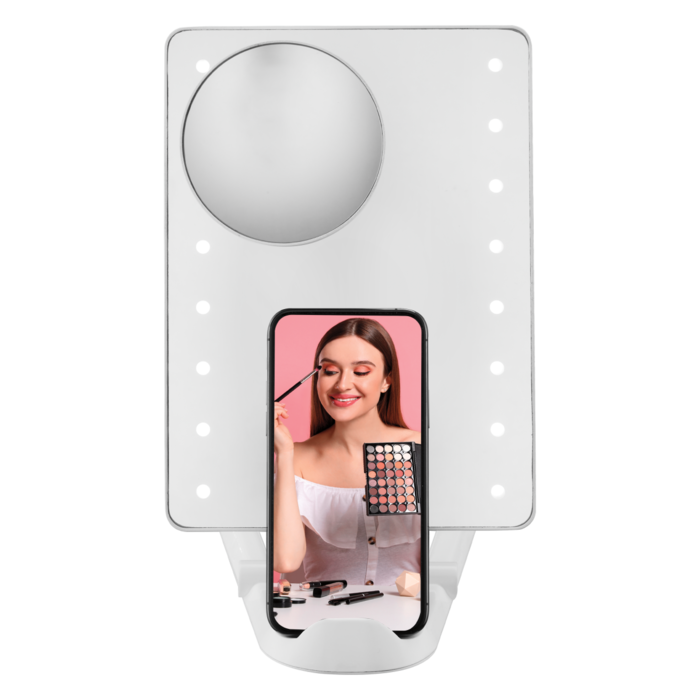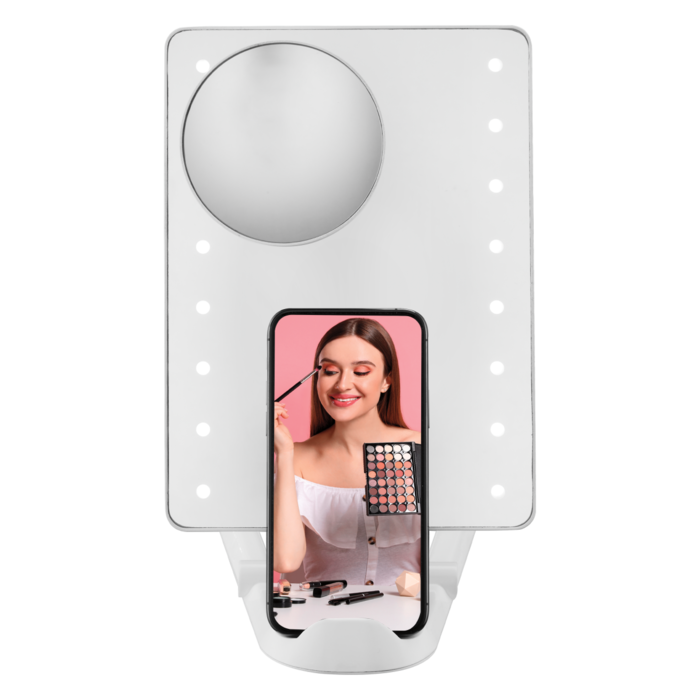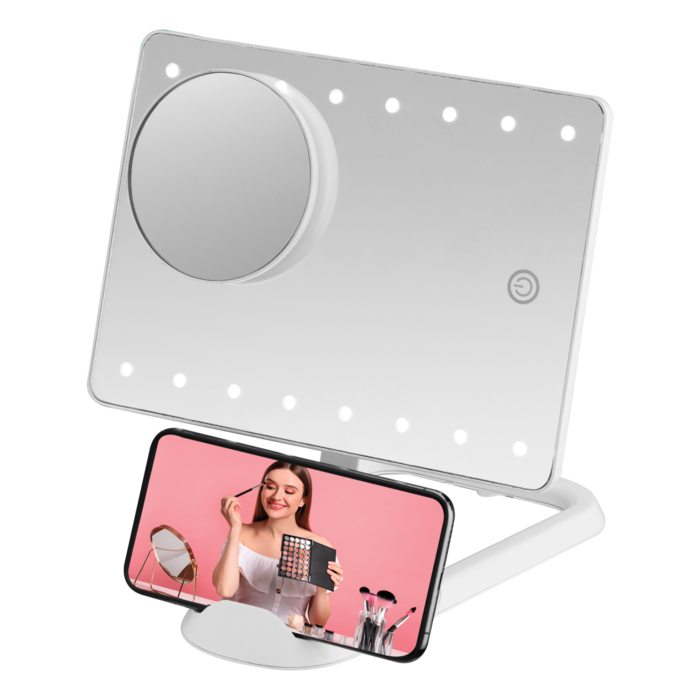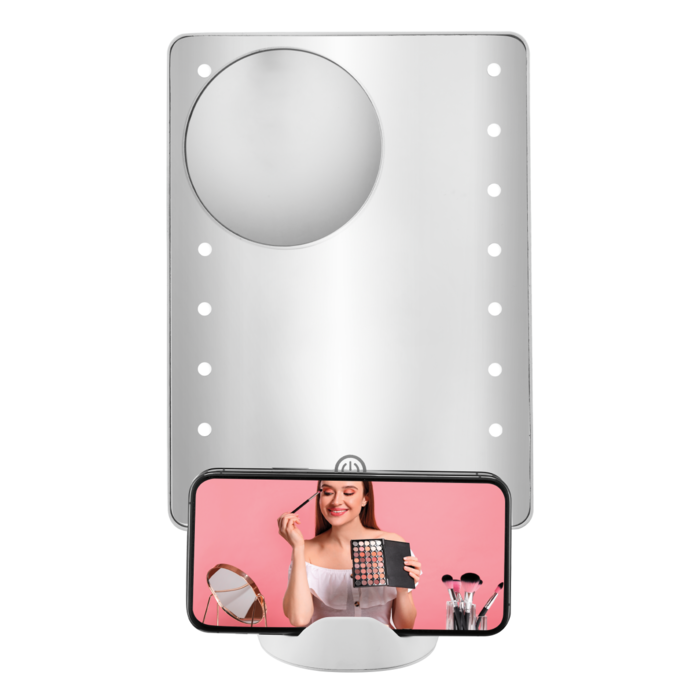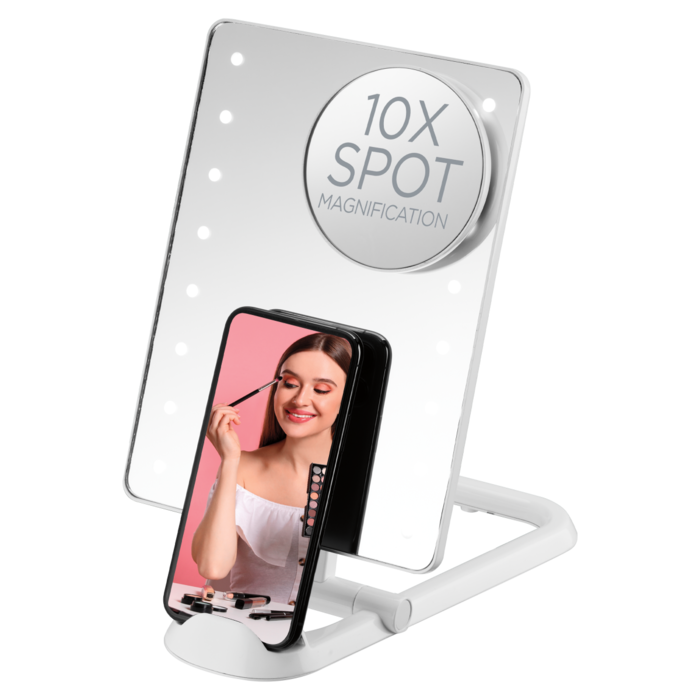 ESPEJO PARA LAS REDES SOCIALES CON LUCES LED ESTILO HOLLYWOOD
Luce siempre de la mejor manera para una selfie con el espejo ajustable con pantalla táctil y luz LED que sostiene tu teléfono mientras te produces.
Description
Perfecto para hacer publicaciones rápidas y fáciles en las redes sociales, el espejo para las redes sociales con luces LED estilo Hollywood, de la colección Conair®Reflections Unfiltered Vibes es un producto indispensable multiuso que te ayuda a lucir como una estrella en cada foto. Especialmente diseñado con un soporte para teléfono en su base, es la herramienta perfecta para seguir los tutoriales de belleza y crear contenido sin moverte del espejo. Tu teléfono está a tu alcance mientras te arreglas el cabello y el maquillaje. La luz LED dura de por vida, por eso las bombillas no se quemarán ni se apagarán. No es necesario cambiar las bombillas... nunca. La luz ambiente ahorra energía y garantiza un maquillaje preciso y un cuidado personal impecable. Los controles en la pantalla táctil te permiten elegir fácilmente entre 3 ajustes de luz: bajo, mediano y alto. El aumento de 1x te brinda una vista completa de tu rostro mientras te arreglas el cabello o te tomas una selfie. Usa el espejo magnetizado más pequeño para un aumento de 10x para depilarte con pinzas o para delinearte los ojos de más cerca. El soporte ajustable inclina el espejo horizontal o verticalmente, así siempre te ves desde el ángulo perfecto, sin necesidad de torcer el cuello para tener la vista adecuada. Solo prepárate y publica; es simple y directo con este espejo innovador concebido para tu perfil de redes sociales. El perfil delgado de este esencial de belleza, sin cable y alimentado por batería, lo hace fácil de plegar, colgar o aplanar para el guardado más conveniente en casa o cuando estés de viaje.
Hasta el más mínimo detalle, el espejo para las redes sociales con luces LED estilo Hollywood de Conair® presenta un diseño moderno y elegante para una absoluta comodidad y practicidad sin cable. Con una visualización nítida y de fácil transporte, este espejo te hace lucir increíble donde sea que vayas. Con activación táctil y bombillas LED de larga duración que iluminan nítidamente y no necesitan recambio, este fantástico espejo fusiona la sofisticación tecnológica con funciones simples de aplicar, desde 3 opciones de ajustes de luz a aumentos de 1x y 10x. Simplemente coloca 4 baterías AAA en el espejo y toca la pantalla para encenderlo y elegir el ajuste de la luz. Como el soporte del teléfono te permite ver y crear contenido para las redes sociales directamente desde el espejo, puedes maquillarte, arreglarte el cabello, y tomarte y compartir selfies con total comodidad. Simplemente se trata de poner tu perfil con la mejor luz, así compruebas tú mismo cómo este espejo marca la diferencia en tu rutina de belleza y te ayuda a que aproveches al máximo las redes sociales.
Features
Bajo consumo: lleva una bombilla LED de bajo consumo que ahorra un 70% de energía en comparación con el espejo incandescente de Conair. Nuestras bombillas LED nunca se queman ni es necesario cambiarlas.
Luz uniforme y plena: perfecta para un maquillaje preciso y un cuidado personal sencillo.
Visualización personalizada: elige 1x para una vista plena o usa el espejo con aumento de 10x para un trabajo más detallado de cerca.
Comodidad con la pantalla táctil: toca y te encontrarás con tres ajustes de luz: bajo, mediano y alto.
Fácil de transportar: perfil delgado plegable, plano o para colgar según resulte más cómodo para guardar en casa o cuando estás de viaje.
Listo para la selfie: es perfecto para crear contenido y seguir los últimos tutoriales de belleza, con un soporte para teléfono que lo sostiene vertical u horizontalmente para una visualización perfecta.
Bisagra con inclinación ajustable: ajusta el espejo de forma horizontal o vertical para una visualización perfecta.
Funciona a batería: solo necesitas 4 baterías AAA (no incluidas). ¡Sin cable que te retenga!
Specs and Support
Model Number
BE05TSM
Comprar por herramientas
rectangle-square, accessory-spot, 1x-magnification, 10x-magnification
Rated 5 out of 5
by
Supermamabk
from
Bright beautiful lights.
I love the brightness of the lights in this mirror, it makes doing my makeup so much easier. The 10X magnification is superb, I see every lash and brush stroke clearly. The base is really sturdy. I use my Galaxy Note Ultra both horizontally and vertically without the mirror or the phone toppling. Great for taking selfies or making quick video tutorials. I like that the mirror folds flat for storage but I'm honestly leaving mine on my vanity cause I use it so many times a day. This mirror would make a wonderful gift.
Date published: 2021-11-22
Rated 5 out of 5
by
Ivey G
from
Beautiful Design and Perfect Lighting
I'm loving the Conair Reflections LED Hollywood Lighted Mirror! It was so easy to assemble just take out of box put in batteries and that's it. Love that it has three settings and the third is the brightest. Plus it comes with a magnetic magnifying mirror that you can use to see up close and perfect for trimming brows or applying liner. This mirror is also ideal for anyone that films social media videos since it has a place to insert your cell phone love it. Makes a great gift and looks beautiful on my vanity.
Date published: 2021-11-20
Rated 4 out of 5
by
KaeOtic Beauty
from
It's a neat idea!
(Gifted Product: I received this mirror complimentary of Conair & BzzAgent to review.) I think the actual mirror works great! It's a good size and the lights have 3 stages of brightness. I like that it comes with a detachable round magnifying mirror, that attaches by magnet. Dislikes: I'm not too pleased with the placement of the phone holder. If the phone is positioned straight up and down, the phone takes over too much of the mirror making it hard to see in the mirror, and if it's positioned on it's side, the phone is at a weird angle that is too close up. Moving the mirror back further makes the mirror harder to see. So I don't know that I'll use it to record videos, but I will definitely put it to use as a makeup mirror! Overall, I'm happy to have received it. Thanks Conair & BzzAgent!
Date published: 2021-12-04
Rated 5 out of 5
by
Dollie
from
Very bright and amazing
So I'm legally blind and it's hard for me to wear makeup and I do love to wear makeup and this mare the brightness I'm able to see very clearly to put on my makeup and the little mirror that comes with it help so much because of how strong the magnification is I'm able to do my eyebrows and do eyeliner and much better makeup techniques than I would with any other mirror I can also put my phone on it which is really nice if I'm doing Tik Tok videos I would recommend this to people for a Christmas gift or somebody who really loves a makeup eye will probably purchase one for my mom for Christmas because it just works amazingly and your makeup looks really good with the light and I would very much recommend this to people with low vision but still like to do makeup this is the product to gift to them
Date published: 2021-11-12
Rated 5 out of 5
by
CMack
from
Nice addition to the counter
This mirror is a great new addition to my routine. No longer do I lean all the way against the bathroom mirror to put makeup on or do my skincare routine. The lights have different settings and it helps make things clear in different environments. You can adjust the mirror to be at the perfect level for you and the added magnetic macro mirror helps see things up close and personal. Overall it's a good mirror with lots of flexibility and options to fit everyone's style and needs
Date published: 2021-11-22
Rated 5 out of 5
by
Dana6
from
Love it!!!
I absolutely love the reflections LED Hollywood lighted social media mirror. It is perfect for doing your make up and gives you perfect lighting that is nice and bright. It is also awesome because it can be used as a ring light because it has a place for your phone. So it is a two in one mirror which is amazing. It also has an extra magnifying glass at the top. It is also not too big so you can travel with it if you needed to. I definitely would recommend this product.
Date published: 2021-11-16
Rated 4 out of 5
by
Mari5
from
Wonderful Mirror to own as a content creator!
This is such a nice LED Mirror to own! I love how they design it so it can hold your phone and this is a great feature for someone who does a lot of video content like me. The LED lights are an amazing addition and I love how you can changed up the brightness. The only thing I would say is a little inconvenient is how I have to screw and unscrew the battery slot. It would also be nice if there's a usb option so if there's bo battery available I can still use it.
Date published: 2021-11-26
Rated 3 out of 5
by
AV10
from
Not bright enough
I was very excited to get this. But the lights are far too dim. It honestly is super disappointing. I like the size and the function. But it doesn't light up your face really at all. The whole premise is "social media" so I'd expect it to brighten up your face like a ring light. I think solid light bars down the side might be better. Other small thing.. the little area to put your phone in causes it to be straight and not at an angle. So it's hard to use.
Date published: 2021-11-16
Rated 5 out of 5
by
Aditi1
from
Great Utility
I absolutely love this vanity mirror with so many benefits. It makes doing any makeup with lots of precision. The magnifying mirror makes it super easy to see and get those spots to make them flawless. I also liked the lights which gives a amazing feel and makes my vanity much more beautiful and pretty. I also liked the stand if has for holding the phone so that I can easily follow any tutorial. The mirror is great quality and great for carrying too.
Date published: 2021-11-16
Rated 3 out of 5
by
Jayynella
from
Bright! But bad angle
I've never used a social media mirror before, but I'm sure there are some out there where I can adjust my phone angle. The lighting is amazing! I like the three different levels of brightness I can set. The magnetic magnifying mirror is a good touch too! I will probably use this just as my makeup mirror, because I don't feel the angle on my phone is good. It looks right up my nose! I would not recommend this as a tutorial mirror.
Date published: 2021-11-30
Rated 4 out of 5
by
BeeNii
from
Great light and magnification.
Any makeup artist worth their salt know how lightening impacts the makeup application and how the end result looks. Luckily, busy professionals and novices don't need to invest in those kinds of professional lights. Grooming companies like Conair have brought this ease on our vanity. The mirror is decent sized and light enough to be travel friendly. Has plastic attachments though which can look flimsy. It doesn't budge though when completely installed. The mirror uses 4AAA batteries for the light part to activate. And gives a good enough illumination. The magnifying mirror is small and circular and sits right on top of the original mirror as a magnetic attachment. I use it for makeup and mainly for tweezing my brows. Cutting out one star because of the battery situation. At the time of this review,the batteries had died and I didn't want to go get some.
Date published: 2021-11-30
Rated 5 out of 5
by
TK10
from
Love it
I've used other brands like impressions vanity which can be pretty speedy. The Conair Reflections LED Hollywood Lighted Social Media Mirror is amazing. I love that I can go on instagram live and have great lighting at the same time with the phone stand. I also really like that there's a extra attachment so you can have a close up view while doing your makeup. You can see every detail. Would definitely recommend!!!
Date published: 2021-11-23
Rated 5 out of 5
by
cajunmom1976
from
Lobe the mirror!!
The Reflections LED Hollywood Lighted Social Media Mirror is a great addition to my makeup collection. I own tons of makeup and love the way this mirror lights up so well and helps me take great selfies while holding my phone in place. The mirror is very sturdy and looks great on my vanity. The mirror also allows me to see so my skin so much clearer which helps me put my makeup on with great precision.
Date published: 2021-11-30
Rated 5 out of 5
by
Stephy1
from
Nice, portable mirror for social media and beyond!
This mirror is nice! When I first opened it, I wasn't sure how to get it to stand. It was a little stiff at first and I was afraid to break it. However, once I got it, it loosened up and I like how it's angle is adjustable. The holder for the phone works well vertically and horizontally. I had to mess with the angle and placement a bit to be able to record on my phone and see in the mirror at the same time. The multiple light settings is nice, I just wish there was 1 setting for a softer light instead of the bright white light only. All in all its a very nice mirror and I will continue to use it. I love how compact and easy it is to move around and store or take on the go. The little magnification mirror is a nice touch but I think a 5x instead of 10x would have been enough. I'm glad that it's removable and magnetic. This is a nice mirror and although there are a few things I'd tweak, it's a good buy!
Date published: 2021-11-30
Rated 5 out of 5
by
Bella
from
LIFE SAVER
this mirror came at the PERFECT TIME! I was using a larger lighted mirror which had no way of holding my phone for recording videos, and ultimately caused me to get creative which cause the mirror to fall into a million pieces. Thus mirror is smaller but THE PERFECT SIZE for all your needs. Plus the phone holder makes recording so much easier. Everyone needs this
Date published: 2021-11-16
Rated 4 out of 5
by
Crystal A1
from
Conair Beauty Mirror
I recieved the Conair Hollywood LED social media mirror through Bzzagent for reviewing purposes. This mirror is lightweight and has 3 different light brightness settings. It has a little department for a phone to record beauty routines/ makeup tutorials. I would say for that purpose, it is stellar! It can be used multiple different ways. The mirror requires 4 AAA batteries for the light use. A definite pro is thre lights will never need replacing! It also contains a smaller magnetic magnified mirror for up close purposes ( eye makeup, etc.) I cannot contest to other models as this is my first experience with a lit mirror such as this one. I do like it! In my opinion, The only downside to this mirror is I feel it could be larger. And I think it should have an option for a removable plug in. That way it could be used either way. I would most definitely recommend to friends/ family. And I would purchase as I think this is very useful!
Date published: 2021-11-09
Rated 5 out of 5
by
Nildaeloiza
from
Love!!!
Received this for free and let me tell you I absolutely love this mirror! Compared to other ones the lighting has different settings from low to extremely bright. There's a round removable magnifying mirror that lets me see inside my pores! Lol. The mirror is adjustable and it's battery powered so it goes anywhere! My daughter loves it too!
Date published: 2021-11-26
Rated 5 out of 5
by
M104
from
I love it! And travel friendly
This mirror is perfect for doing your makeup and for giving you the lighting you need while taking selfies! It has three light settings. You turn it on by touch. It comes with a magnetic zoomed in mirror which is good for close up makeup or getting those blackheads. It's portable so if you travel you can definitely take it with you!
Date published: 2021-12-05
Rated 4 out of 5
by
Heyanosha
from
So useful
I love this mirror, I was expecting the size to be a little bit more larger but it ended up being just perfect. The phone stand and zoom mirror are such great bonuses! I gave it 4 stars because i wish the lights were a tad bit brighter, I have to stand super close to it for them to illuminate my face. Otherwise great mirror though!
Date published: 2021-11-16
Rated 3 out of 5
by
Nene
from
Social media mirror
I really expected this to be different from other mirrors I have tried but it is basically the same. The close up mirror takes some getting use to because it has to be at the right angle and distance to see correctly. The phone older adds a nice touch and the foldable stand is helpful but the lights are not bright as I would like.
Date published: 2021-12-07
Rated 3 out of 5
by
thereddirtbeauty
from
Great Idea, Poor Design
I received this complementary Reflections LED Hollywood Lighted Social Media Mirror, in exchange for my honest review. I was so excited to receive this mirror and couldn't wait to try it out. I will start with the positive aspects of the mirror. It has m changable brightness level LED lighting around the entire mirror. There is a smaller, detachable 10x magnification mirror that can be affixed directly on the surface of the magnetic mirror. The mirror stand is adjustable, so the mirror tilt can be changed and can be stored completely flat. Unfortunately, the main selling point of this mirror is the biggest disappointment. The space provided for the phone to sit is so thin, my phone, in a very thin case, does not fit. Even sitting on top of the slot, my phone was at a horrible angle. In order to be recording, I had to stand several feet away, defeating the whole purpose of the mirror. If Conair could go back to the drawing board on this, it could be a great product.
Date published: 2021-11-30
Rated 4 out of 5
by
Char4
from
Shine Bright
I love that this mirror can be compact to save storage space. The three different settings for the LED lights ensure you get the right light for applying your makeup, taking a selfie, or a video. I love that it has a 10x magnifying mirror as well to see even more detail. I've enjoyed using it to apply my makeup!
Date published: 2021-11-07
Rated 4 out of 5
by
Caitlin3
from
Almost perfect small mirror
I really love a lot about this mirror. The lighting is great, it's lightweight and the small extra magnifying mirror is moveable which is super convenient. The only feature it's lacking is a rechargeable feature. I like that it has a battery back up for portable use but I wish it was rechargeable.
Date published: 2021-11-23
Rated 5 out of 5
by
Dholi
from
The best beauty gadget
This is a product that I didn't think I needed, but am so happy to add it to my beauty collection! I use it all the time for beauty videos for social media, and to use in general for putting on makeup. I love the size of the mirror and the lights are bright yet not too distracting. It's perfect!
Date published: 2021-11-18
Rated 3 out of 5
by
bzzy
from
LED Mirror
Overall, the concept is nice. I like the phone stand option in the front too. However practically, it isn't very beneficial. It's not as though I would use a mirror in a dark room and the phone blocks half the mirror. The LEDs and mini zoomed in mirror also start to hurt your eyes after a while.
Date published: 2021-11-18
Rated 5 out of 5
by
Rachel17
from
Useful and helpful mirror!
This mirror is super easy to put together and use. The LED lights help see little mistakes in makeup and is useful for when it's early in the morning or late at night. The stand for your phone can be used to watch videos, FaceTime friends, or record yourself. 10/10 product, would recommend!
Date published: 2021-11-29
Rated 3 out of 5
by
Lilmama828
from
Innovative Social Media Mirror
This mirror is definitely innovative. I wanted to truly love this mirror. I love the whole idea and perspective of the mirror itself. Although I do have a few cons and couldn't give a 5 star and this is why. I love that the small round magnifying mirror was magnetic and could be moved anywhere in the larger mirror! The lights were ok but not very bright even at their highest setting. The phone tray at the bottom should be made adjustable - it's way too small for any phone in an Otterbox or any similar case. Also being that it is indeed 2021, I am surprised that companies are still making products that need batteries that are not rechargeable at the least. This leaves my biggest pet peeve. I can't see constantly replacing 4 batteries, and with the tiniest screw, that was absolutely horrible to deal with. The size of the mirror itself was ridiculously small. (But I could deal with that) other than all these cons with only 2 pros I had to give it a 3 star, this product definitely has some adjustments to be assessed.
Date published: 2021-12-01
Rated 5 out of 5
by
jon2
from
perfect mirror
I love this Reflections LED Hollywood lighted social media mirror by Conair. I received this as a free sample from Buzzagent. I like the feature of the magnetic mirror that you can use. It has 3 lighting features. It's not to big and is light weight. Great mirror!
Date published: 2021-11-24
Rated 5 out of 5
by
Jadey1
from
LOVE LOVE IT!!!!
This Lighted Social Media Mirror is just what I needed. It's perfect for when I need to record my auditions or putting on my make up. I can take it anywhere with me. It's also the perfect gift to buy for a social influencer or YouTuber.
Date published: 2021-11-26
Rated 5 out of 5
by
Jess27
from
Great mirror for applying makeup
I love the portability of this mirror. It's not huge so it doesn't take up a ton of counterspace. The lighting is bright and it's light weight. It's perfect for applying makeup. I'll definitely use this to do my makeup going forward.
Date published: 2021-12-09
bvseo_sdk, dw_cartridge, 18.2.0, p_sdk_3.2.0
CLOUD, getReviews, 7ms
reviews, product