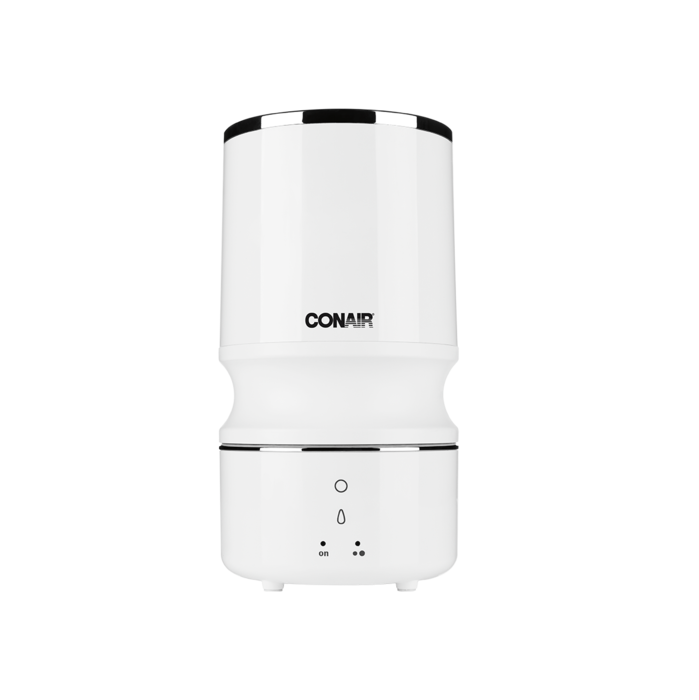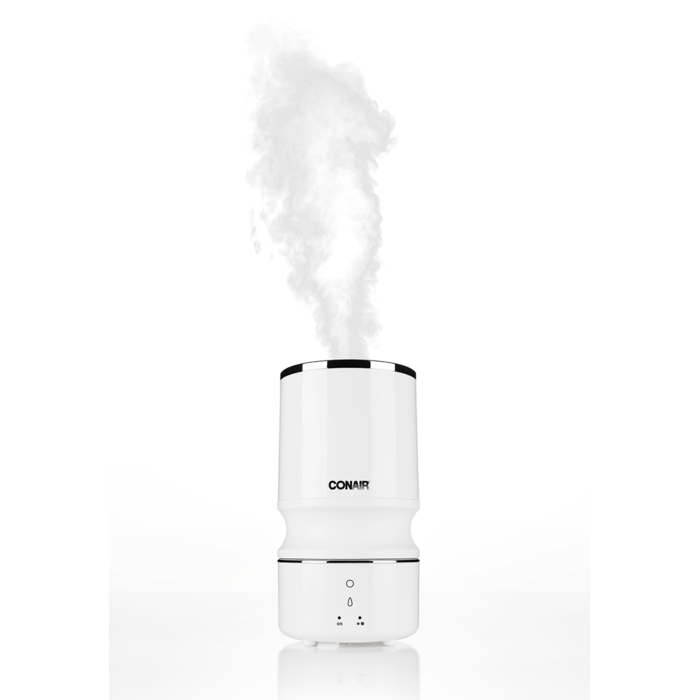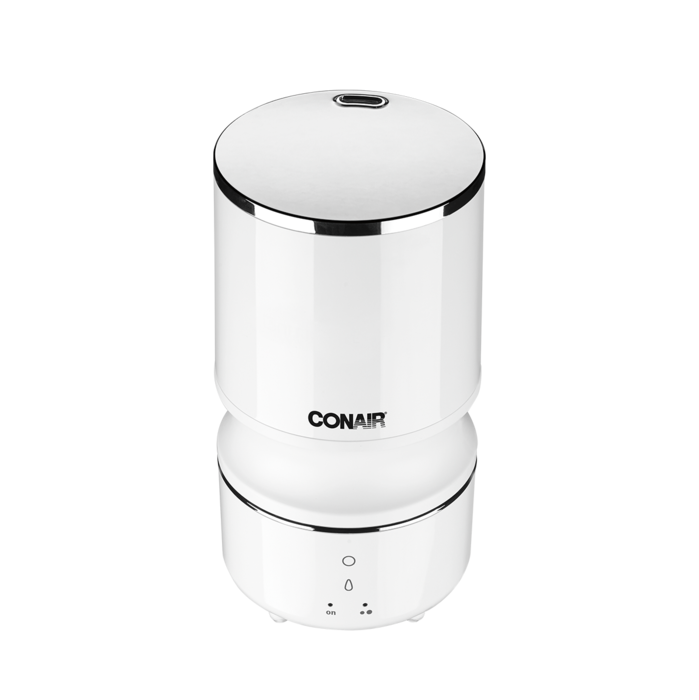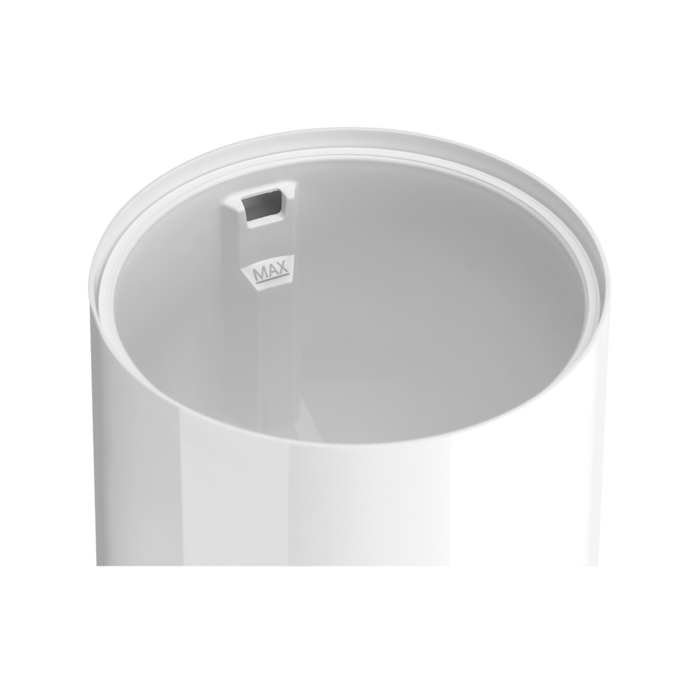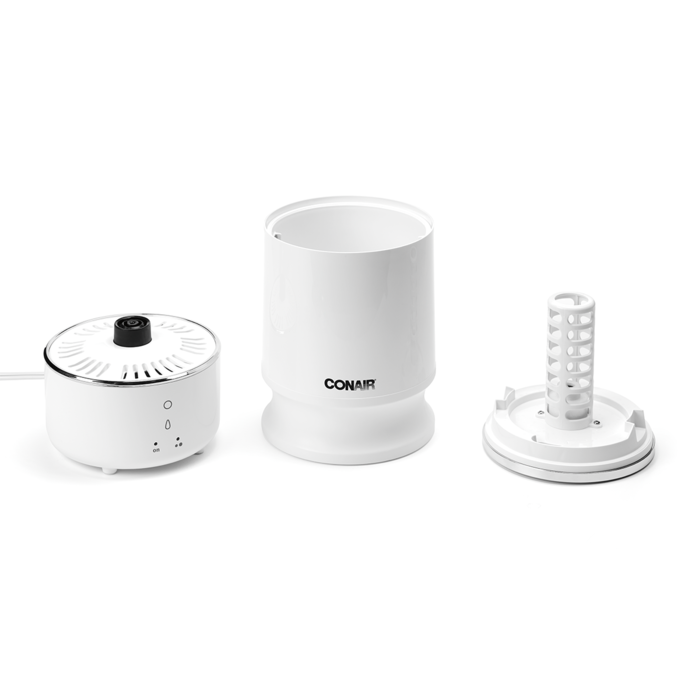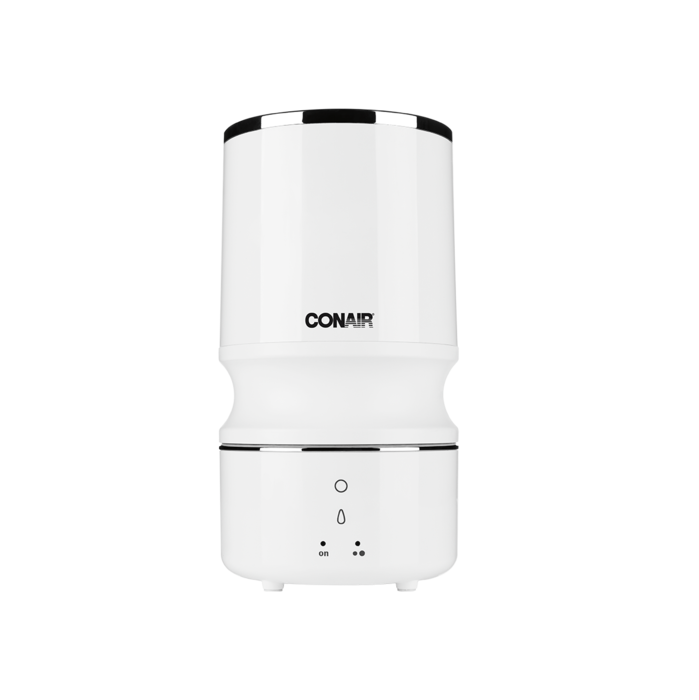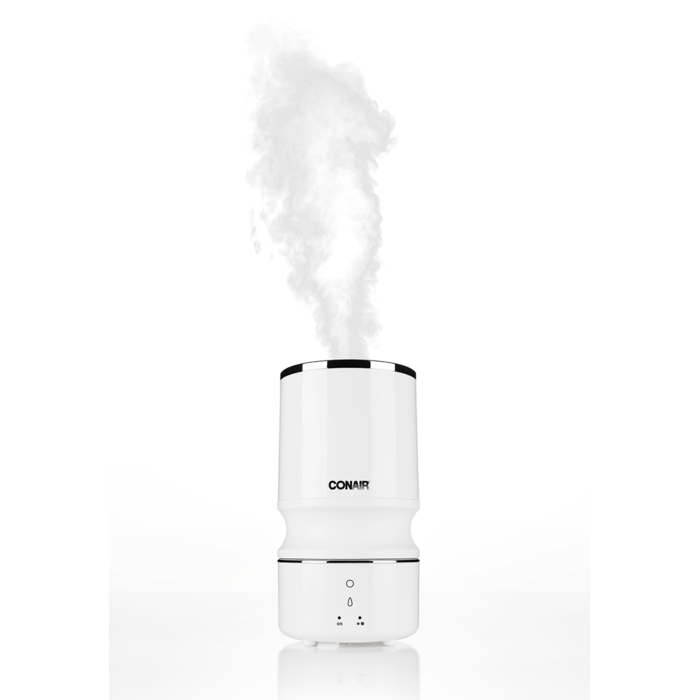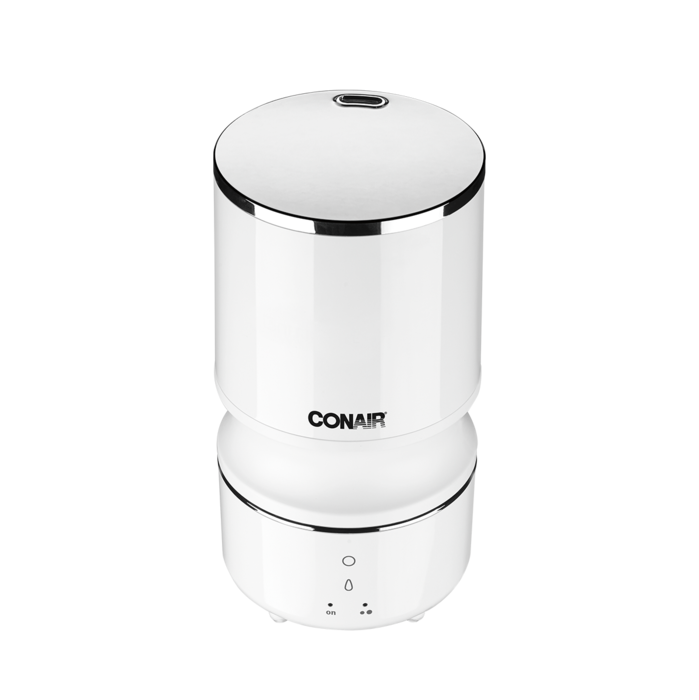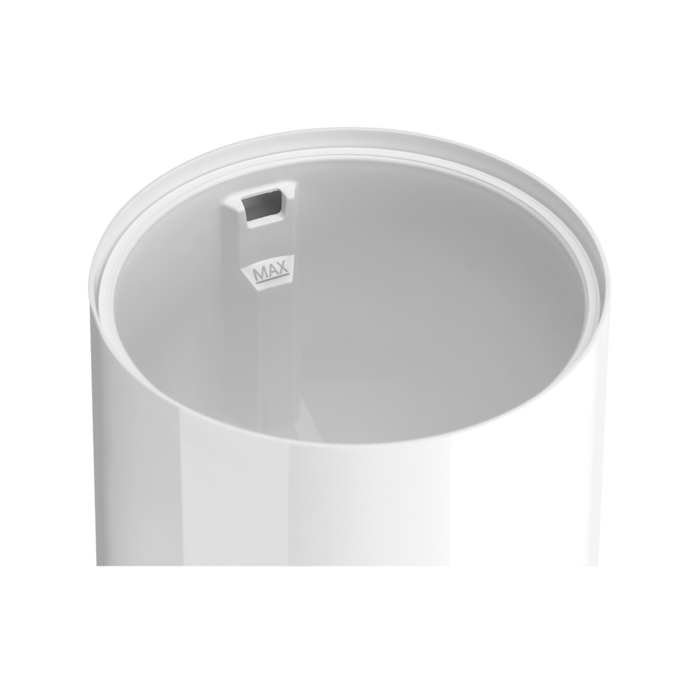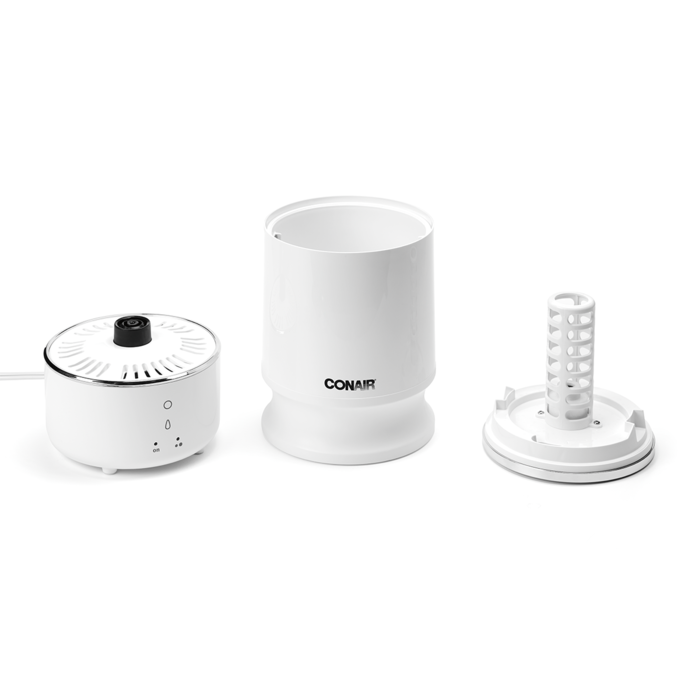 HUMIDIFICADOR ULTRASÓNICO DE ROCÍO FRESCO
Un tanque limpio dará un rocío limpio.
Description
El humidificador ultrasónico de rocío fresco limpio y silencioso le brinda hidratación al aire interior seco. La tecnología ultrasónica crea un rocío microfino que ayuda a suavizar la tos, los resfriados, la piel seca y las alergias, y el tanque sin filtro evita el crecimiento de bacterias, moho y hongos.
Features
Humidificación ultrasónica
Tanque de agua de 800 ml
La tecnología patentada extrae el rocío del tanque de manera más eficiente
El agua está restringida al tanque, lo que evita la acumulación de moho y hongos en lugares difíciles de alcanzar
Mantén el tanque seco cuando la unidad no se use para mantenerla limpia
Panel de control con pantalla táctil
2 ajustes de humedad de rocío
Acabado cromado brillante para un diseño sofisticado
Instruction Manual
Reviews
Rated

5

out of

5
by
pcomsec
from
Compact and stylish
I received this product for free in return for an honest review. First I was surprised how modern and compact this humidifier is. (I am used to the humidifiers of the 1980s, large and ugly.) The instructions are very clear. One thing I noticed was this humidifier requires distilled water. It can't be hot or cold water. Since I have filtered water through my refrigerator, I just let it set until it was room temperature. The humidifier is very quiet and as I said, compact, so it takes up very little room on my table. All in all, I recommend this humidifier.
Date published: 2020-07-29
Rated

5

out of

5
by
JJ10
from
Little but mighty...
Love this little humidifier! I have been running it consistently everyday for a month to allow myself enough time to see how I like it. I live in the desert so we have hot, dry heat. When stepping into my apartment from outside you can immediately feel the humidity change and it is so refreshing. I have noticed that my skin, hair, and sinuses are not as "dried out" from the hard water & excessive dry heat. It is very quiet, the tank holds a lot of water, and it definitely produces a strong water vapor if you crank it all the way up (which I do). My plants have all perked up and are loving this humidifier as well. I refill the tank once daily in the morning and it goes all day.
Date published: 2020-08-07
Rated

5

out of

5
by
Linda1
from
Breath freely
This Conair Home Ultrasonic Cool Mist Humidifier is beyond awesome. I have tried other and they not even close to the Conair machine they make noise so it hard to sleep being a lite sleeper. I live in Arizona and it dry here and wearing a mask due to the Covid 19 I have congestion and feel so dry. I use sprays for nose and other machines and still woke up feeling congestion and dry. But since I have using the Conair Home Ultrasonic Cool Mist Humidifier I wake up feeling so much better. I am not dry or congested and know how amazing this machine works I am not dreading doing yard work. I sleep so much better and I don't even know its on. It's so easy to use and to clean. I love it and I tell ever about it.
Date published: 2020-07-29
Rated

5

out of

5
by
DrMommyOf7
from
How did I live without this?
I love this cool mist humidifier for SO many reasons! I suffer from both dry eyes and frequent nosebleeds because of the dryness in both my home and Office. Not anymore thanks to the Conair cool mist ultrasonic humidifier. This adds just the right amount of moisture into the air to keep my eyes moist and reduce nose bleeds, even during the driest of seasons. It is quiet as well! I hardly notice it is running. I can't say enough good about this product and I would recommend it to anyone who spends a long period of time in dry locations. Life changer for sure.
Date published: 2020-08-08
Rated

5

out of

5
by
Jena1
from
Space saver, easy to use and clean
I actually used this in my son's room because he suffers from seasonal/dust allergies so bad. It's small, quiet, and easy to clean. I also love that it's a cool mist because it's already hot down here and don't need to add to it. He sleeps so much better when a humidifier is running - keeping the dust down and the air not so dry. This Conair humidifier is much smaller than the one we have been using with the same effectiveness and it is so much easier to clean since you can take the water tank out to clean it and keep the rest of the humidifier dry.
Date published: 2020-08-14
Rated

4

out of

5
by
Dee Ell
from
Effective But Not Very Sturdy
I received a Conair Ultrasonic Cool Mist Humidifier in exchange for an honest review. Pros: works quite effectively in that it creates a strong mist. I can tell the difference in the air in my home. I know that it is working because my lips are much less chapped than before I started using it. Cons: the parts fit together but they are no secure. It would be better if there was a way to lock the three separate parts together. Instead they sit on top of each other but are not as secure as I would like it to be. Especially since I have a curious cat.
Date published: 2020-08-01
Rated

5

out of

5
by
Lainiie
from
Love This Humidifier!
The Conair Home Ultrasonic Cool Mist Humidifier is a smaller humidifier that is sleek and stylish and fits well on my nightstand. It's easy to use and easy to fill with water. You can change the settings from high to low, but I prefer the higher mist. I clean it everyday and add new water, so I haven't had any problems with the water scaling from it sitting. I wipe it down with a cloth as well too. I have noticed that it helps with the dryness in my nose and it's very quiet, except for a very subtle white noise from the mist that helps me sleep.
Date published: 2020-08-27
Rated

5

out of

5
by
hofken
from
Combats Tucson Dry Heat
I've wanted a good humidifier for years, but the sheer number of makes and models was overwhelming. Thank you BzzAgent for the opportunity to try the Conair Home Ultrasonic Cool Mist Humidifier. Most important is that this cool mister requires less cleaning and maintenance. I also didn't want one that would heat up my already-hot bedroom - and it's virtually silent. Since it's cool mist, less chance of mold and bacterial growth - so far. I clean it once a week with white vinegar. It seriously increased the humidity in my large bedroom. While it's kinda big to store, it looks nice on the table (white and silver minimalist). Easy to fill (instructions say use distilled water, but honestly I used tap) and use - Power button and Setting button.
Date published: 2020-10-05
Rated

5

out of

5
by
Indianamom2
from
Conair Home Humidifier
I got this FREE from Bzzagent a few days ago to sample in my home to see how well it worked and helped me breathe. I never knew Conair made items like this till i got this from Bzzaqent. It was easy to take out of the box, came with instructions, i plugged it in later in the evening near my bedroom and fell sleep. Usually i have a hard time breathing at nite but with the Conair humdifier running, i managed to enjoy my sleep and never woke up till the next day. I highly recommend for families to buy. Even my dog is breathing better..
Date published: 2020-07-26
Rated

3

out of

5
by
Roxanne0927
from
Good for small room
I love the sleek design of this small room humidifier. The tank removes easily for filling and cleaning. The lighted control panel makes it easy to see the settings. It's super quiet, don't even hear it running. After reading the instruction manual though I see that you need distilled water and are never to leave water in the tank when not in use. My other humidifier just uses regular tap water, which is so convenient... the only reason I only gave it 3 stars. I received this product free in exchange for sharing my experience.
Date published: 2020-08-01
Rated

3

out of

5
by
Mille
from
Compact but noisy
I've probably owed a number of humidifiers over the years because of my sinus problems. The biggest positive is the compact side and it fixes perfectly on my nightstand but it seems the others I've had were bigger. With the small size at first I thought it was going to run out of water before the morning but nope still some water left and initially I didn't if it up all the way maybe 90%. The down side that it's really that bad to me but maybe to my husband is the noise with it being so small I was surprised that it was so loud because I currently have one that 5x bigger but much quieter. Overall i would have been happy if I purchased it because it uses less water and the smaller size. The noise wasn't a biggie to me because I use a sound machine anyway at night.
Date published: 2020-08-09
Rated

5

out of

5
by
Anonymous
from
Compact, Quiet, and Efficient
I am a big fan or Conair products and this humidifier did not disappoint. I absolutely appreciate the compact size as it fits great in small spaces. Humidifiers I have used in the past have been bulky and awkward sized. The only could place them on the floor, which I always felt uneasy about. However, with this humidifier, I can conveniently place it on the nightstand next to my bed, or on the end table next to my couch. It provides the perfect amount of cool moisture to the air and is so quiet that I forget it is even on. I like that it has a non-filter tank preventing buildup from mold. This is definitely a plus since my fiancee is asthmatic and uses it all the time. I recommend this humidifier to anybody who is in search of a compact and sleek looking unit that is easy to operate. You won't be disappointed.
Date published: 2020-10-05
Rated

5

out of

5
by
Chris1
from
Perfect size and great output
I got this Conair Ultrasonic cool mist humidifier from BzzAgent to try for free. I'm very happy with it! It's got a very nice compact size that would be perfect for a kid's room or really any bedroom. It's very quiet and the cool mist means no danger of steam burns. I was very pleasantly surprised by the amount of mist the product puts out. I've always hand good luck with Conair products and expect this to be no exception. This product will be put to great use this winter!
Date published: 2020-08-07
Rated

4

out of

5
by
Erica Q
from
Nearly silent
My favorite part about this device is that it's so incredibly quiet. It would be perfect for a kids room. It is a great cool mist and works get in a dry room. Helps you sleep for sure. My only complaint is sometimes it doesn't push the steam out. And if you don't notice then it won't work properly. Sometimes I have to fidget with the lid a little until I can see a steady flow of steam. If you don't see steam, it could need some adjusting. Other than that it works great.
Date published: 2020-07-26
Rated

5

out of

5
by
Dojulan
from
Small but mighty
The best feature about this humidifier is its size: it is small and very compact. Therefore, it can be kept on your bedside table without taking up a whole lot of space. In addition, its design is very sleek so it is not an eyesore. Despite its size it works really well and does a good job of humidifying your space. I like the fact it has 2 settings (depending on what strength you want). And the cherry on the cake is that it makes very little to no noise at all.
Date published: 2020-08-08
Rated

5

out of

5
by
BGetz
from
Quiet, Sleek & Modern
The Conair Ultrasonic cool mist humidifier is an absolute game changer. We are a family obsessed with humidifiers and bring them with even for single night stays at hotels. This particular model is SO cool (no pun intended) and modern looking I definitely wouldn't mind if it were visible in our living room, vs. those that we already have. They are noisy and bulky - this is absolutely the opposite! Very straightforward to use as well. I'm officially obsessed!
Date published: 2020-07-29
Rated

5

out of

5
by
AmandaDE
from
Amazing!!!
My dad lives with me and he suffers from very severe allergies. We had a humidifier but my nephew ended up getting sick a lot as a baby so we gave it to my sister who is a single mother. Recently we have decided to get you humidifier for my dad. He is 65 but he is still a little bit picky. We got this because it was a cool mist humidifier and I thought that he would enjoy that kind. It's great because it will run silently and until the tank is empty. And I like the fact that it is very quiet. Since running this his allergies have lessened a bit but we keep it in a bedroom instead of a more central room. Considering either moving it to a main room or getting another. It can be a pain to fill sometimes but in my opinion it is totally worth it. For some reason it will not let me add a video for pictures of it after it was unboxed and running
Date published: 2020-08-02
Rated

5

out of

5
by
Melaniek85
from
I love it!
I had been wanting a new humidifier for a while and was so excited to be picked to try out this one! I love it! It does its job, puts out a nice cool mist. It also doesn't leave my floor damp, which has happened with other brands in the past. I also love the look of it, it looks really nice and actually matched my room decor. Sounds weird but it's a pretty humidifier. I would definitely recommend this to others, would work best in a smaller room.
Date published: 2020-07-30
Rated

5

out of

5
by
Anonymous
from
I loved!
Conair Humidifier is perfect for my room, it works for ten hours, it does not need filters and it is easy to clean. I have had several humidifiers and it is very hard to fill the tank with water and change the filter. With Conair Humidifier COOL MIST I don't have to go through all that process and it has worked very well to relieve my discomfort from dry air. I recommend this product 100% since it has helped me a lot to be able to sleep well.
Date published: 2020-10-05
Rated

5

out of

5
by
Miche1
from
Breathe again
This humidifier is great, I suffer from horrible allergies and could not wait to try this product out. I usually wake up with the driest nose from the air and fan running all night due to the hot weather here in Houston but this morning, I felt great. Even my husband felt the difference, he sometimes wake up with dry nose and nosebleeds but with this Conair Humidifier by the bed he said he could tell the difference in his nostrils.
Date published: 2020-07-24
Rated

4

out of

5
by
Dnana
from
Convenient Easy to Use Humidifier
I was excited to use my new Conair Home Ultrasonic Cool Mist Humidifier. It worked very well for our small room and came at a convenient time. The product is on the smaller size but we have a pretty small room we used it in. My son was able to sleep a lot more comfortable with the cool mist humidifier on. I loved the fact that it is easy to place it on something so we used his night stand. Great product noise free and works well.
Date published: 2020-08-03
Rated

5

out of

5
by
Calorie83
from
Easy to clean and operate!
I like that the Conair Cool Mist Humidifier is easy to clean and operate! I like how you can remove the tank to empty and dry it after using it and how the base stays dry. There are two speed settings, so you can choose the setting that's right for you. I like how it is compact, so it's great for any small area that you would like to use it! Thanks to BzzAgent and Conair for the product to review. All opinions are my own.
Date published: 2020-08-01
Rated

5

out of

5
by
TRABUX
from
Conair ultrasonic Cool Mist Humidifier
I Love my new Conair Ultrasonic Cool Mist Humidifier. I trust the name brand, Conair. It is just the right size for a bedroom or small room. This little machine helps to relieve dry air discomfort and helps provide a better night's sleep.A few of the amazing features are it holds 27 oz of water, it will run up to 10 hours,its easy to clean and no filters are required. It helps with dry nose, flaky skin and chapped lips. It is so easy to work, all you have to do is plug the appliance in, put water in the tank with cool water, and turn on to which ever setting you need. If you see a green light, that means the power is on, a red light means the water is low, Blue is high mist output and purple is low mist output. Very simple instructions. If mineral deposits occur, wipe with vinegar and water. You will love it, just like me. Will highly recommend this to my friends.
Date published: 2020-07-26
Rated

4

out of

5
by
ktsmurf
from
Small but Efficient
I received this humidifier to test out (thanks Buzzfeed), and was reasonably impressed, for the size. It's definitely small, much smaller than either of the other 2 humidifiers I own. This means it's easier to find a place to put it, but it does run dry quicker than I'd like. I think I might take it into work if our office ever opens back up again, because it's bone dry due to all the exposed wood beams in the ceiling.
Date published: 2020-08-15
Rated

5

out of

5
by
Payton
from
Quiet, small and efficient.
My son gets dry sinuses often, and he has terrible allergies, in-fact we have been through several humidifiers in his room already, the popular one that comes in various animal shapes mostly. Regardless we used this in his room. At first glance, it is very small and I wondered if it would stay on the whole night or run out of water. The other ones we had were enormous. Right off the bat the Water refill design is much easier on this then the other one where you have to flip the container upside down, fill a giant gallon size water container sloshing around from the bathroom to the bedroom hoping nothing spills when you quickly dump it on top of the main device. This takes much less water, the down side is it needs filtered water, makes sense since theres no filter. However since its fairly easy to refill and small enough to carry in one hand (two when filled, just to be sure!) I just have my son fill it with filtered water in the morning so by the night time it is room temperature and ready to go. When on it is whisper quite, I never found them to be noisy in general, at-least not the ones we have had, but there would be a distinct gurgling sound every now and then. I have yet to hear that from this little device, so that's a plus. Another bonus is again its size. As my son has gotten older, those large humidifiers stood out like sore thumbs. So this one is nice and small and fits in like a minimalists dream next to his bed bookshelf. It definitely lasts through the night on low. We have not needed to use the higher setting so far. Overall we are very happy with this humidifier, still amazed at how small it is, and will probably replace the rest of the humidifiers in the house with these, both for its design and efficiency.
Date published: 2020-08-07
Rated

5

out of

5
by
chelseash23
from
Cool moisture wonder
The Conair Home Ultrasonic Cool Mist Humidifier is heaven sent. I love how easy it is to clean and the automatic shut off. I can fill it with water set it before I go to be and wake up with it off and the air is cool and moist. The only problem I have with it is that if you accidently bump it, it can disconnect at the middle and make a mess. Just make sure its on a secure surface.
Date published: 2020-08-01
Rated

5

out of

5
by
Imani73
from
Cool Mist Humidifier
I was more than happy to try the Conair Ultrasonic cool mist humidifier. My household gets colds and sniffles all winter and this will help tremendously. Simple instructions got me started quickly. Its compact and attractive design sits nicely by the bed. The cool mist is great and doesnt heat up the room unnecessarily. Plus, it runs for 10 hours! I highly recommend this item.
Date published: 2020-08-15
Rated

5

out of

5
by
Mommabear21
from
Cool humidity
I absolutely love the Conair Home Ultrasonic Cool Mist Humidifier. It is easy to use. There are clear markings on where to fill it and how to get the lid on. The buttons to turn it on are simple and easy to see. It is very quiet. The cool Mist makes our bedroom comfortable and eases the dryness of the summer heat. I like that it let's you know when the water level is low.
Date published: 2020-08-08
Rated

5

out of

5
by
Racerliz25
from
Sleep like a baby
I love this product! It is so dry in my house and I also gave pets so my allergies tend to make me stuffy, especially at night which caused me to sleep poorly! In just a week if using this humidifier, I am already sleeping better! I don't wake up with a dry, sore throat and I think I may even be snoring less! I will definitely be using this product every single night!
Date published: 2020-08-01
Rated

5

out of

5
by
pearlseyes
from
Sleek and Modern
My first impression, when I opened the box, was how sleek and modern looking this humidifier is compared to several I've owned over the years. This suits my style so I was pleasantly surprised. The humidifier is easy to set up and use with two touchscreen buttons that turn on the power and level of mist expelled. I had it up and running in less than a couple minutes and that includes filling the tank. The first few nights I put the humidifier in my bedroom to help with my husband's dry nose and skin. He noticed an improvement but the noise was a deal-breaker so I moved it into his home office so he can still reap the benefits but not be bothered by the noise. I, for one, found it soothing. One of the best features is how it automatically turns off once the tank runs out of water. I also like how simple it is to clean. I received this product for free for test purposes but it did not influence my review of the product.
Date published: 2020-08-14
bvseo_sdk, dw_cartridge, 18.2.0, p_sdk_3.2.0
CLOUD, getReviews, 21ms
reviews, product