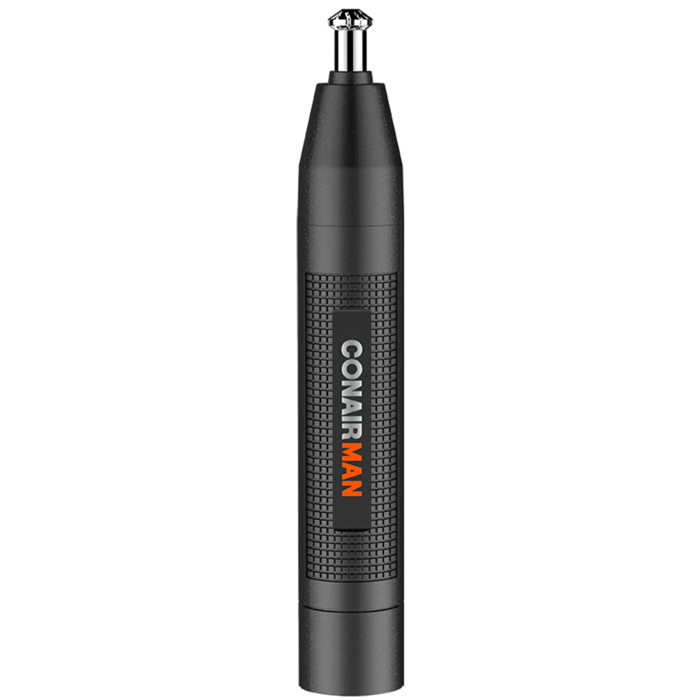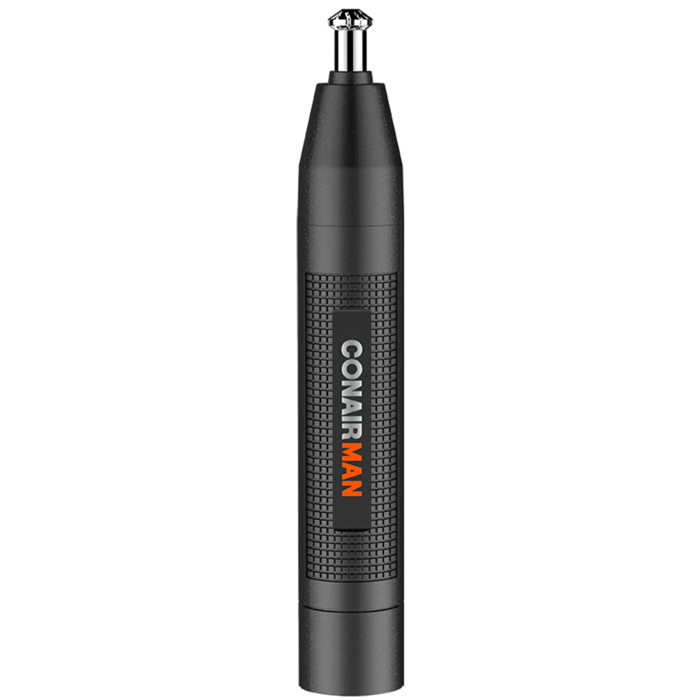 RECORTADORA DE VELLO DE NARIZ Y OREJAS, ALIMENTADA POR BATERÍAS
Description
La recortadora de vellos de nariz y orejas ConairMAN™, que funciona con baterías, tiene un cabezal de acabado y un accesorio rasurador, además de una cuchilla con 3 biseles; presenta un diseño compacto y altamente portátil. Los cabezales son lavables, e incluye un estuche de almacenaje para que puedas llevar esta recortadora cuando viajes.
Features
2 accesorios: cabezal de acabado, accesorio rasurador
Cuchilla con 3 biseles, con forma de diamante
Cabezales lavables
Diseño duradero/compacto
Estuche de almacenaje
1 batería AA (no incluida)
Instruction Manual
Reviews
Rated

5

out of

5
by
Wombie6
from
Unique head dedign
I've had many trimmers but this one does a dependably good job. The cutting head is shaped in such a way that it takes a good angle without a lot of moving around. It's a bit noisy for ear trimming but I'm getting used to that. Definitely recommend this item.
Date published: 2022-09-23
Rated

5

out of

5
by
Bob83
from
The absolute best I've ever owned
I purchased this trimmer about one month ago. What intrigued me at first was the shape of the working end. Sort of like a mushroom which I thought should make it easier to get into the anterior recesses of the nose. Well, that is exactly the case. This trimmed faster and more efficient than any other trimmer that I have ever owned.
Date published: 2022-05-11
Rated

5

out of

5
by
TrimmedNHappt
from
Great Features
I have purchased a multitude of trimmers in many brands and never totally satisfied cause they often don't have attachment that cut ear hair or nose completely without me cutting myself or a trimmer for under and around nose. The attachments the Conair comes with allow all these things. I couldn't be happier with this purchase.
Date published: 2022-02-10
Rated

4

out of

5
by
Oldebeaste
from
Good product for the price
My last ear and nose hair trimmer finally died after 30+ years. Looking for a new one I found many makers and models and settled on this one. It does what I need it to do (tickles my nose a bit!) and is easy to clean. The only drawback is it isn't rechargeable, but that really isn't a big deal. I would recommend this trimmer.
Date published: 2022-02-17
Rated

5

out of

5
by
retired doc
from
Great device
I had an older Conair Ear/Nose trimmer that was ok but really didn't do a good job. I went online and evaluated what was available. This was well rated and inexpensive. It works great. With it, I was able to completely get rid of all the hair in my nostrils, and that happened with no discomfort. I couldn't be more pleased.
Date published: 2022-04-06
Rated

5

out of

5
by
Monty 55
from
Easy to use and CLEAN!
This is my second trimmer- I had left my original trimmer at a hunting camp last season(2019) in South Texas! I tried to recover it , but was not successful. Made do with tweezers, etc. until my wife inquired about me trimmer-she, then had the PERFECT Christmas present for me if I promised never to leave it behind ANYWHERE!
Date published: 2021-04-15
Rated

4

out of

5
by
steve42
from
Great for Ears
The ear trimmer works great and does a better job than conventional ear trimmers. One problem I have had is the accessory trimmer assembly does not work. The company I purchased it from sent me a new set of heads, but the trimmer assembly still does not work. The ear heads work fine. I assume the main unit is faulty.
Date published: 2022-03-18
Rated

5

out of

5
by
Anonymous
from
Works great on nose and ear hair on hubby!!
My husband and I have tried numerous shavers on him over the years to get rid of nose hair and your hair. Many of them have been terrible. This one is the bomb! It works absolutely great. When I cleared the hair out of my husband's nostrils, he couldn't stop commenting on how well he could breathe! :) A winner!!
Date published: 2020-06-27
Rated

5

out of

5
by
LJTUSHHOG
from
It Works
I just had about given up purchasing something that would cut my ear hair. After reading a review on line, I thought I would give this Conair thinking it probably wouldn't work either. But to my surprise, it worked and worked great. Thank you for making this product. This trimmer really is a game changer.
Date published: 2021-09-28
Rated

5

out of

5
by
Hoppy
from
It Really Works!
I bought this nose hair trimmer about a month ago and I am totally pleased with its performance. Unlike two other nose trimmers bought earlier that mostly push the hairs around, the special shape of the cutting tip of the Conair Trimmer cuts nose hairs quickly and completely. What a great design improvement.
Date published: 2021-02-02
Rated

5

out of

5
by
Adcom555
from
Great product
I recently purchased this trimmer to replace an old Panasonic trimmer. No comparison! The Conair is much more powerful plus it has a second attachment that serves as a sideburn/mustache/beard trimmer that has straight trim side and a mini electric razor side. Sure it was a bit more costly but it is worth it.
Date published: 2020-11-11
Rated

5

out of

5
by
GimpsterSJ
from
It will bring tears to your eyes...
...how quickly and brutally it removes nose hair, but it only stings for a second. No blood, and its been almost a month without any signs of new hair. Good for the ears as well, as long as you can put up with the sound of a chainsaw close to your head. I'm exaggerating a little bit, but I would buy it again.
Date published: 2022-02-08
Rated

5

out of

5
by
dand
from
Love the cutting head on this trimmer!
I had an old nose hair trimmer with the shaft head, and it would leave hair uncut...Not so with this trimmer! The head thoroughly cuts hair wherever you place the head in your nostril! The unit is a bit noisy, but it cuts hair without pulling or twisting strands of hair. Uses one AA battery. Recommended.
Date published: 2021-08-09
Rated

3

out of

5
by
Eyedocjoe
from
Works Well, But
Pros: the design of the cutting head helps to cut unwanted nose and ear hair well. The head section is removable and can be rinsed clean under the faucet. Con: The on/off switch is rotating the bottom of the trimmer. Tricky to use and if not careful you can over rotate and end up removing the bottom.
Date published: 2022-07-19
Rated

4

out of

5
by
Skeet
from
I liked that in is small and easy to use !
At 66 yrs old it seems like hair only grows on my ears and in my nose anymore !I started using the Conair Ear/Nose Trimmer - No more pulling the hair from my nose , and that could be pretty painful at times !!! It also did a really good job of trimming my ears ! This is a really good product !!!!!!
Date published: 2018-10-15
Rated

5

out of

5
by
ktaylor1004
from
This product really gets the job done!
I've tried a number of brands over the years, relative to ear/nose trimmers. This was a recommended item on Amazon, so I thought I'd try it. True to the reviews, it performs great. It's easy to hold, and painlessly does what its intended to do. I would recommend it without hesitation.
Date published: 2022-07-31
Rated

5

out of

5
by
James George
from
Great trimmer
I bought this trimmer as a replacement for a 10 year conair hair trimmer. It is of excellent quality and came with a convenient sideburn trimmer and shaver blade. It does a great job with its rotary head. It is noisier than my old one but it does a much better job. Highly recommended.
Date published: 2022-01-08
Rated

5

out of

5
by
BigWill
from
Great Purchase!
I'm older so my unwanted hairs probably grow more than some. That being the case, Surprising once I use the Conair ear/nose trimmer it's so effective I don't have to trim my nose hairs everyday actual it's days in between. So glad I chose this trimmer, it was most needed and delivers.
Date published: 2020-07-04
Rated

5

out of

5
by
Guess who
from
Works Great
Glad that I purchased product does not pull or bite me . Actually has an added benefit i wear hearing aids and my ears have iched inside for as long as I have had them . Trimming ear hair with Conair trimmer has stopped the ich amazing product . Wish I would have found sooner.
Date published: 2021-12-01
Rated

5

out of

5
by
JCGonzalez
from
Best Nose Clipper
This is by far the best nose/ear clipper. Ive purchased many and this one is by far the best. It doesn't pull your hair and clips it short and doesn't leave a mess. Rinse it under water and dry. Its small enough to carry when your traveling and it comes with a battery provided.
Date published: 2022-05-30
Rated

5

out of

5
by
Bruce
from
If H-S says it's the best...believe it!
I've tried several kinds of nose hair trimmers and haven't been happy with any of them. Also, they all seem to look alike. The Conair is quite a bit better. Easy to use, doesn't pull hairs and gets the job done quickly. If Hammacher Schlemmer says it's the best...believe it!
Date published: 2022-06-16
Rated

5

out of

5
by
Kingfisher
from
Best trimmer ever !
I bought this unit because the design was New and appeared better than the three I already own. After using the unit , I can testify it is the best ever, I plan yo purchase another unit to put in my travel bag. The three units I already own are going to the trash!
Date published: 2020-07-06
Rated

5

out of

5
by
Frankie
from
Excellent trimmer!!!
I bought this trimmer as it was recommended by Amazon and it's an excellent trimmer. The design of the cutting head is a great design as you can trim going forward and trim going backwards. Whoever came up with that design is brilliant!. I'm very happy with my trimmer
Date published: 2021-10-23
Rated

5

out of

5
by
George1950
from
Smooth performance!
I had been using a reciprocating cutter with mixed results. The rotating head cutter on the Conair provides close, clean work on nose and ears without a trace of discomfort. The shaver-cutter head works great on sideburns and mustache. Great performer, excellent value!
Date published: 2020-12-21
Rated

5

out of

5
by
DSX1
from
Best trimmer I've ever owned!
Beats Panasonic, Phillips, Remington, Wahl and the others, hands down. Fast and easy, gets all the hair, no stubble, no missed hairs. Think of a high-end electric shaver for your face, but for your nose and ears. Excellent trimmer, I'll never use anything else again.
Date published: 2020-10-18
Rated

1

out of

5
by
Engineer - Writer
from
HELP - Did NOT work out of the Box.
Did not work out of the Box: o Faulty - Assembly or Design The negative contact with the battery is prevented by Two - TOO HIGH plastic guides. Result - no initial battery contact at all. therefor the SWITCH has no affect. o Conair's web site says that the Product is Not Available. They don't say Why? o Instructions do NOT mention how to turn it ON nor even mention the word ON. o Instructions do NOT mention how to turn it OFF nor even mention the word OFF. o Instructions did not Provide a Phone number. ( one was on the box tab.) o The Conair Phone number is not supported on Sat or Sundays. ( today is Sunday) o The web site was not in the instructions, but found it on the box tab. o The web site did not Provide any trouble shooting or instructions. o I was able to jumper the battery negative terminal with the case contact and it ran. [ ] They could rectify the problem by Sending me a functioning "Battery Compartment Cover" (which includes the switch)
Date published: 2022-02-21
Rated

5

out of

5
by
LouH
from
Best on the Market
This is the best nose and ear hair trimmer on the market due to the unique cutter head shape. The shape allows for easy maneuverability in the nostril and ear crevasses. The motor seems powerful enough to spin the cutter easily. Great Product!
Date published: 2019-03-13
Rated

5

out of

5
by
ParkSlopeUser
from
Better than previous brands used
This is the third or fourth trimmer I have purchased. The Conair is better, cuts quicker— that is, it cuts the first time without the need to return again and again to the same area—and is more compact than other well known brands I have used.
Date published: 2020-12-01
Rated

5

out of

5
by
Jon W
from
Works so much better than others.
I have gone through two other brands of nose trimmers and they feel like little machete's in my nostrils as hey hack and pull the hair. This is an assertive trimmer! It mows through hair in one pass no matter how thick and is done in seconds.
Date published: 2022-03-18
Rated

5

out of

5
by
Raydar
from
Works on ear hair as well as nose.
This was a gift. The gift giver, who after all is the best party to assess the the results said the nose and ear hair issue has been resolved. I never knew there was a problem, but then again I don't need to look at me as often as others do.
Date published: 2022-01-09
bvseo_sdk, dw_cartridge, 18.2.0, p_sdk_3.2.0
CLOUD, getReviews, 7ms
reviews, product