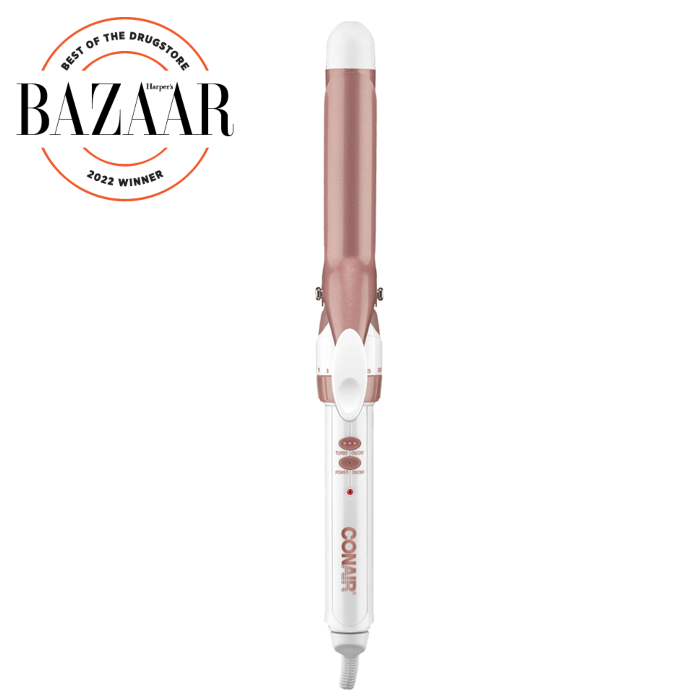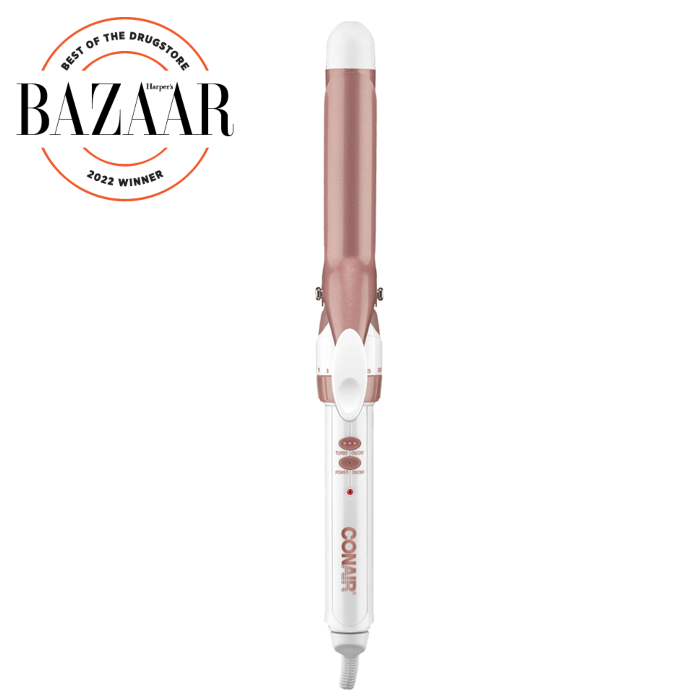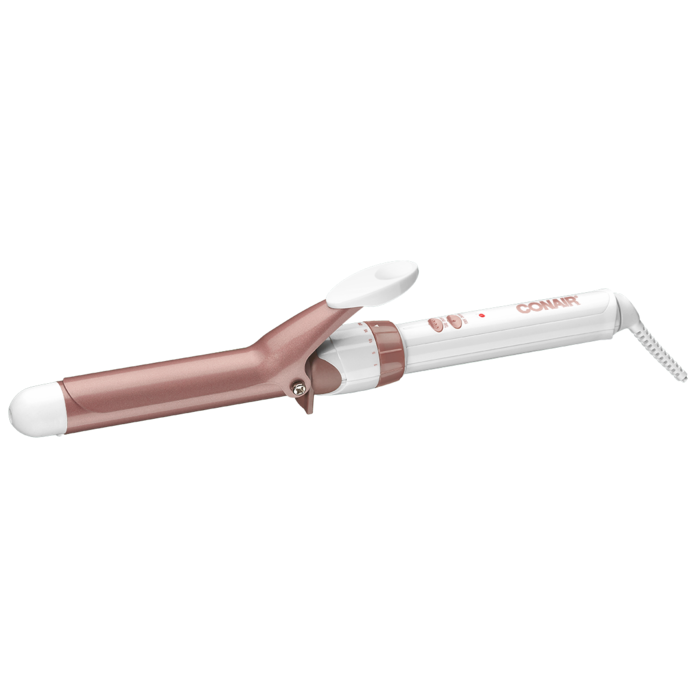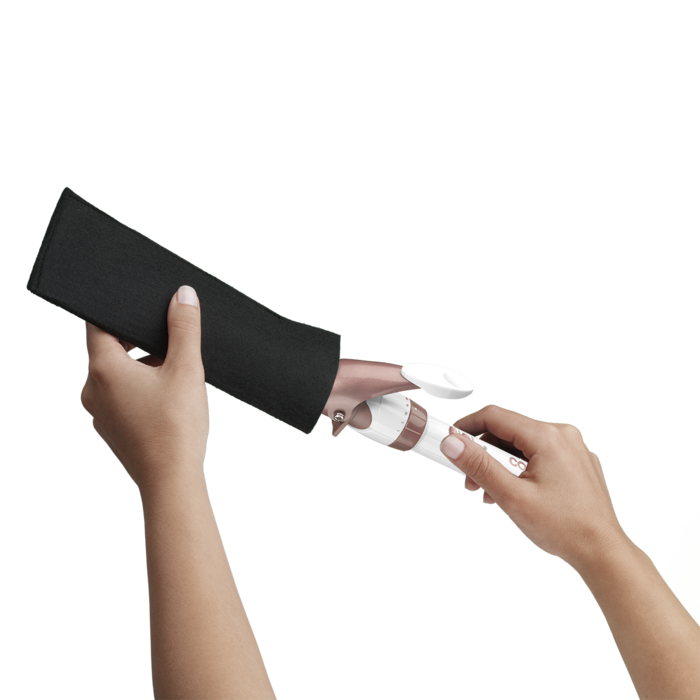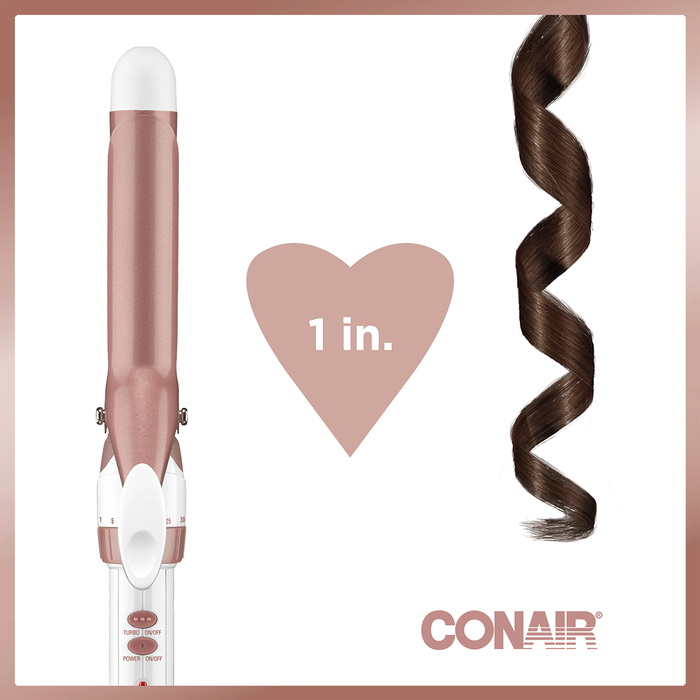 TENAZA DOUBLE CERAMIC DE 1 PULGADAS
Description
Esta tenaza Double Ceramic de 1 pulgadas tiene mayor contenido de cerámica para distribuir el calor de manera uniforme, lo que te permite peinarte rápido y crear rizos duraderos. 30 ajustes de calor hacen que sea perfecta para todo tipo de cabello, y la punta termorresistente permite manejarla fácilmente.
Features
Tubo de 1"
Crea rizos clásicos
Rizos impecables, incluso cuando hay humedad
30 ajustes de calor para todo tipo de cabello
Calor extremo de 375°F
Turbo Heat® genera un golpe de calor de hasta 27°F para las zonas difíciles de peinar
Calentamiento instantáneo
Protección contra el calor y el daño
Control antifrizz
Punta termorresistente para un manejo fácil
Los botones empotrados evitan el apagado accidental
Apagado automático
Doble voltaje
Largo del cable: 5 pies
Instruction Manual
Reviews
Rated

4

out of

5
by
nice49erfan
from
DoubleCeramic Curling Iron
I have used Conair products in the past but this is the first time trying this type of curling iron. I like the various heat settings which is good for different types of hair. My mother's hair is thicker and mine is more medium for wavy type and my niece is fine setting and my mother in law could use the low to medium setting. I have recommended it to my friends and family and will get this as a good holiday gift too.
Date published: 2019-02-12
Rated

4

out of

5
by
Mom of 8
from
Love this product
LOVE LOVE LOVE this curling iron! This curling iron is so easy to use. My hair is very thin and it actually holds curls for a very long time. I've been looking for an iron that gives me bigger curls without the frizz. This iron does just that. This is the only iron that I have that hasn't damaged my hair or given me frizz. I love using this when I wake up with bed hair or go to sleep with curls and need a quick fix
Date published: 2019-02-18
Rated

5

out of

5
by
Mammaluvsdaddy
from
I love it!
The color is more brown but it has a pretty shimmer to it. (I have rose gold). Easy to use and quick. Heats up in seconds. I use it for my girls in the mornings before school. I love the multiple settings and the turbo boost. Definitely want to get multiple sizes. However the biggest downsize I found is that it's really easy to hit the off button while making your curl. Which is countered by how FAST it warms up.
Date published: 2019-02-18
Rated

4

out of

5
by
deniserae81
from
A bit above average
I love doing my hair and my daughter's so this definitely came in handy! I'm used to using a curling iron versus a wand, and vice-versa for my daughter so she got to be my guinea pig. I love how the barrel isn't too large or small; it's just right. I like how easy it is to use. Comparing it to other curling irons I have used, I'd say it's a bit above average. I'm excited to try it ony hair next!
Date published: 2019-02-18
Rated

5

out of

5
by
Salena
from
Great inexpensive curling iron
I've been using this curling iron for a few weeks now. It's very inexpensive and works amazingly well. Heats up super fast. Holds heat well. My hair doesn't stick to it. I really like it. I haven't used a ceramic curler before but my straightener is ceramic and I've always loved it. Ceramic just glides a cross your hair and holds heat so well. This is a great product. Definetly worth the buy!
Date published: 2019-02-18
Rated

5

out of

5
by
Amanda3
from
Very happy with my results!
This curling iron really surprised me. I wasn't expecting to get such great results, but I was very wrong. It's light weight and easy to use. It heats up super fast with different temp settings and automatic shut off. This iron has a turbo button which seems to speed up the heat time. I had no problems at all getting all of my hair curled and it didn't look fried afterwards. It looked great!
Date published: 2019-02-18
Rated

5

out of

5
by
Honest Reviewer
from
I will defiantly use and recommend this product!
I have tried several different curling irons and I have not found a product that worked for my hair until I used the Conair Double Ceramic curling iron. Other curling irons I used either did not work at all or the curl lasted less than ten minutes. With this Conair Double Ceramic Curling Iron, I was able to curl with ease and keep the curls throughout the day which was very exciting.
Date published: 2019-02-14
Rated

5

out of

5
by
Kelly3
from
Really great curling iron!
Usually I can't get a curl to stay in my thick coarse hair and have only had luck using curling wands but this curling iron works on my hair! I have tried curling irons in the past and the curl would literally fall out in minutes but with this ceramic iron the curls lasted all day. Another thing I loved is that my hair didn't get pulled by the clip. All in all it is a great product!
Date published: 2019-02-18
Rated

5

out of

5
by
JennKA
from
Great!!!!!!
My hair is a little pass my shoulders and this curling iron is great for curling this length!! The barrel heats up very fast and has even heating throughout the barrel and has several heating levels. I love the curls I get from this curling iron and I'd love to try out their other sizes. This is a great all around curling iron that is very pretty!! Can't go wrong with this!!
Date published: 2019-02-14
Rated

5

out of

5
by
Heather2
from
I would definitely Buy this curling iron
When I first started to use this product I couldn't believe how easy it was to curl! The tip of the curling iron stays cool never got hot so it's easily to handle with your other hand!. It also has the different temperatures for different types of hair and is amazing. also if you forget to turn it off it'll will automatically cut off! Which is great! I love this product!.
Date published: 2019-02-12
Rated

5

out of

5
by
Amy2
from
Great design
This Conair iron has a really great design that makes it super easy to use. It's extremely lightweight, so my arm doesn't get tired holding it while I do multiple layers. Also, the placement of the buttons and heat controls keep me from accidentally turning it off or up, which has happened too many times before. The ceramic design leaves my hair smooth and frizz-free.
Date published: 2019-02-18
Rated

3

out of

5
by
Pammy01
from
It's okay!
I wasn't too impressed with the this curling iron. It doesn't heat and curl as good as other irons I've owned. I wouldn't buy this on my own. I wasn't aware of this curler before this sampling program. I wouldn't recommend this to someone who curls their hair a lot or has thick hair. Might be suitable For teenagers starting to curl hair but not someone who does often.
Date published: 2019-02-18
Rated

4

out of

5
by
KrissyQ
from
Great for thin hair at a great price
I don't have very thick hair so it doesn't take much to heat to curl it. For an inexpensive option, I got the perfect curl by wrapping it around. The curling iron took under a minute to turn on and I could set it to the perfect temp. The curls held all night with little frizz. I'm someone who doesn't curl their hair often, so it's perfect for me and my lifestyle.
Date published: 2019-02-18
Rated

4

out of

5
by
MomOf9
from
Loved the size of the curls
So I tried this out on my daughter who has straight/wavy hair and the curls looked so good but it was my mistake curling her hair clean instead of "dirty" hair maybe then the curls would've lasted longer than 10 minutes but it works really good and heats up fast. Nice size curler and I love being able to change the temp to whatever your hair needs are.
Date published: 2019-02-18
Rated

4

out of

5
by
Reviewer Krystal
from
I absolutely love this curling iron
I was very happy to receive the Conair double ceramic curling iron and it did not let me down! The packaging was very visually appealing and the curling iron itself is a beautiful rose gold color. I plugged it in and it heated up very fast and it gave me curls that lasted all day! I would purchase this item again and recommend it to friends and family!
Date published: 2019-02-12
Rated

5

out of

5
by
Samia Lynn
from
Creates amazing, long-lasting curls!
I curl my hair regularly and have tried many different curlers. This curling iron is now my new favorite! It's the perfect size for the amount of hair I have and it has many different settings which is nice! I have done a few different styles of curls with this iron and I love every style. The ceramic also helps keep my hair looking shiny and smooth!
Date published: 2019-02-18
Rated

5

out of

5
by
Tm1213
from
Conair 1 inch ceramic curling iron
Tha Conair ceramic 1 inch curling iron is a great product! The curling iron makes perfect curls every time, and has several different settings so you can choose the one that works best for you. The curling iron heats up very quickly so its wonderful on the days when you dont have hours to devote to styling your hair!!
Date published: 2019-02-18
Rated

5

out of

5
by
Lindsayt12
from
This curling wand is great
This product is great for everyday styles. It gave my hair perfect curls, is easy to use and lightweight. It heats up fairly quickly as well. There are so many different Wands out there that makes it hard to choose. This one is a great product and at a great price point. So glad I was able to sample.
Date published: 2019-02-18
Rated

5

out of

5
by
Lanapat83
from
Makes awesome curls!
This Conair Double Ceramic 1 inch curling iron works great! I love the perfect bouncy curls it makes. It's much better than other brands I've used and I will now be curling my hair alot more than before. I would definitely buy it again and would recommend it to anyone looking for a great curling iron!
Date published: 2019-02-18
Rated

5

out of

5
by
thismomrighthere
from
Creates beautiful soft curls!
This conair double ceramic 1 inch curling iron is not only a beautiful design but also works wonderfully! It heats up almost instantly and creates loose bouncy curls that are not only effortlessly achieved but also long lasting! I love this curling iron and will be using it on a regular basis.
Date published: 2019-02-18
Rated

5

out of

5
by
Meg816
from
Conair is wonderful!
To start off the packaging is so slick and the color combo on the iron is totally adorable! Conair always produce great quality products! So happy I was able to try this out. The curls it produces are long lasting and works perfectly! This is a great iron compared to others out on the market.
Date published: 2019-02-12
Rated

5

out of

5
by
Btrevino
from
Holds curls
Love this! Haven't found a curling iron that would actually curl my hair and hold in a long time. I always thought it was just my hair. This seems to do the job. Heats up so quick too. You can also dial it down in temperature too if needed. Love this ceramic curler! Will be using it a lot
Date published: 2019-02-18
Rated

5

out of

5
by
Vallie
from
Easy to use, great settings.
Love this new curling iron. It's perfect for my wavy bob to create that cute touseled look. I have thick wavy hair. The iron heats up nicely. It gets hot pretty quick. I love the heat shield that it comes with also. Love all of my conair products. This certainly does not disappoint.
Date published: 2019-02-18
Rated

4

out of

5
by
Curly
from
Works well if you want a curling iron
I just tried this curling iron for the first time. I usually always buy my hair styling products by Conair, so I like the brand right off the bat. The style is very sleek and appealing to the eye, I like having a curling iron that looks nice, don't ask me why, I don't know! Anyway, I curl my hair probably 3 or 4 of the 5 weekdays and maybe on the weekends. So, I curl my hair more than I straighten it or anything else. I just love curls. I think that this product worked the same as other curling products I own, it did not change the game for me. I have another curling iron that I have had probably too many years now, and two wands. Honestly, I personally prefer a wand to a curling iron. The curls look nice with this model, however, I think I prefer the curls that are produced with a wand. However, if you are in the market for a new curling iron, I would say this a decent model and very affordable. It will give you the results you are looking for, and I would recommend if you are searching for a curling iron.
Date published: 2019-02-18
Rated

4

out of

5
by
Lorri J
from
Super lightweight
I have had a Conair blow dryer about 20+ years and it's still going. I trusted the name. Much easier to handle this iron than some of the professional top sellers. Happy with the design. Half the price really helps on my budget. Thank you Conair for coming through again!
Date published: 2019-06-07
Rated

4

out of

5
by
CampbellTwins
from
I would recommend this product.
Even though this isn't the most expensive curling iron I own it's quickly becoming one of my favorites. I love the Turbo Heat button since I can keep the heat at a lower setting and use the Turbo Heat button when I reach a specific section of hair that's a bit harder to take a curl. The only reason I took away a star is due to the fact that the heat setting is easy to hit making you accidentally lower or raise the temperature without noticing. I do like how the on/off buttons are indented and not sensitive so accidentally turning off the iron wasn't a problem. Auto shutoff is a great feature since I've left it on and walked out of the bathroom and not given it a second thought until hours later. It left my hair smooth and shiny not frizzy at all and my hair held the curl nicely with very little touch-up on day two. While I had not heard of this iron before participating in this program I would absolutely both buy this, and I will be buying a fatter barrel iron, and I will also recommend this curling iron to friends.
Date published: 2019-02-18
Rated

4

out of

5
by
Buffy Zittermen
from
Pretty color
I really liked how fast it gets hot so I can curl my hair really quickly and have the option to change the heat settings. Love the color of is since it isn't your typical black or silver curling iron. I took this curling iron with me when I went out town and I got compliments from my family that they really liked the color of it. I curled my hair as well as my cousin's hair. It curled our thin hair very well and it didn't burn our hair. My aunt used it as well for her much thicker and full hair and liked how fast it heated up. I love how it didn't pull my hair and it made my hair feel smoother. The curling iron came with a heat shield pouch which was perfect to use when traveling with it. But, my aunt and I didn't like how we accidentally kept pressing the buttons even though it says it has buttons that prevent accidental shutoff. Maybe we have to much of a heavy hand or maybe I need to learn how to hold it different. If I didn't have trouble with pressing the buttons while using it, I would have given it 5 stars.
Date published: 2019-02-18
Rated

5

out of

5
by
Mandy2
from
Amazing Curl Abilities!!!
I have to say I am HIGHLY IMPRESSED with Conair 1" double ceramic curling iron. I have a terrible time curling my hair because it is SOOO long (middle of my back long). I have tried NUMEROUS curling and flat irons and while I may get a "wavy" look, I could never achieve the beautiful locks I see people with shorter hair achieve. Well, I am here to say I DID IT!! and OMG it did not take me long at all! Conair has outdone themselves with this one. It heats up SUPER fast and in a matter of less than a minute of wrapping my hair in the iron, I had a beautiful lock. I kept going and the curls Conair 1" double barrel iron produced made me feel and look amazing. I would highly recommend anyone looking for that just out of the salon curl look (at home with less expense) please consider Conairs 1" double barrel curling iron. My review is my opinion and just because I received this Curling iron in exchange for my honest review, I still 100% give my honest review. Now, go get yourself a curling iron that works and works well!
Date published: 2019-02-14
Rated

4

out of

5
by
Mel2
from
Decent, inexpensive curling iron
This is a good overall curling iron with multiple heat settings and a turbo option for hard to curl spots. My only gripe (and the reason I didn't give this five stars) is that the on/off switch is in a bad spot and I tend to hit it and turn it off while doing my hair.
Date published: 2019-02-18
Rated

5

out of

5
by
Sun621
from
Love it!
Conair® Double Ceramic™ 1-inch Curling Iron: pros: it heats up fairly fast, hasn't dried my hair nor damaged any ends of my hair. The barrel is the perfect size for my medium length hair. I leave my house with curls, which is amazing because my hair is pin straight.
Date published: 2019-02-18
bvseo_sdk, dw_cartridge, 18.2.0, p_sdk_3.2.0
CLOUD, getReviews, 6ms
reviews, product