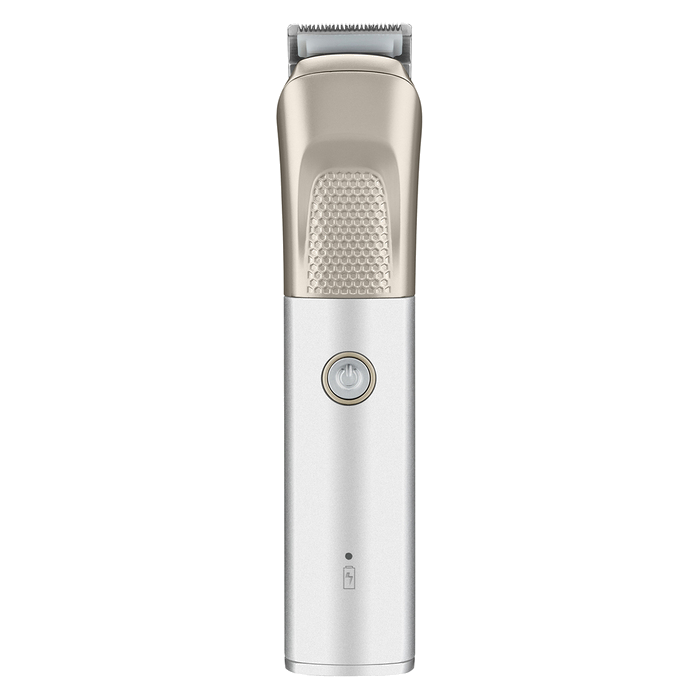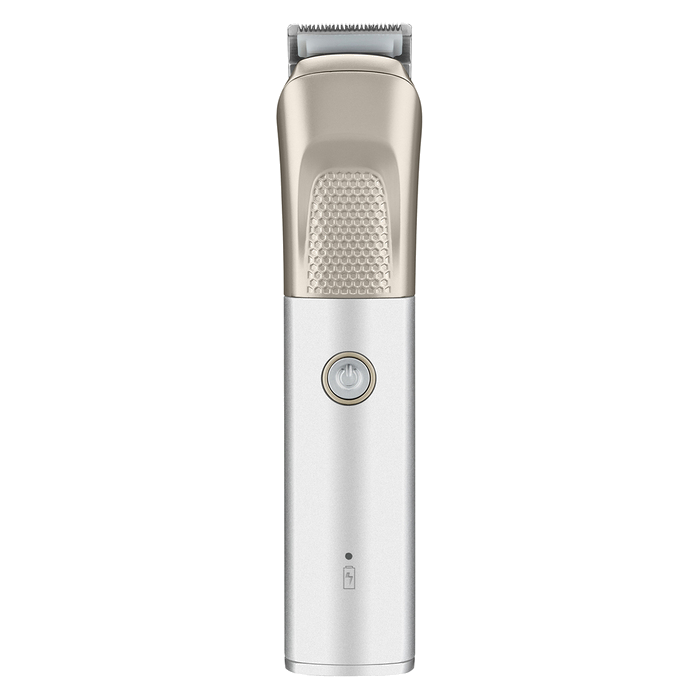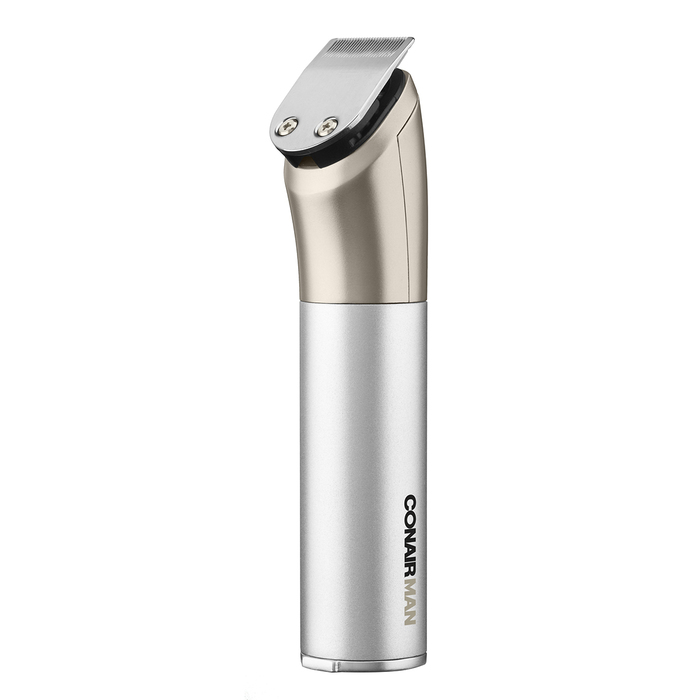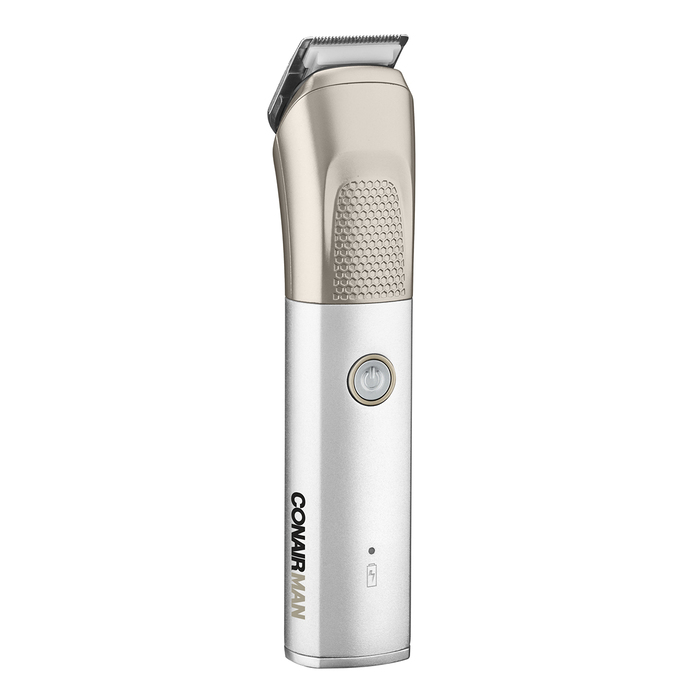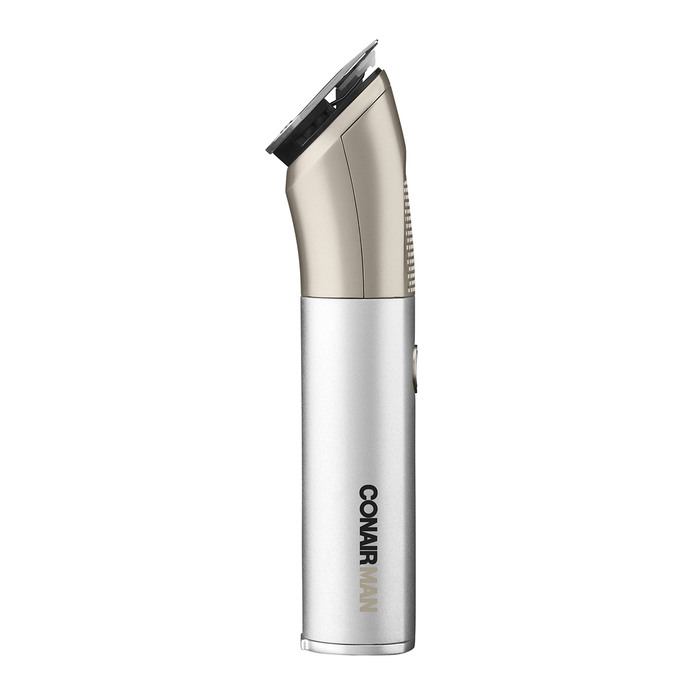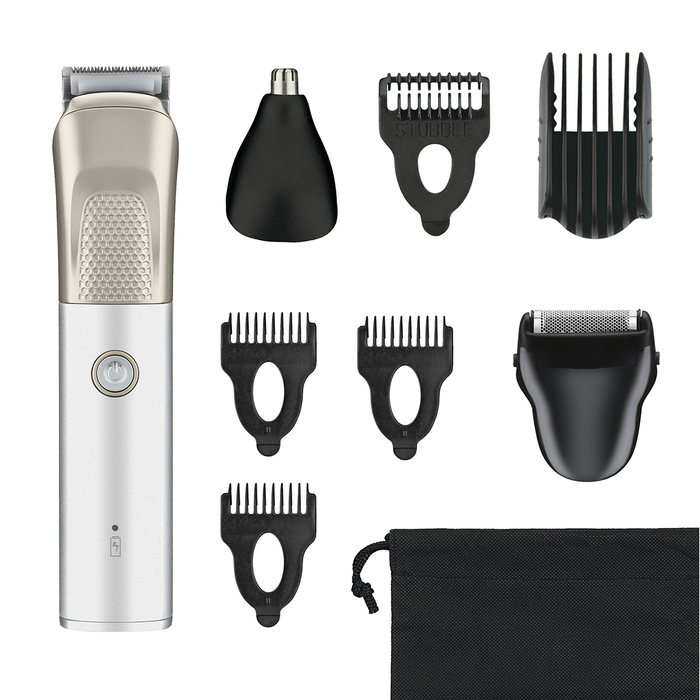 High-Performance All-in-One Metal Trimmer
Professional-grade power and performance. It's more than maintenance, it's MetalCraft™
Description
Define and refine stubble, 'stache, sideburns and beard with the precision of MetalCraft™ from ConairMan®. This powerful, professional all-in-one trimmer has self-sharpening, etched stainless steel blades. It's a metallic must-have for any guy who wants to get a grip on his grooming. The easy-to-use attachments— Ear/Nose Trimmer, 3 Jawline Combs, Shaving Foil, Stubble Comb, and 5-Position Adjustable Comb—help put professional-grade trimming right in the palm of his hand.

Equipped with a high-torque DC motor, this pro-grade power tool also gives him all the rechargeable, lithium-ion energy he needs to get the job done—without a cord to hold him back. Featuring a smooth metal handle for complete comfort and control, this rugged gear can be his go-to for confident high-performance grooming, now and years from now. Professional-grade power and performance. It's more than maintenance, it's MetalCraft™.
Features
Professional all-in-one hair trimmer: Includes a variety of attachments for all your trimming needs—from shaping full beards, to managing your mustache or maintaining your stubble.
Cordless/rechargeable lithium ion: Holds charge for sustained power performance and cordless convenience.
Premium metal housing trimmer: High-torque, professional DC motor provides optimal power and smooth metal handle ensures complete comfort and control.
Self-sharpening stainless steel blades: Maintains sharpness for smooth, precise trimming.
Hair trimming blades: Forged from high-quality stainless steel, these etched blades are made for precise trimming and detail work.
Nose trimmer attachment: Reaches deep to remove those notorious nose and ear hairs safely and certainly.
Shaver attachment: Custom-designed shaving foil captures hair and cuts close to the skin for a clean shave without irritation.
3 jaw line combs: Vary the closeness of your trim and conform to the contour of your jaw for exact results.
5 position adjustable comb: Customize trimming, from stubble to 'stache to sideburns to full beard.
Specs and Support
Model Number
GMTL30
Shop By Tools
Mustache
Warranty
Limited 2-year warranty
Dimensions
1.39 x 1.39 x 1.36 in.
Rated 4 out of 5
by
Bucia
from
Conair trimmer
I was skeptical at first with the small size of the trimmer but after I used it a few times I was very surprised on how well it trimmed my beard I used a few of the attachments for the first time I was not sold on the nose and ear trimmer as I do not use the in my everyday life look for somebody that does they would really like it and for the roller for the stubbles of my beard that works pretty good for me I'd like to keep a goatee so getting the little stubbles on the side is perfect with this trimmer. I have a really good battery life and I would recommend this to all my guy friends for shaving like I said I just did not use the nose and ear trimmer so I cannot give any kind of review on that but overall rating I would give it 8 and 1/2
Date published: 2021-10-16
Rated 5 out of 5
by
Lanen82
from
Best trimmer I've used!
The ConairMan MetalCraft High Performance Metal Trimmer is absolutely amazing. It makes trimming my beard and sideburns a breeze. I use it to shave the back of my neck as well and it doesn't leave any irritation while giving a close cut. There is no drag or pulling of hair at all. The attachments allow you to get the perfect length trim. Being rechargeable is great as well. You don't have to worry about a cord getting in the way and the charge lasts quite a long time. Overall I really love this trimmer and would highly recommend it.
Date published: 2021-10-16
Rated 5 out of 5
by
KevinG
from
Works Really Good
This trimmer works very well in so many ways! My first test with this trimmer was when my wife cut my hair, which she always does. The used the trimmer to do my back edges and side burns, and it works so well! This trimmer is so sharp that it gives you nice and clean straight lines and cuts the hair the first time around. I love how there are so many attachments to this trimmer. All the attachments that you receive gives you less clutter because you can now get rid of all the separate devices you have for one particular thing. This trimmer charges up fast and the charge lasts a long time. I also love the design of this trimmer. It is a very modern looking product and it is very comfortable holding it in your hands. I have no complaints about this trimmer and give it 5 stars!
Date published: 2021-09-16
Rated 4 out of 5
by
Randon
from
Overwhelming difference in shaving
Before using this product I had hair clippers and a multitude of trimmers and razors for my weekly hair and beard care. Now that I have tried this all in one product I am very surprised that I can use this for beard trimming and shaping, sideburns, trimming around ears and neck and even to do an entire hair cut if I wanted. Many trimmers come with many heads that don't always work like Nose trimmers and hair cutting heads but they never work. This nose trimmer is quick and efficient and the other heads do not tug or pull on the hair. The only drawback is the old style beard trimmer head that is grated doesn't work very well. But for me I never use that kind of head so it didn't affect my usage but for those who do like the grated bear trimmer heads it's not a good product.
Date published: 2021-09-16
Rated 4 out of 5
by
Mktgmusicfoodie
from
Sleek design, flexible options. One shortcoming
The trimmer itself is really nicely designed and constructed - it feels like it could last a very long time. Not so sure about the plastic attachments. It is also very powerful and effective. The one drawback is that the bear trimmer has limited options for trim lengths and there are no numbers between the options. So you have to remember what dot you like, and there are some significant differences between them. I have another trimmer that has more like 14 options on a dial with numbers which I prefer.
Date published: 2021-10-24
Rated 5 out of 5
by
Bob Knobenoff
from
Makeup Applicator for Your Face
I am fifty-five and read somewhere that a man's facial hair is like makeup for his face. I got burned out looking at my same old mug in family photos and decided to change it up a bit. I decided to grow a short beard and if it looked ok, maybe go for more. I've used these types of trimmers before (a quarter century ago) so I knew what I wanted: 1. Cuts well (no snagging or yanking) 2. Comfortable to hold in multiple positions 3. Adjustable lengths 4. Holds a charge for awhile Verdict: This does all four! Happy to say. It also has some extras for $50.00. I haven't had a need to try all the extras except the nose trimmer. It worked well too, but does get slightly warm (felt kinda good up there to me). Five Stars!!! Plus it kinda looks like Alien from that movie franchise.
Date published: 2021-10-12
Rated 5 out of 5
by
JP12
from
Smooth trim
Had this for about a month now and it works good. I have trimmed my beard and actually cut my hair with it. I wouldn't recommend cutting you hair as it's small and takes time to do it but to trim the edges works very well. Smooth cut and pretty close to the skin without cutting your skin. Good battery haven't had to charge it yet. Cleans easy the head comes off easy for easy cleaning. Has a few attachments that work well. Overall I would recommend this for a good trimmer.
Date published: 2021-10-16
Rated 4 out of 5
by
Cody07
from
Great All around trimmer
I've had another trimmer for years that I have loved, I bought one to stay at home and one I keep in my travel bag - It trimmed my beard perfectly and did what I wanted it to. This ConairMan MetalCraft trimmer works great + has the added bonus of nose/ear trimming that my other trimmer did not. It's also a lot quieter than the other. I've used it, and compared with my other and it works just as well if not a little better. I really like the added attachments and sleek design.
Date published: 2021-10-22
Rated 5 out of 5
by
fsunoles20
from
Compact and works perfectly
This device is a great all-in-one trimmer for all the different hair on my face i have to keep neat. Works great on my my eye-brows, sideburns and with the different attachments keeps my mustache and goatee clean and neat. Then I throw on another attachment and it takes care of all my nose hair. The rechargeable battery life is great and the pouch they provide is great for keep all the different attachments together when i travel or just in my bathroom in general.
Date published: 2021-10-28
Rated 4 out of 5
by
KSean
from
Good performance, holds charge well
The ConairMan MetalCraft High Performance Metal Trimmer is a great cordless trimmer for touch ups as well as everyday use. The blades are sharp and it holds a charge well. I have not had to charge it yet since receiving it a few weeks ago. My only issue is that the foil shaver does not always perform up to par. Other than that, the included attachments are great and I would recommend it for anyone looking for an easy to use and reliable wireless trimmer.
Date published: 2021-10-29
Rated 4 out of 5
by
Serge
from
Solid Trimmer
From the get go this trimmer is solids. It is sleek, light weight and cordless. It comes with 5 different attachments that included an ear and nose hair trimmer. But I will say it works best as a hair clipper and the shaver attachment and electric shaver don't work as well. If you have longer facial hair, it does has some problems with an even trim. All in all, I recommend this product, it is great for travel, especially since it charges quickly.
Date published: 2021-11-10
Rated 5 out of 5
by
Conairman
from
Conair Trimmer
How does this product compare to other products you've tried? 1. It is comparable to its competition, maybe it is somewhat better results, ease of using. What are some benefits of owning this product? 1. It makes grooming more enjoyable due to its ease of use and clean results. Would you buy this product? 1. Yes I would buy this product. Would you recommend this product to your friends or family? 1. I would 100% recommend this product to others.
Date published: 2021-10-20
Rated 5 out of 5
by
Elnarski
from
Compact men's grooming tool
I find the ConairMan Metalcraft Trimmer as an all-in-one men's grooming tool that has a compact and sleek design. The whole kit including all the attachments fits in a small bag (included). I inherited from my dad the trait of hair growing in the wrong places, like my nose and ear, and the ear/nose trimmer is just perfect for the job. I have an existing Wahl trimmer, but it became obsolete quickly once I have the ConairMan Trimmer.
Date published: 2021-09-18
Rated 4 out of 5
by
BillM
from
Versatile Trimmer
I received a free sample of this product in exchange for my honest review. Out of the gate, this trimmer comes with a lot. There are multiple attachments allowing for trimming head or body hair, a nose/ear hair trimmer, and an electric razor attachment. With that in mind, you get a lot of bang for your buck with this tool and theoretically can handle all of your hair trimming needs. Unfortunately, it works significantly better as a traditional hair clipper than it does as the other tools. For instance, the nose hair attachment does provide some use, but it's not great. Even worse, the electric razor attachment is practically worthless, not cutting stubble despite many tries. All in all, though, I'd recommend this product. It does a good job trimming hair on your head and with edge work for beards, etc., and the multiple size guards make it very useful.
Date published: 2021-10-25
Rated 5 out of 5
by
Retsam2
from
Great quality, more that does the job!
At first, I thought that the size of the "Blade" was going to be an issue since I have used the larger wider cutter, but I was wrong. The size of the blade allowed me to better manipulate the cutter and get areas with ease that I couldn't before. This is a product that I will suggest to others and will buy as gifts for family and friends. Overall this product is great, love feels in your hand, the weight, you name it.
Date published: 2021-09-27
Rated 5 out of 5
by
jones
from
Metalcraft High Performance Metal All In One Trimm
I just want to shout out to everyone and thank BuzzAgent and Metalcraft for introducing me to this All in one WONDERFUL TRIMMER. It is amazing and comes with everything you will ever need - also cordless and rechargeable and so convenient - has a pouch to carry everything in . I could go on and on but I highly suggest you just get one for yourself and you will be amazed - I promise. Thanks again.
Date published: 2021-10-17
Rated 5 out of 5
by
Topher1
from
Sleek new, superior, design!
I actually had a similar Conair trimmer with the plastic casing, and this one is hands down far superior. Had I not received this as a product to sample and review I would definitely purchase this no matter the cost. At first I thought the new sleep metal design was more for the appeal, but it is far superior in its grip and cleaning because of the metal casing. It makes the old plastic one I had look and feel like a cheap knock off. I'm able to interchange the heads to quickly adapt my grooming needs and do everything from shave, buzz, and trim so fast, which cuts a LOT of time off my morning routine. This is a total game changer for me. I am in LOVE with this genius of engineering. I noticed there are other pieces in the line and I will no doubt be purchasing them to have the complete grooming set as I do my own hair cutting and all my own grooming. Hands down, amazing. Worth it in every way.
Date published: 2021-10-20
Rated 4 out of 5
by
Tacosupremebeing
from
Handy, portable and necessary
I normally don't let my beard grow more than a few weeks without a trim. I decided to try this model after using various other brands. I found this trimmer easy to use and it provides a clean cut/trim without pulling hairs. It offers multiple guides for varying lengths and pretty decent battery life between charges. Overall, I had a pleasant experience using the MetalCraft trimmer.
Date published: 2021-10-24
Rated 4 out of 5
by
Tony3
from
Great product
I have been using an old spice trimmer for years and this product has been a great addition to my trimming lineup. The blades seem to be sharp and cut my hair even. I am able to make crisp lines and get very detailed in how I trim. I would highly recommend this product. It is of great quality, is comfortable to hold and has a great selection of trimming heads
Date published: 2021-10-28
Rated 5 out of 5
by
Eric_mt2006
from
Conair Metalcraft Trimmers
ConairMan MetalCraft High Performance Metal Trimmers are amazing. So light weight but great quality in the build. They come with all the attachments needed for any situation. The battery life is ahhsome. On one charge they last weeks, and I shave once every 2-3 days. So that's great. I highly recommend them if you're looking for a great quality trimmer.
Date published: 2021-10-26
Rated 3 out of 5
by
TikiMagi
from
Powerful but difficult attachments
The razor is quite powerful and sharp. Almost too sharp as trying to edge up the hair around my ears resulted in several nicks to my skin. The attachments were also somewhat difficult to snap on and off the razor. The nose/ear hair trimmer attachment actually fell apart upon picking it up with the center blade column falling out from the middle.
Date published: 2021-10-24
Rated 5 out of 5
by
Skullf3
from
Precision Plus
I have cut my hair twice now with the ConairMan MetalCraft. First cut to see how it handled and just to get used to the feel. I can say it is very user friendly in getting the look you want. The second was to see if I could follow the lay of my hair to repeat the cut and I did easily. Great performance with helpful and easy attachments!
Date published: 2021-10-08
Rated 3 out of 5
by
BDogg
from
Solid construction, but in consistent cutting
The trimmer that has a nice metal feel. Unfortunately, it's performance was less than desirable. It cut fairly inconsistent lengths, so I ended up will a less-than-clean looking appearance after using it a few times. The guards it comes with aren't great and feel quite cheap. They don't adjust well and I was left feeling disappointed.
Date published: 2021-10-24
Rated 5 out of 5
by
Danny1
from
Professional cuts at home
ConairMan's MetalCraft High Performance Metal Trimmer is an awesome tool for professional looking haircuts at home. The stainless steel blades are high quality and provide a precise cut with fine lines. I love using this ConairMan MetalCraft High Performance Metal Trimmer at home to touch up my hair before a weekend out with friends.
Date published: 2021-10-21
Rated 5 out of 5
by
Robert1
from
Great Cut, Smooth Performance
I've used a few different electric razors over the years, and this one is definitely one of the best! It has a very slim profile, making it easy to hold. Plenty of attachments for the various trim/cutting options. I've used on my scalp and beard, and both were very good and comfortable cuts. It's my new razor!
Date published: 2021-09-17
Rated 5 out of 5
by
ricecandy
from
Amazing trimmer! Works wonders
This trimmer is one of the best I have ever used. It has so many different attachments included and the battery lasts fairly long. I haven't had to recharge it yet after using it a few weeks. It works very well for shaving and trimming hair. I would definitely recommend trying out all the attachments as well!
Date published: 2021-10-16
Rated 5 out of 5
by
JWray
from
The BEST
I recently just took this with me in a week long vacation and it was everything I needed. It's great because you can line up your hair, cut your hair and trim your beard. It has all of the attachments and fits perfectly in the little bag. Highly recommend if you travel a lot and need an all in one tool.
Date published: 2021-11-05
Rated 5 out of 5
by
NIck84
from
Good and handy
I like this new Trimmer from ConairMan, small size, low weight, fast charge and the charge last long, come with multiple attachment, an extra will help with ear and nose trimmer, easy to change the length, easy to change the attachments. I think it is one of the best and will recommend it for all Men.
Date published: 2021-11-01
Rated 5 out of 5
by
BAm1
from
Fantastic Trimmer/Groomer!
I love everything about the Conair MetalCraft High Performance Metal Trimmer! I love that is is cordless/chargeable. I love how powerful it is! I love all the attachments - such a wide variety of uses! A very versatile, compact, yet powerful and high performing trimmer! So far - I love it!
Date published: 2021-10-16
Rated 4 out of 5
by
jmsackett
from
Much better than others I've tried
I received this as a free sample, and it's great. This is better than any other trimmer/clipper I've bought in the past. There are more attachments than I need though, and there's not a great one for keeping a longer beard. They cut really well, and the battery lasts much longer than I needed.
Date published: 2021-10-20
bvseo_sdk, dw_cartridge, 18.2.0, p_sdk_3.2.0
CLOUD, getReviews, 10ms
reviews, product