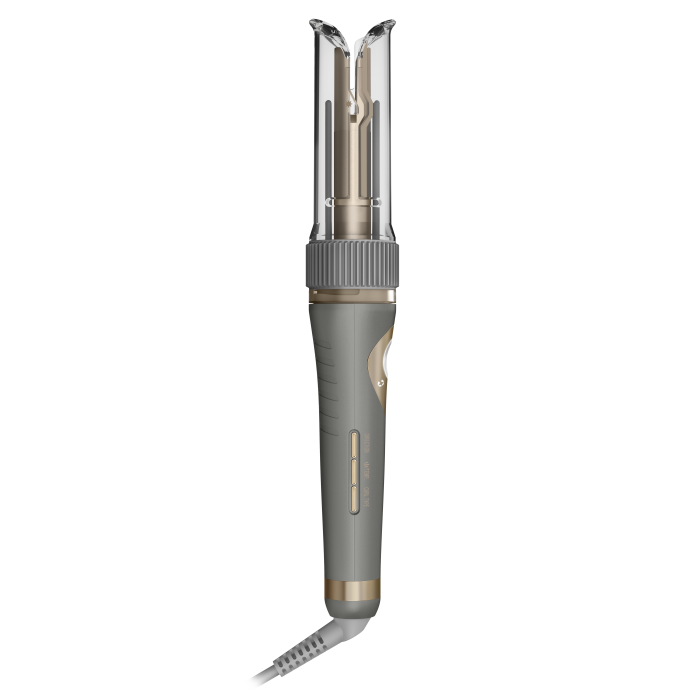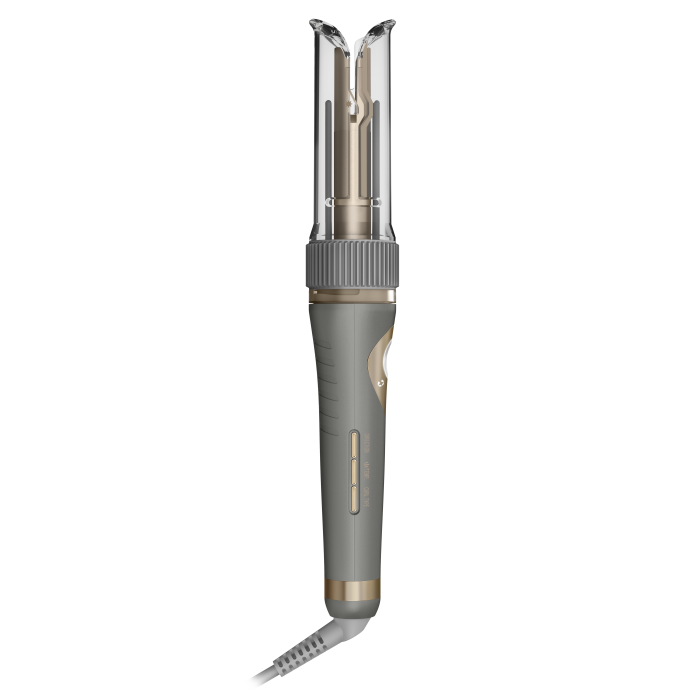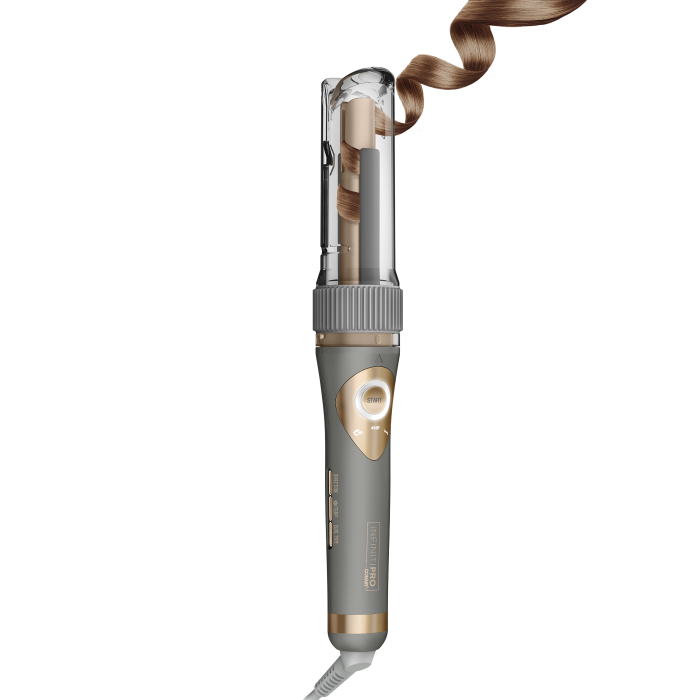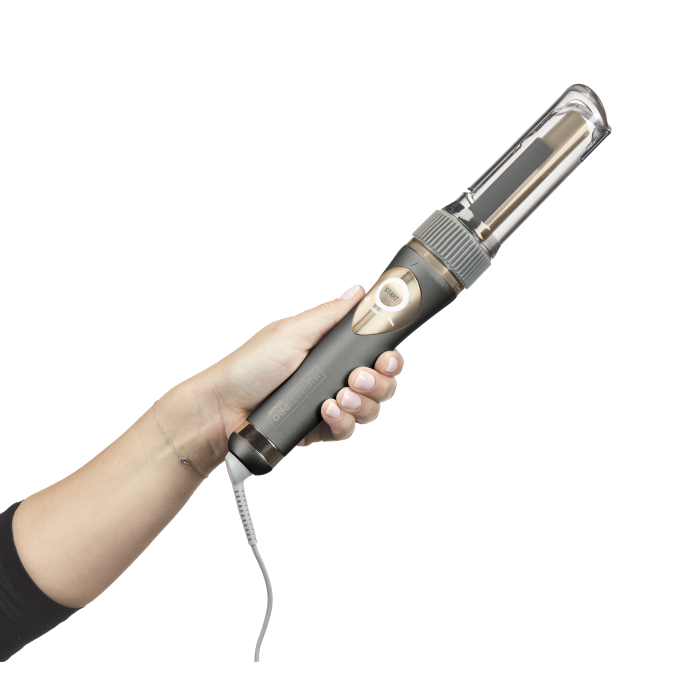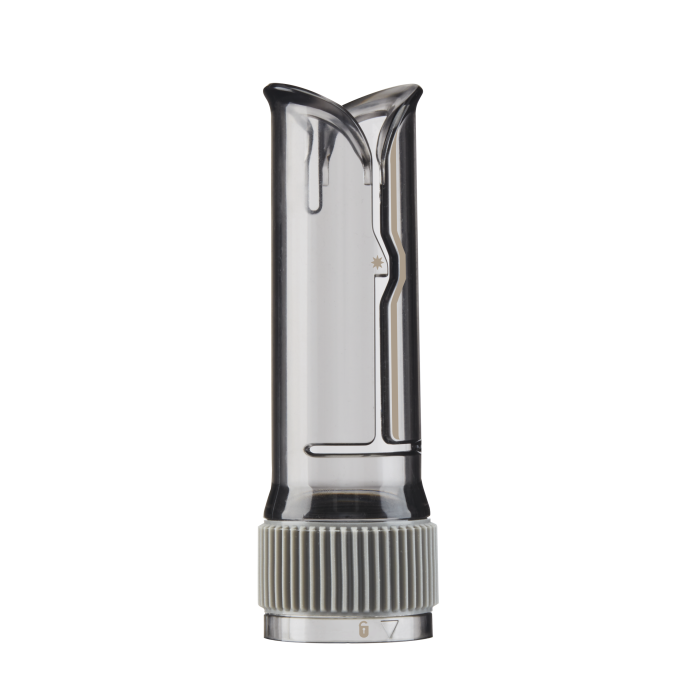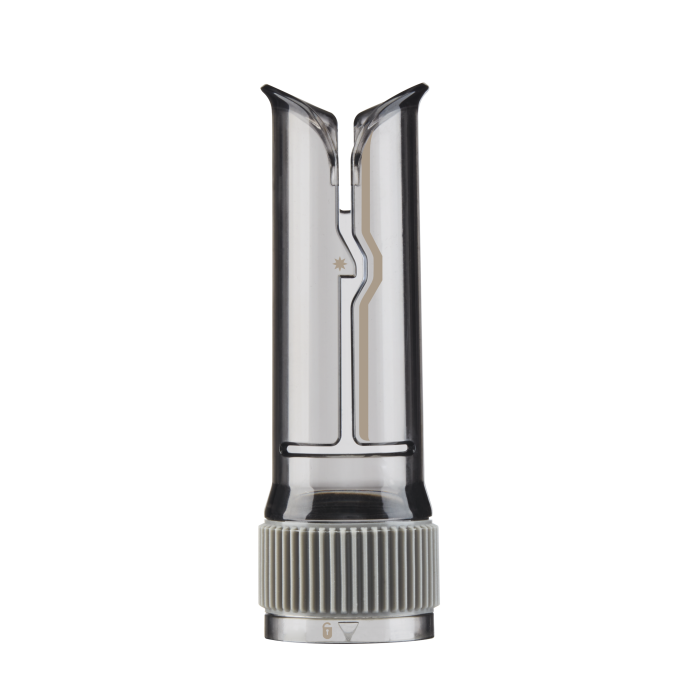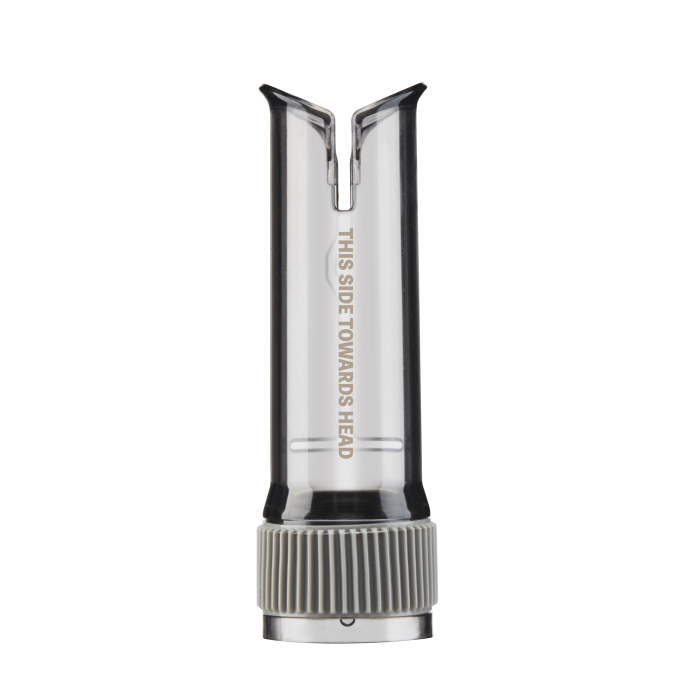 Hair goes in. Curl comes out. Just like magic!
Description
The InfinitiPRO by Conair® Curl Secret® is the new way to create curls that won't quit. Select a temperature, a curl type, and a curl direction, then place a section of hair into the slot. Push START and watch as hair gently wraps around the barrel. In moments, you can release hair from the styler to reveal the perfect curl! Styling is safe with the protective cover that keeps the hot barrel from getting too close to the scalp. The 8 ft. cord and auto-off technology ensure easy, stress-free styling. Choose from 3 preset curl types (defined, loose, or wavy), 5 heat settings for all hair types (300°F, 330°F, 355°F, 385°F, or 410°F) and 3 curl directions (left, right, or alternating). With different temperature, direction, and curl type combos, you control the results. The ceramic barrel heats up evenly for less damage and healthy-looking hair while tangle-free technology provides peace of mind. Make the magic happen every day, in every way, with Curl Secret.
Features
Custom Curls: Choose 1 of 3 preset curl types (defined, loose, or wavy).
Switch It Up: 3 curl directions for versatile styles (left, right, or alternating).
Mix & Match: Switch up temperature, direction, and curl type to change your style.
Heat for Every Hair Type: 5 heat settings for all hair types (300°F, 330°F, 355°F, 385°F, or 410°F).
Worry-Free Styling: Tangle-free technology and barrel cover protect hair while curling and prevent accidental scalding.
Ceramic Technology: Even heat for less damage and healthy-looking hair.
No Stress: Low energy-efficient mode and auto-off technology.
Dual Voltage
Specs and Support
Model Number
CD1031
Depth
12.6 in.
Height
1.9 in.
Weight
1
Width
1.9 in.
Rated 5 out of 5
by
Jesi
from
Makes perfect curls!
I love this curler so much! Its so easy to use and makes perfect curls and waves! It has 3 different settings defined, loose, and wavy. You can change the direction of the curl or you can alternate between left and right and it has different heat settings. You just take a piece of hair about an inch or less and put it in the slot that faces towards you and when your ready just hit start and it pulls the hair in and after a couple of seconds it beeps to let you know its done. My only complaint which is very minor would be that I wish I could put more hair at a time because I have alot of hair but I really enjoy doing my hair so it doesn't bother me that much.
Date published: 2023-09-04
Rated 5 out of 5
by
ShawnaG
from
The tool I didn't know I needed
My daughter is at an age where she wants to try different things with her hair, but curling it was just something I could never master. I've tried regular wands and flat irons but still couldn't get it right. That's why this tool is a complete game changer! In all honesty, if I didn't receive this to try for my honest opinion, I don't know that I would have ever known it existed and that would have been such a shame. Not only is it easy, customizable and completely foolproof, it produces the most beautiful, bouncy curls. I'm even shocked how much I love this tool. I don't even see a reason to try and use a regular curling iron ever again. Love, love, love!
Date published: 2023-08-31
Rated 4 out of 5
by
Becca
from
Takes a couple times to get used to it
I had to use this a couple times to get used to it. It was my fault because I didn't read instructions -lol. What I like: - different type of curls. I like the variety. - I have fine, thin hair so this was a great way to quickly give my hair some body. - I like that it has a timer and can curl in both directions. - I like the different temperatures. Some things I don't like: - the outside cylinder makes it hard to curl closer to the root. - it takes quite a bit of time to get the hang of using Overall, I think it's a great tool but I need to practice more. If you aren't used to using a curling iron or flat iron to curl your hair, this is a good option
Date published: 2023-09-11
Rated 5 out of 5
by
Mia
from
Finally, my hair curls!
Overall I love this product. I have extremely straight, long hair, and it takes me usually around 3 hours to curl it (and it doesn't stay curled for long). This is the first product I've found to work this well with my hair. Super customizable with different heat settings, curl settings, and directions it can curl. Cons: - hair occasionally doesn't curl properly - Hair occasionally gets a little tangled Pros: - beautiful curls - Very quick and easy to use - Curls stay in for long period of time - Customizable settings - Does all the work for me *This product was gifted to me in exchange for an honest review
Date published: 2023-08-30
Rated 5 out of 5
by
Zannahdeux
from
It works! Pretty curls for days
So the product was so easy to use! They made it fool proof and thought of everything. You plug it in and it heats up really fast. You set your temperature you set your curl type and you set the direction you want the curls to curl in. There's one button that actually does the curling of your hair. I have super long hair and was so happy that my hair did not get tangled in the process of being curled my only complaint is that you have to wait for three beeps to release the girl. I found that sometimes if you put too much hair into the curler, those three beeps never happen and I get nervous. Otherwise the curls are so pretty and perfect!
Date published: 2023-09-01
Rated 5 out of 5
by
RHinOMA
from
So simple, even I can do it!
I can't say enough good things about this product. I am completely useless when it comes to doing my hair. Usually I just get out of the shower and put it up in a messy bun. My hair is slightly wavy but not in any uniform way, so wearing it down doesn't look good unless it's straightened or curled. I've tried curling irons, but always get the weird crease in my hair, I tried the wands, but always burn my fingers, no matter how hard I try not to. This thing was "me proof!" I was able to figure out how to use it quickly and was able to curl my whole head of hair in 4 minutes! I love the options to go from a looser to a more defined curl, too. Love it and will keep using it!
Date published: 2023-08-28
Rated 4 out of 5
by
Eris5kaos
from
Takes a little learning!
This updated Conair Curl Secret is a fascinating device designed to give you the perfect curls. It does deliver! Once you learn the proper way to use this curling iron, you can achieve beautiful curls in little time. There are fantastic features that make your curls tight or wavy, temp controls, and even a button that changes curl direction. Putting a small strand of hair through the slot at top of curler, pushing a button and waiting for beep, perfect curls. It can become tangled if too much hair is placed in slot, therefore it takes a little learning, as I've said, however once used to it, the Curl Secret works beautifully.
Date published: 2023-11-16
Rated 5 out of 5
by
Badgerfan33
from
Great Tool
I hate to admit it, but I'm very uncoordinated and TERRIBLE at curling my hair with a traditional iron. Automatic curlers are the only way I can get decent results. the Curl Secret is my new go-to curling tool. There's a bit of a learning curve, but once you figure it out, curling is fast and easy. Setting the temperature, selecting curl style and changing rotation direction are easy with the touch of a button. The note on the barrel that tells you which side should face your head is very helpful. I actually like the attached cord ... my old unit was USB rechargeable and often ran out of power before I was done with touchups.
Date published: 2023-11-09
bvseo_sdk, dw_cartridge, 18.2.0, p_sdk_3.2.0
CLOUD, getReviews, 4ms
reviews, product