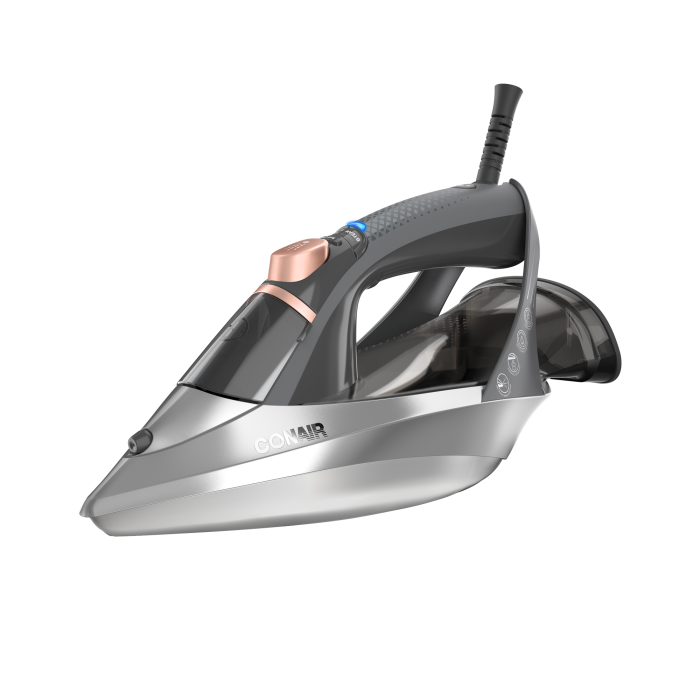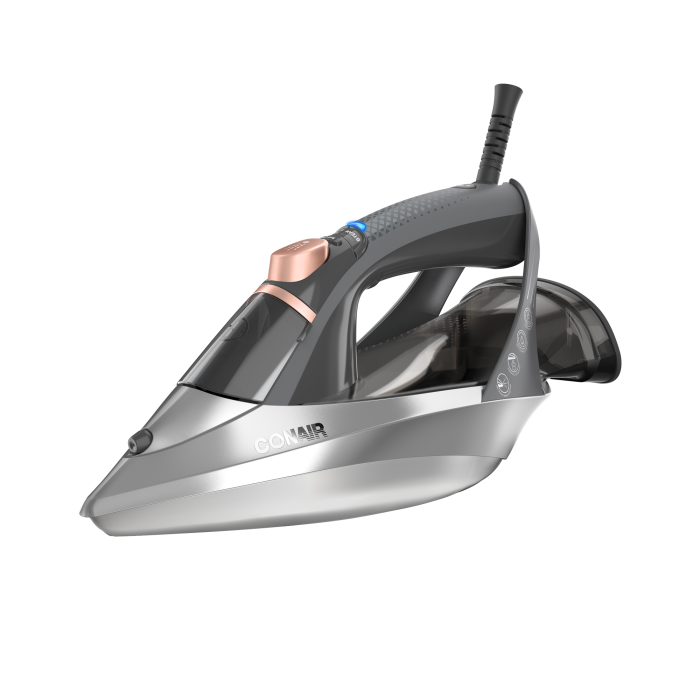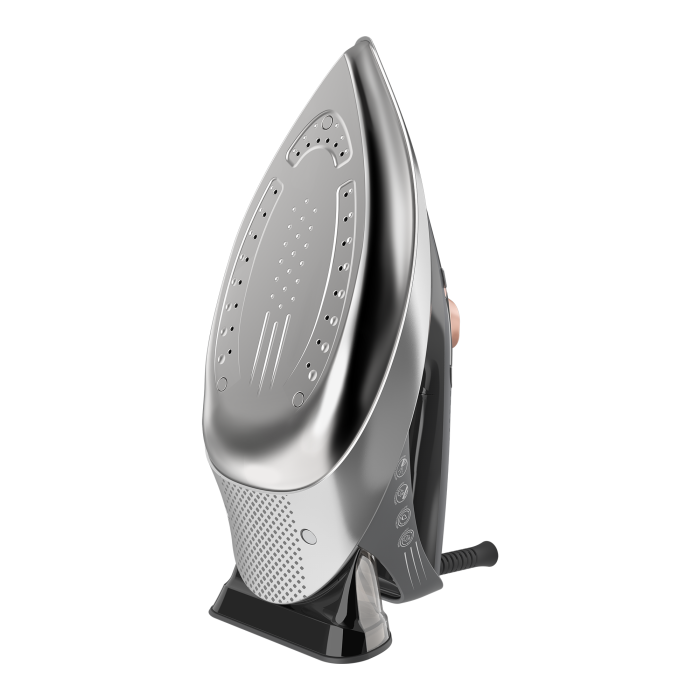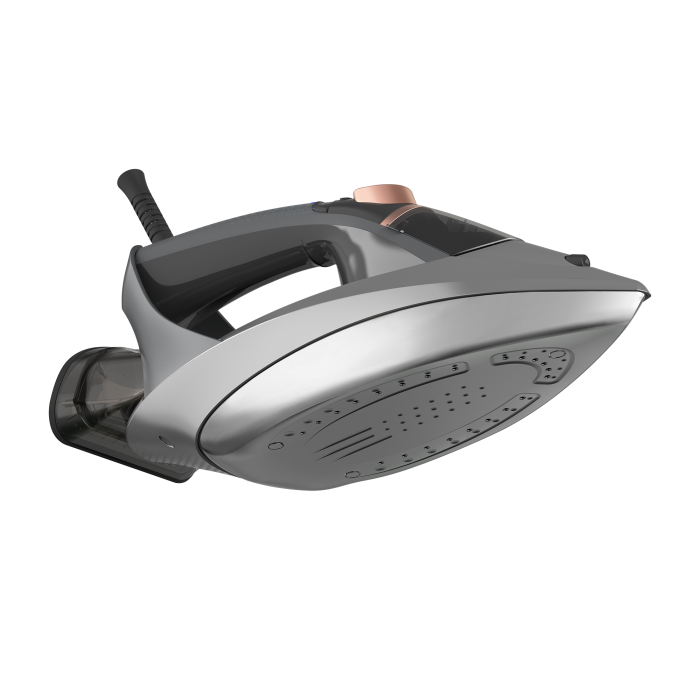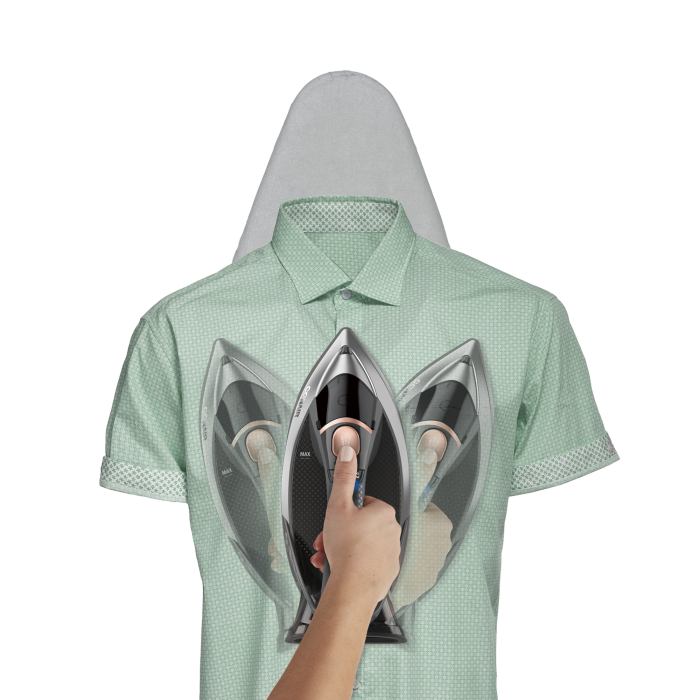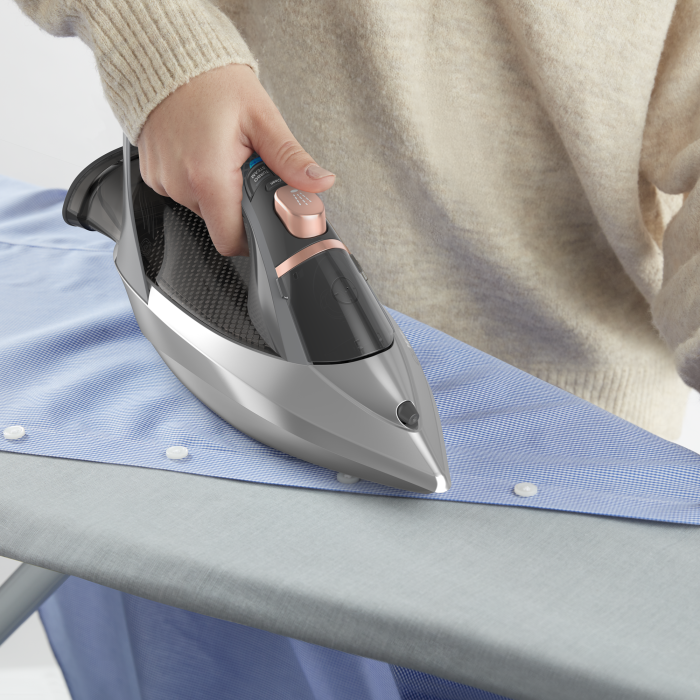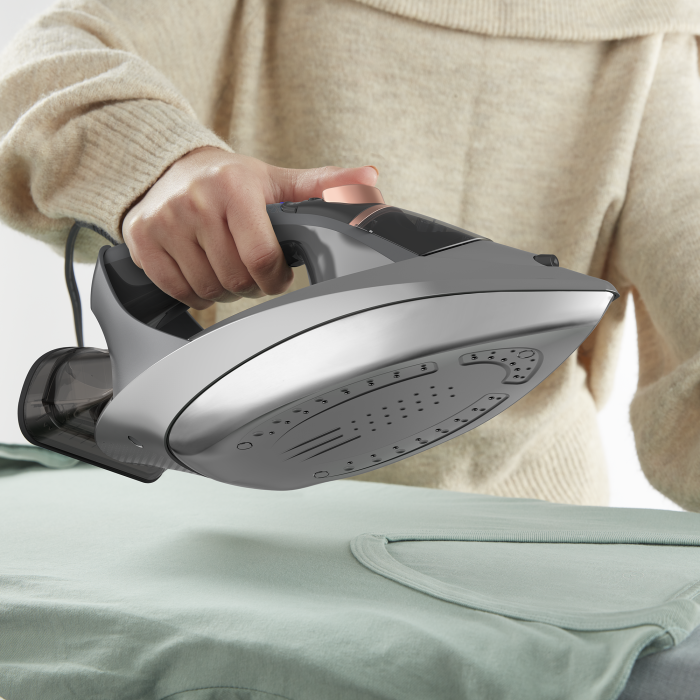 GlideLite Professional Iron
The ONE-TEMP™ iron that blasts away wrinkles using advanced garment steamer technology.
Description
Safely de-wrinkle fabrics with advanced garment steamer technology in a single-setting iron. The GlideLite™ Professional Iron by Conair® combines steam power with less heat to achieve superior smoothing quickly and more easily, so you look perfectly pressed without any stress. ONE-TEMP™ technology provides a single heat setting that smooths all fabrics safely and effectively. With its premium nonstick stainless steel soleplate, you can iron over collars and pockets and between buttons with 360° maneuverability. Fill the water tank and in 30 seconds the water is heated and ready to remove the most stubborn wrinkles. Choose from regular and turbo steam options. Less heat and more steam is safer on cotton, polyester, wool, and linen garments. Features a self-clean button, spray button, and a flexible power cord for easy navigating. For ironing made effortless, press on with the GlideLite™ Professional Iron by Conair®.
Features
ONE-TEMP™ Technology: Safely remove wrinkles from all fabrics with a single heat setting and garment steamer technology.
Instant Heat, Professional Results: Less than 30 seconds is all it takes to heat water and start removing even the most stubborn wrinkles with regular and turbo steam settings.
Friction-Free Soleplate: Innovative patent-pending shape and premium nonstick stainless steel soleplate allow the iron to maneuver effortlessly over fabrics for fast and flawless results.
Safe for All Fabrics: De-wrinkle cotton, linen, polyester, and wool without worry.
Specs and Support
Rated 5 out of 5
by
bj13577
from
Conair® GlideLite™ Professional Iron
I recently tried out the Conair GlideLite Professional Iron, and I must say it's like having a superhero in your laundry room. This iron tackles wrinkles with the precision of a surgeon and the power of a steam locomotive. It's so efficient that my clothes now look like they just came off a high-end boutique rack. The ergonomic design fits perfectly in hand, making ironing sessions a breeze, and the steam feature is so satisfying, it's like a mini spa day for your garments. The steamer boiler technology adds steam in a single setting, making it simple and effective. True innovation! It's not just an iron; it's a wardrobe's best friend.
Date published: 2023-10-07
Rated 4 out of 5
by
RobertR4
from
Easy to use
Conair GlideLite is a great and easy to use iron. There is no need to set the temperature as it does not get hot enough to damage any fabric. Instead, it mostly relies on the steam to iron the clothes. It works great on synthetic, synthetic/cotton blends and light cotton garments. It struggles slightly with a heavy cotton clothes and it takes few passes to get the wrinkles out. The weight and ergonomics of this product are great with only one exception. I found myself accidentally hitting the steam button with my finger and turning the steam feature off. Otherwise, awesome iron and I would highly recommend it to anyone.
Date published: 2023-10-08
Rated 4 out of 5
by
Badtzmeru1
from
This iron is magical
I wasn't sure what do you think of an iron that doesn't have any settings. How can an iron know how to distinguish between something light like chiffon or something durable like denim? It heats up right away but does take a long time to cool off… much longer than I thought. The hot plate is very smooth or rounded on the edges so it won't catch on things… that's a plus! The steam only seems to come out when I lift the iron away from the garment so I had to tilt it away from my face. The spray feature is nice if you're trying to get out stubborn wrinkles. I definitely recommend this to people who hate to iron!
Date published: 2023-10-10
Rated 5 out of 5
by
Andy023
from
Slick Iron
This thing is GREAT! It was actually ready to use in the 30 seconds that the iron advertised. For the trial I used it on a heavier shirt that I had washed and let hang dry, leaving it with a lot of wrinkles that would normally need to be steamed then steam ironed to remove them. This iron got that shirt crisp and clean in under five minutes! The design is really nice too, the beveled/rounded edges allows the iron to just glide over the clothing without getting caught on seems, pockets, buttons, etc… The dry iron feature is AWESOME for my wool stuff too! I actually iron a wool sweater just to try it out and it worked without any damage!! This thing is definitely worth the money!
Date published: 2023-10-14
Rated 5 out of 5
by
Nikemc149
from
Finally a great iron
First of all I iron all the time. I iron my sons school uniforms and any of our clothes that we wear to the office. Absolutely love this iron. It is very easy to use and great at removing wrinkles in all types of fabrics. I always use steam setting on all my ironing, I have cotton curtains that I used it on and it took all the wrinkles out. The only thing I was worried about was it seemed to be a little heavy on my hand(I broke my hand a couple of years ago) but it glides so easily that I had no trouble. Thanks for letting me test it. My grandmother always told me that you don't have to have expensive clothes that you just need to iron them and look neat. She would have loved this iron.
Date published: 2023-10-08
Rated 5 out of 5
by
erica9
from
love it
As someone who hates ironing, I've been really impressed with the Conair Glidelite iron! It has made keeping my clothes looking crisp and wrinkle-free so much easier. The iron heats up quickly and the stainless steel soleplate glides smoothly over garments. I also appreciate that it has variable temperature settings, so I can use lower heat for delicate fabrics and higher heat for thick materials. My favorite feature is the retractable cord - with just the touch of a button I can neatly store the cord to make ironing and storing the iron away a breeze. The lightweight design also makes the Glidelite really comfortable and easy to maneuver around garments. I've been able to cut my ironing time in half with this iron!
Date published: 2023-10-08
Rated 5 out of 5
by
Court10
from
Finally an Iron to Suit me
Finally an iron that matches our upgraded lifestyle of everything being advanced and updated. I enjoyed how easy it was to use and the way I was able to get the job done faster than any other iron. There is one setting and a self clean option that I appreciate. The tip of the iron is designed well to get in between buttons and get a crisp collar. I am very pleased with the length of the cord, no need to use an extension cord and it doesn't take too long to cool down once I am done. I have replaced my old iron with the Conair iron and I couldn't be happier.
Date published: 2023-10-15
Rated 5 out of 5
by
hproductreview9
from
Perfect iron for every occasion
The conair glidelite iron does a fantastic job of keeping ironing simple and easy. It does not have multiple modes, so you don't need to worry about adjusting the iron to your exact fabric and potentially burning it. All you do is put in some water, turn the iron on, and after 30 seconds you are good to go! With the steaming feature, i am able to iron my clothes in just a few minutes, a task that used to take way longer. After i am done, all i need to do is dump out the water, and to clean the iron properly, use the self cleaning feature.
Date published: 2023-10-19
bvseo_sdk, dw_cartridge, 18.2.0, p_sdk_3.2.0
CLOUD, getReviews, 6ms
reviews, product